Wait, what, oats in my coffee?! Yes!
Including toppings in drinks is not something new, there is already boba (tapioca pearls), aloe vera, and many other types of jelly that are often added to cold drinks.
Introducing this subtlety salted coffee served with creamy coconut milk and overnight chocolate oats for a delicious and refreshing drink/snack!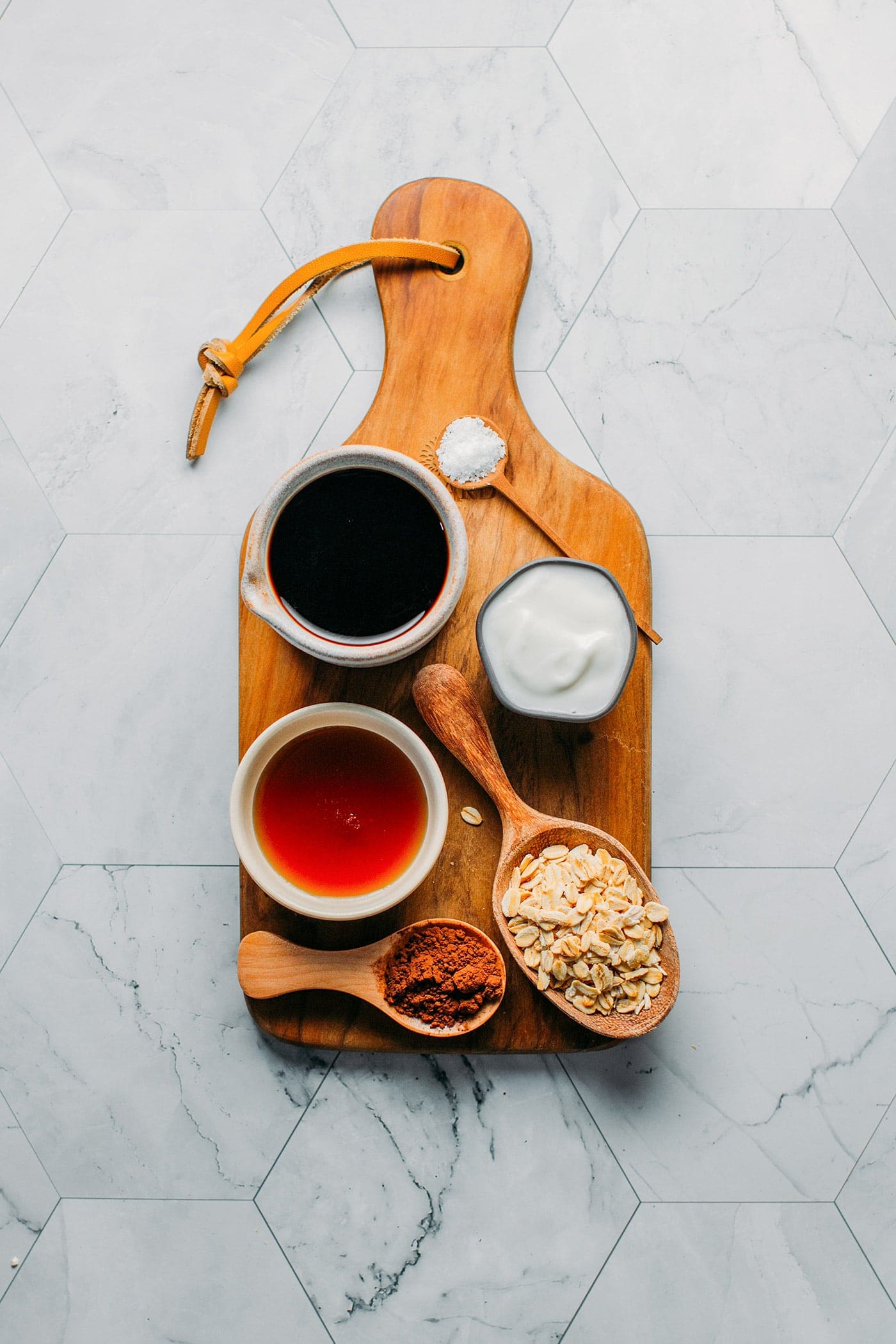 The addition of overnight chocolate oats makes the process of drinking your iced coffee more entertaining, adding an extra boost of energy from the carbs, and giving the drink more texture.
We start by preparing the oats the night before. Simply combine rolled oats with almond or coconut milk, cacao powder, and maple syrup. Refrigerate overnight.
The next day, prepare your coffee. I recommend going with strong black coffee or espresso since it will be mixed with coconut milk.
To serve: place some chocolate oats in the bottom of a glass, add ice, pour in your chilled coffee, a healthy pinch of salt, maple syrup, and full-fat coconut milk. Give it a good stir and enjoy!
I recommend using a boba straw for this drink so the oats don't get stuck in it. Want a sip of coconut coffee? Suck up with the straw in the middle of the glass. Want some chewy oats as well? Suck up at the bottom.
This coconut coffee is obviously richer than a regular latte due to the use of coconut milk. If you want to lower a bit the calorie content, feel free to use light coconut milk, or use half coconut milk, half almond milk. The result will still be delicious!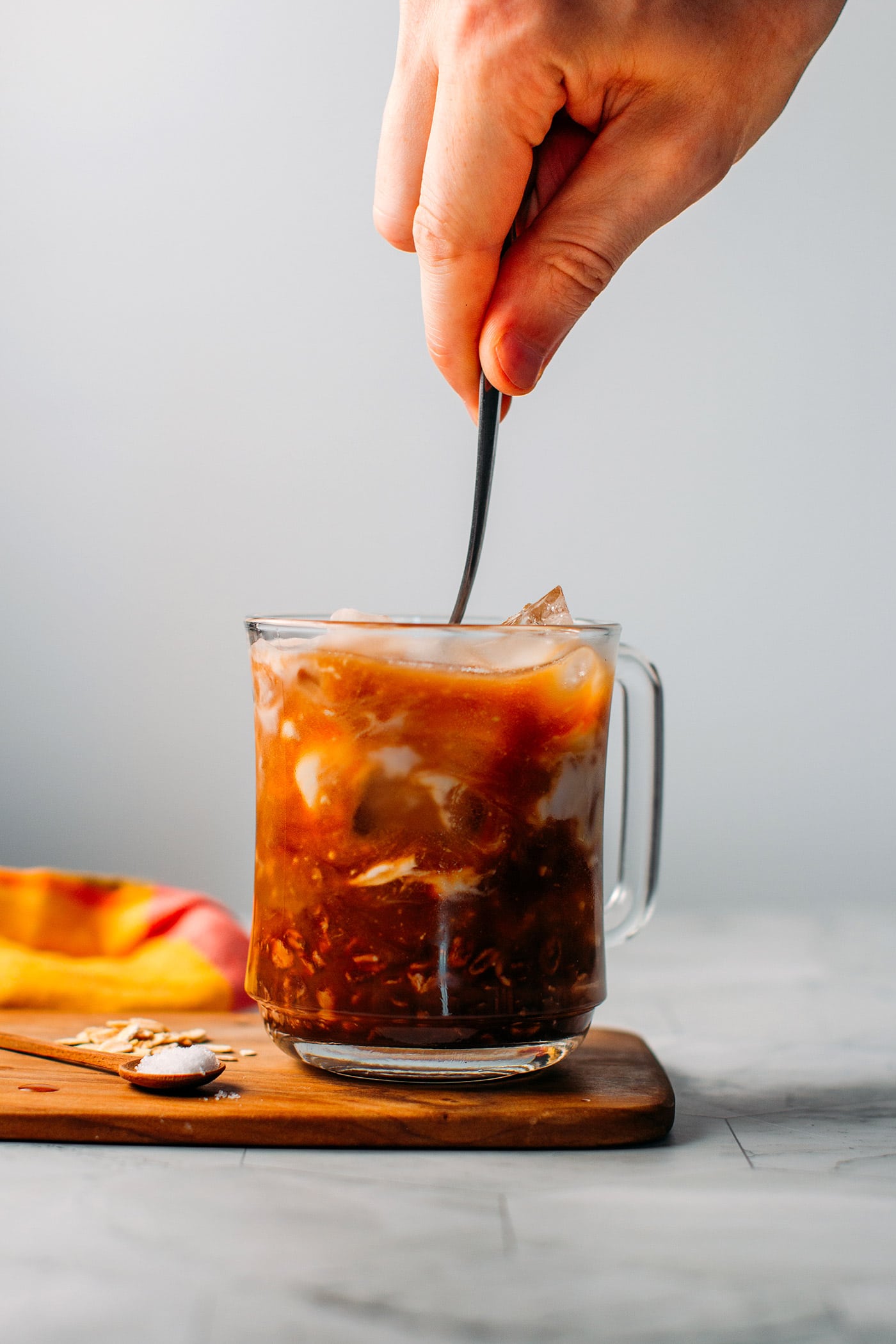 This iced coffee is refreshing, super creamy and the addition of salt makes it even more addicting! Plus you have something to chew with the chocolate oats! One of my favorite drinks to have in the morning, or as a snack in the afternoon!
Let me know in the comments if you try this recipe!
Print
Salted Coconut Coffee with Chocolate Oats
Iced salty coffee with creamy coconut milk and overnight chocolate oats topping for a boost of energy and more texture!
Overnight Oats
¼ cup

(

25g

) rolled oats

¼ cup

(60ml) almond milk (or coconut milk)

1 tsp

(5ml) maple syrup

2 tsp

cacao powder
Coconut Coffee
1 cup

(235ml) dark coffee

1 cup

ice cubes

2 tbsp

(30ml) maple syrup

¼ tsp

salt (more to taste)

⅔ cup

(150ml) full-fat coconut milk
Instructions
Overnight Oats
The night before, combine the almond milk, maple syrup, and cacao powder in a small saucepan. Heat over medium heat and whisk until the cacao is dissolved. Remove from heat and transfer to a small bowl or jar. Add the rolled oats and mix to combine. Refrigerate overnight.
Coconut Coffee
Prepare the coffee your favorite way (espresso, slow-coffee, etc), let it cool at room temperature.
Divide the overnight chocolate oats between two glasses. Add half a cup of ice to each glass and pour in half a cup of coffee. Add 1 tablespoon of maple syrup and ⅛ teaspoon of salt to each glass.
Finally, add ⅓ cup of full-fat coconut milk to each glass and stir to mix. Taste and adjust saltiness and sweetness to your liking. I ended up adding an additional pinch of salt. Serve immediately!
Use a boba straw to suck up the drink as well as the oats, or simply use a spoon to eat the oats.
Nutrition
Serving Size:

1

Calories:

252

Sugar:

13.2g

Fat:

16.4g

Carbohydrates:

26.4g

Fiber:

3.3g

Protein:

4g