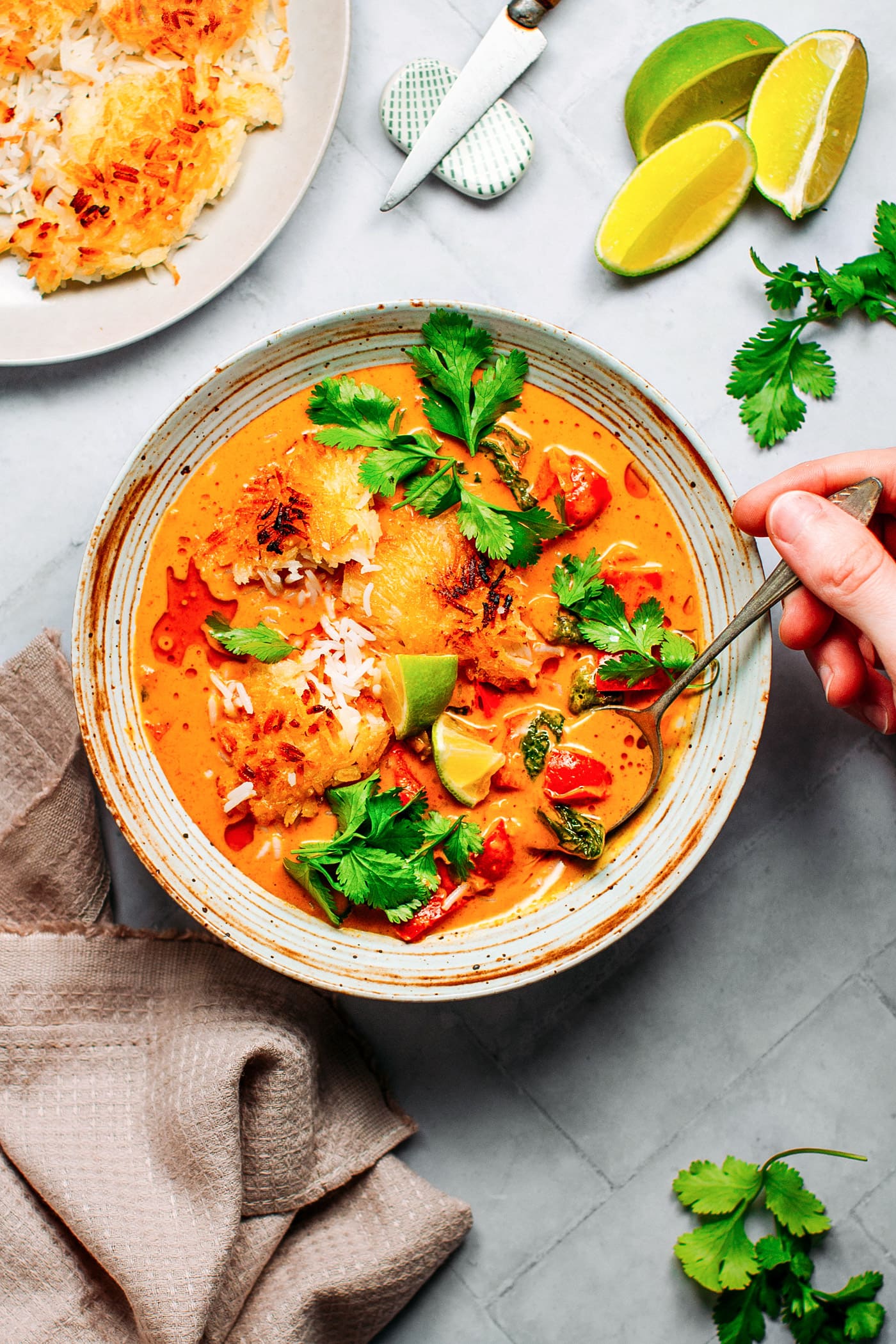 Let me introduce you to my latest favorite curry!
The kind of curry that cheers you up, the one you can't get enough of, and that is as delicious as comforting.
Crispy rice takes this red curry to a whole new level by adding an addicting crispiness as well as a toasted flavor. It's just amazing. Let's do it!
Let's start by talking about the curry. It's rich in flavor with hints of lemongrass, a bit spicy, and super creamy.
Sauté aromatics like shallots, garlic, ginger, and red curry paste. Next, add the vegetables. I went with mushrooms, red bell pepper, carrots, and a handful of spinach. Feel free to adjust with what you have on hand, zucchini, kale, sweet potato, basically any vegetable.
Pour in full-fat coconut milk, maple syrup, soy sauce, chili flakes, and a teaspoon of tomato paste, and let it simmer for about 20 minutes. Finish the curry with a squeeze of lime and fresh cilantro.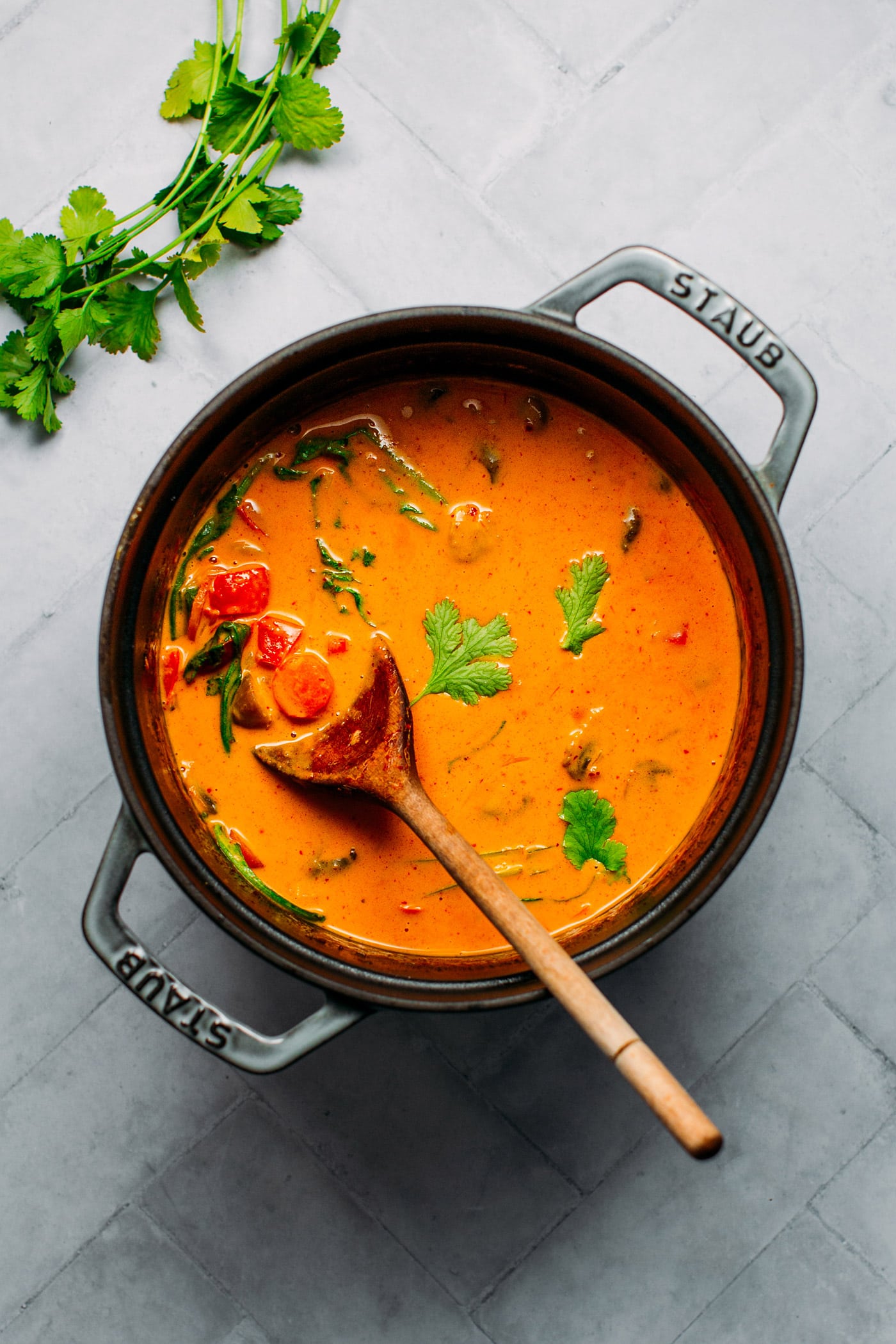 Now onto the rice, that is an essential part of this recipe, taking a delicious curry to new levels.
Cook your rice the normal way until just tender. Next, you want to mix about ½ cup of the cooked rice with vegan yogurt. Mixing with yogurt will allow the rice to brown and create a crust. Note: I do not recommend replacing the vegan yogurt with coconut cream. I tried and while the rice became crispy, the crust didn't hold together and it ended up being very crumbly.
Once your "rice yogurt" is ready, heat vegan butter and oil in a small non-stick skillet, or ceramic claypot. Spread the rice yogurt in the bottom of the pan into an even layer. Next, cover with the rest of the rice and very slightly press it down.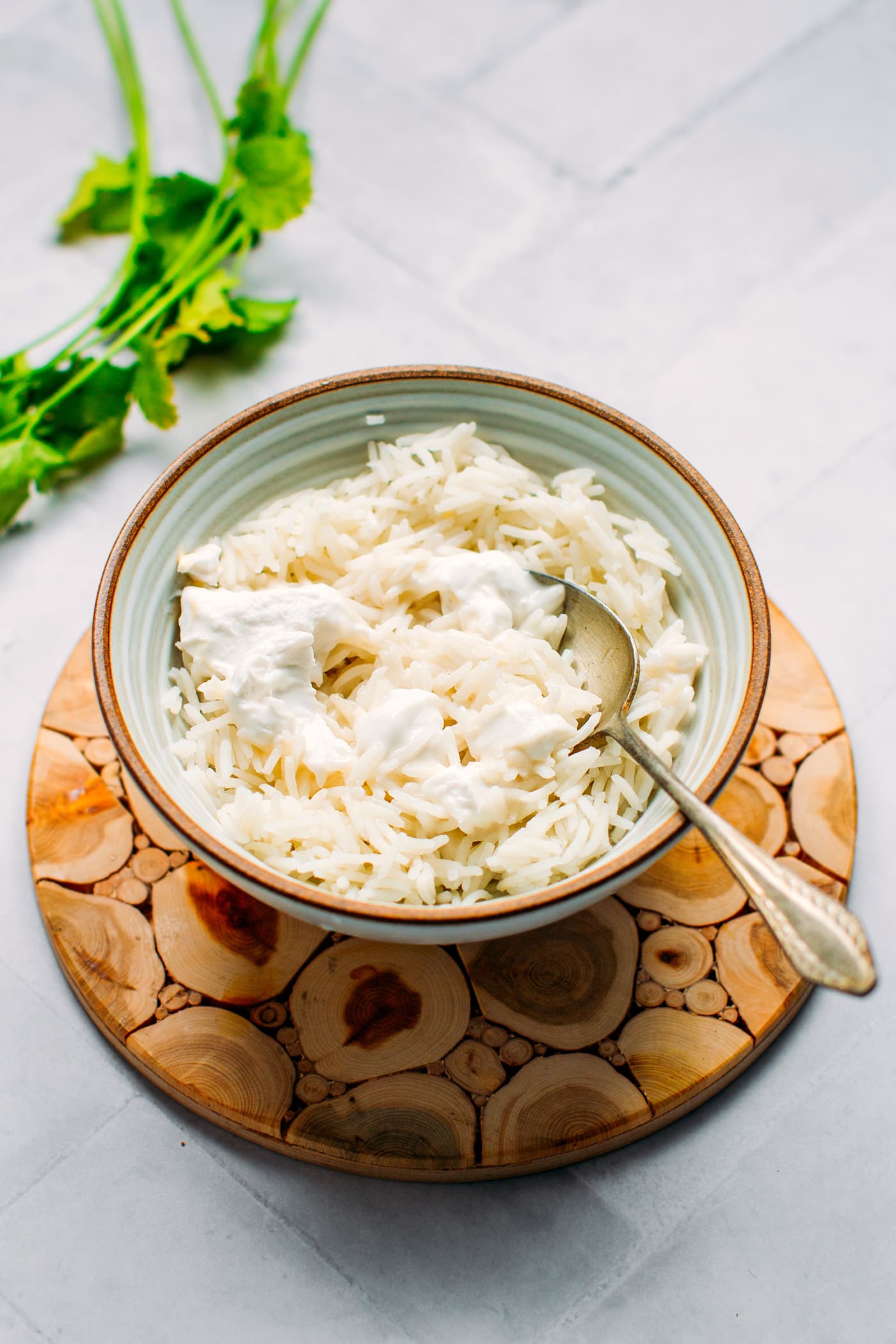 Using a chopstick or handle of a wooden spoon, make a few holes to let the steam escape. It's now time to get that golden brown crust!
Cook uncovered over low-medium heat for 18 minutes, rotating the pan by about ⅛ of a turn every two minutes. Rotating allows the rice to get a uniform golden brown crust.
After about 20 minutes, flip your rice over a plate. It should be perfectly golden brown with a beautiful crust!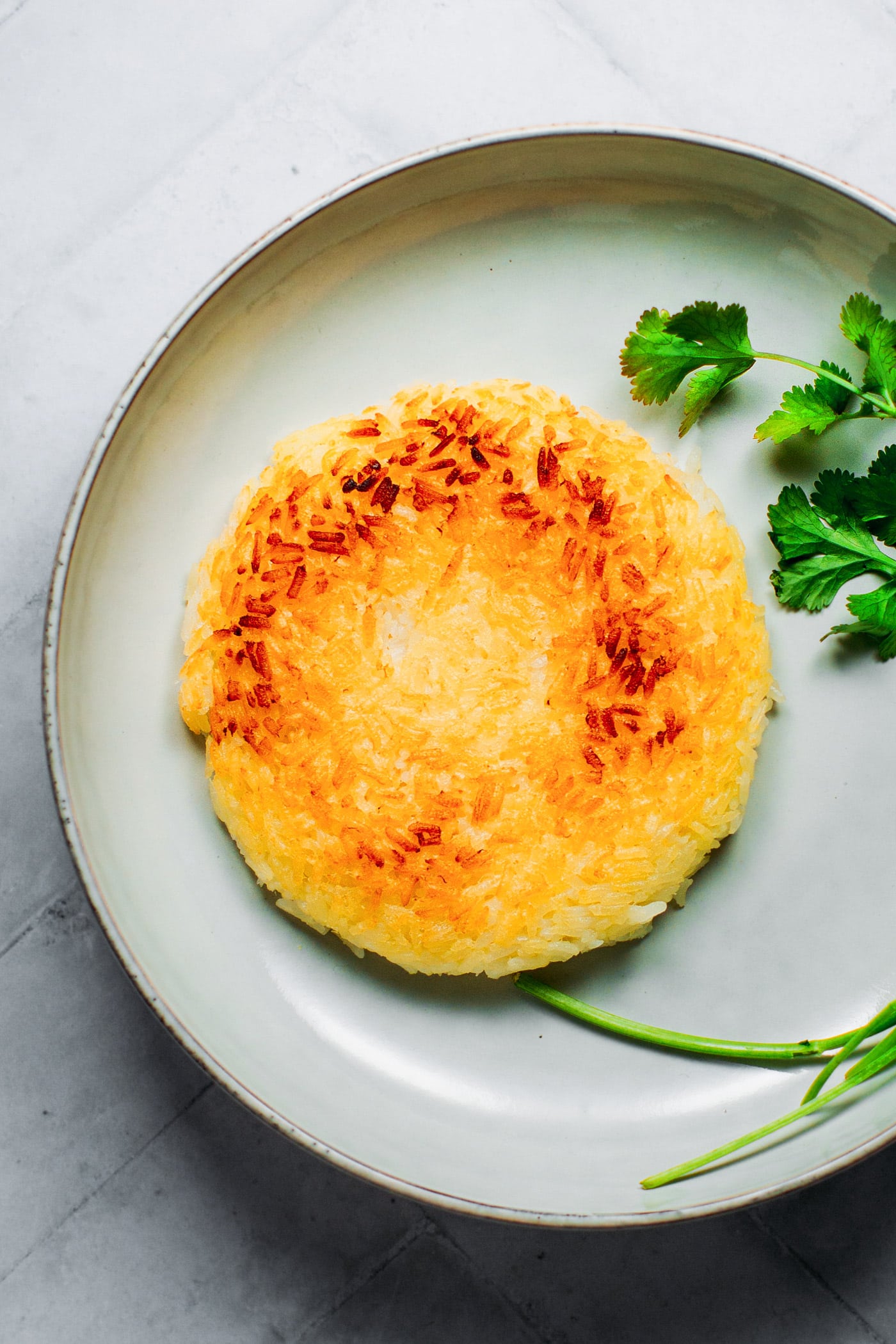 To serve, pour the saucy curry into serving plates and top with pieces of crispy rice!
Serve with more cilantro on top and a drizzle of toasted sesame oil, SOOO GOOD!
I hope you will love this red curry! The curry itself is loaded with flavor and the crispy rice on top adds texture as well as a delicious "popcorn" flavor, really bringing that comforting factor.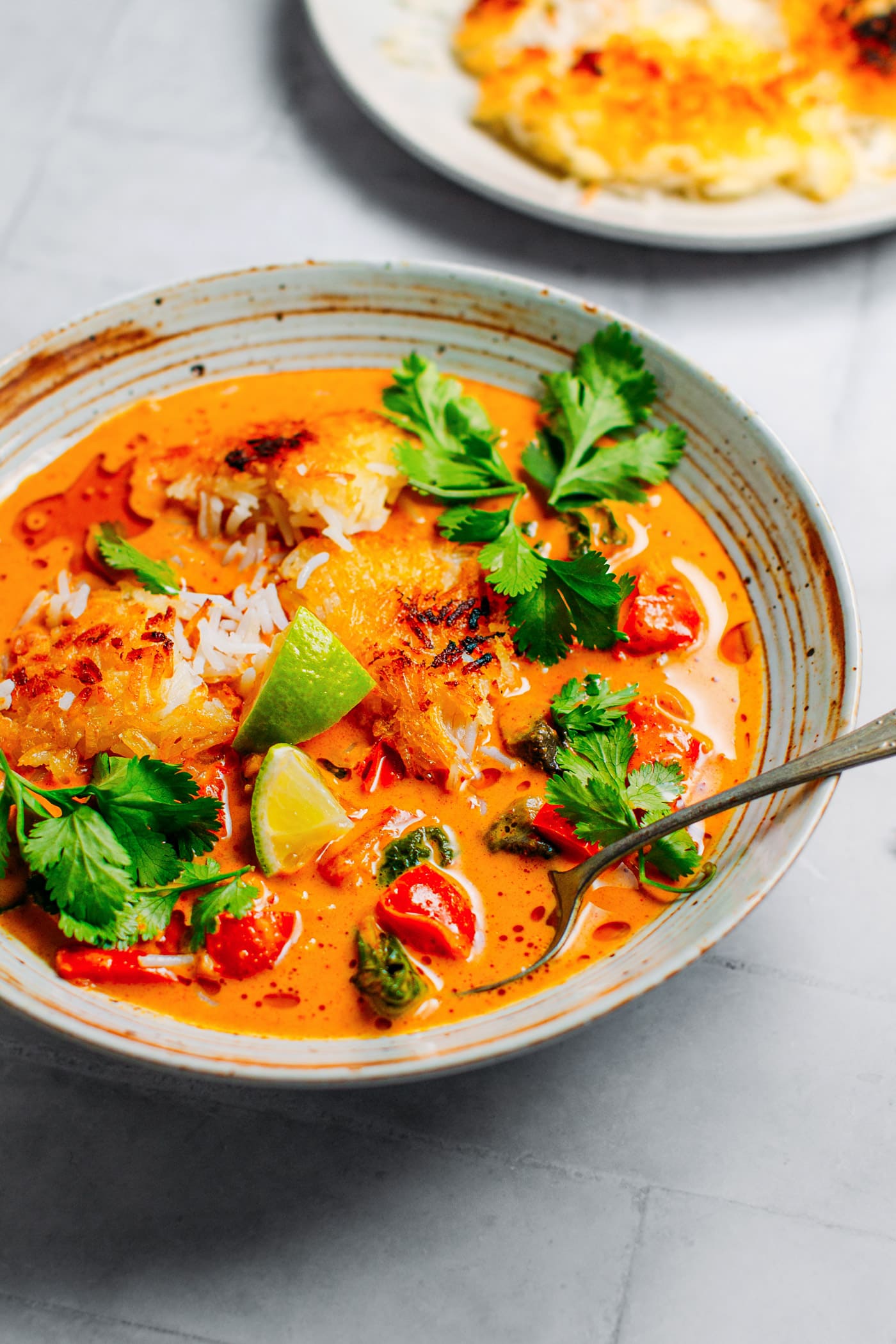 Looking for more curry recipes? Check out this Instant Pot White Bean Green Curry, Cashew Buckwheat Curry with Garlic Kale, or this Curried Spinach Soup with Cashew Tempeh!
Let me know in the comments if you try this recipe!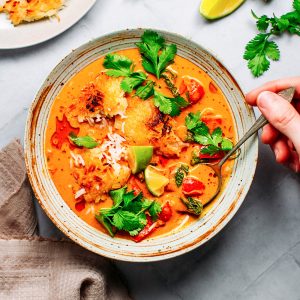 Red Curry with Crispy Rice
Comforting, flavorful, and creamy red curry served with toasty and crispy rice! Packed with textures and SO DELICIOUS!
Ingredients
Crispy Rice
¾

cup

dry rice

3

tablespoon

vegan yogurt

2

teaspoon

vegan butter

2

teaspoon

oil
Red Curry
1

tablespoon

oil

1

shallots

minced

1

clove of garlic

minced

1

tablespoon

minced ginger

2

tablespoon

red curry paste

5-6

mushrooms

quartered

2

medium

carrots

sliced

½

red bell pepper

cut into 1-inch squares

1

13.5-oz can

full-fat coconut milk

½

cup

water

1

tablespoon

maple syrup

1

tablespoon

soy sauce

1

teaspoon

tomato paste

¼

teaspoon

chili flakes

¼

teaspoon

salt

1

tablespoon

lime juice

a handful of fresh cilantro
Instructions
Start by cooking the rice. Bring a large pot of salted water to a boil. Once boiling, add the dry rice and cook for about 7 minutes, or until just tender. Drain and set aside, covered.

Prepare the curry: heat the oil in a medium pot or saucepan. Once hot, sautée the shallots, garlic, and ginger for a couple minutes. Add the red curry paste and sautée for another 2 minutes.

Add the mushrooms, carrots, red bell pepper, and cook for another 5 minutes.

Pour in the full-fat coconut milk, water, maple syrup, soy sauce, tomato paste, chili flakes, and salt. Bring to a boil and let simmer uncovered for about 20 minutes or until carrots are tender. Cover to keep warm.

While the curry is cooking, prepare the crispy rice. Mix about ½ cup of cooked rice with the vegan yogurt.

Melt the vegan butter and oil in a 7-inch clay pot or deep skillet (I personally used two 4.5-inch clay pans and divided the butter and oil) over low-medium heat.

Once the butter has melted, add the rice yogurt mixture to the pan and spread it into an even layer using the back of a spoon. Add the rest of the rice and slightly pack it down. Using a chopstick or the handle of a wooden spoon, make 4-5 holes in the rice. This will allow steam to escape.

Cook over low-medium heat for about 18 minutes, rotating the pan every 2-3 minutes by ⅛ of a turn. This will prevent the rice from browning unevenly.

Using a spatula or tablespoon, check the edges to see if the rice has developed a crust and if it's golden brown. Run the spoon around the edges of the pan, place a plate over the pan and carefully but quickly invert the rice cake over the plate. You should have a beautiful golden brown crust! Cut into 4-6 pieces.

To serve, divide the curry between 3 serving bowls and top with crispy rice pieces, fresh cilantro, and a squeeze of lime!

This red curry will keep for up to 3 days in the refrigerator. Crispy rice is best served the same day.
Nutrition
Serving:
1
(with rice)
Calories:
428
kcal
Carbohydrates:
55.4
g
Protein:
7.7
g
Fat:
19.8
g
Fiber:
2.4
g
Sugar:
10
g
DID YOU MAKE THIS RECIPE?
Tag @fullofplants on Instagram and hashtag it #fullofplants