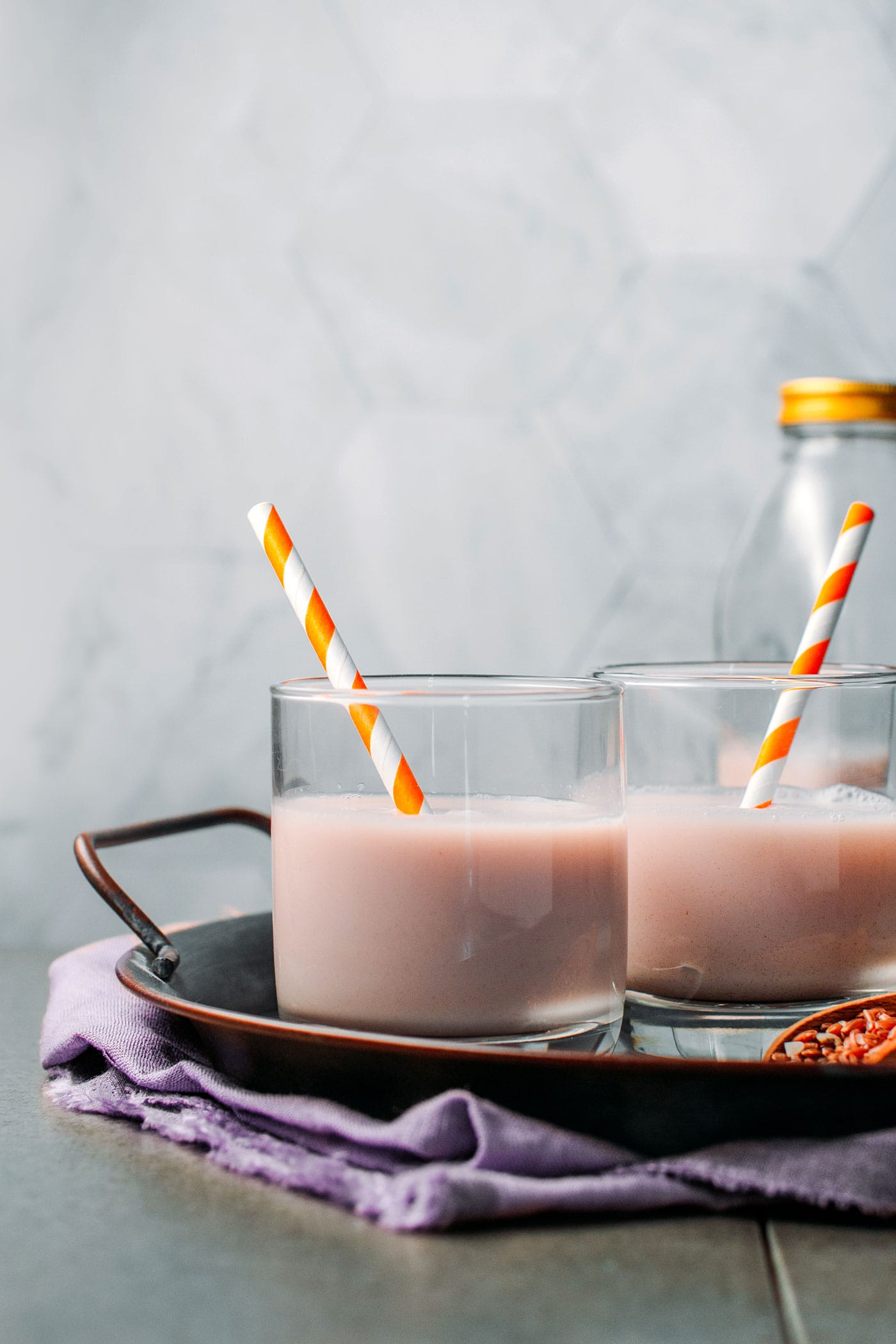 This is not your basic rice milk!
Introducing popped red rice milk! This plant-based milk has a super nutty and toasty flavor, think popcorn-like kind of flavor!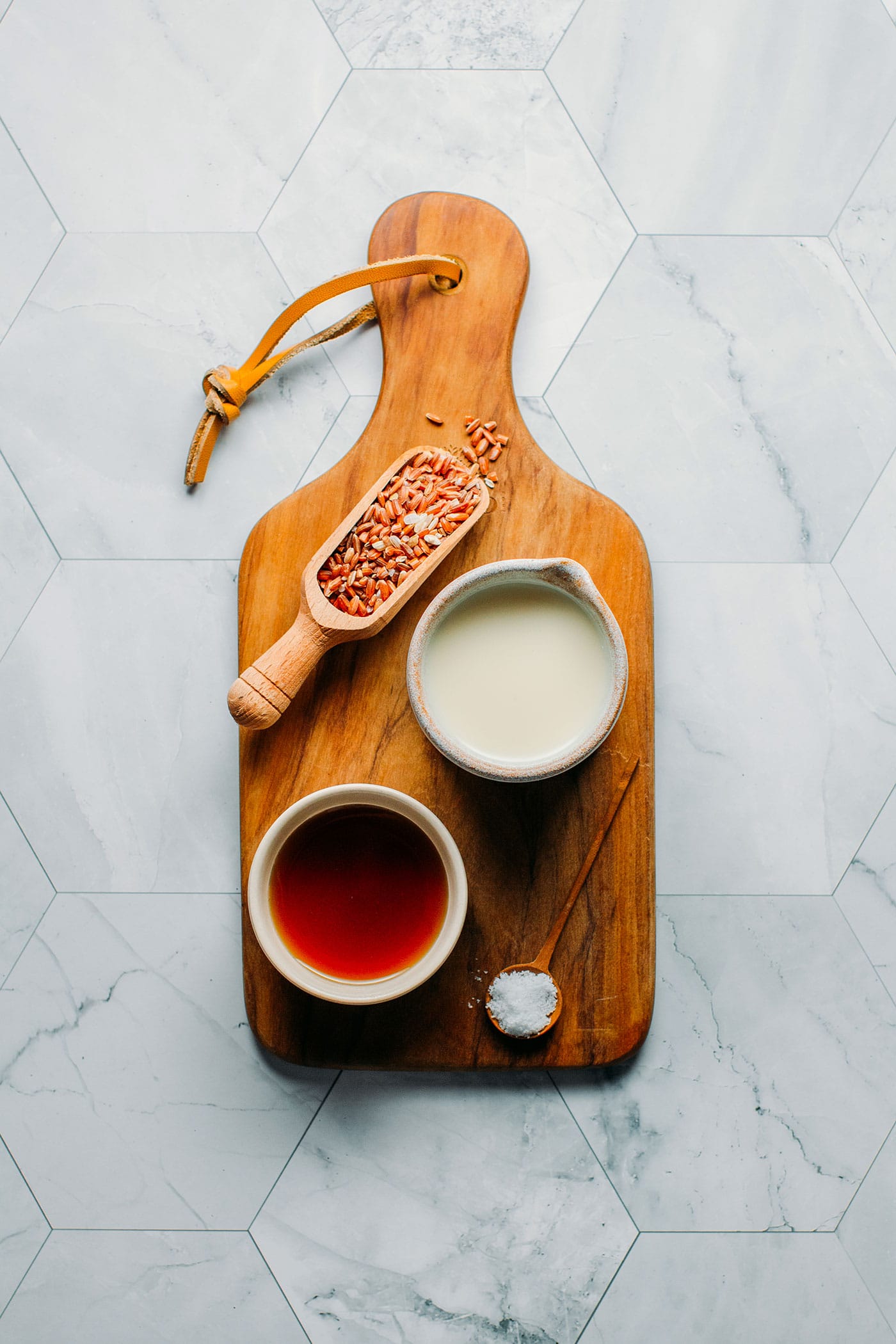 WHAT IS POPPED RED RICE MILK?
Popped red rice milk is a delicious beverage made from popped red brown rice. It is very different from rice milk, which has a neutral flavor and is made from cooked white rice. This red rice milk has a strong toasty flavor, it is also sweetened to balance with the nuttiness.
BENEFITS
Red rice is a whole grain that has many health benefits, it is said to:
Help with digestive issues: due to its high fiber content, brown rice is good for your digestion, it is also said to prevent colon cancer.
Helps lower cholesterol: the bran contained in brown rice reduces bad cholesterol levels.
Boosts heart health: rich in selenium, an essential mineral, brown rice keeps your heart healthy.
Maintain a healthy nervous system: manganese, another mineral found in brown rice, is essential for healthy brain function.
Refreshing and delicious: that is still a benefit!
HOW TO MAKE IT
Making popped red rice is easy and requires just 5 ingredients!
First, soak the red rice, it will help reduce cooking time and make it more digestible. Next, drain and toast it in a skillet until it starts to pop! This is an essential step, and if you don't toast the rice enough it will not have its delicious nutty flavor.
Once most of the rice has popped, it's time to cook it. Simply add water, bring it to a boil, and cook until tender. Transfer to a blender, add more water and blend for 1 minute.
Finally, you strain the rice milk through a nut milk bag, add cashew milk (or any other plant-based milk) for extra creaminess, maple syrup for sweetness, and a good pinch of salt. Trust me, don't omit the salt, it takes the drink to the next level. Salted + toasted? SO GOOD!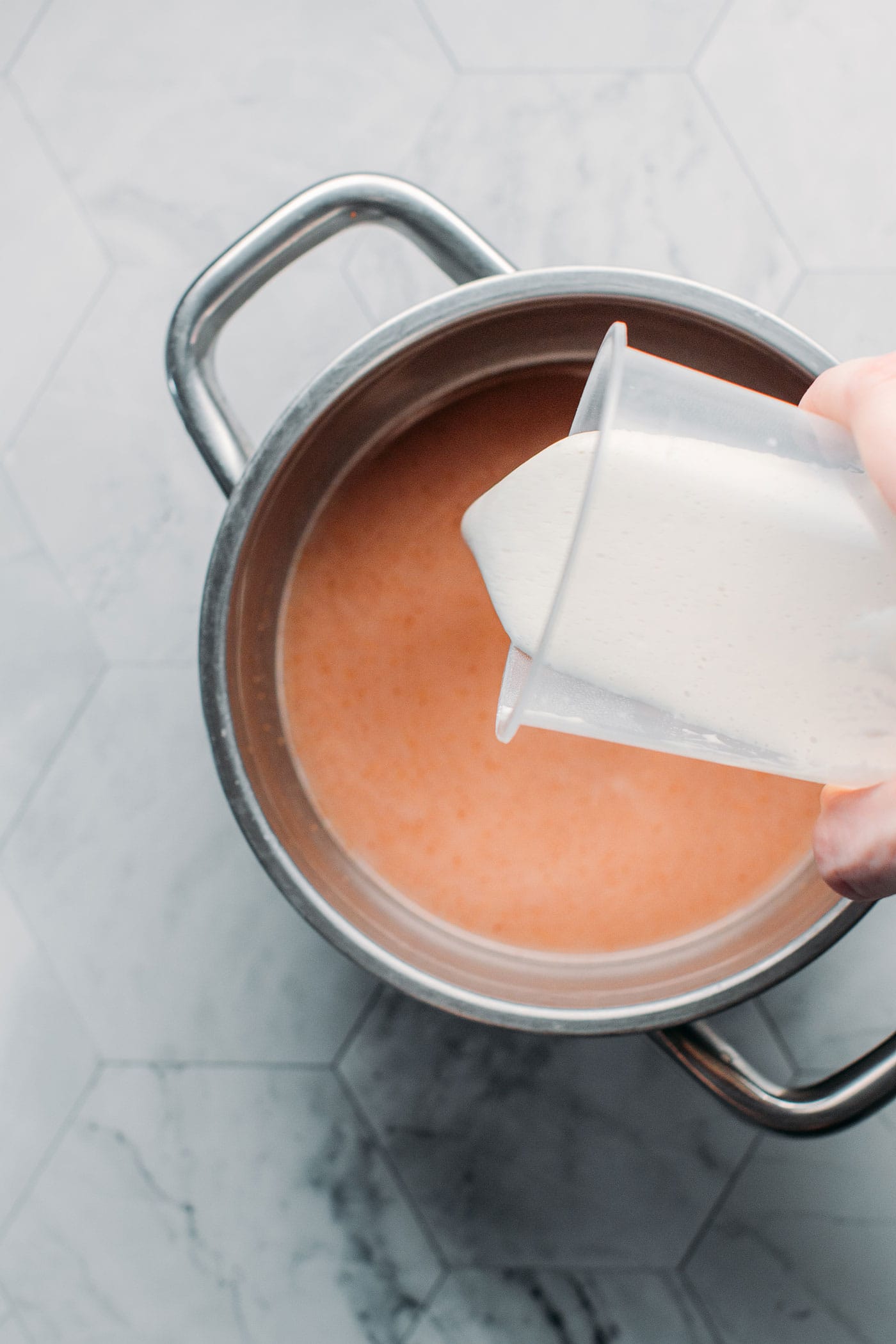 I absolutely love this milk on its own with a handful of ice cubes, but it's also delicious in oatmeal, or combined with cacao for chocolate toasted rice milk!
If you are looking for more refreshing beverages, check out this Iced Vanilla Matcha with Red Beans or this Peach, Orange & Lemongrass Iced Tea!
Let me know in the comments if you try this recipe!
Popped Red Rice Milk
Nutty, toasty and a bit salty red rice milk! A refreshing, healthy, and naturally sweetened plant-based drink!
Ingredients
¼

cup

dry red rice

soaked overnight or for at least 3 hours

2

cups

of water (divided)

⅓

cup

cashew milk* (or almond milk)

1 and ½

tablespoon

maple syrup

⅛

teaspoon

salt
Instructions
Drain the rice and transfer to a large non-stick skillet. Heat over medium heat, stirring regularly until no water remains and the rice starts to dry. Keep stirring for about 5 minutes, or until it starts to pop. You should hear the rice pop and some grains might even pop out of the skillet. Keep toasting the rice until you don't hear the rice popping anymore. Be careful not to burn the rice. Once popped, transfer to a saucepan.

Cover the popped rice with 1 cup water. Bring to a boil, reduce the heat to a simmer and cook covered for 15-20 minutes, or until the rice is tender and almost no water remains.

Transfer the cooked rice to a high-speed blender. Add the remaining cup of water and blend on high for about 1 minute.

Strain the rice milk through a fine

nut milk bag

. Discard the rice pulp.

Add ⅓ cup of cashew milk to the red rice milk, maple syrup, and salt. Adjust saltiness and sweetness to taste. Stir to combine and serve chilled!

Toasted red rice milk will keep for up to 3 days in the refrigerator.
Notes
*I recommend homemade cashew milk made with just cashews and water for the best flavor. To make a small batch of cashew milk: soak ⅓ cup raw cashews overnight. Drain and add to a blender with ¾ cup water. Blend until fully smooth. If your blender is not powerful enough, strain through a nut milk bag.
This recipe can be doubled if you want to have enough for a few days.
If you find the rice milk too thick, add ¼ cup to ½ cup cashew milk.
Nutritional information is too difficult to calculate.
DID YOU MAKE THIS RECIPE?
Tag @fullofplants on Instagram and hashtag it #fullofplants