Crispy chocolate, buttery salted caramel, and toasty popped grains!
Doesn't that sound like the perfect way to start the weekend? Salted caramel meets popped amaranth and chocolate in these to-die-for bars. The fact that they all disappeared in a matter of hours proves how good they are!
This recipe is very easy to prepare, the hardest part is waiting for it to firm up in the fridge.
The crust consists of popped amaranth, rice crisps, and oat flour mixed with a sticky sweetener. I went with coconut nectar because I like its subtle caramelized flavor, but you can use maple or brown rice syrup. To help firm up the crust a bit I also added some coconut oil.
Have you ever tried making your own popped amaranth? It's a fun process, you heat a skillet over medium-high heat and add your raw amaranth. Cover and let it pop! It's THAT easy! And much cheaper than buying popped amaranth.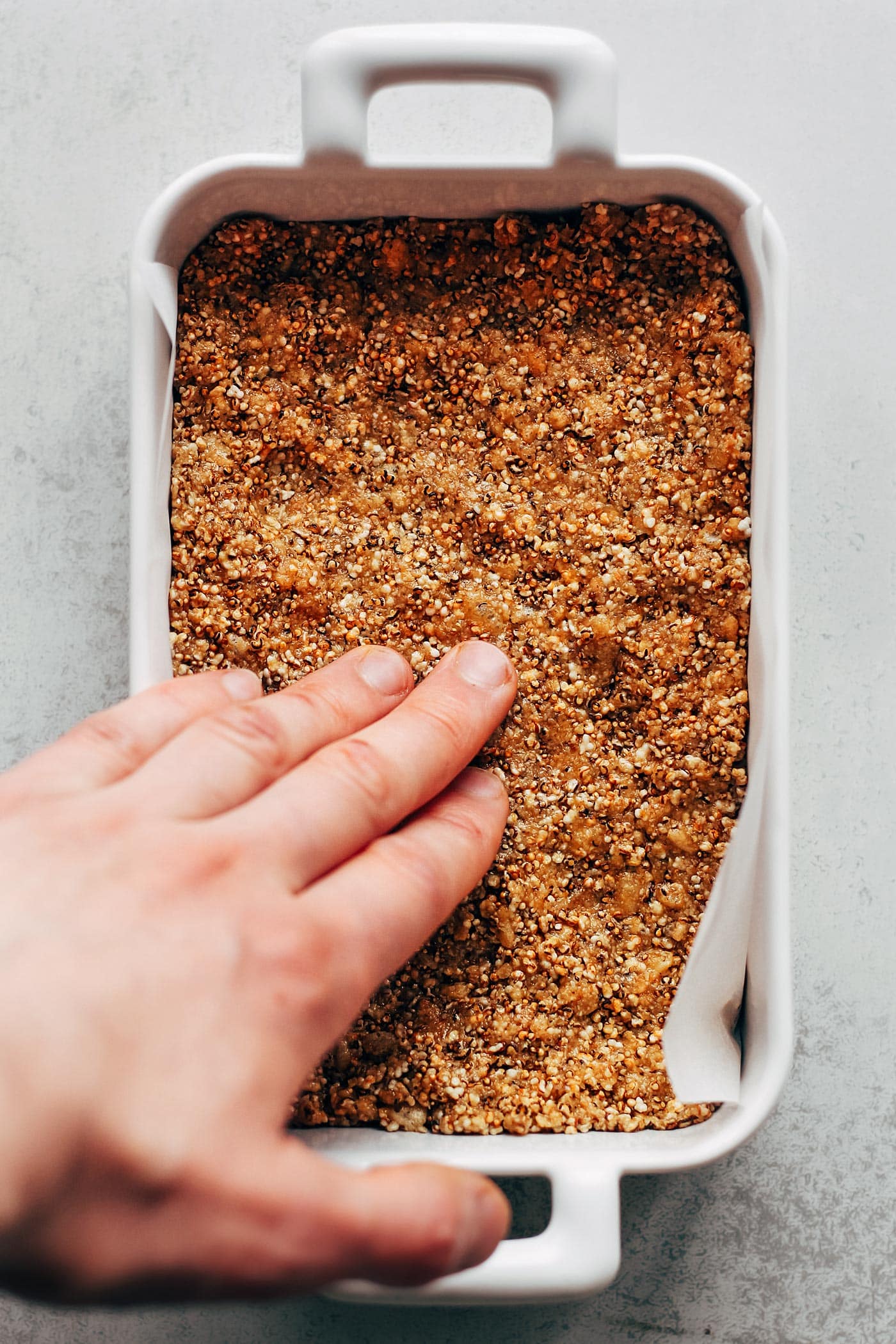 The combination of popped amaranth and rice crisps give these bars a toasty flavor and crispy texture that balances so well with the soft and buttery caramel.
For the caramel, I went with my go-to caramel base that I used in this Twix Chocolate Caramel Spread, or these Salted Caramel Chocolate Pancakes. It's a mix of 5 ingredients: almond butter, maple syrup, cocoa butter, vanilla, and sea salt.
Almond butter brings the creaminess, maple syrup the caramel flavor (I recommend using a dark maple syrup for a deeper caramel flavor), and cocoa butter helps firm up everything. Vanilla and sea salt are optional but highly recommended. Who doesn't like a hint of salt with caramel?!
Finally, the thin chocolate layer comes to give even more flavor. It's made with only three ingredients: cocoa butter, cocoa powder, and maple syrup. It's super chocolatey, crispy, and perfectly sweet.
If you are a caramel lover you will love these bars, they are sweet, salty, buttery, and super crispy!
If you have a brother like mine around, these caramel bars won't last long! Quick tip: hide them very well in your refrigerator if you don't want them to disappear too quickly! May I recommend putting them under a box of blue cheese? Its stinky smell should keep most of the gluttons away.
Let me know in the comments if you try this recipe!
Popped Grains Salted Caramel Bars
Popped amaranth bars with a soft salted caramel center, topped with a crispy layer of homemade dark chocolate. Buttery, salty and chocolatey, it's the perfect treat!
Instructions
Popped Grains Crust
Line a baking dish with parchment paper. I used an 8x4 inch baking dish.

In a mixing bowl, combine the oat flour, coconut nectar, popped amaranth, rice crisps, melted coconut oil, and vanilla extract. Mix using a wooden spoon until you get a sticky mixture.

Transfer the mixture to the baking dish, cover with another layer of parchment paper and press very firmly using the bottom of a glass. You want the crust to be very firmly packed. Place in the refrigerator for 1 hour (or 30 min in the freezer).
Salted Caramel Layer
In a small bowl, combine the maple syrup and almond butter. Stir in the melted cocoa butter, vanilla extract and sea salt. Whisk until fully combined.

Remove the baking dish from the refrigerator and pour the salted caramel on top on the popped amaranth crust. Place in the refrigerator for another 2 hours, or until the caramel layer is firm to touch.
Chocolate Topping
Once the caramel layer is firm: in a bowl, combine the melted cocoa butter, cocoa powder, and maple syrup. Pour over the salted caramel layer and slightly rotate the baking dish to distribute the chocolate evenly. Place in the refrigerator for another 10-15 minutes.

Once firm, remove from the baking dish. Run a large knife under hot water, pat it dry and carefully cut into bars. I cut mine into 8 large bars but you can definitely cut it into 16 bite-size bars!
Nutrition
Serving:
1
bar
Calories:
396
kcal
Carbohydrates:
32.9
g
Protein:
5
g
Fat:
28.4
g
Fiber:
3.3
g
Sugar:
17.6
g
DID YOU MAKE THIS RECIPE?
Tag @fullofplants on Instagram and hashtag it #fullofplants