Do you guys remember my Maple Praline Butter? Well, it is so good that I decided to make mini chocolate cups with it!
These are not your regular peanut butter cups. First, they are filled with an insanely good caramelized pecans butter! And secondly, they are minis, just like chocolate candies, meaning you can eat several in one sitting. Enough said, let's make these!
We start by making the praline, which is a nut butter made out of caramelized nuts, usually hazelnuts and almonds. I went with pecans and almonds here. The addition of almonds makes the butter thicker and helps tone down the roasted pecan flavor so it is not overpowering.
You roast the nuts, then let cool a few minutes. Next, heat the maple syrup in a saucepan, bring to a boil, add the nuts and cook until the maple syrup has crystallized. If you are worried about burning it, please don't! If you stir regularly and remove from heat once the maple syrup has fully crystallized and no liquid remains there is no way it will burn!
This pecan praline butter is so addictive I dare you not to eat a few spoonfuls. I love to add it to my oatmeal or stir into banana ice cream, it's pure goodness! The caramelized pecans combined with fresh vanilla and roasted almonds...it's just insane.
Once our praline butter is ready, we mix it with melted chocolate and cocoa butter to firm it up. Cocoa butter is best but if you don't have any on hand, you can use coconut oil. Be aware that the filling might not be as firm at room temperature though.
Making the cups is very easy, dollop some melted chocolate into mini baking cups and refrigerate a few minutes. Then fill the cups with pecan praline butter and top with more melted chocolate to close the cup. Refrigerate until firm and enjoy!
For refined-sugar free cups, feel free to use coconut sugar sweetened dark chocolate, or raw chocolate (recipe to come).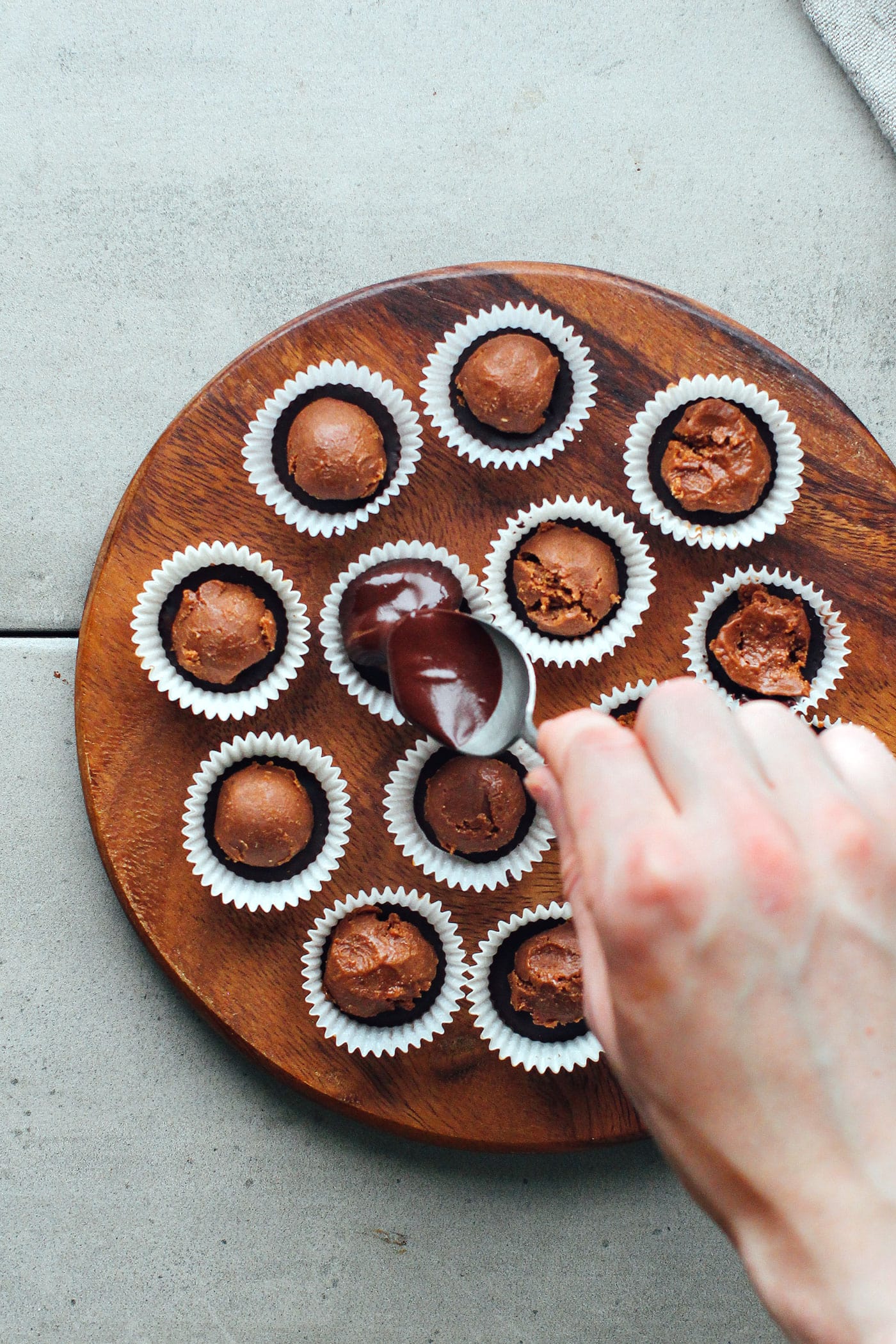 Obviously, you don't have to make mini cups, you can make full-size ones! And if you prefer making chocolate squares like these instead of mini cups you can too! Just pour the pecan praline mixture(mixed with the dark chocolate and cocoa butter) into a square dish. Refrigerate until firm, cut into squares and then dip them directly into melted chocolate.
What I find great about making your own cups is that you can control the ratio of filling to chocolate shell. Personally, I prefer a higher amount of filling.
I made some cups with a full shell and others with just layers as you can see, the choice is yours!
If you are a chocolate lover I have no doubts you're going to love these pecan praline cups. The filling is sweet, nutty, and packed with pecan and vanilla flavors!
Let me know in the comments if you try this recipe!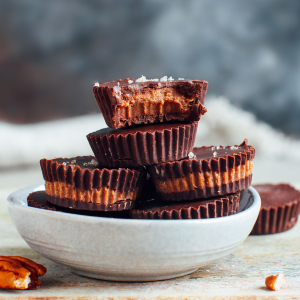 Mini Pecan Praline Cups
Mini dark chocolate cups filled with caramelized pecan and almond butter! A soft and nutty filling with a crispy chocolate shell!
Ingredients
Chocolate Cups
1

cup

70% dark chocolate, chopped (or semi-sweet dark chocolate chips)
Instructions
Preheat oven to 350°F (175°C) and line a baking sheet with parchment paper.

Place the almonds on the baking sheet and bake for 5 minutes. Remove from the oven, add the pecans next to the almonds and bake for another 7 minutes. Remove from the oven and let cool a few minutes.

Pour the maple syrup into a large saucepan. Heat over medium heat for 3-5 minutes, or until some foam starts to appear. Add the roasted nuts and continue cooking, stirring frequently to prevent the nuts from burning, until the maple syrup has reduced. This step will take about 7-8 minutes. As soon as no liquid remains and the maple syrup has crystallized and coated the nuts, remove from heat and transfer to a baking sheet or Silpat to cool. Be careful the nuts will be very hot.

Transfer the maple-coated nuts to a food processor or blender. Add the vanilla bean and sea salt, and process until it turns into a smooth butter. At first it will look like almond meal, then a thick paste will form, and finally, it will become thinner and smoother.

Transfer the praline butter to a mixing bowl. Melt the cocoa butter and dark chocolate over a double boiler. Pour the melted chocolate and cocoa butter into the bowl and mix with the praline butter until fully combined. Cover and refrigerate at least 1 hour, or until firm. Once firm, remove from the refrigerator and leave it at room temperature for at least 5 minutes to make it softer.

In the meantime, melt the dark chocolate over a double boiler. Once melted, drop about ½ teaspoon of melted chocolate into a 1-inch paper baking cup. Slightly rotate the cup to coat the sides with the chocolate. Repeat with the remaining baking cups (I usually make 12 mini cups and have praline butter leftover). Freeze for 5 minutes or refrigerate 15 minutes.

Dollop about ½ tsp of praline butter into each cup and top with a teaspoon of melted dark chocolate. Refrigerate until the chocolate is set, top with sea salt and enjoy!

These pecan praline cups will keep at room temperature for several weeks. If it's hot or you prefer crunchier cups, store in the refrigerator.
Notes
*Cocoa butter helps firm up the filling. If using coconut oil make sure to store the cups in the refrigerator since coconut oil is softer than cocoa butter at room temperature.
*You will have praline butter leftover, it can be used as a topping for oatmeal, spread on toast, used in other desserts, or used to make more cups later. Praline butter will keep for up to 3 months at room temperature, make sure to stir before using as oil might separate, just like peanut butter.
Nutrition
Serving:
1
Mini Cup
Calories:
98
kcal
Carbohydrates:
7
g
Protein:
2
g
Fat:
7
g
Fiber:
1
g
Sugar:
6
g
DID YOU MAKE THIS RECIPE?
Tag @fullofplants on Instagram and hashtag it #fullofplants