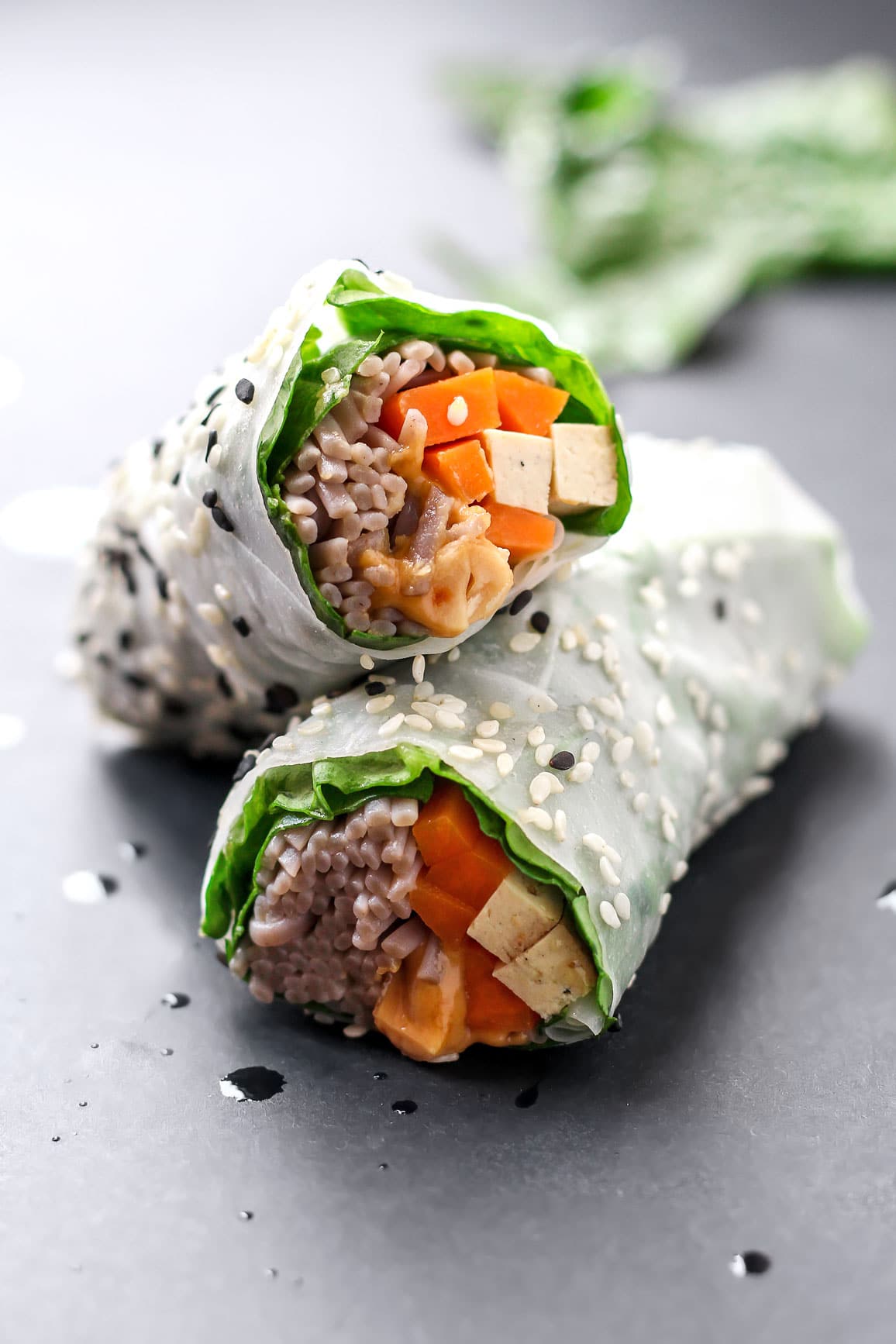 Yum yum yum yum yum, my favorite summer rolls to date!
These summer rolls are loaded with healing goodness: carrots, ginger, almond butter, spinach, buckwheat noodles, peanuts, sesame seeds and smoked tofu.
The blend of everything makes these taste magical. Seriously. You get a ton of flavor and a contrast of textures that is out of this world. Can you tell how excited I am about this recipe? They are so good you could eat them without any dipping sauce, but add a ponzu sauce and you are in the heaven of summer rolls.
Why nutty in the name of the recipe? Because they are filled with almond butter + peanuts for a little crunch. Yes, I put almond butter directly in the rolls, not in the dipping sauce. It really adds up to the flavor and pairs well with the ginger. Why power? Because each serving is packed with a whooping 12g of protein!
The recipe starts with the carrots that you cook for just one minute and then let marinate in a mix of olive oil, rice vinegar and fresh ginger. I like to make a big batch so I have leftovers that I can add to salads or sushis. The carrots will keep for about one week in the fridge.
Then you simply cook the buckwheat noodles, cut the tofu into matchsticks and wash the spinach. Add everything to the rice paper wrapper and drizzle with almond butter before rolling it tightly.
I used Barney's Smooth Almond butter which is one of my favorite, it is made from blanched almonds grown in California. They are roasting the almonds in-house so they can always have the same roast and consistency. Plus I love how smooth and lightly sweet it is. Quick note: I'm a serious nut butter addict, my last record, which was just a few weeks ago, is eating one 16-oz jar of almond butter in 5 days! That's a lot, I know.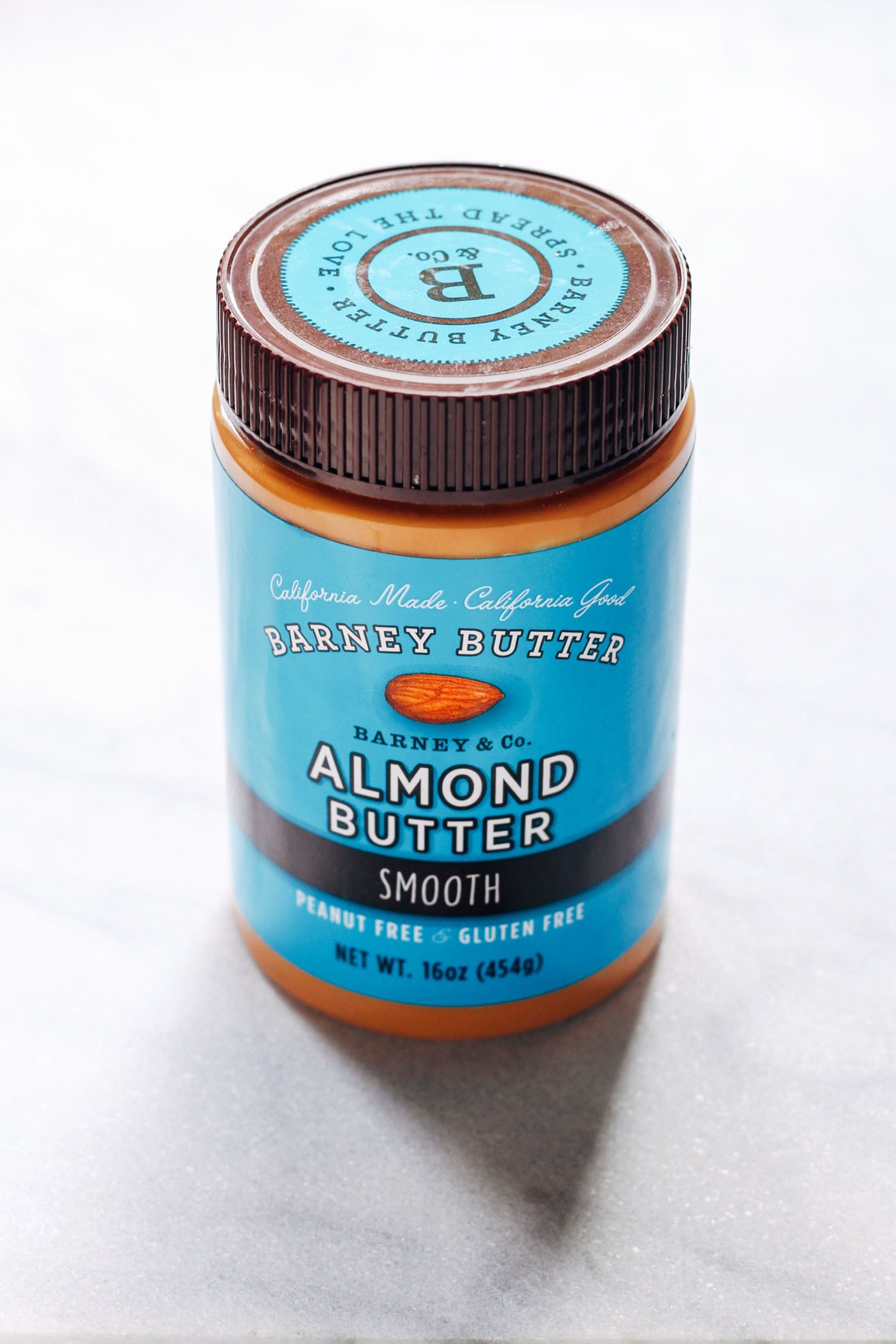 This recipe is also very flexible, you can basically add anything else you want, avocado slices, asparagus, sprouts, etc.
I have been making these rolls twice this week and it is now my go-to recipe every saturday night. These + Me + Netflix + A good couch: It can't get any better.
Print
Nutty Power Summer Rolls
These homemade summer rolls are filled with almond butter and marinated carrots. Fresh and packed with flavor!
Marinated Carrots
2

carrots, cut into matchsticks

1/4 cup

olive oil

1/4 cup

rice vinegar

2 tbsp

finely chopped ginger
Summer Rolls
3

spring roll rice paper wrappers

3 ounces

soba noodles

2 ounces

smoked tofu, cut into thin stripes

3 tbsp

almond butter

3 tbsp

roasted peanuts
A handful of spinach, washed
Black and white sesame seeds (optional)
Ponzu Sauce
1/4 cup

soy sauce

2 tbsp

mirin (sweet rice wine)

2 tbsp

fresh lemon juice

2 tbsp

water
Instructions
Marinated Carrots
In a small saucepan, bring water to a boil.
Add the carrot matchsticks and cook for 1 minute. Drain and set aside.
In a small bowl, whisk together the vinegar, olive oil and ginger. Add carrots, cover and refrigerate for at least one hour, overnight is best.
Summer Rolls
Cook the soba noodles according to the package directions.
Make sure all the other ingredients are ready.
Heat a large pot of water over medium heat until warm.
Working with one rice paper wrapper at a time, gently immerse the wrapper in the water until soft, about 10-15 seconds. Remove the wrapper from the water and let excess water drip off.
Lay the wrapper on a work surface (silpat, cutting board, etc).
Arrange 3-4 spinach leaves in the bottom of the rice paper wrapper, leaving about 1-inch border along edge. Top with 1/3 of the soba noodles, 6-8 carrot matchsticks and 6 tofu stripes.
Drizzle one tablespoon of almond butter on top and 1 tablespoon of roasted peanuts.
Fold the bottom half of the rice paper over the filling. Holding the whole filling very tightly, continue to roll the wrapper from the bottom to the top.
Repeat with the two remaining rice paper wrappers.
Cut the edges to make the filling visible, and cut each roll in half to get 6 small rolls.
Sprinkle with black and white sesame seeds.
Arrange the rolls on a plate, making sure they are not touching each other or they might stick together. Cover with plastic wrap and let sit in the fridge for at least 30 minutes.
Serve fresh with the ponzu sauce.
Ponzu Sauce
Combine all ingredients in a small bowl and refrigerate for at least 30 minutes.
Nutrition
Serving Size:

1/3 of the recipe (2 Rolls)

Calories:

314

Sugar:

4g

Fat:

14.7g

Carbohydrates:

35.3g

Protein:

12.7g