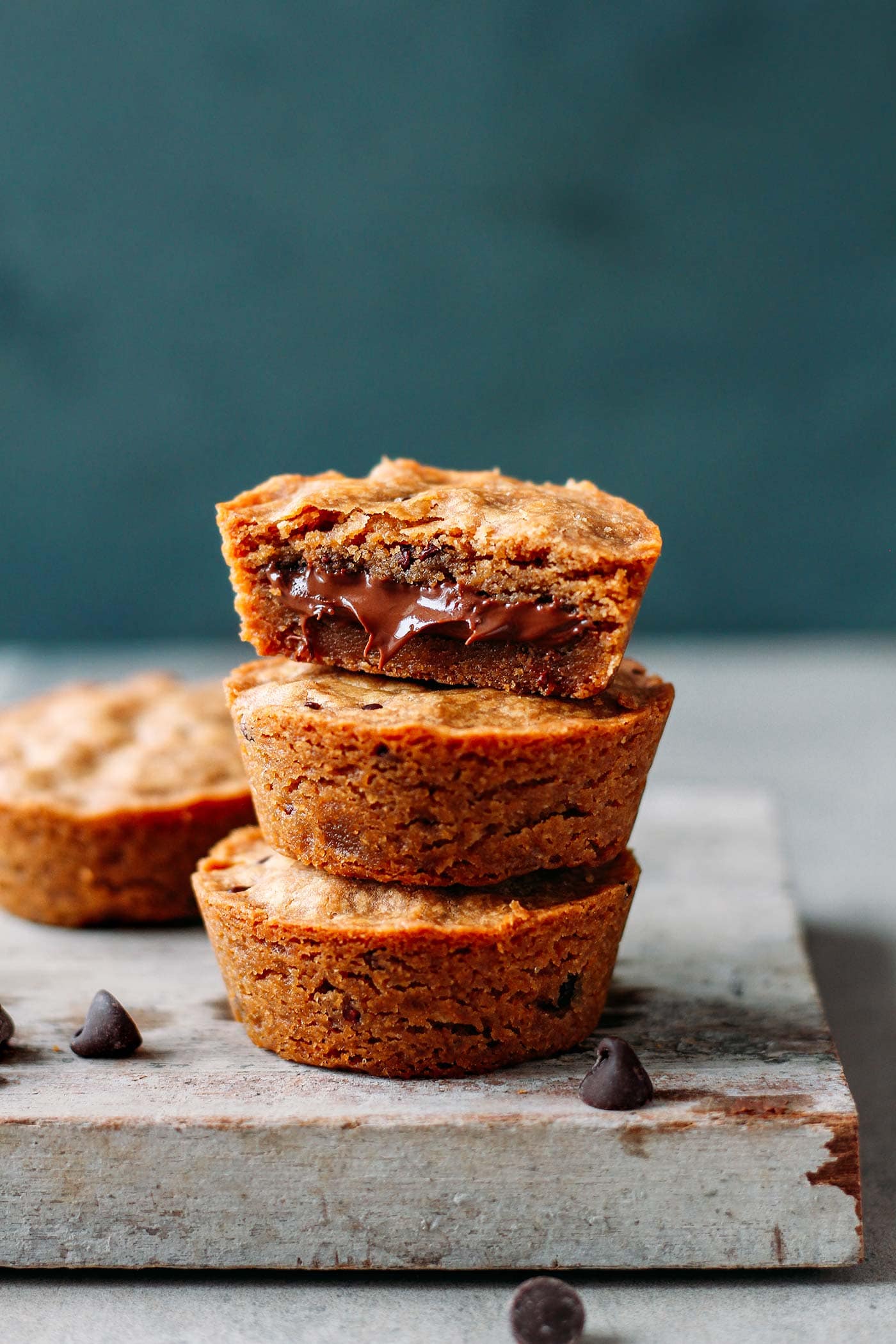 Chewy cookie + creamy "Nutella" = the best cookie cups, ever.
Do you remember these Nutella filled soft granola bars? Well, the difference here is that the filling is inside a chewy cookie cup! The cookie cups are crispy on the edges, chewy on the inside, and filled with a creamy hazelnut chocolate spread! To make things easier I will call the filling "Nutella", it's shorter than homemade chocolate hazelnut spread.
So, we start by making the "Nutella". Obviously, we are not using sugar and oil-packed Nutella here, we are making our own! Just 2 ingredients are required to make this creamy chocolate hazelnut filling: dark chocolate chips and hazelnut butter. If you want to make this recipe fully refined sugar-free I would recommend buying coconut sugar-sweetened chocolate chips. I used basic dark chocolate chips because that's all I had on hand.
Melt the chocolate chips, stir in the hazelnut butter, and mix until combined. Then you let it cool, it will thicken and get a thick yet creamy consistency. The next step is to dollop discs of Nutella onto a baking sheet lined with parchment paper and freeze it. This will make our filling.
Freezing the Nutella into discs is essential, otherwise, it would melt too quickly in the oven and you wouldn't get a nice filling.
For the cookie cups, I went with a mix of gluten-free flours: brown and white rice flour, and tapioca starch. It's sweetened with coconut sugar and a bit of maple syrup for an additional caramel flavor.
To make the cookie dough, cream the coconut oil, coconut sugar, vanilla extract and maple syrup together, then add the flours and mix until combined. You will get a slightly crumbly dough, this is okay. To make the cookies extra crispy I stirred in some cacao nibs, they are crunchy and very small, which is perfect for this recipe.
Finally, fill the cavities of a silicon muffin pan with about one tablespoon of cookie dough, top with the frozen Nutella disc, and close the cookie cup with another tablespoon of cookie dough. You want to press down on the edges to make sure you trap the Nutella inside the cookie cup, you certainly do not want that nutty Nutella to escape!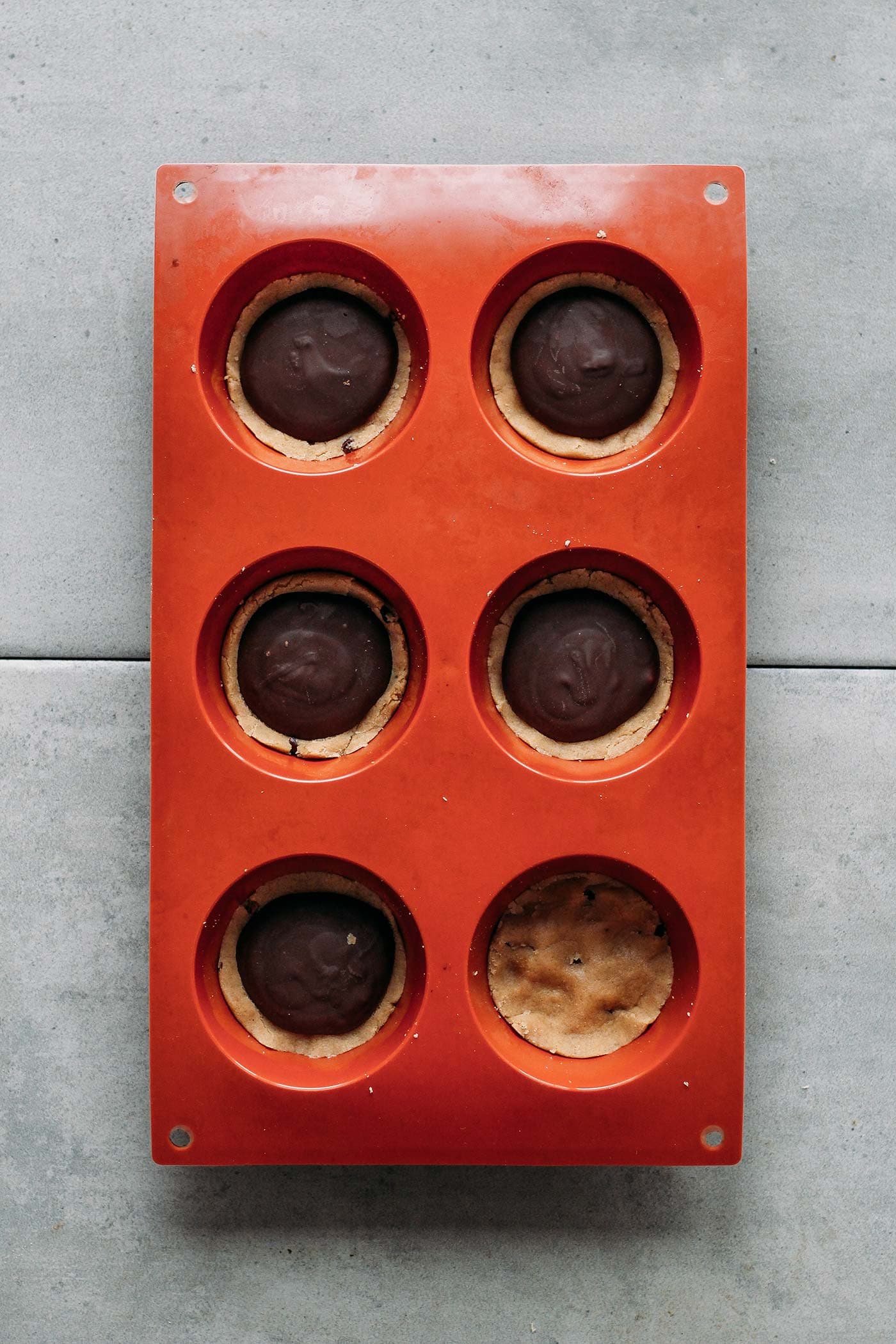 Bake for 18-20 minutes and let cool at least 15 minutes in the muffin pan. Then transfer to the refrigerator and chill for another 15 minutes. My first batches went terrible because I made the mistake of trying to remove the cookies from the pan too soon, do not make the same mistake! The cookie dough must be completely cool otherwise it will crumble.
I found out 15 minutes in the refrigerator was enough to cool the cookie dough while still keeping the filling melty. Once you have removed the cookie cups from the pan, you can keep them at room temperature.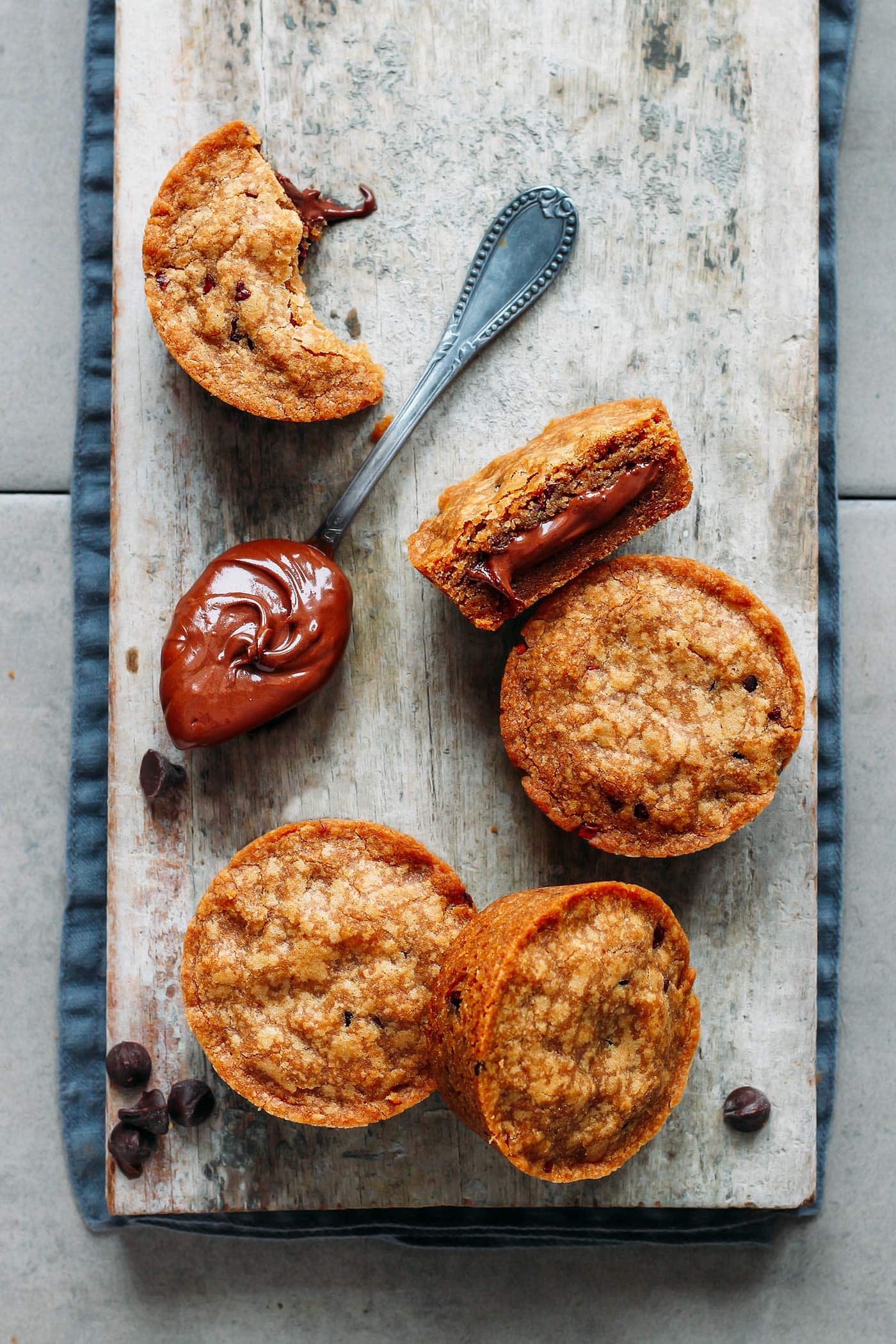 If you are a chocolate and hazelnut addict, I can only recommend you try these chewy cookie cups! For more recipes featuring chocolate + hazelnut, check out these Soft Granola Bars, Chewy Oatmeal Nutella Cookie Bars, or this 4-Ingredient Nutella Fudge!
Let me know in the comments if you try this recipe!
Print
Nutella Stuffed Cookie Cups (Vegan + GF)
Soft and chewy cookie cups filled with homemade chocolate hazelnut spread!
Nutella Filling
½ cup

(

90g

) dark chocolate chips

¼ cup

(

60g

) hazelnut butter
Cookie Cups
¾ cup

(

130g

) coconut sugar

⅓ cup

+ 2 tablespoon (105ml) melted coconut oil

2 tbsp

(30ml) maple syrup

1 tsp

 vanilla extract

1 tbsp

almond milk (or water)

½ cup

(

65g

) brown rice flour

½ cup

(

70g

) white rice flour

2 tbsp

(

15g

) tapioca starch (or arrowroot)

½ tsp

 baking soda

⅛ tsp

baking powder

¼ tsp

 salt

2 tbsp

(

28g

) cacao nibs
Instructions
Nutella Filling
Melt the chocolate chips over a double boiler, or microwave. Once melted, remove from heat and stir in the hazelnut butter. Whisk well until fully combined. Let it sit 24 hours at room temperature until thick (it should have the consistency of Nutella), or place in the refrigerator 40 minutes.
Dollop about 2 teaspoons of Nutella and place them on a baking sheet lined with parchment paper. Repeat with the remaining Nutella to form 1.5-inch disks. Place the baking sheet in the freezer for at least 30 minutes. In the meantime, prepare the cookie cups.
Cookie Cups
Preheat oven to 350°F (175°C).
In a large mixing bowl, cream together the coconut sugar, coconut oil, maple syrup, vanilla extract, and almond milk.
Add the brown rice flour, white rice flour, tapioca starch, baking soda, baking powder, and salt. Mix until well combined. Fold in the cacao nibs and mix again. The dough will be slightly crumbly, this is normal.
Press down about 1 tablespoon of dough into a cavity of a silicon muffin pan. Top with a frozen disk of Nutella. Finally, take 1 tablespoon of dough, form a ball and flatten it into a disk between your hands. Place on top of the Nutella disk and press down on the edges to close the cookie cups and trap the Nutella inside. Repeat to fill each muffin cavity.
Bake for 18-20 minutes. Remove from the oven and let it cool 15 minutes at room temperature. Don't try to remove the cookie cups from the pan or they will crumble. After 15 minutes, transfer the pan to the refrigerator and chill another 15 minutes. Then, you can carefully remove the cookie cups from the pan. The filling should still be melty and the cookie cups chewy on the inside and crispy on the outside.
Keep at room temperature in an airtight container for up to 5 days. The filling will slightly firm up after a few hours. Personally, I think these cookie cups taste even better the next day!
Nutrition
Serving Size:

1 Cookie Cup

Calories:

300

Sugar:

20.9g

Fat:

17g

Carbohydrates:

37g

Fiber:

1.1g

Protein:

2.5g