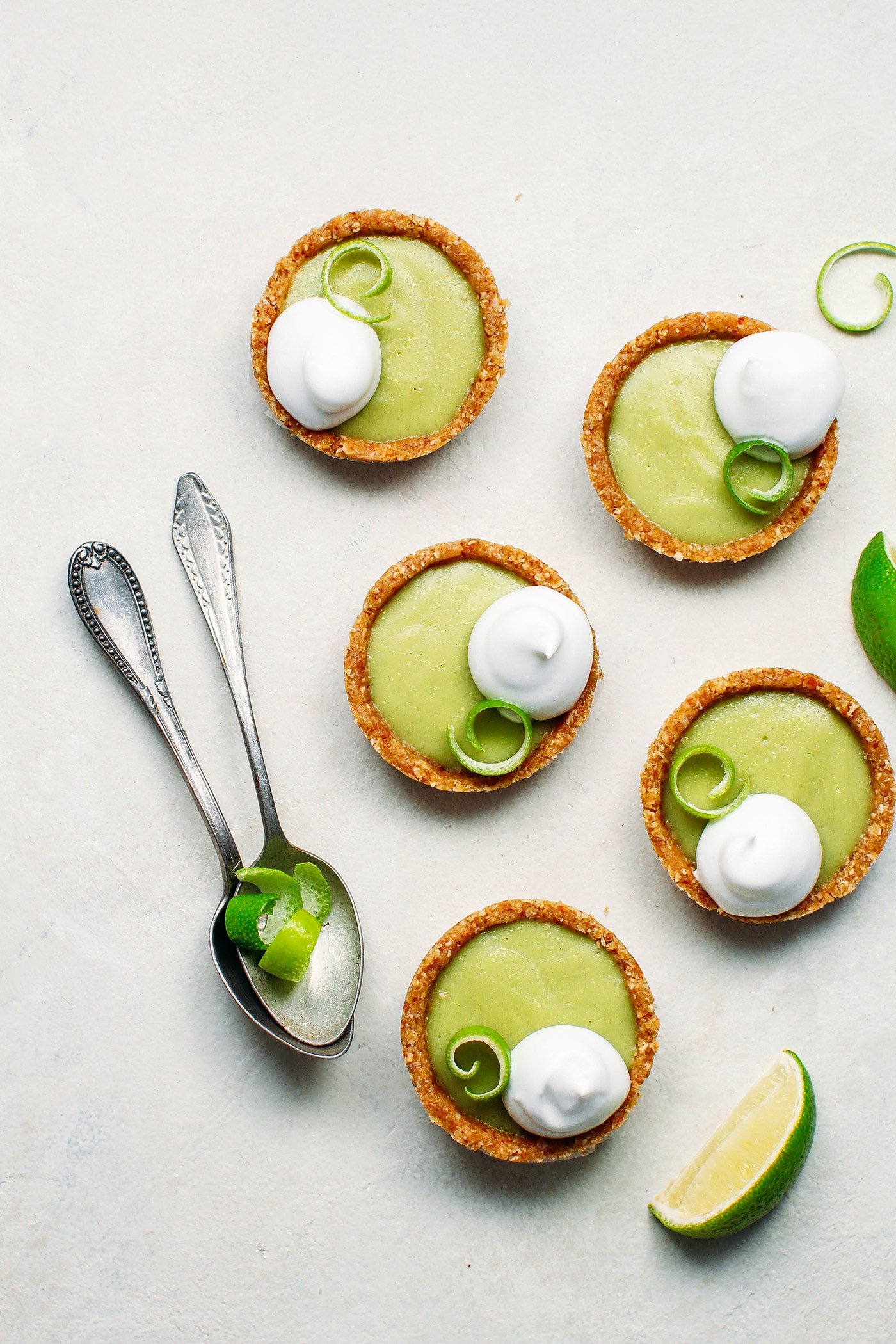 Summer is around the corner and we all know fresh pies make the best desserts!
These rich mini key lime pies are no-bake, gluten-free, and have a custardy lime coconut filling. It's fresh, light, and zesty!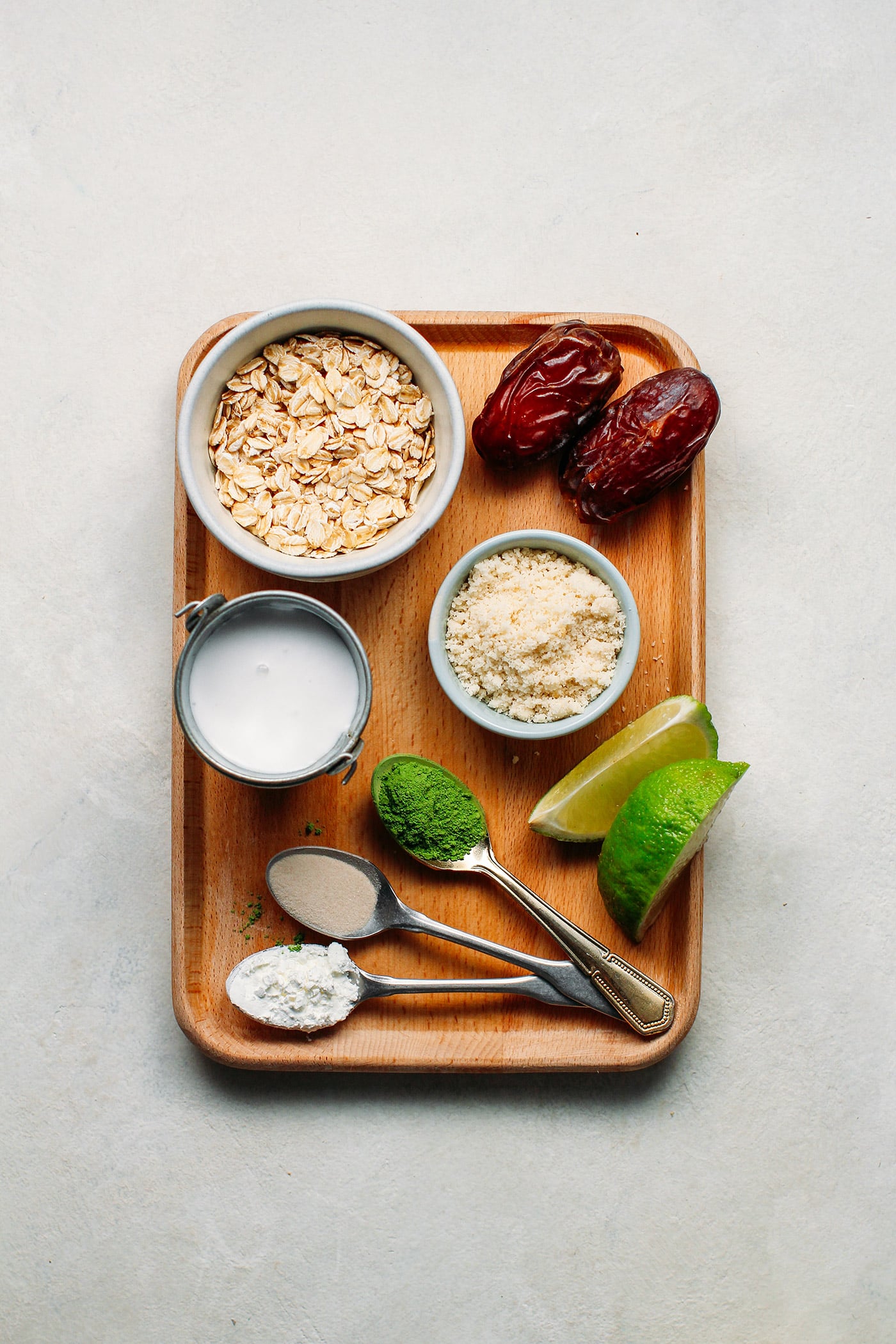 The crust requires just 4 basic ingredients: rolled oats, almond flour, dates, and coconut oil. You process all the ingredients together in a food processor until it forms a mixture that is sticky enough to hold together. You don't want the dough to be too dry or soft. Depending on the dates you use, you might have to add more or less oats.
Once this is done, press into a muffin pan lined with parchment paper, or use a silicon mold. The crust is now done, leave it in the fridge until slightly firmer.
Next, we have the filling that is rich, creamy, and full of lime flavor. It consists of full-fat coconut milk mixed with lime juice, lime zest for extra flavor, maple syrup for sweetness, and finally cornstarch and agar to make it set.
For the color, I added some matcha, which is optional. I recommend you dissolve the matcha in a tablespoon of water before adding to the saucepan to make sure there are no lumps.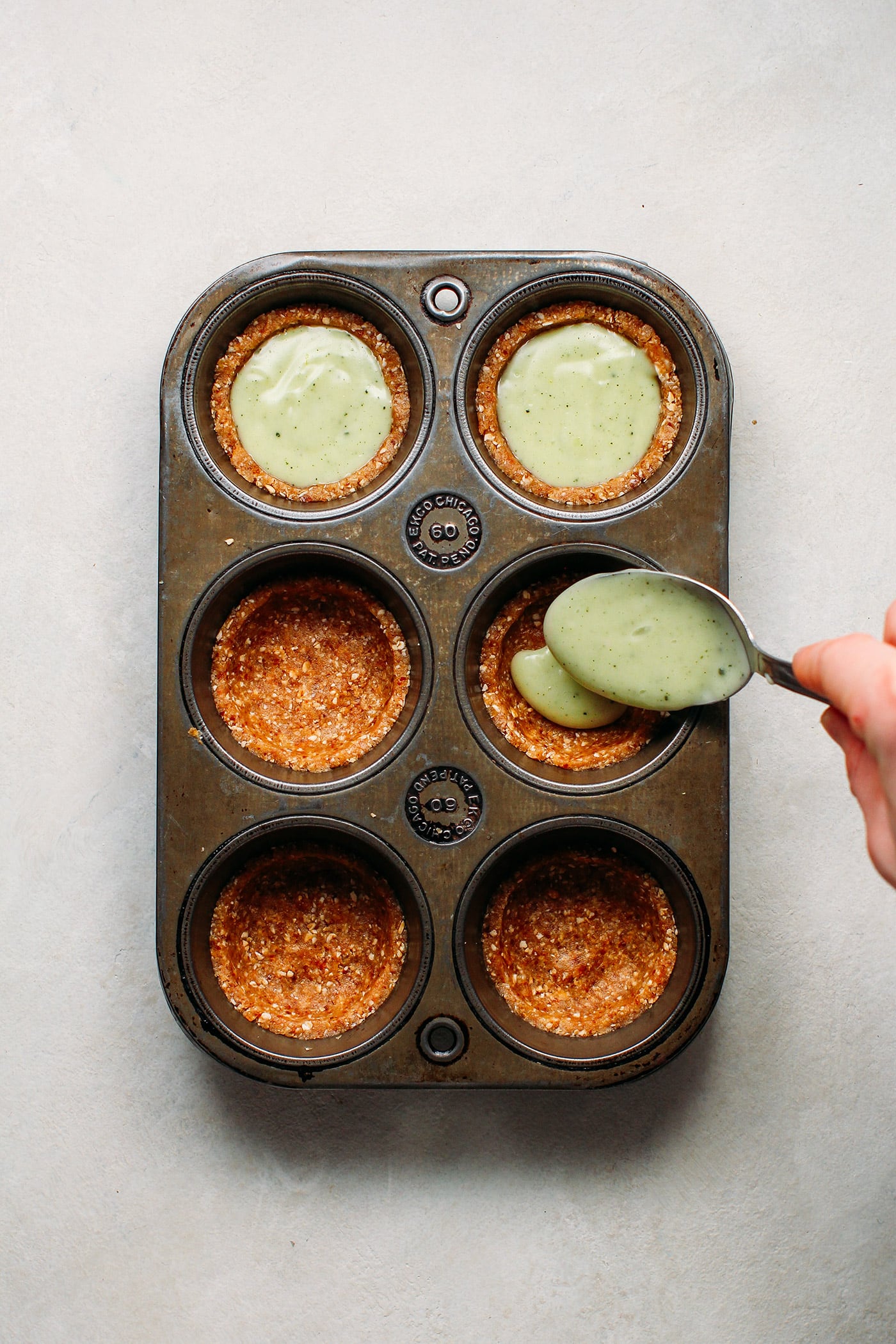 The filling is then poured into the small crusts and refrigerated for at least 3 hours, or until set.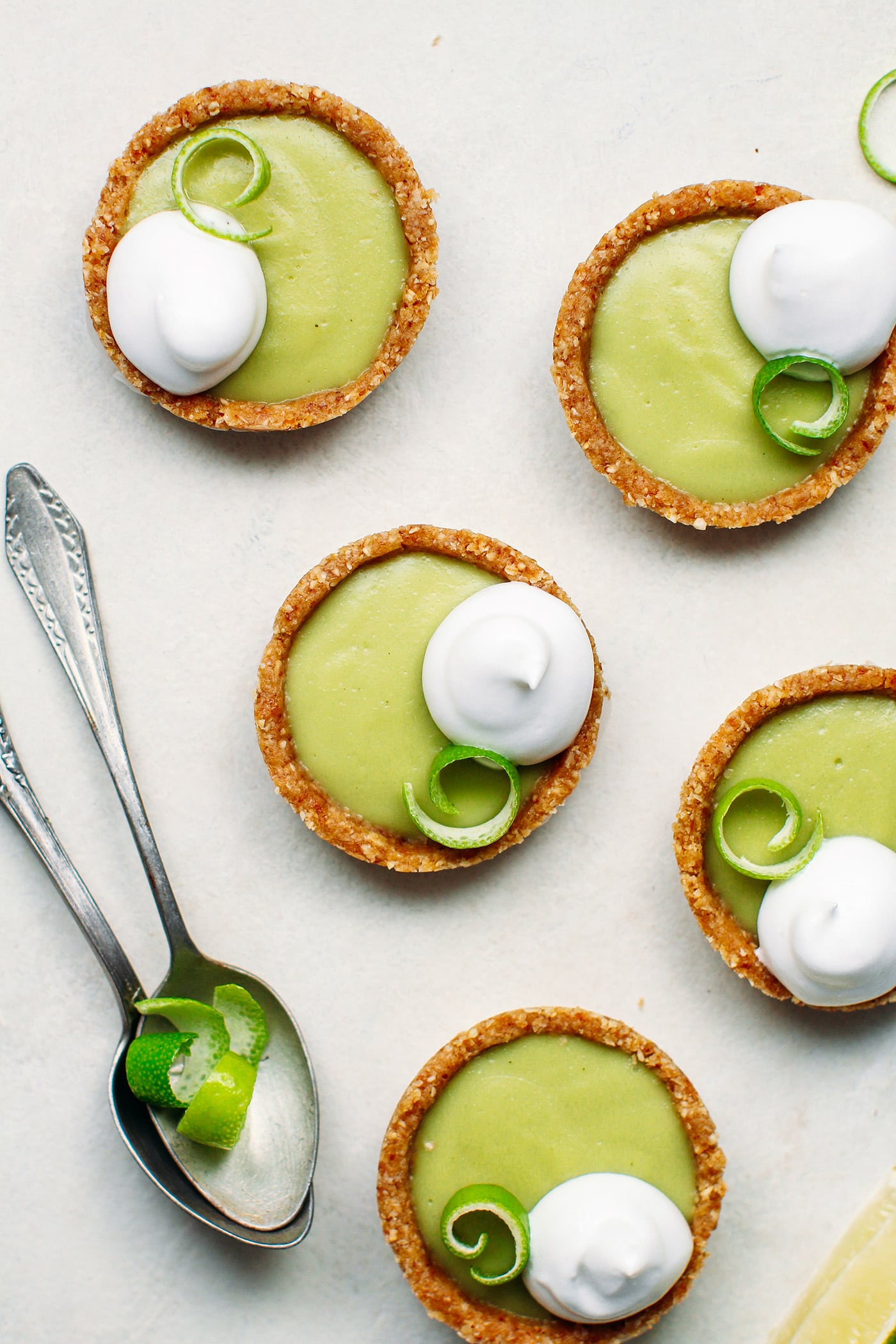 If you want to make these mini key lime pies fancier, whip some aquafaba with sugar to make a meringue and then brown using a blowtorch before serving!
If you like your desserts on the healthy side with a fresh flavor and creamy mouthfeel, you are going to love these key lime pies!
Let me know in the comments if you try this recipe!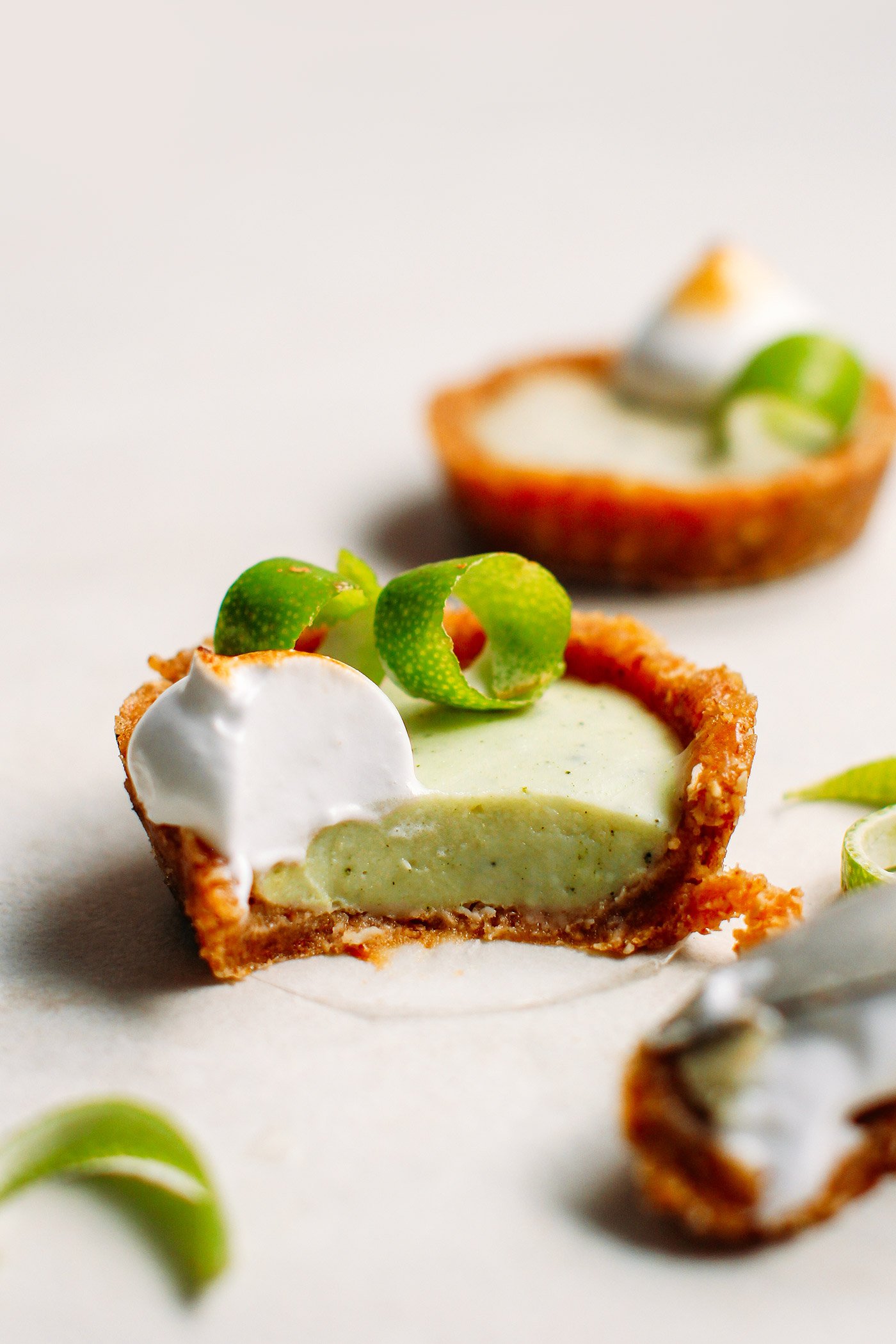 Print
No-Bake Mini Key Lime Pies
No-bake, rich and creamy key lime pies that are vegan, gluten-free! Citrusy, not too sweet, and perfectly tart!
Crust
¾ cup

(

68g

) rolled oats

¼ cup

(

24g

) almond flour

3

medjool dates

2 tsp

(10ml) coconut oil, at room temperature
Lime Filling
½ cup

(118ml) full-fat coconut milk

¼ cup

(60ml)  lime juice

2 tbsp

(30ml) maple syrup

2 tbsp

(

14g

) cornstarch

1 tsp

lime zest

1/16 tsp

agar powder

⅛ tsp

matcha powder dissolved in 1 tablespoon water (this is just for color, you can omit)
Meringue (optional)
3 tbsp

(45ml) aquafaba

¼ tsp

vanilla extract

3 tbsp

(

36g

) sugar
Instructions
Crust
Add the rolled oats, almond flour, dates, and coconut oil to a food processor. Process for 15-30 seconds, or until it forms a dough. It should not be too sticky or too dry, you can test the dough by pressing it between your fingers, it should hold together well.
Line the bottom of a 8-muffin tin with parchment paper (you don't have to if using a silicone mold). Press about 1 and ½ tablespoon of the crust mixture into each slot. You can shape it into a crust pie (like a cup), or just a flat bottom. Repeat with the remaining crust mixture. Transfer to the refrigerator and let it firm up slightly for at least 1 hour.
Combine the full-fat coconut milk, lime juice, maple syrup, cornstarch, lime zest, and agar in a medium saucepan. Whisk to dissolve the cornstarch.
Heat over medium heat, whisking constantly until it starts to boil and thickens. As soon as it thickens, remove from heat and whisk in the matcha if using.
Divide the lime filling evenly among the muffin slots. Let it cool for about 20 minutes at room temperature before transferring to the refrigerator. Refrigerate for at least 3 hours, or until the filling has set.
Serve fresh, topped with a dollop of coconut cream, or aquafaba meringue (see notes).
Lime pies are best served the same day but will keep for up to 2 days in the refrigerator.
Notes
For a crunchy crust, you can bake it (before adding the filling) for about 10 minutes in a 350°F preheated oven.
For the meringue: combine the aquafaba and vanilla extract in a small mixing bowl. Using an electric beater, beat until it forms firm peaks. Continue beating and add the sugar one tablespoon at a time until the meringue is glossy, smooth, and thick. Pipe about one tablespoon of meringue on top of each pie and brown using a hand-held torch. I recommend adding the meringue just before serving.
Nutrition
Serving Size:

1 mini pie (without topping)

Calories:

136

Sugar:

10.2g

Fat:

5.7g

Carbohydrates:

20.3g

Fiber:

1.9g

Protein:

2.2g