Another day, another bowl.
This is one of these recipes that requires minimal preparation, comes together super quickly and don't sacrifice flavor.
Forbidden rice, also known as black rice makes the base of this recipe. It's a whole grain packed with antioxidants, it has a nuttier taste than brown rice and takes a dark purple color when cooked. It should not be mistaken for wild rice though, which has a looonger grain. I used black rice before in my Glowing Black Rice Bowls.
These bowls contain three different preparations: baked sweet potatoes, miso black rice and leafy greens. Basically 90% carbs. And it comes with a miso sauce to top the sweet potatoes.
When your sweet potatoes are roasting in the oven you cook the rice. Black rice takes longer than white rice to cook, about 45 minutes in total. Miso is only added at the end of cooking, otherwise it will lose some of its flavor.
White miso combined with nutritional yeast creates a unique umami flavor that pairs well with the nuttiness of the rice. Depending on the type of miso you use you might have to reduce the amount, start with one tablespoon and adjust after tasting, you don't want to add too much and make the rice too salty. If using brown miso, use only 1 teaspoon instead of a tablespoon.
To add some color as well as nutrients, I added some greens. Leafy greens can be spinach, kale or chard and are cooked at the last time, or left raw, your choice!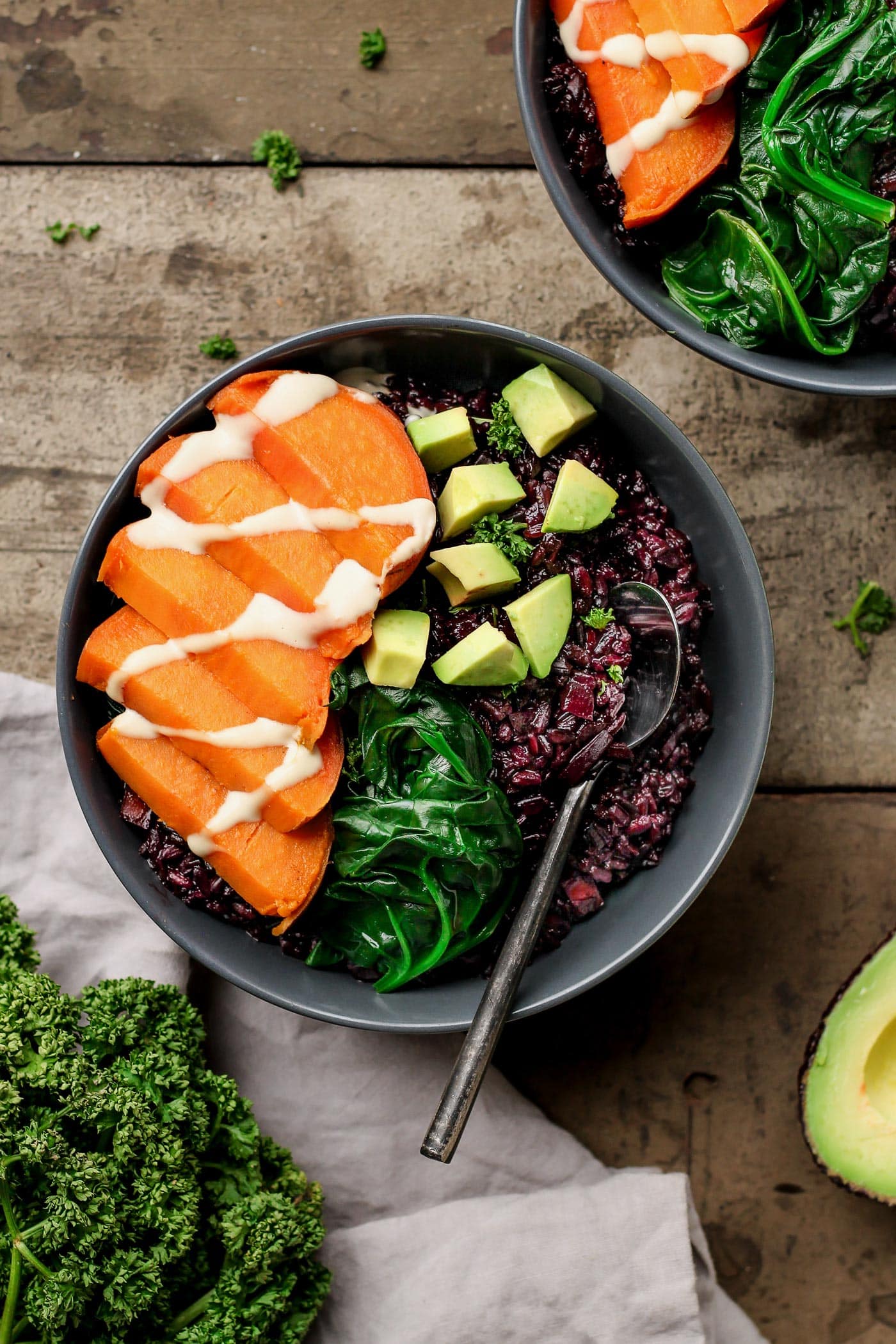 Want to add more protein to these bowls? May I suggest spicy tofu from these Enchilada Power Bowls? Top with avocado for the healthy fats and voila, a complete and flavorful buddha bowl!
Let me know in the comments if you try this recipe! And as always, feel free to tag @fullofplants on Instagram if you take a photo!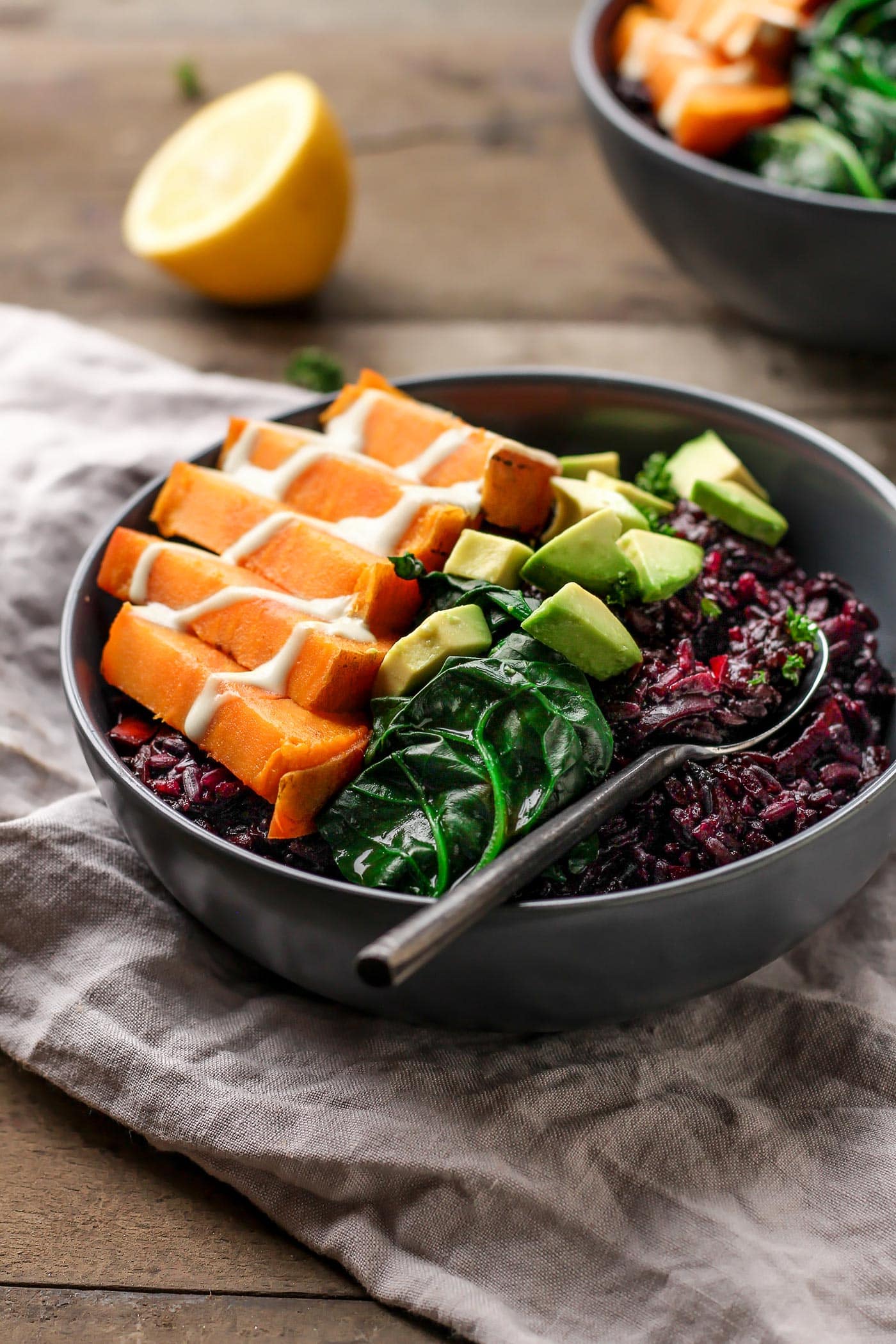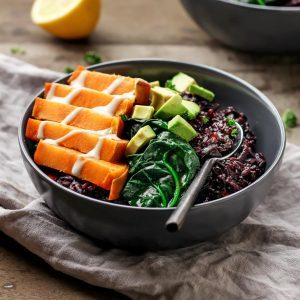 Miso Forbidden Rice Bowls
Easy and satisfying bowls with miso black rice, baked sweet potatoes and spinach. Served with a creamy miso sauce packed with umami flavor!
Ingredients
Miso Forbidden Rice
1

tablespoon

olive oil

1

onion

diced

1

clove

of garlic

chopped

½

red bell pepper

finely diced

1

cup

uncooked black rice

or brown rice

2 and ½

cup

water

⅛

teaspoon

salt

1

tablespoon

tomato paste

1

tablespoon

white miso

shiro miso

1

teaspoon

nutritional yeast
Greens
2

cups

packed leafy greens

spinach, kale, etc

salt, pepper

to taste
Miso sauce
3

tablespoon

white miso

2

teaspoon

maple syrup

1

tablespoon

almond butter

1

tablespoon

rice vinegar

or lemon juice

⅛

teaspoon

garlic powder

1

teaspoon

sesame oil

optional but adds flavor
Instructions
Baked sweet potatoes
Preheat oven to 400°F.

Wash and brush the sweet potatoes, pat them dry with a kitchen towel. Prick each potato a few times with a knife and wrap each one loosely with foil.

Place on a baking sheet and bake for about 50 minutes, or until the sweet potatoes are soft.
Miso forbidden rice
Heat the olive oil in a large saucepan over medium heat.

Add the onions and garlic and cook for about 8 minutes, or until the onions are soft and translucent.

Add the red bell pepper and cook for another 5 minutes, stirring regularly to make sure the onions don't burn or stick to the bottom of the saucepan.

Rinse the black rice and add it with the water, salt and tomato paste to the saucepan. Bring to a boil, lower the heat and let simmer 45-50 minutes, or until the rice is soft and almost no water remains.

Stir in the white miso and nutritional yeast.

Divide into 3 bowls and top with the baked sweet potatoes and greens. Drizzle the miso sauce on the sweet potatoes and serve hot.
Greens
Wash the leafy greens. Heat one tablespoon of olive oil in a large skillet, sautée the greens for about 5 minutes (I used spinach, it might take longer if using kale or chard). Season with salt and pepper.
Miso sauce
Combine all the ingredients in a small bowl and add water, one tablespoon at a time, until you get the desired consistency.
DID YOU MAKE THIS RECIPE?
Tag @fullofplants on Instagram and hashtag it #fullofplants