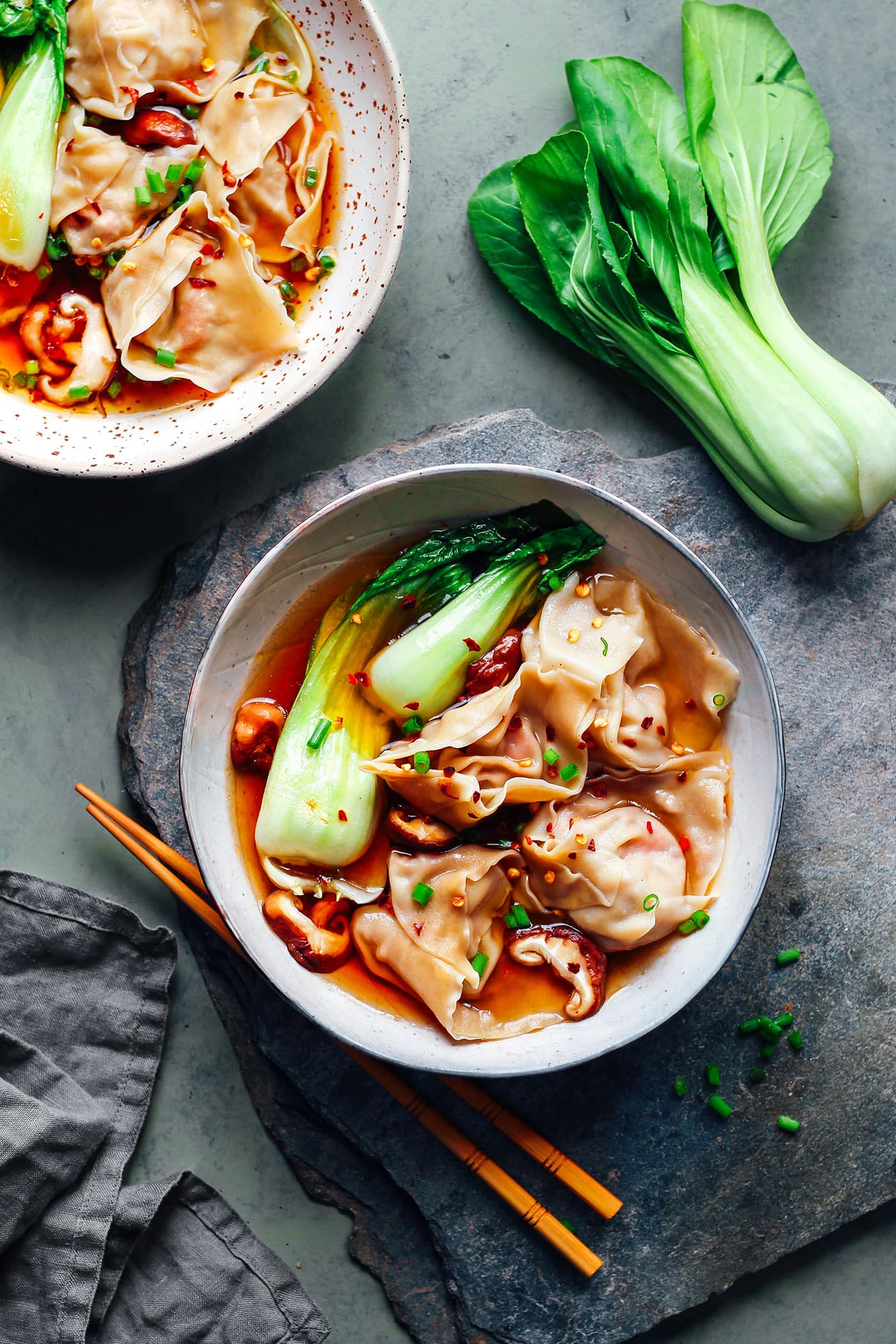 And the jackfruit frenzy continues! After vegan okonomiyaki, potstickers, and rillettes, here comes jackfruit wonton soup!
Yes, jackfruit is life-changing. It has an incredible texture and is bland enough to absorb any flavor that comes its way. These awesome wontons are filled with pulled jackfruit, sweet potatoes, red bell peppers, and sautéed shiitakes. They are infused with Asian flavors like ginger, garlic, and lime and come with a citrusy, spicy broth that is both warming and refreshing at the same time. Ready? Let's make wontons!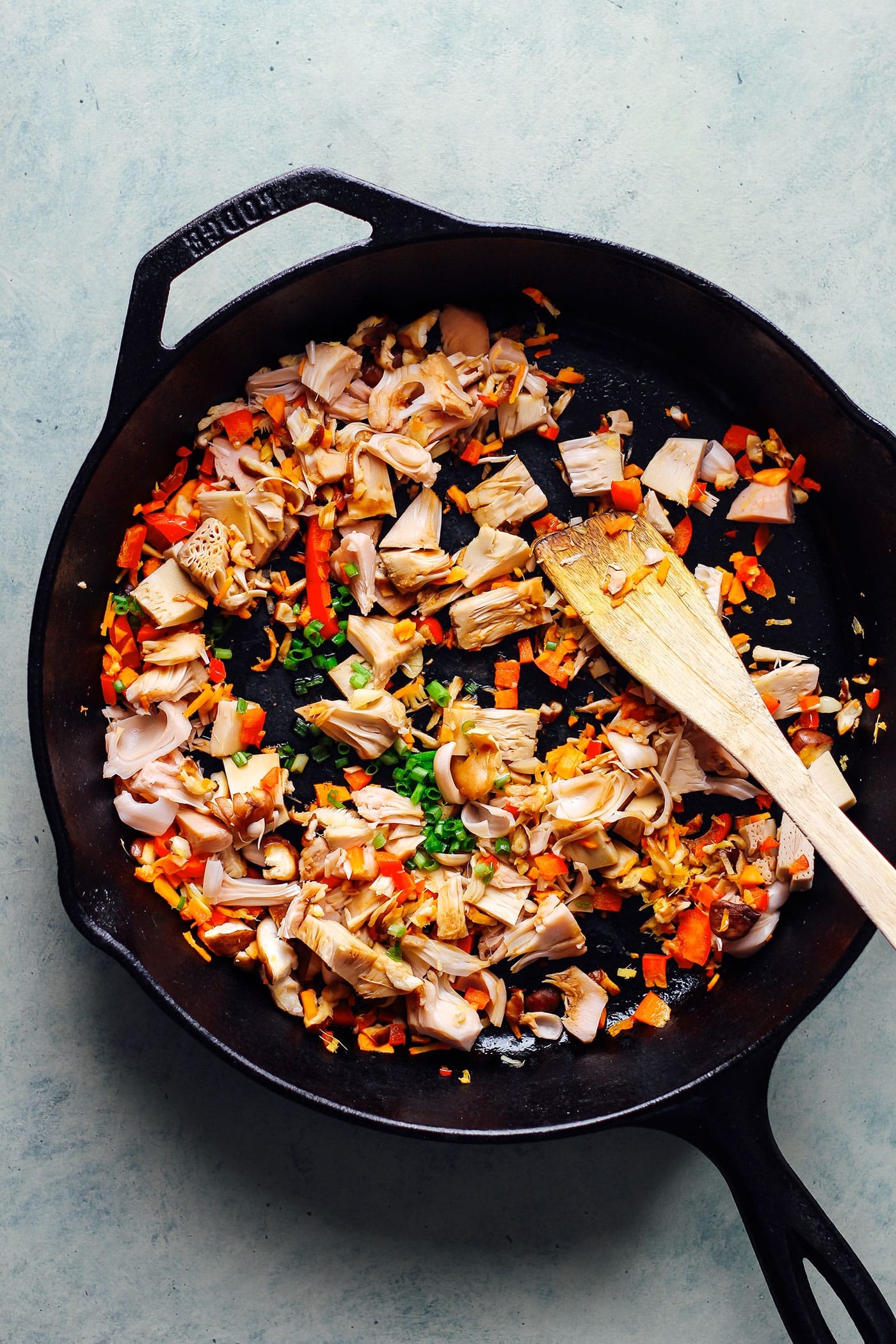 It starts with the filling. Sautée some garlic and ginger together, then add finely diced sweet potatoes, red bell peppers, and shiitakes. Once the sweet potatoes are soft, you add the pulled jackfruit and seasonings: almond butter, soy sauce, white rice vinegar, and a generous pinch of ground chili.
For even more flavor, I can recommend adding a pinch of five-spice powder if you have it on hand. It gives a subtle anise flavor to the filling.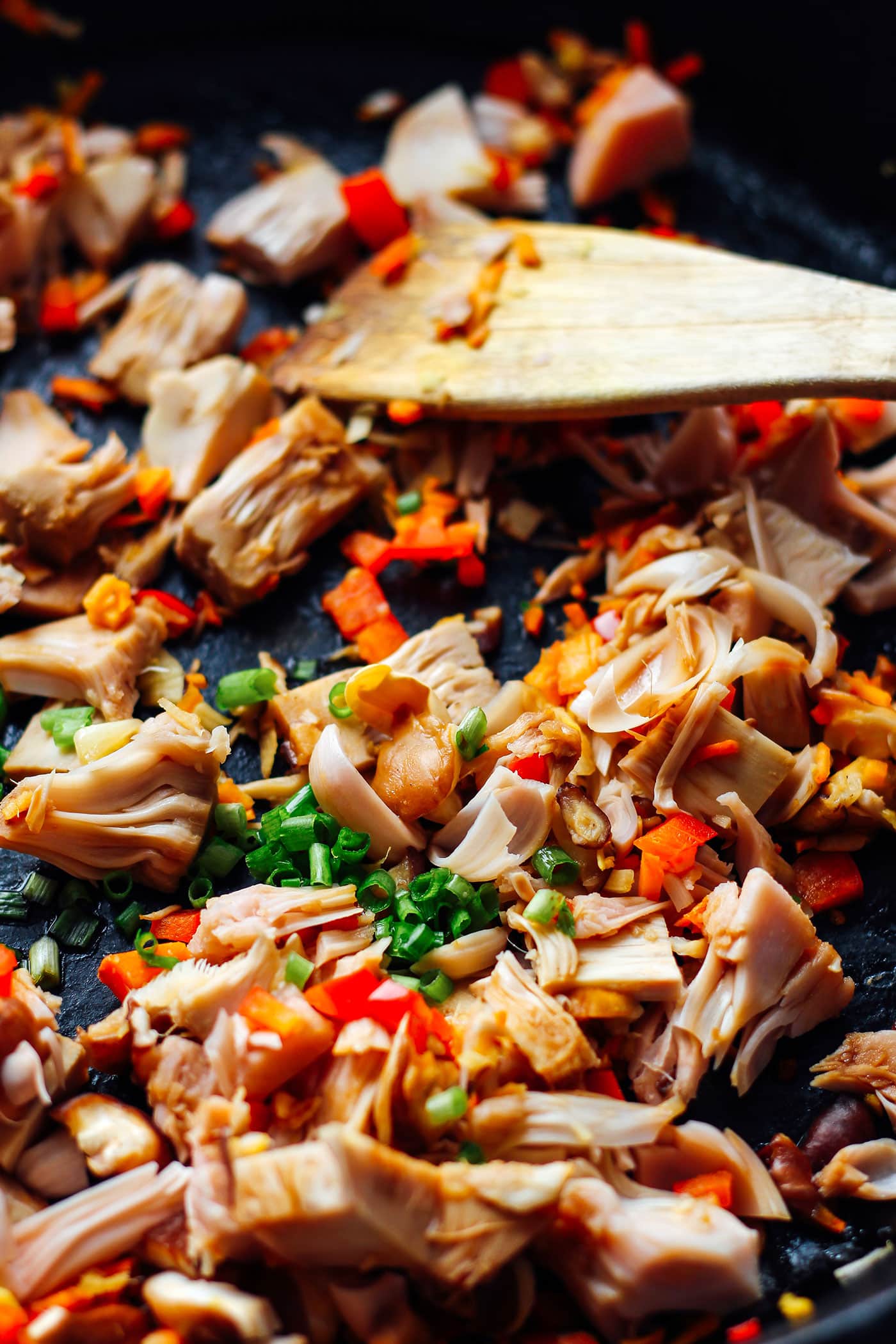 Once your jackfruit filling is ready, it's time to make wontons! I won't lie; it's the most time-consuming step of the recipe, but I swear it's worth it. Place two teaspoons of the filling in the center of a wrapper and fold it. There are many ways to fold wontons: into triangles, pouches, rectangles, etc. I went with a simple tortellini shape.
The most important tip I can give you is to really make sure your wontons are fully sealed, and the filling is enclosed tightly. If it's not and there is too much air inside the wontons, they will fall apart during cooking. I learned it the hard way.
To wonton folding experts out there, I know. I still need to work on my folding skills.
The broth is easy and requires only 7 ingredients. Soy sauce for that umami flavor, lime juice for freshness, toasted sesame oil for nuttiness, and chili oil to make things spicier. I also added maple syrup to balance the acidity of the lime. You basically combine all the ingredients together in a saucepan and warm over medium heat. Once hot, add the cooked wontons and optionally sautéed bok choi. Serve, and enjoy!
This flavorful soup is great for a healthy dinner, whether it is hot or cold outside. The broth is warming but refreshing at the same time, thanks to the addition of lime juice. Wontons make the whole dish more filling, and jackfruit adds a nice meaty texture.
Let me know in the comments if you try this recipe!
Recipe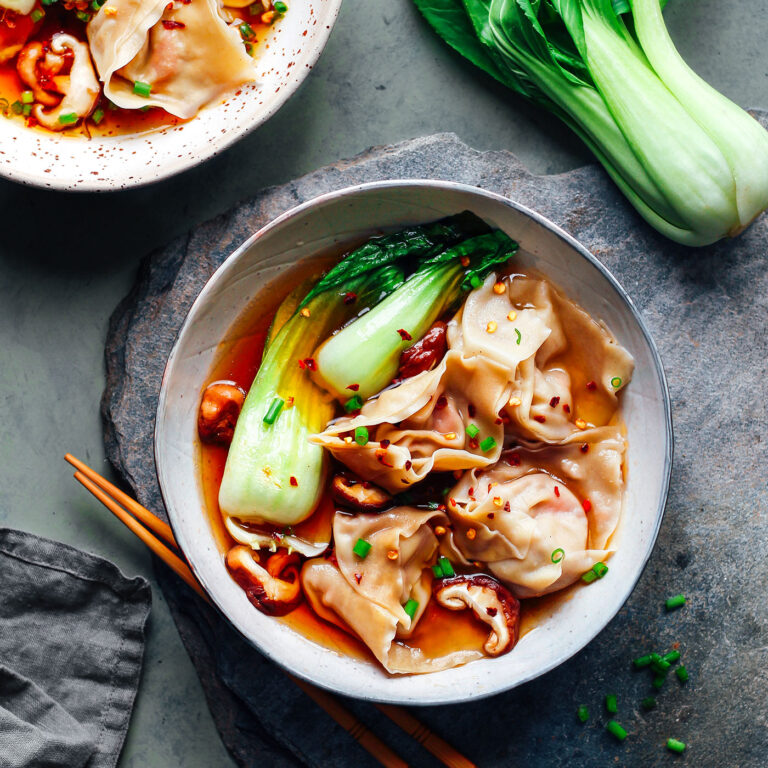 Hot & Sour Jackfruit Wonton Soup
Tender jackfruit wontons with sweet potatoes, red bell peppers, and shiitakes. Served with a warming and refreshing soup!
Instructions
Jackfruit Wontons
Heat the oil in a large skillet over medium heat. Once hot, add the garlic and grated ginger. Sautée for 1-2 minutes, stirring regularly.

Add sweet potatoes, red bell peppers, and shiitakes, and sautée for 6-8 minutes or until tender. Stir regularly to make sure the vegetables don't stick to the bottom of the skillet.

Drain and rinse the jackfruit. Cut off the hard core parts. Transfer to a plate or cutting board and roughly mash it with a fork until you get a texture similar to pulled pork.

Add the jackfruit to the skillet and cook for 2-3 minutes, stirring regularly.

Pour in the soy sauce, almond butter, white rice vinegar, ground chili, and five-spice powder if using. Stir well to combine and cook for one more minute. Remove from heat and let cool a few minutes.

Bring a large pot of water to a low boil. In the meantime, prepare the wontons.

Place a wonton wrapper on a cutting board. Using your finger, slightly wet the edges with water. Place about 2 teaspoons of the jackfruit filling in the center of the wrapper. Fold the wrapper in half over the filling to form a triangle, press down the edges to seal. Give it a good pinch, making sure your wontons are fully sealed. Otherwise, the wontons may fall apart during cooking and the filling will escape.

Moisten one bottom corner of the triangle with water. Bring together the left and right corners and press to seal. See photo to check how they should look like. There are many other ways to fold a wonton, use your favorite one. Repeat with the remaining wrappers and filling.

Once your wontons are ready and the water boiling, carefully drop the wontons into the boiling water. Lower the heat to a low boil, and cook for 2 minutes. In the meantime, prepare the broth.

Drain the wontons and transfer to the serving bowls filled with the hot broth. Top with red pepper flakes, green onions, and optionally sautéed shiitakes and bok choi.
Hot & Sour Broth
Combine all the ingredients except the green onions in a saucepan. Heat over medium heat for 3-5 minutes. Remove from heat, add the chopped green onions and divide into 3 serving bowls.
Notes
If using store-bought wontons, make sure to brush them with water first to remove the coat of flour that prevents them from sticking to each other. If using homemade, you don't need to do that as the wrappers will be more sticky.
Nutrition
Serving:
1
serving (6 wontons with broth)
|
Calories:
329
kcal
|
Carbohydrates:
48.7
g
|
Protein:
7.6
g
|
Fat:
11.8
g
|
Fiber:
0.8
g
|
Sugar:
8.7
g
Did you make this recipe?
Tag @fullofplants on Instagram and hashtag it #fullofplants