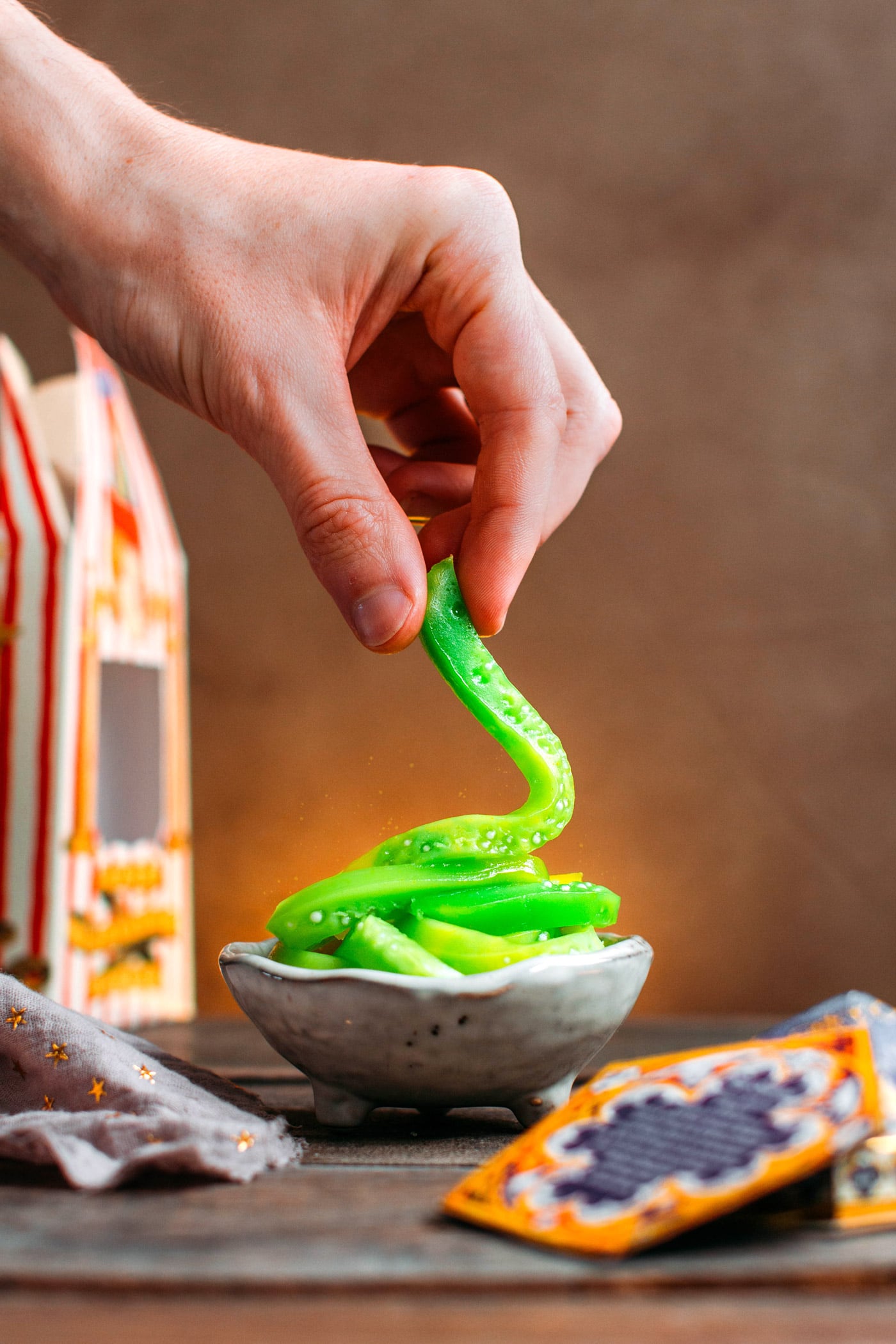 -- This recipe is part of the Harry Potter Inspired Recipes Week --
In collaboration with the Slytherin house, Honeydukes presents their new Sour Lime Worms! Chewy with a subtle tart flavor, these vibrant green worms can be purchased at Honeydukes' flagship store, as well as at the Leaky Cauldron (ask for it at the counter).
Ambrosius, owner of Honeydukes said they wanted their worms to as chewy as real worms. Released yesterday, the new candy was out of stock just 3 hours after its launch. "We have increased production to keep up with the demand, a restock is expected tomorrow" said Ambrosius.
Let's not wait for the restock and make it ourselves!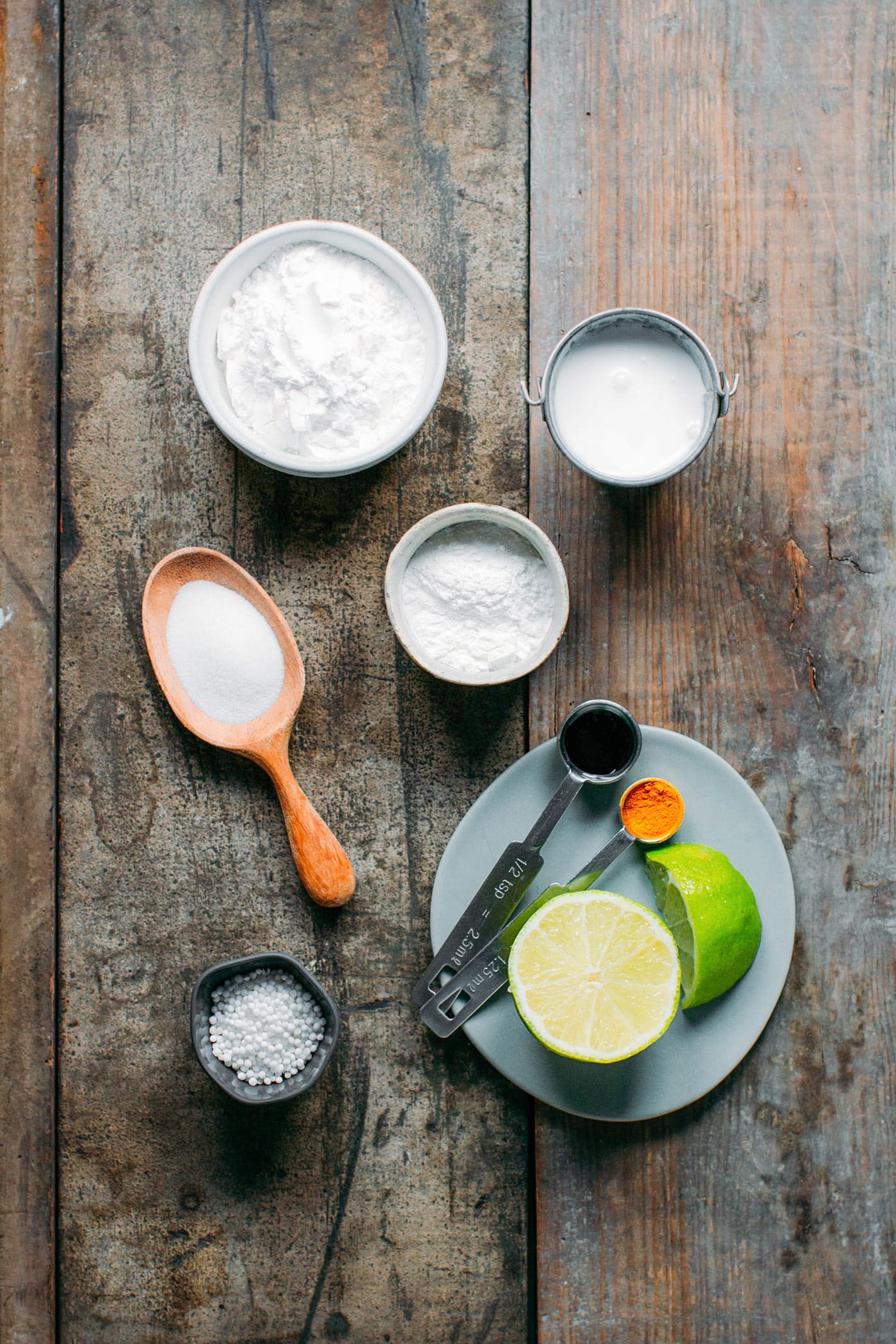 HOW TO MAKE LIME WORMS
The first step is to cook our tapioca pearls. Do you see these white little dots on our worms? These are mini tapioca pearls that add chewiness and give our worms a more interesting look.
Don't confuse tapioca pearls with boba, as pearls are much smaller and not as chewy. Cooking pearls takes between 5 and 7 minutes, simply bring a pot of water to a boil, add pearls and let simmer. Drain and set aside.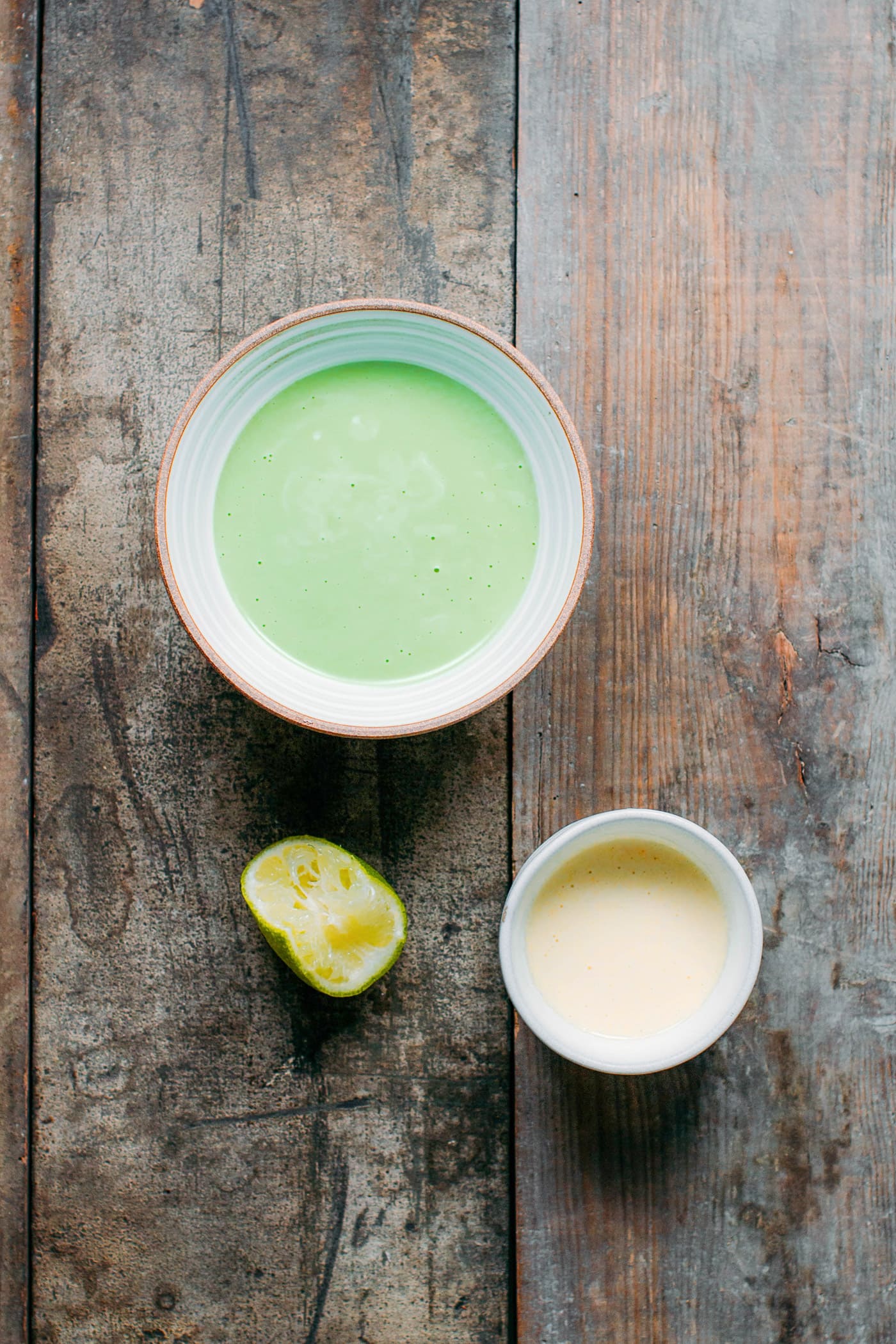 Next, we have our batter that consists of tapioca flour and rice flour, creating that chewy texture, coconut milk for flavor and some creaminess, and lime juice for freshness and a little acidity.
To add color, I used what I had on hand: pandan extract and turmeric. The batter is divided in half, one part if colored with green, while the other is colored with a light yellow. This will create a little gradient on our worms.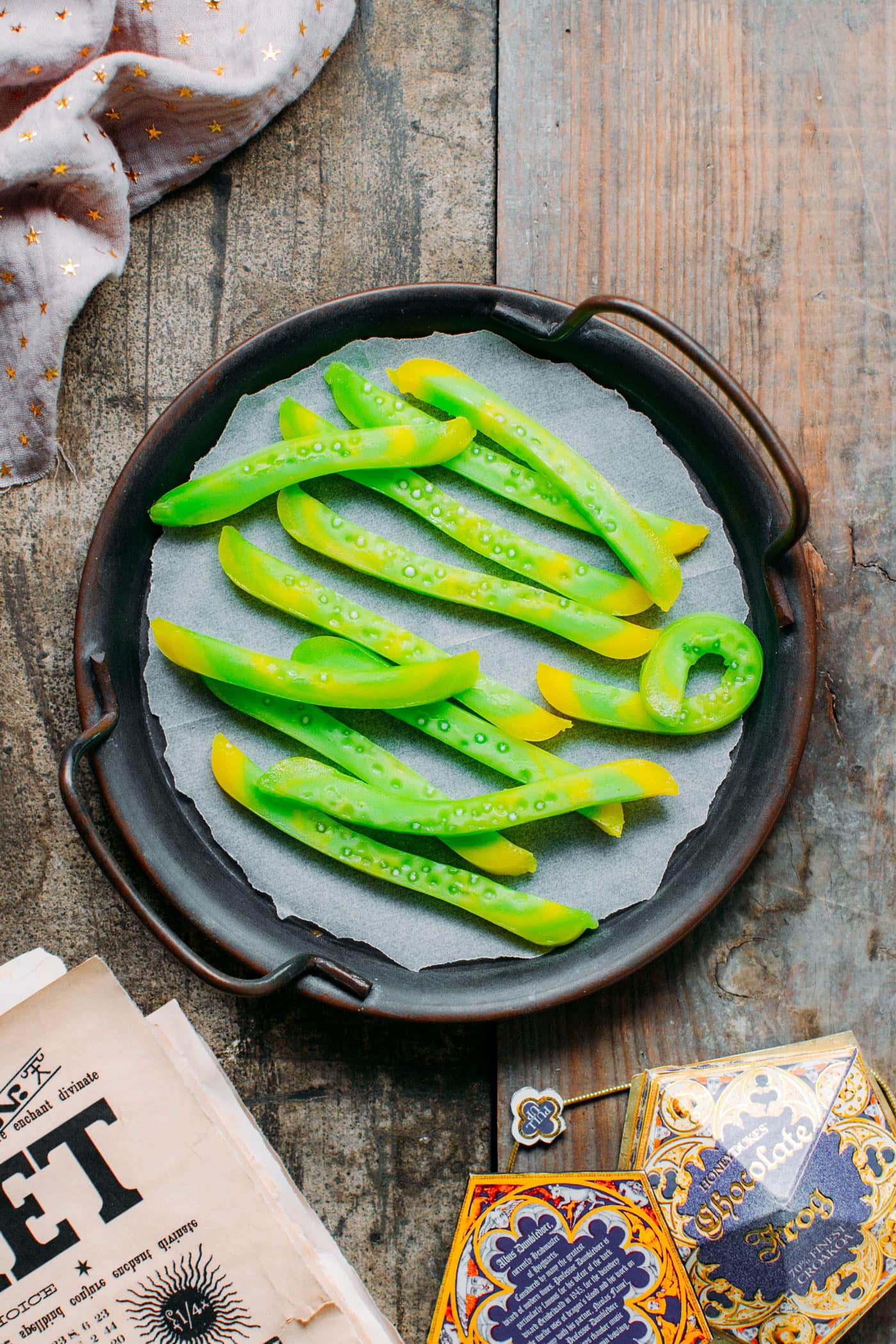 Finally, it's time to steam! I recommend steaming in a bamboo steamer basket so you can check easily if your worms are cooked. Pour both batters alternatively to create stripes into a dish that fits inside your steamer. Steam for 7-8 minutes, let cool, and cut into long strips!
Since these worms are pretty sticky, you want to use a lightly oiled surface when cutting, this way the worms will get a light coating of oil that will prevent them from sticking to each over.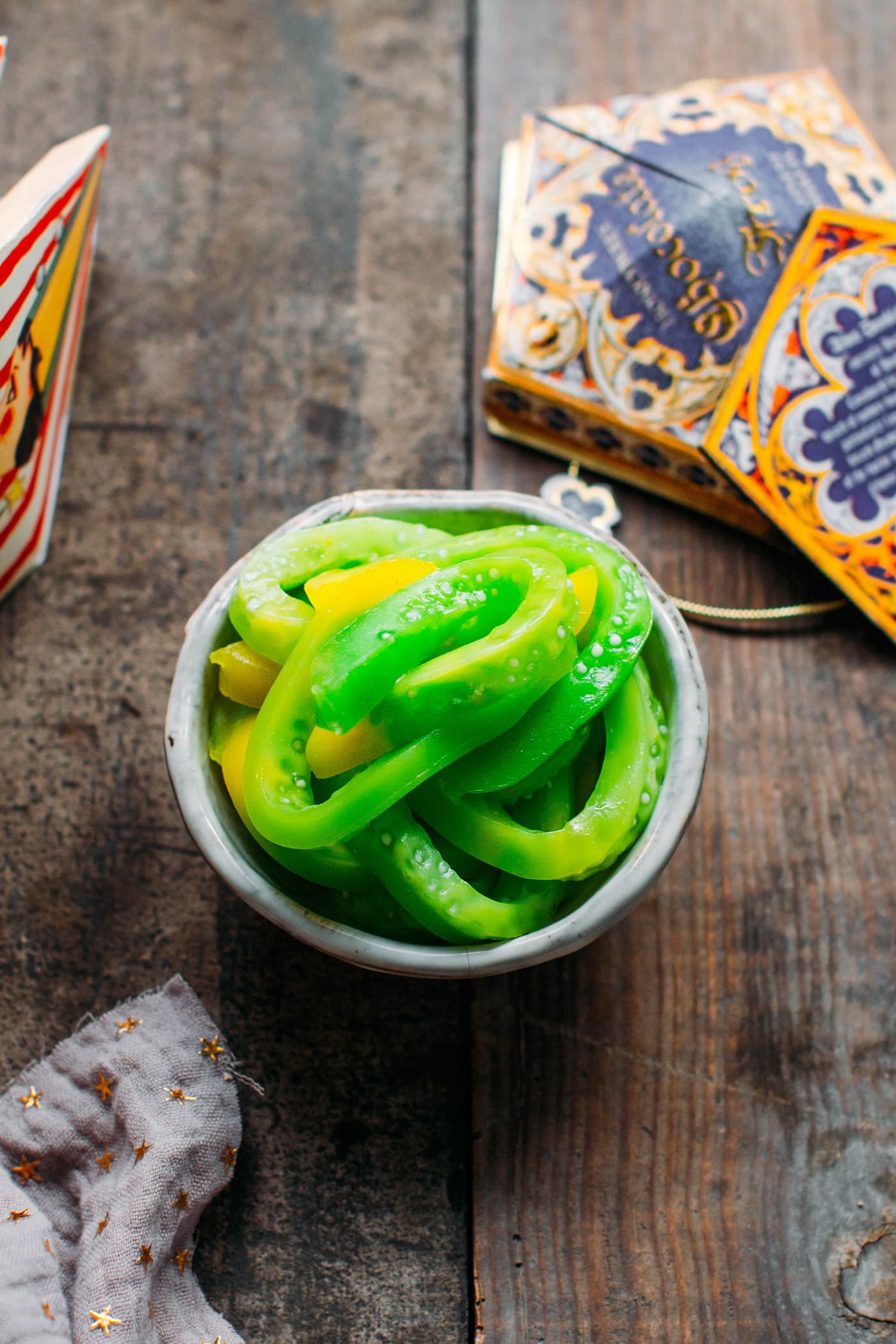 I hope you will love these little worms! They are chewy, not too sweet, a bit sour, and have a vibrant green color!
Let me know in the comments if you try this recipe!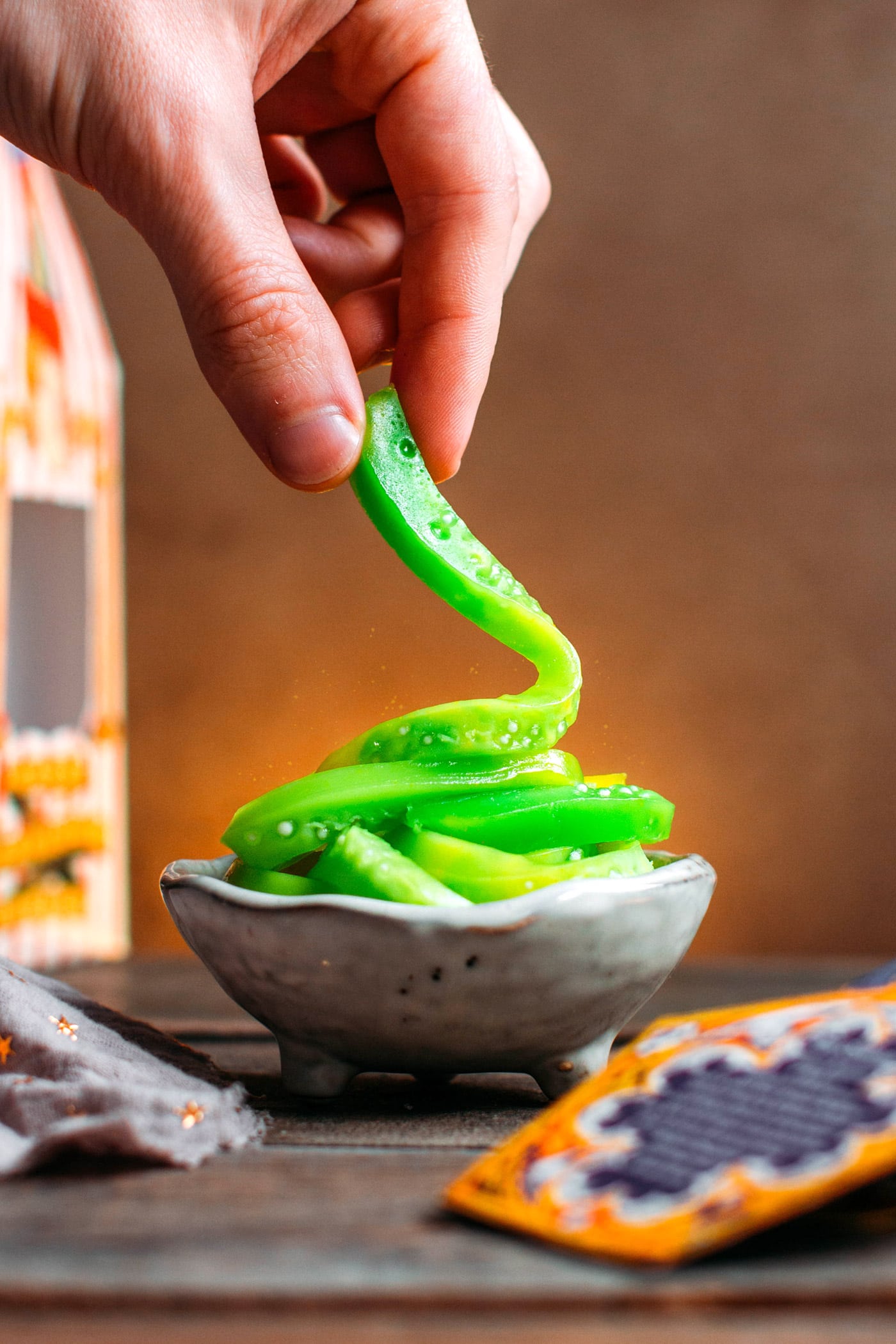 📖 Recipe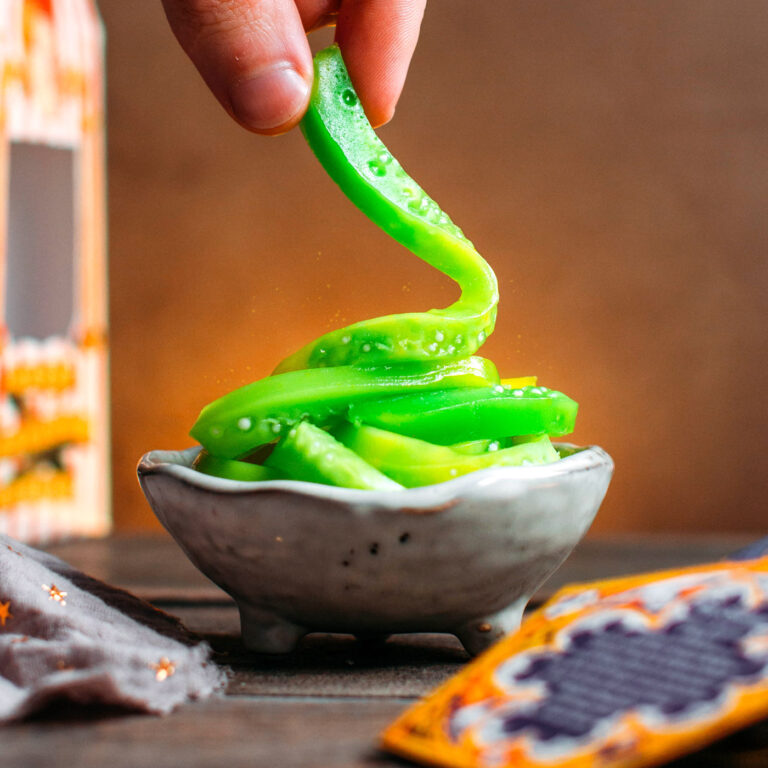 Honeydukes' Sour Green Worms
Honeydukes' latest candy in collaboration with the Slytherin house. Flavored with lime juice, perfectly chewy, and not too sweet!
Ingredients
1

teaspoon

tapioca pearls

(optional, it adds more texture)

½

cup

tapioca flour

1

tablespoon

rice flour

2

tablespoon

sugar

5

tablespoon

coconut milk

2

tablespoon

lime juice

1

drop

pandan extract

(or use natural green coloring)

a

pinch

of turmeric
Instructions
Bring a small pot of water to a boil. Once boiling, add the tapioca pearls and cook for about 5 minutes. Drain and transfer to a small bowl. Add one tablespoon of water to the bowl to prevent the tapioca pearls from sticking together.

Add the tapioca flour, rice flour, and sugar to a mixing bowl. Pour in the coconut milk and lime juice and whisk until well combined.

Transfer ⅓ of the batter to a small bowl and add a pinch of turmeric, whisk to combine. Add 1 drop of pandan extract to the ⅔ of the batter and whisk as well.

Bring a pot of water to a boil and place a bamboo steamer basket on top.

Slightly grease a 6-inch dish that can fit inside your bamboo steamer. I went with a round dish but a square one will work as well.

Give another good stir to your batters to make sure the tapioca flour hasn't set in the bottom. Pour a couple tablespoons of the green batter into the prepared dish, followed by a tablespoon of the yellow batter. Continue until no more batter remains and your have about ⅓-inch thickness. If using a small dish, steam in two batches. You don't want the batter to be higher than ⅓-inch, otherwise it will take longer to steam and you might not end up with an even texture.

Drain your tapioca pearls again and add them to the dish, distributing them evenly.

Transfer your dish to the bamboo steamer and steam for about 7 minutes, or until the batter is no longer liquid. It should still be tender and will firm up slightly as it cools.

Let it cool for at least 30 minutes. Flip your dish over a lightly oiled surface and cut into thick and long strips. The worms will be sticky so I recommend working with lightly oiled hands, it will prevent the worms from sticking to each other.

Enjoy as a snack! These sour worms are best eaten the same day but will keep for another day at room temperature in an airtight container.
Notes
Calories don't count in the Wizarding World.
Did you make this recipe?
Tag @fullofplants on Instagram and hashtag it #fullofplants