Summer is here and all I'm craving are fresh dishes. Not just green salads, but filling and energizing food to get me through the day.
This is what this bowl is all about. It's healthy, super tasty and requires only 30 minutes to prepare!
Black Rice: Good carbs! It will give you the energy needed to feed your adventure, or whatever you plan to do today, even if it's just sitting on the couch watching The Walking Dead or browsing recipes on Pinterest, which I might actually do today.
Broccoli: Protein + Fiber, rich in vitamins (from A to Z), it adds color and a little crunch since it's just cooked for a few minutes in boiling water.
Avocado: Healthy fats, it keeps you full for hours and is just delicious.
Mushrooms: High in antioxidants, I always have mushrooms in the fridge. Raise your hand if you are a mushroom lover! I like to deglaze with soy sauce when mushrooms are cooked, it gives them a nice golden color and a greatly improves the taste.
And THAT almond butter dressing! It just makes everything 100x better.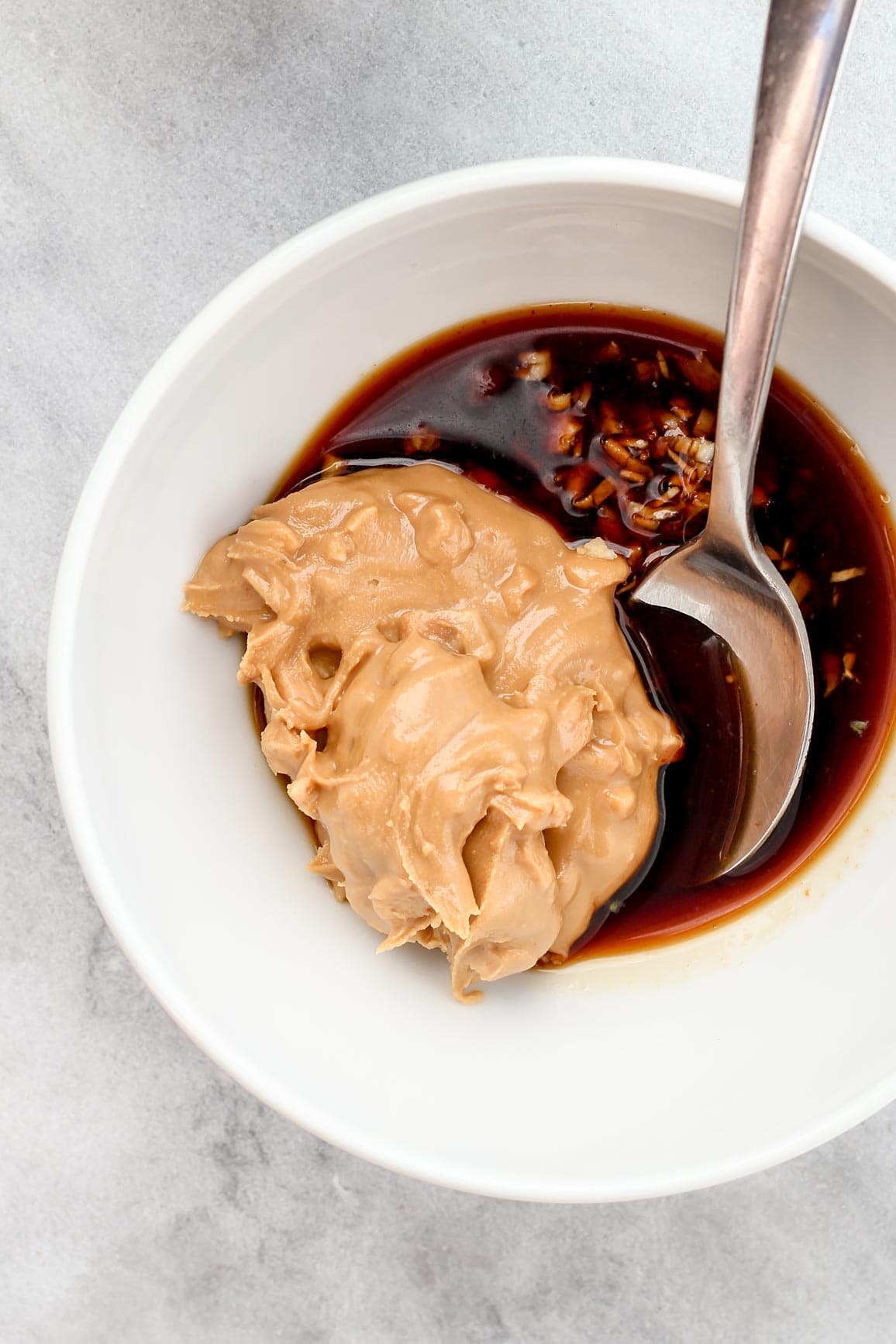 Last week I bought one 16-oz jar of Barney almond butter after reading great reviews about it. The jar lasted 5 days. True story. I ate the whole jar. By the spoonful.
Not sure if I'm lucky but a few days ago there was a sale on their almond butters and I ended up buying 16 jars. 16 jars guys! My pantry is now looking like a supermarket shelf. And every time I see the jars I'm attracted like a magnet, it happened to me with peanut butter a few years ago, and now it's almond butter, it's my latest addiction.
So when I'm not eating almond butter by the spoonful I am looking for ways to incorporate it in everything these days. Here comes this creamy, salty, slightly sweet almond butter sauce. It comes together in 5 minutes and can be used in a lot of dishes, it can also replace a basic vinaigrette.
The sriracha sauce adds a nice flavor kick without being too overpowered. If you like really spicy things feel free to double the amount.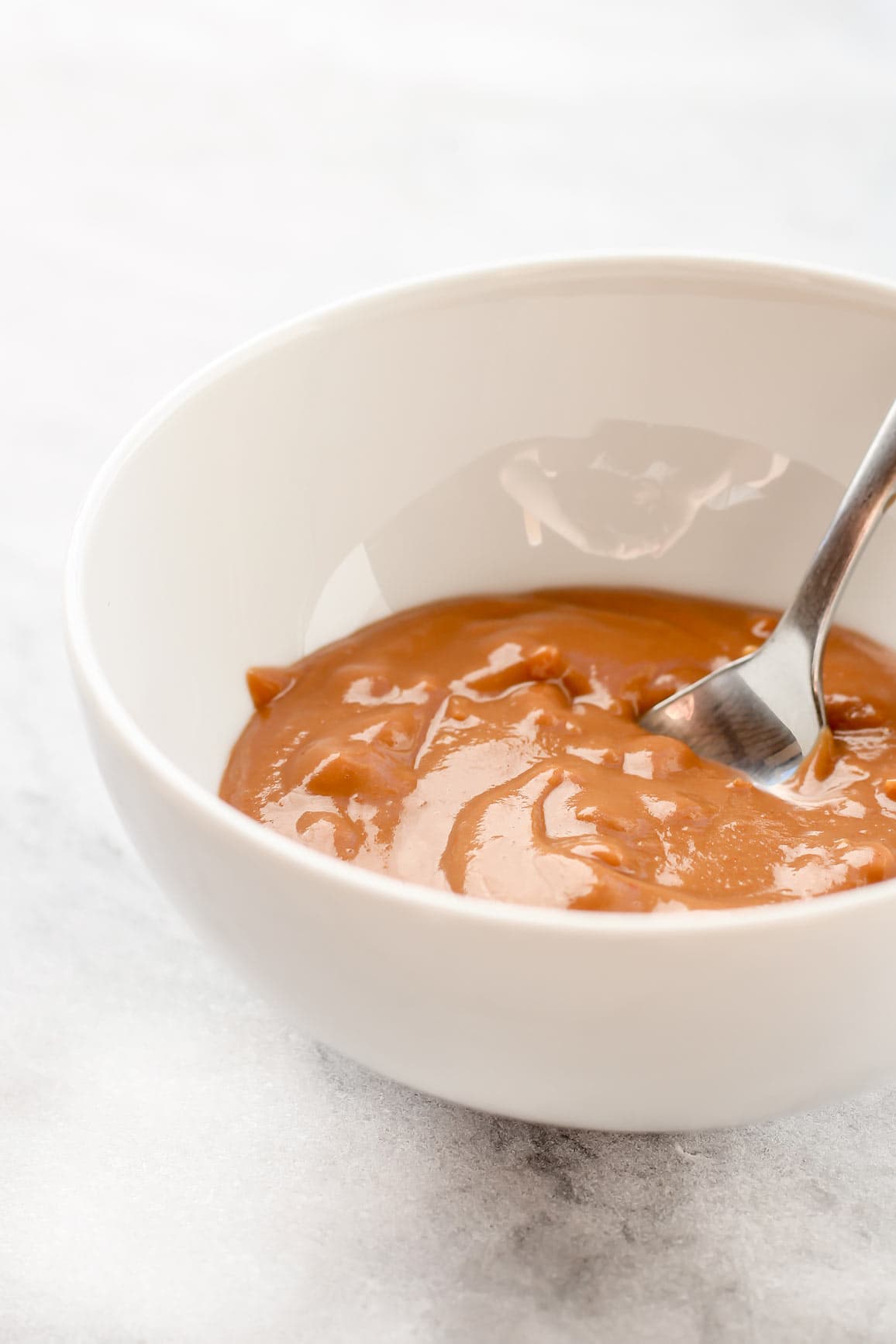 You can serve it with the toppings on top of the black rice and drizzle with the almond butter dressing or, my favorite way: mix everything together in a large bowl to make a big salad. I find it easier and less-time consuming.
Let me know if you try this recipe and tag @fullofplants on Instagram so I can see your creations!
Print
Glowing Black Rice Bowls with Crunchy Almond Butter Dressing
Fresh, filling and packed with flavor, it comes with a crunchy almond butter Sriracha dressing!
1 cup

black rice

3 cups

water

1/4 tsp

salt

1

small broccoli

1

medium avocado, cut into slices

1/2

preserved lemon, finely chopped

6

mushrooms

1 tbsp

soy sauce

1 tbsp

green onions, chopped

1

small carrot
Almond butter sriracha dressing
1/4 cup

crunchy almond butter (I used Barney Almond Butter)

2 tbsp

soy sauce

1 tsp

maple syrup

1/4 tsp

sriracha

3

–

4

tbsp water
Instructions
Rice
In a medium saucepan, bring the water to a boil. Add the rice and salt. Cover, reduce the heat to low-medium and simmer for about 30 minutes until the rice is cooked. Drain the rice and set aside.
Broccoli and carrots
Bring a large pot of water to a boil.
Wash the broccoli thoroughly and drain it. Cut it into small florets.
Wash and peel the carrot and cut it into matchsticks.
Place the broccoli florets and carrot matchsticks into the water, cover the pot and cook for about 10 minutes until slightly soft.
Mushrooms
Wash the mushrooms and cut them into slices.
Heat a skillet over medium heat and saute the mushrooms for 5 minutes until mushrooms are browned. Deglaze the skillet with 1 tablespoon soy sauce. Set aside.
Crunchy almond butter sriracha dressing
Mix all ingredients together in a bowl until creamy and well combined.
To assemble
Top the black rice with avocado slices or cubes, mushrooms, carrots, preserved lemon and broccoli.
Add the green onions and drizzle with the almond butter sauce.
You can also mix together all the ingredients in a large bowl.
Nutrition
Serving Size:

1

Calories:

412

Sugar:

3.3g

Fat:

20.1g

Carbohydrates:

50.6g

Fiber:

7.5g

Protein:

10.8g