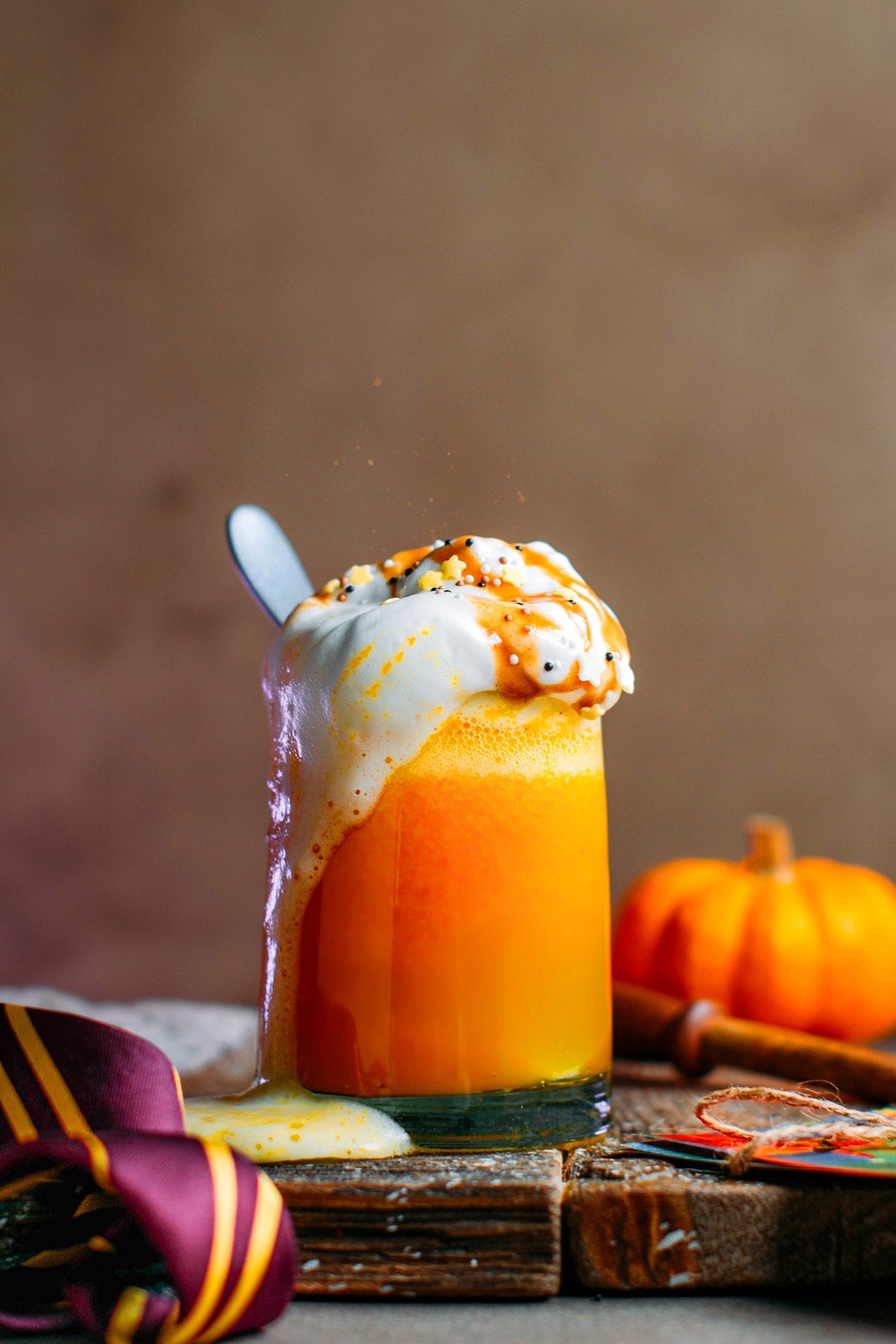 -- This recipe is part of the Harry Potter Inspired Recipes Week --
London Pumpkins & Sons, the company behind the popular Pumpkin Juice, had another drink in the works. They took their pumpkin juice to the next level by blending it with fresh ginger, and infusing it with fine bubbles. Unfortunately, London Pumpkins & Sons never officially released this beverage due to a shortage of ginger roots. Weasley brothers bought all the stock available to produce their brand new Dragon Eggs, that are in high demand since their launch. The pumpkin company decided to postpone indefinitely their new sparkling pumpkin juice to focus on their main product.
Luckily, Arthur Frosted, reporter at The Daily Prophet got its hands on the recipe and shared it in the October 18th edition. Here is the reproduction of the recipe, as shared in the newspaper.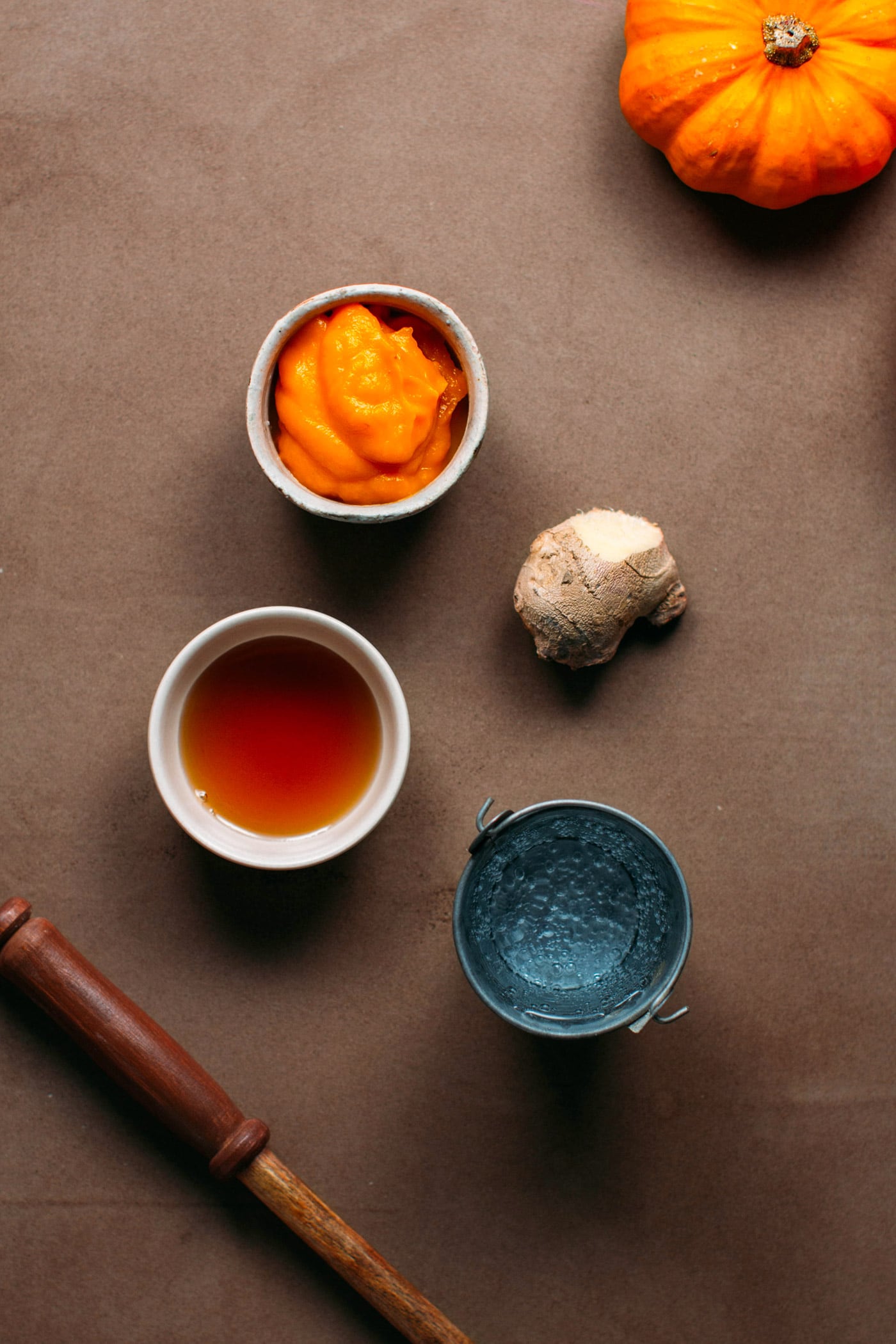 We are almost at the end of this special Harry Potter week, meaning it's time get the drinks out! This upgraded pumpkin juice comes together very quickly. We first start by preparing a simple ginger syrup.
Cook ginger slices in maple syrup and water for a couple minutes and then let it infuse for about 30 minutes, or until it has a strong ginger flavor. We will use this syrup to sweeten our Pumpkin Fizz and give it a lemony flavor.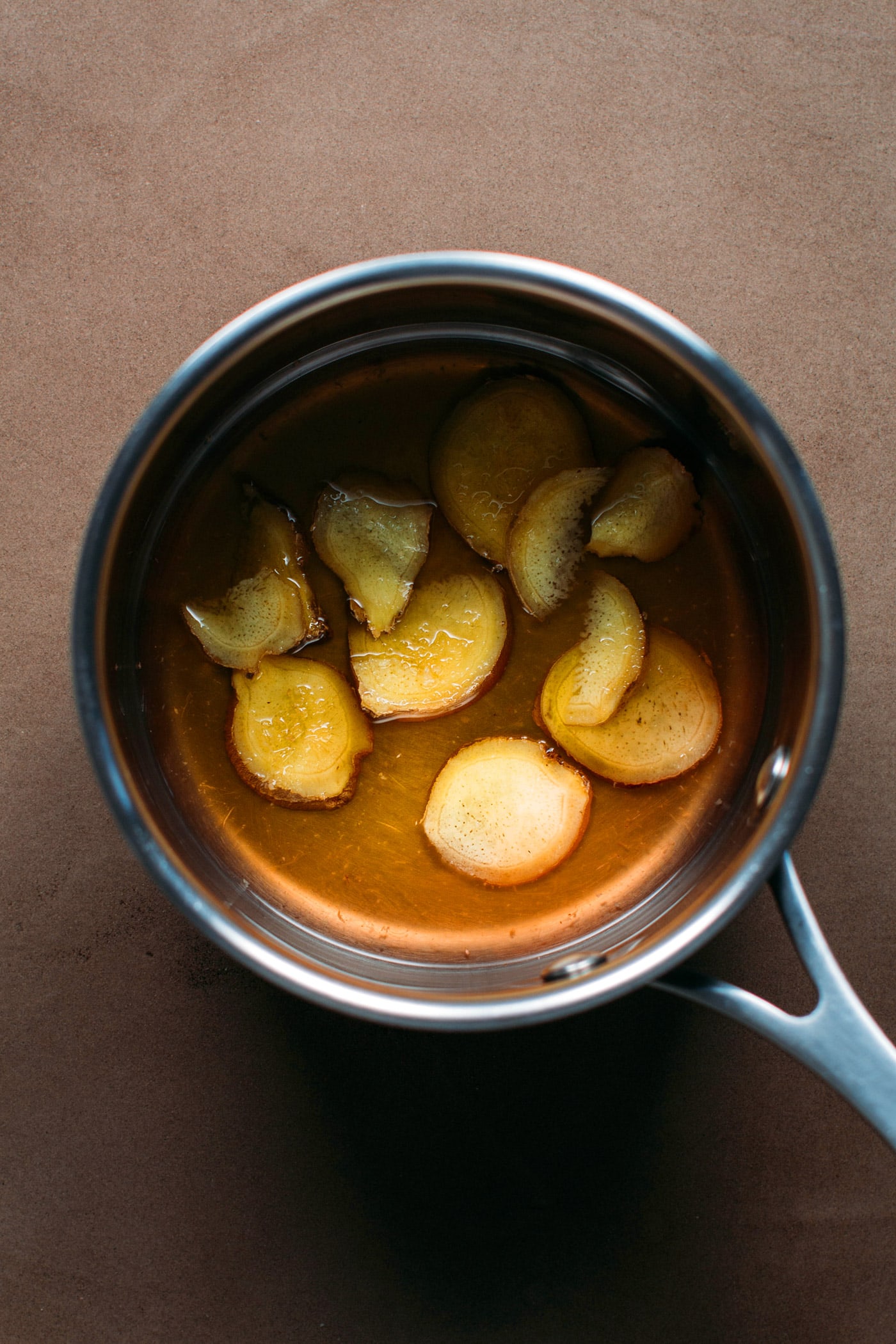 Once our syrup is ready, it's just a matter of combining everything together. Pour a few tablespoons of syrup into a glass, top with pumpkin juice, and finally sparkling water. Stir and serve cold! It's sparkling, gingery, and super refreshing!
Want to make your Ginger Pumpkin Fizz more fancy? What about piping some vegan aquafaba whipped cream on top, drizzling with caramel sauce, and topping with sprinkles!? Now we have the real deal!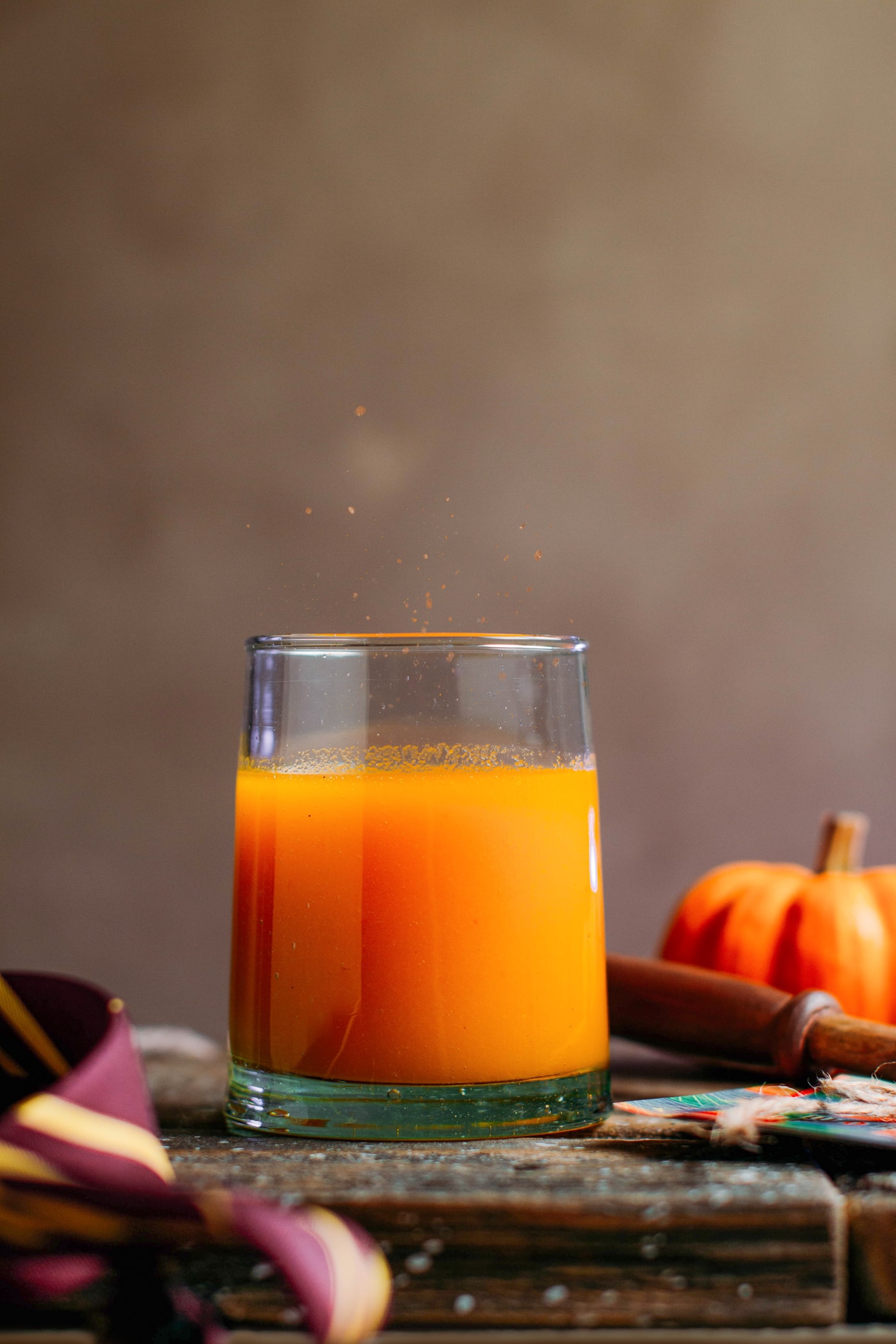 I would say this Pumpkin Fizz is a magical combination of ginger beer with pumpkin juice, so good! And between us, much better than their original pumpkin juice!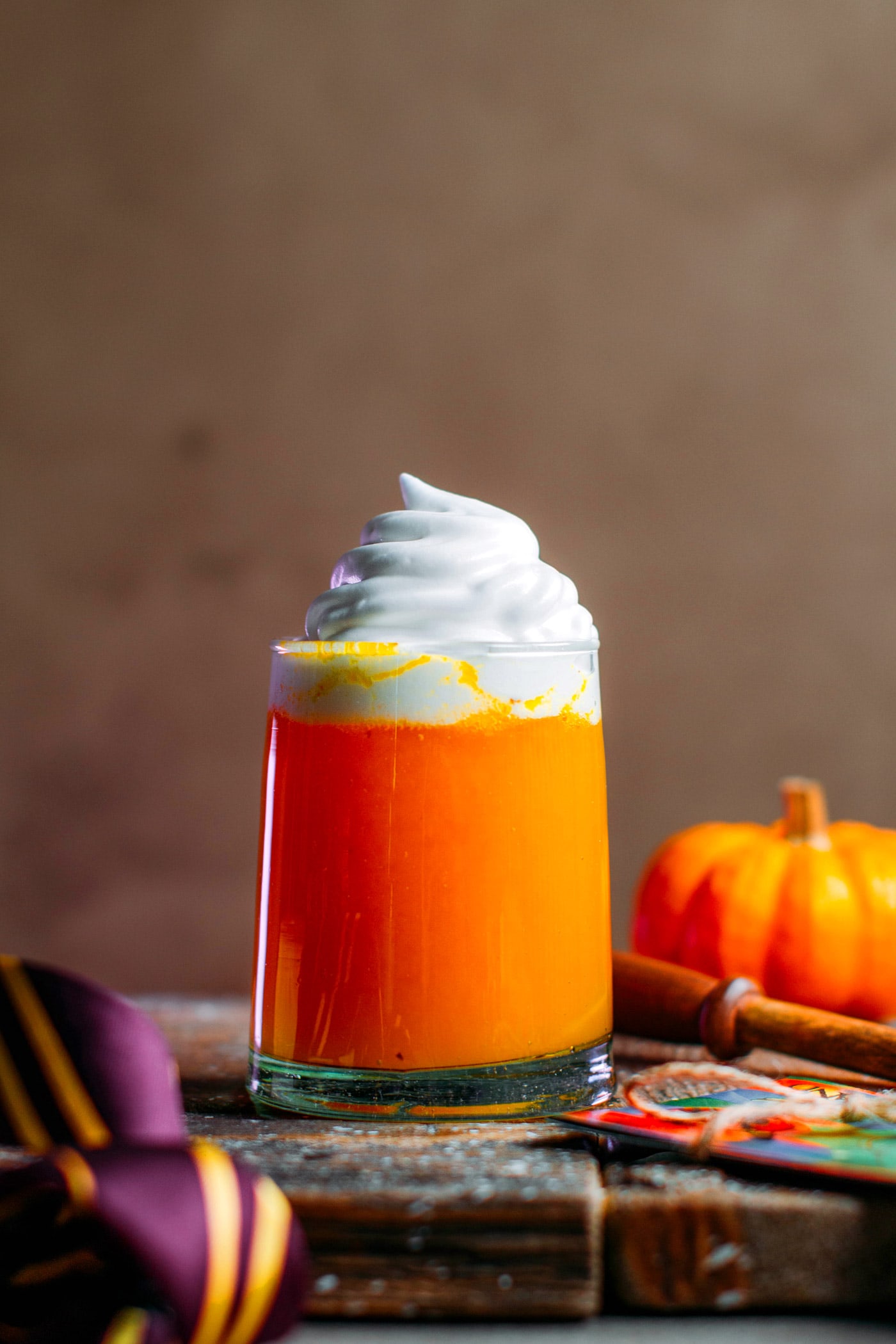 I hope you will love this fresh pumpkin juice with a pleasant ginger kick! It's not overly sweet, just a bit spicy, and fruity!
Let me know in the comments if you try this recipe!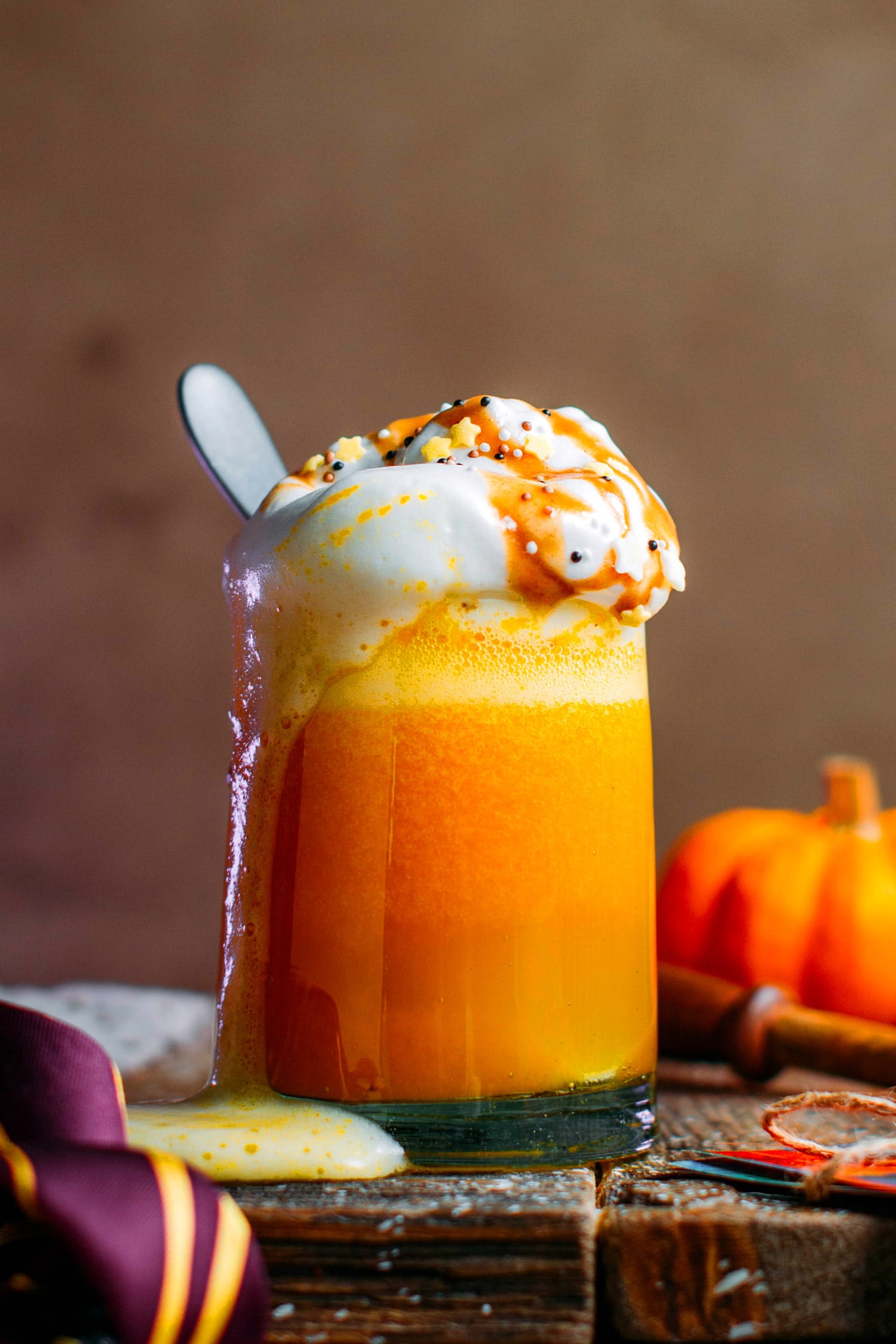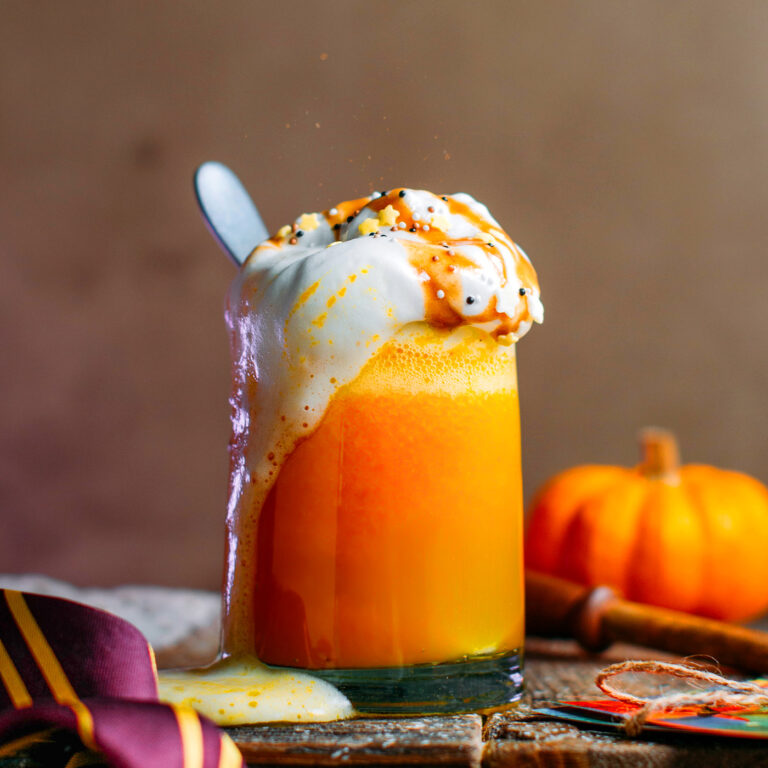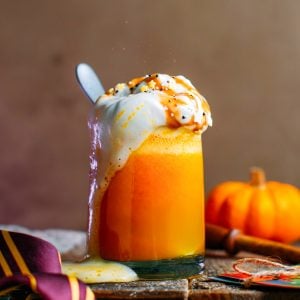 Ginger Pumpkin Fizz
Sparkling pumpkin juice combined with a delicious ginger syrup, and topped with vanilla aquafaba whipped cream!
Ingredients
Ginger Pumpkin Juice
¼

cup

maple syrup

¼

cup

water

¼

cup

thinly sliced ginger

¼

cup

pumpkin purée

½

cup

water

1

cup

sparkling water

chilled
Aquafaba Whipped Cream (optional)
¼

cup

aquafaba

(the liquid from a can of cooked chickpeas)

¼

cup

powdered sugar

¼

teaspoon

vanilla extract

⅛

teaspoon

each: caramel extract, butter extract

(optional)
Instructions
Ginger Pumpkin Juice
Add the maple syrup, water, and ginger slices to a small saucepan. Heat over medium heat until it comes to a boil. Once boiling, turn off the heat and let the ginger infuse the syrup for at least 30 minutes.

In the meantime, prepare the pumpkin juice by blending the pumpkin purée with the water. Set aside.

Discard the ginger slices from the syrup and divide the syrup between two glasses (about 3 tablespoon per glass). Pour about ¼ cup of the pumpkin juice into each glass and stir to combine.

Finish by pouring about ½ cup of cold sparkling water into each glass and serve immediately! If you want to top your ginger pumpkin fizz with whipped cream, prepare your cream before adding the sparkling water to the glasses (so you don't lose the bubbles in the meantime).
Aquafaba Whipped Cream (optional)
Whip the aquafaba using an electric mixer for about 5 minutes, or until soft peaks form. Next, add the powdered sugar, vanilla extract, and other extracts if using. Beat for another 3-5 minutes, or until stiff peaks form. Add a dollop of whipped cream on top of each glass and top with your favorite caramel sauce and sprinkles! Enjoy immediately!
Notes
Calories don't count in the Wizarding World.
DID YOU MAKE THIS RECIPE?
Tag @fullofplants on Instagram and hashtag it #fullofplants