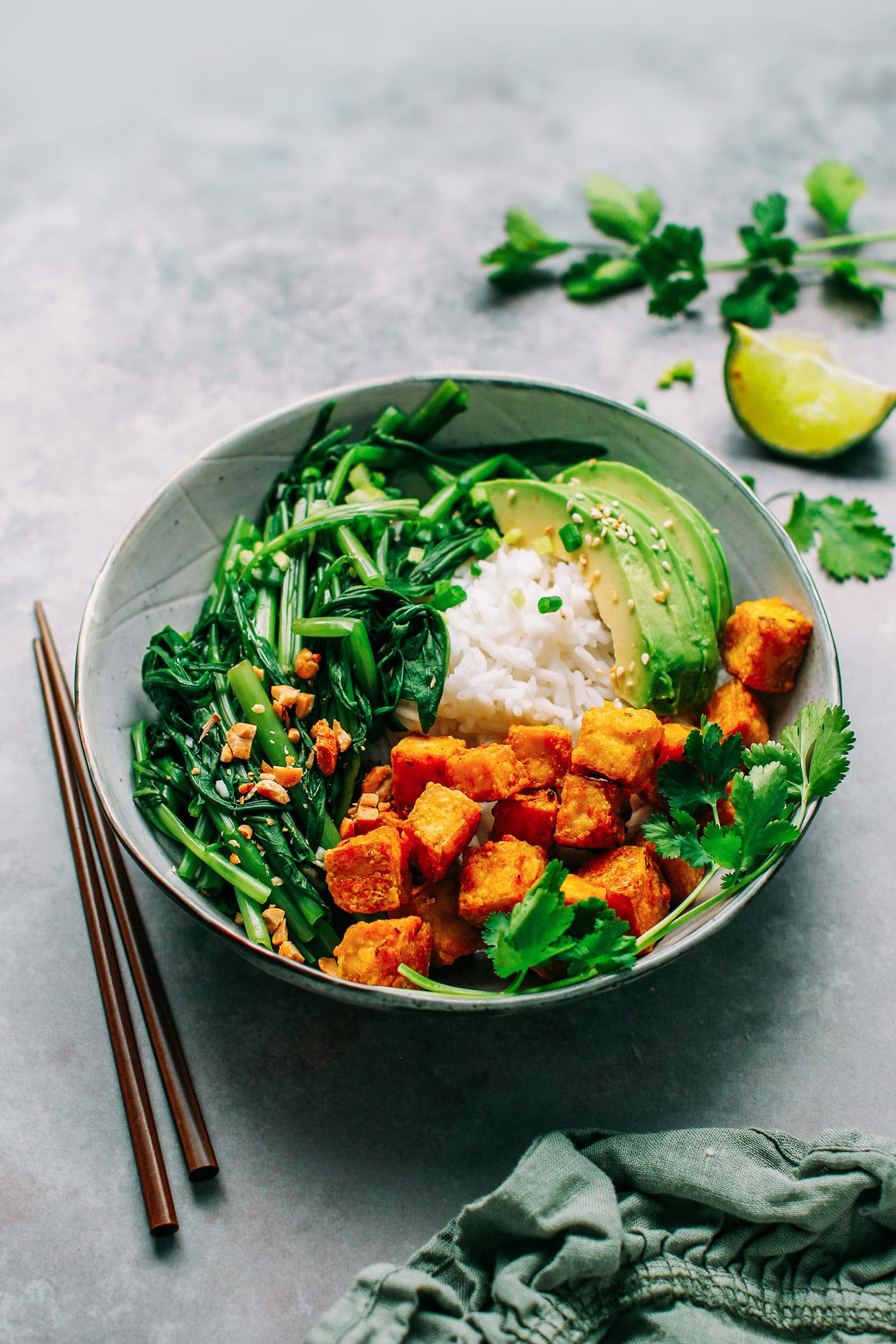 I recently discovered morning glory, also called water spinach and instantly loved it!
This garlicky morning glory is served with baked tofu and a delicious fermented tofu sauce! It is slightly crunchy and juicy at the same time.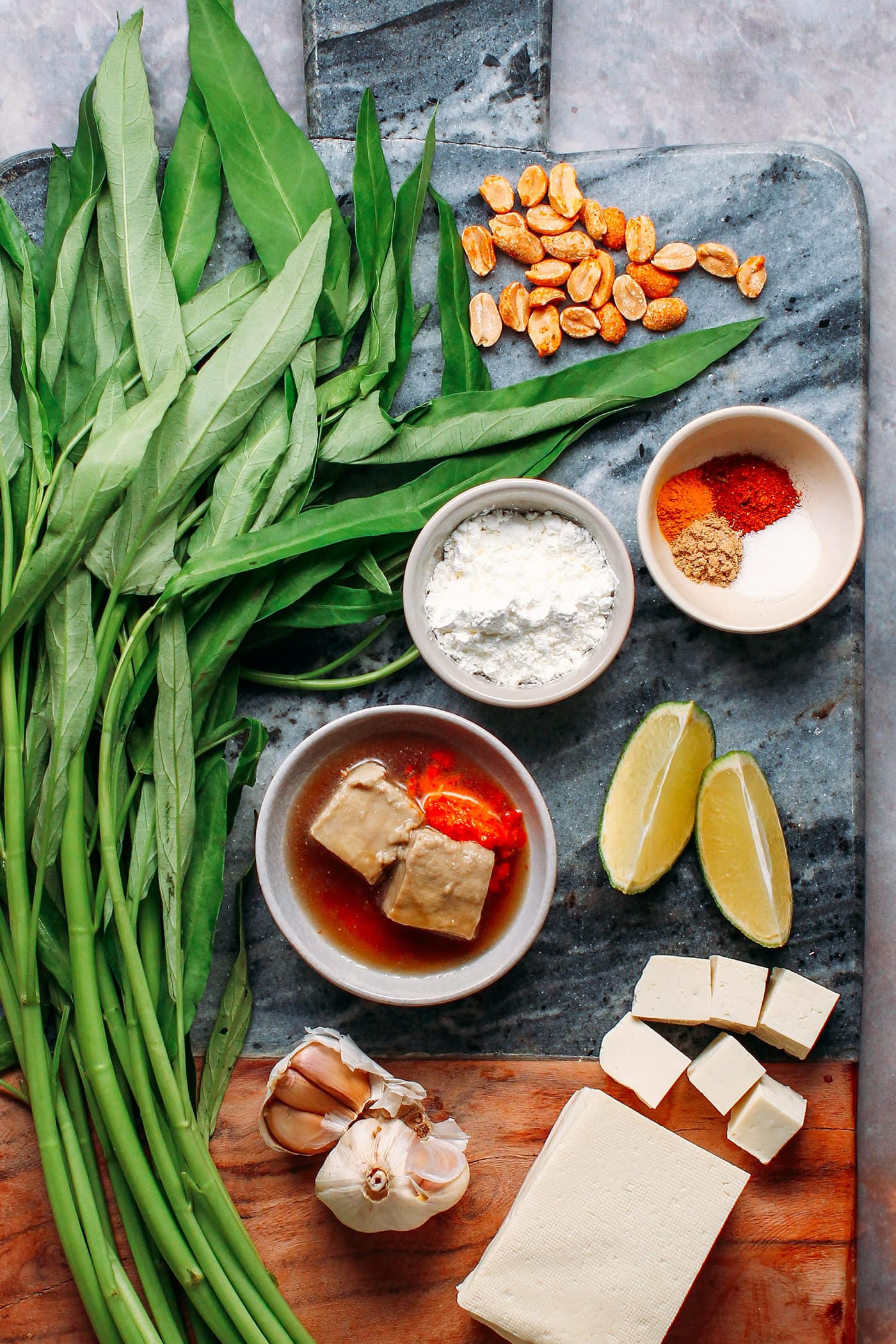 Morning glory is first blanched one minute in boiling water before being sautéed with minced garlic.
The fermented tofu sauce is the star of this recipe, it not only makes the morning glory creamy, but it also adds a subtle cheesiness and umami. I used fermented tofu in this Lemongrass Soup with Fermented Tofu Sauce.
The sauce consists of fermented tofu, also called preserved bean curd, maple syrup to balance with the saltiness of the tofu, lime juice, and some chili paste. You combine everything in a bowl and mash with a fork to make a paste. Next, add it to the skillet and stir to coat the morning glory.
For the tofu, I went with baked instead of fried to keep the whole dish on the healthy(ier) side. You coat the tofu with a mix of cornstarch, chili, turmeric, ginger, and salt.
Next, bake for 30 minutes, or until crispy and golden brown!
To make it a more filling meal, feel free to serve the morning glory and tofu on top of rice or quinoa! Add some avocado, crushed peanuts, and you end up with a delicious and comforting plant-based bowl!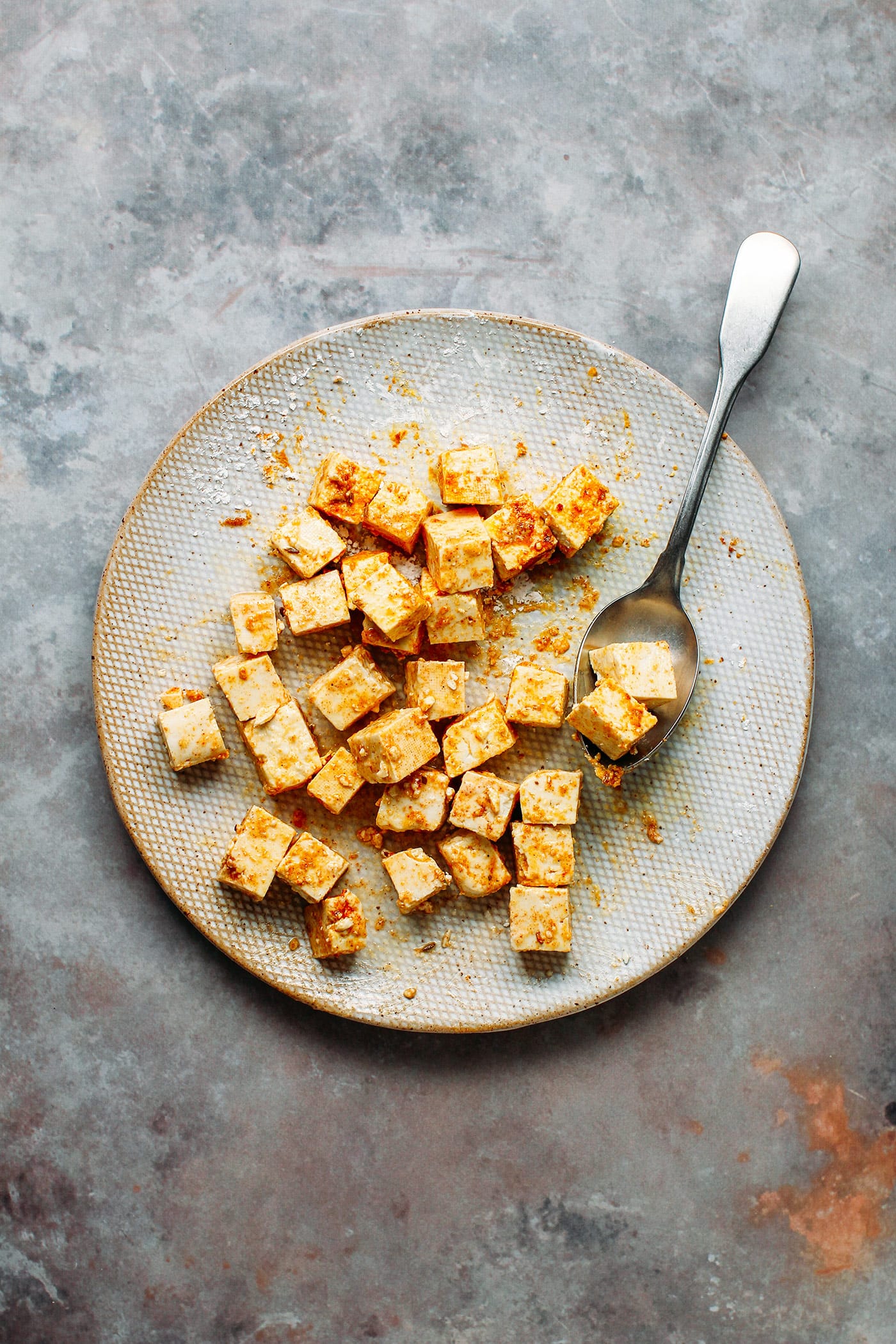 If you have never tried morning glory, I highly recommend you give it a try! It's a delicious alternative to spinach, plus it's very high in iron!
Let me know in the comments if you try this recipe!
Print
Garlic Morning Glory with Crispy Tofu
Flavorful garlicky morning glory served with crispy baked tofu! A healthy, nutritious and protein-packed dish!
Crispy Tofu
1

block (250g) firm tofu

1 tbsp

(15ml) oil

2 tbsp

(

15g

) cornstarch

1/4 tsp

chili

1/8 tsp

turmeric

1/8 tsp

ginger

1/4 tsp

salt
Garlic Water Morning Glory
9 ounces

(

250g

) water morning glory (also called water spinach)

1 tbsp

(15ml) oil

2

cloves of garlic, minced

2

pieces of fermented tofu*

1 tbsp

(15ml) maple syrup

1 tsp

(5ml) lime juice
optional: 1/2 tsp chili paste
for serving: white rice, avocado, crushed peanuts
Instructions
Crispy Tofu
Preheat oven to 400°F (200°C) and line a baking sheet with parchment paper.
Press the tofu with a kitchen towel paper to remove some of the moisture. Dice the tofu in 1-inch pieces and transfer to a large bowl.
Drizzle with the oil and stir to coat the tofu with the oil. Add the cornstarch, spices, and salt, and stir to coat.
Transfer the tofu to the prepared baking sheet and arrange it on a single layer.
Bake for 30 minutes, or until the tofu is golden brown, stirring halfway through baking. In the meantime, prepare the morning glory.
Garlic Water Morning Glory
Bring a large pot of water to a boil.
Cut the morning glory into 3-4 long sticks. Blanch the morning glory for 1 minute in the boiling water. Next, drain and set aside.
Heat the oil in a large skillet over medium heat. Once hot, add the garlic and cook for 3 minutes. Add the morning glory and sautée for about 5 minutes.
In the meantime, combine the fermented tofu cubes, maple syrup, lime juice, and chili paste if using in a small bowl. Using a fork, mash the tofu to mix it with the other ingredients.
Pour the tofu sauce into the skillet and stir to coat the morning glory with the tofu sauce. Cook for another 30 seconds and remove from heat.
To serve, divide the garlic morning glory into two bowls, top with the crispy baked tofu, and chopped peanuts!
Notes
* Fermented tofu can be found in Asian stores. It is sold in small jars, the tofu is stored in a salty brine.
Nutrition
Serving Size:

1

Calories:

298

Sugar:

7.3g

Fat:

19.3g

Carbohydrates:

21.7g

Fiber:

4g

Protein:

14g