SO moist. Soft. And chocolatey.
You guys asked for a chocolate cake, here it is. I can assure you no one would believe this chocolate cake is vegan, gluten-free, and refined-sugar free. It's incredibly soft and comes with a chocolate cashew frosting.
For the little story, the first chocolate cake I made was when I was about fourteen. I was doing an internship at a small hardware store and the owner had a small kitchen upstairs. Each and every morning (and afternoon) break, we would have a piece of chocolate cake with some fruit juice. It was not very healthy but I just didn't care at the time as long as it was delicious, plus who would refuse a break like that! Anyway, the cake was going so fast that the owner had to show me how to make it very soon to meet the demand. This is when I made my first chocolate cake, at the hardware store. Now, let's go back to this awesome chocolate layer cake, which is a lot healthier than my first one but just as delicious. If not more.
The gluten-free batter relies on a mix of rice flours, some tapioca starch, and almond flour that makes the cake moist and tender. I also tried the recipe with cashew meal and it worked very well too. So if you don't have almond flour on hand, just process some raw cashews in your food processor until you get a fine meal and use it as a substitute for the almond flour.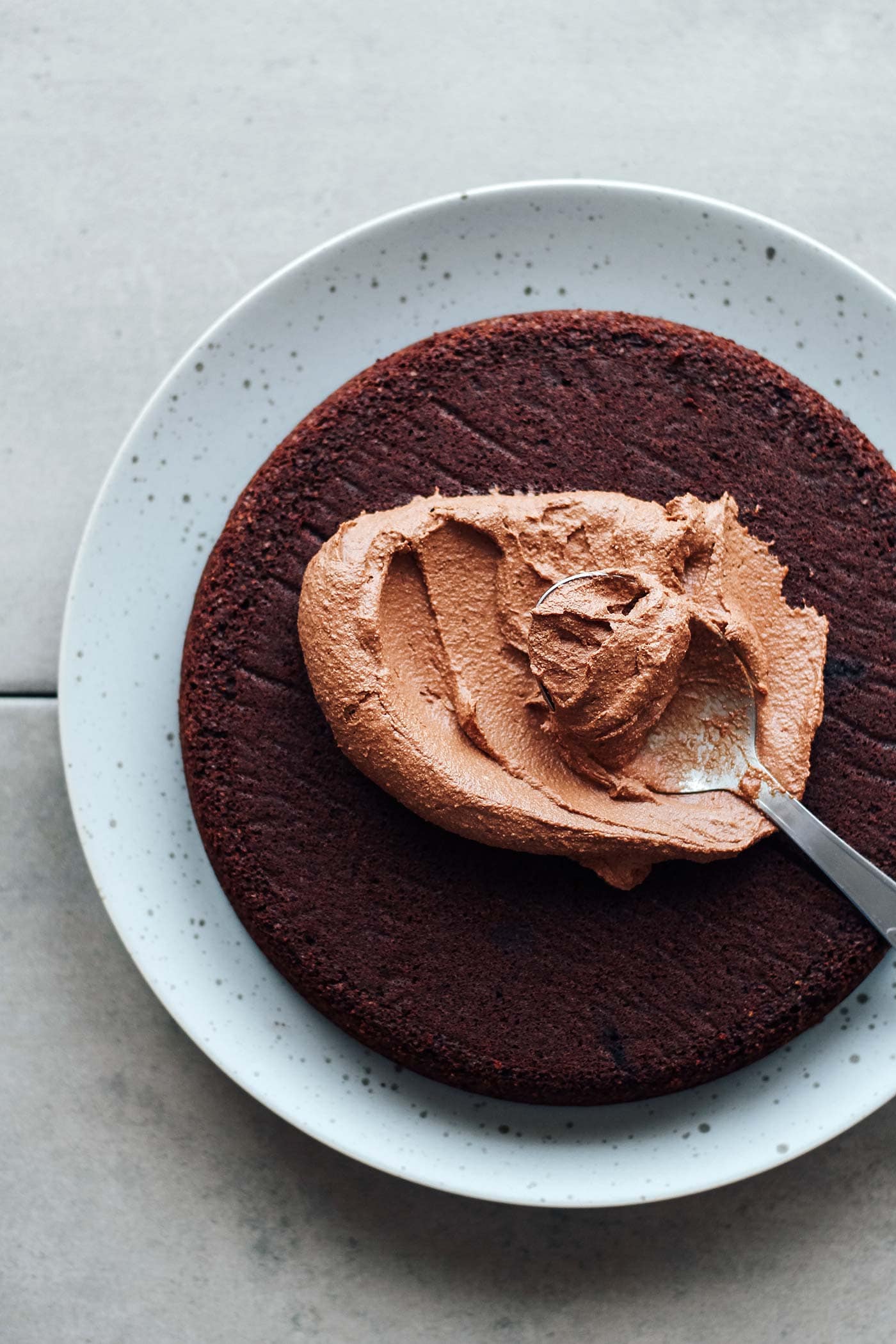 To sweeten the cake, I went with coconut sugar and maple syrup. Both add a rich flavor that pairs very well with the chocolate. Then comes the applesauce and coconut oil that brings the fudginess. Applesauce really has superpowers.
I divided the batter into 2 cake pans, so I got one layer of chocolate frosting between two cakes. Now if you want to make it a three-layer cake you can! Just divide the batter into 3 cake pans and multiply the frosting by 1,5X. You will also have to reduce the baking time by 7-10 minutes.
The frosting is easy. I tweaked the cream recipe from these Ho-hos, adding unsweetened cocoa powder, reducing the amount of coconut cream, and leaving out the lemon juice. Oh, and increasing the salt of course, because salted chocolate is the best. If you are not a fan of coconut, don't worry you can't taste it. This cake is so chocolatey it is covering the coconut flavor.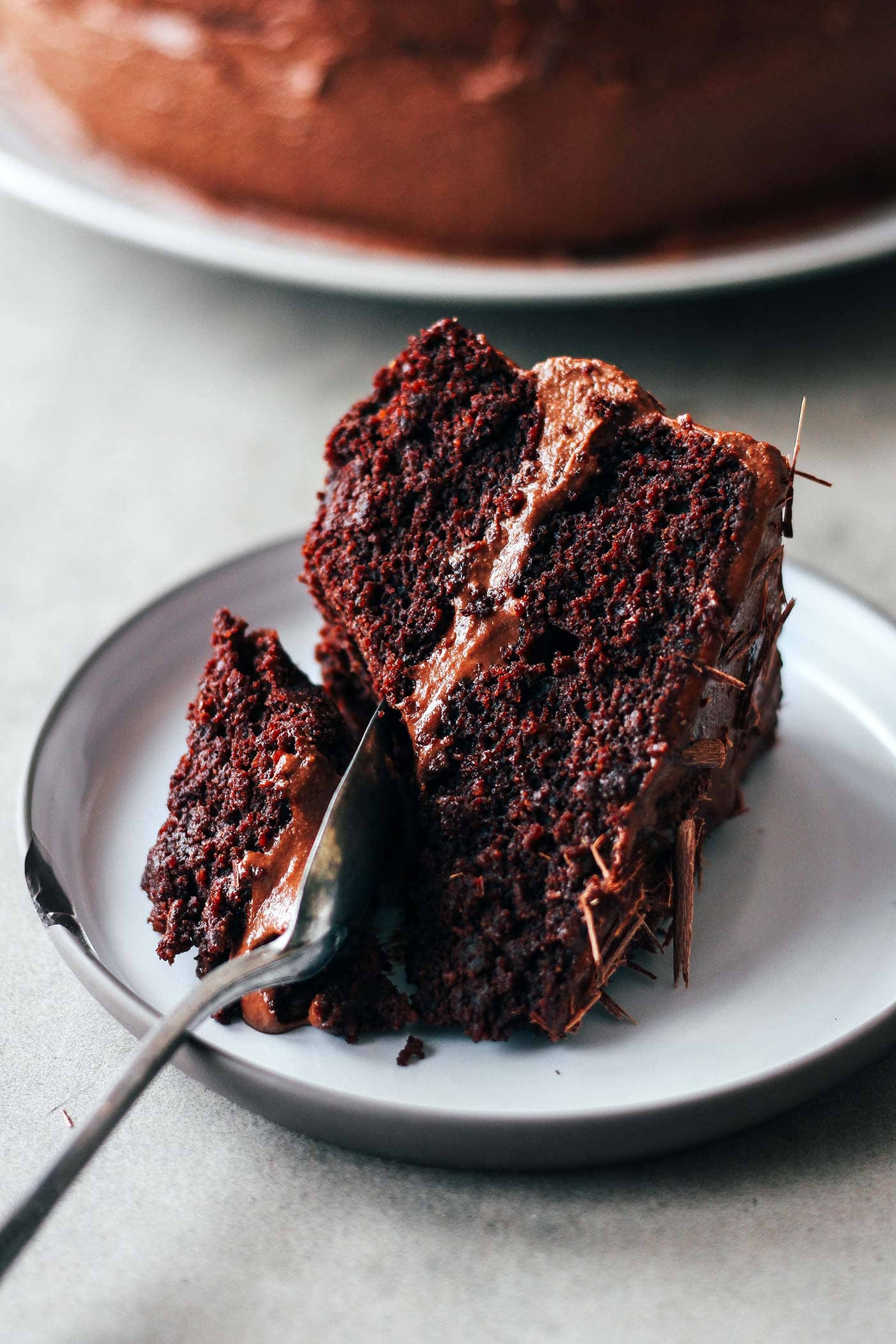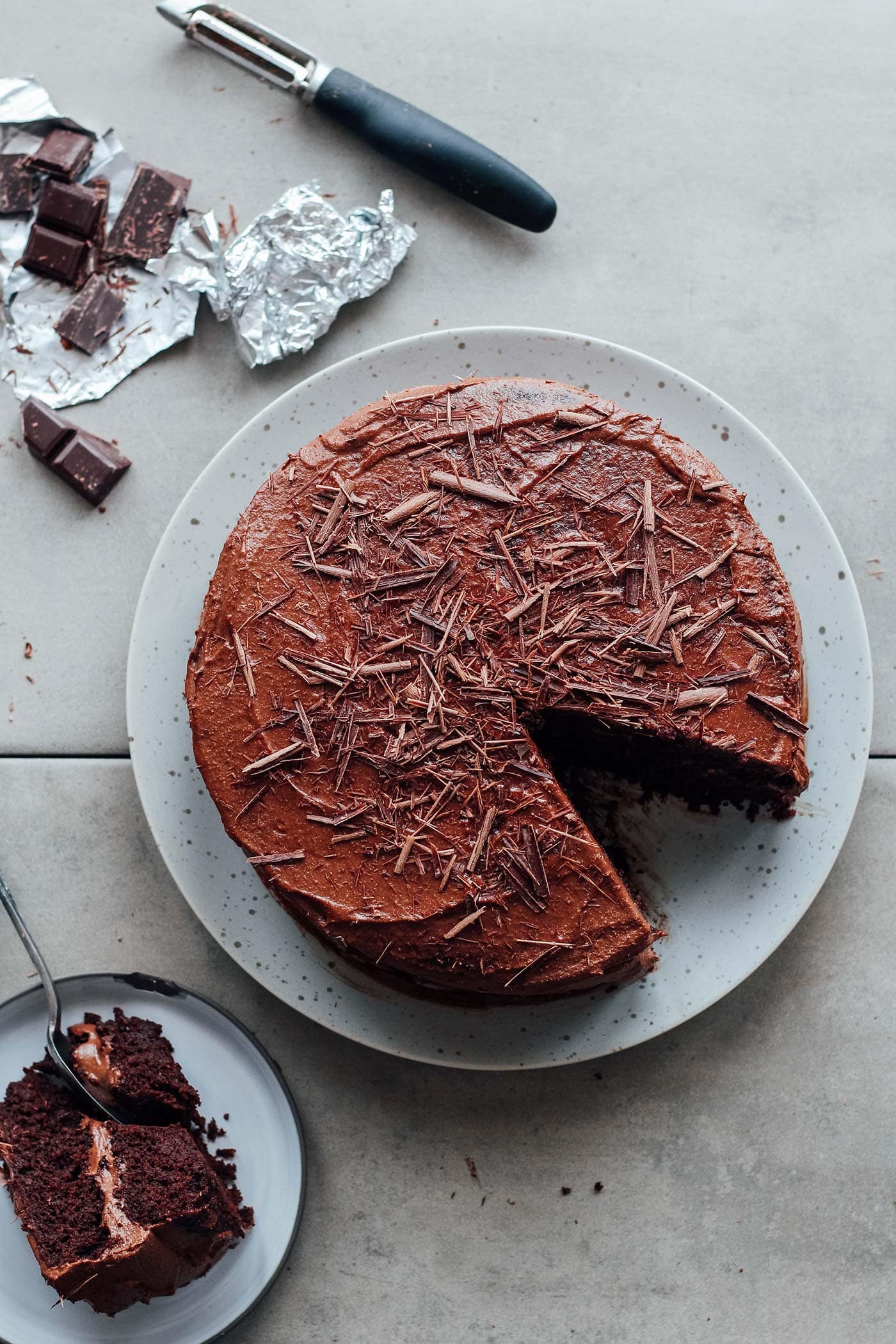 This chocolate cake is great for birthdays, internships, or any other occasion when a chocolate cake is welcome. So basically all the time. If you are looking for a rich, moist and soft chocolate cake that is not only delicious but also vegan/gluten-free/refined sugar-free look no further and try this one!
Let me know in the comments if you try this recipe!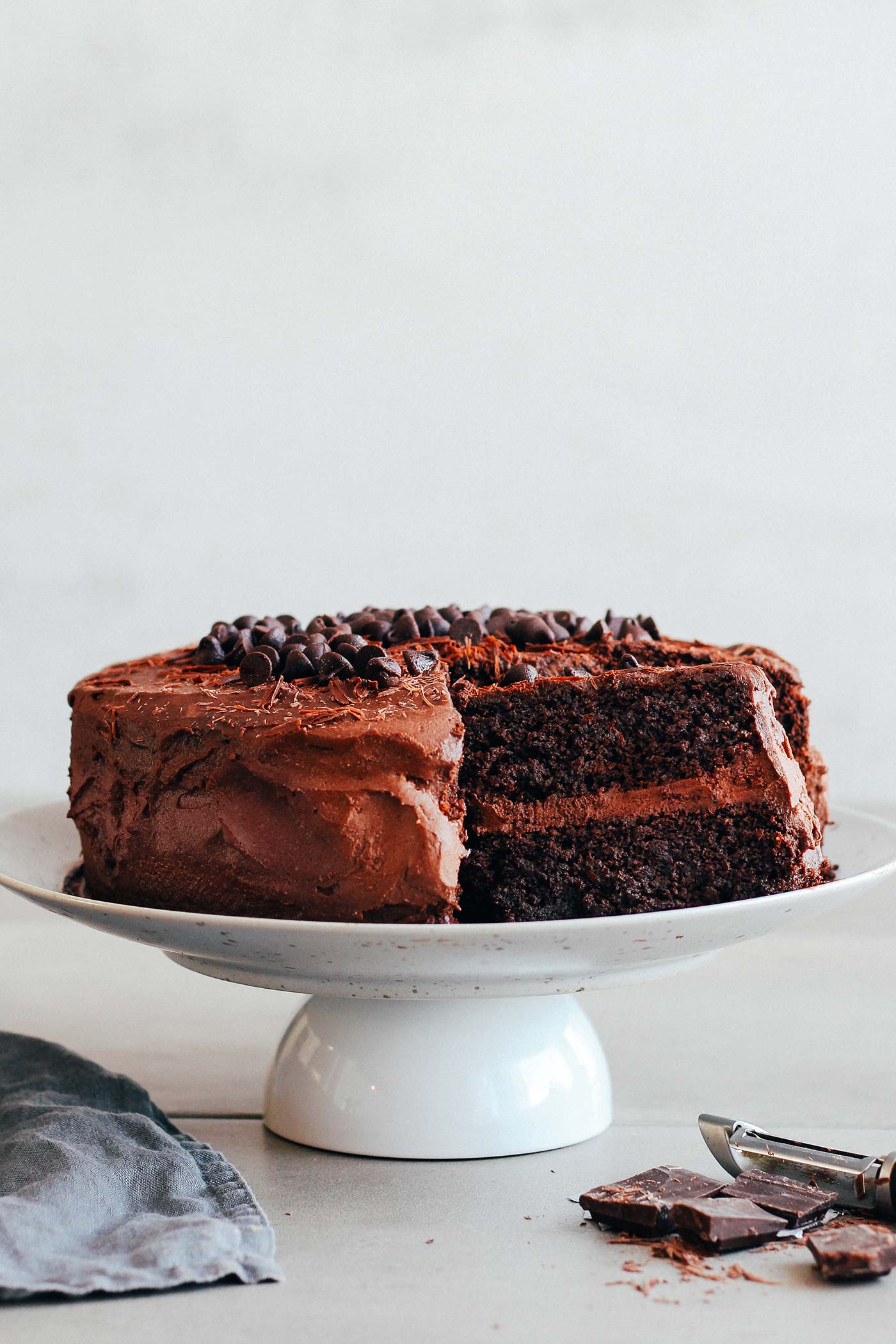 Fudgy Chocolate Layer Cake (Vegan + GF)
Super moist chocolate cake that comes with a rich and creamy cashew frosting. Perfectly sweet, soft, and chocolatey!
Ingredients
Chocolate Cake
4

flax eggs

¼ cup (26g ground flax seeds mixed with ⅔ cup (157ml) almond milk)

⅔

cup

93g white rice flour

⅔

cup

86g brown rice flour

⅔

cup

85g tapioca starch

1

cup

100g almond flour (or cashew meal)

1

cup

120g unsweetened cocoa powder

⅔

cup

110g coconut sugar

½

teaspoon

baking soda

2

teaspoon

baking powder

⅔

cup

157ml maple syrup

⅔

cup

157ml melted coconut oil (or other neutral oil)

⅔

cup

200g applesauce

⅔

cup

+ 2 tbsp

187ml almond milk
Chocolate Frosting
2

cups

300g raw cashews, soaked overnight

¼

cup

60ml maple syrup

½

cup

140g coconut cream from one 13.5-ounce can full-fat coconut milk

3

tablespoon

45ml melted coconut oil

¼

cup

30g unsweetened cocoa powder (⅓ if you want it more chocolatey)

½

teaspoon

vanilla extract

¼

teaspoon

sea salt
Instructions
Chocolate Frosting
Drain the soaked cashews. Transfer to a blender and add the maple syrup, coconut cream, melted coconut oil, vanilla extract, and sea salt. Blend on high speed until smooth and creamy. Transfer to a bowl, cover with plastic film and place in the refrigerator. Chill for at least 1 hour.
Chocolate Cake
Preheat oven to 350°F (180°C). Line the bottom of two 8-inch cake pans with parchment paper.

Start by making the flax eggs. In a small bowl, mix together the ground flax seeds and almond milk. Let it rest 10 minutes.

In the meantime, in a large mixing bowl, whisk together the white rice flour, brown rice flour, tapioca starch, almond flour, cocoa powder, coconut sugar, baking soda, and baking powder.

In another bowl, mix the flax eggs, maple syrup, melted coconut oil, applesauce, and almond milk together. Pour into the dry ingredients and whisk until combined. The batter will be thick.

Divide the batter into the two prepared cake pans. Bake for 28 minutes. Remove from the oven and let cool completely. Cakes must be cool otherwise the frosting will melt.

Place one cake upside down on a large serving plate or cake stand. Top with about ⅔ cup of chocolate frosting and spread evenly. Place the second cake on top. Spread the remaining frosting on top of the second chocolate cake and on the sides.

Top with chocolate shavings and chocolate chips. The cake will keep covered for up to 3 days at room temperature, or 5 days in the refrigerator.
Notes
I recommend assembling and frosting the cake the day you plan to serve it, as refrigerating tends to make it slightly firmer.
If you want to make cupcakes, cut the recipe in half and spoon the batter into the cupcake liners (⅔ full).
Nutrition
Serving:
1
slice
Calories:
495
kcal
Carbohydrates:
54.5
g
Protein:
7.9
g
Fat:
31.1
g
Fiber:
6.2
g
Sugar:
23.8
g
DID YOU MAKE THIS RECIPE?
Tag @fullofplants on Instagram and hashtag it #fullofplants