Caponata is a traditional Sicilian salad made with eggplants, red peppers, onions, olives, pine nuts, and capers. It's flavored with a sweet and sour sauce, and infused with Mediterranean flavors. Fresh, healthy and made in one pan!
I served it here with a creamy garlic yogurt sauce and some toasted bread on the side. The perfect summer entrée!
This salad is incredibly flavorful and full of texture. You have crisp celery pieces, caramelized eggplant, nutty toasted pine nuts, and sour capers. For the dressing, I went with red wine vinegar, thyme and maple syrup that adds a hint of sweetness.
Eggplants are first sautéed in olive oil until they become soft and start to caramelize. Next come garlic, onion and red bell pepper. You can use a mix of red and yellow bell pepper for more color.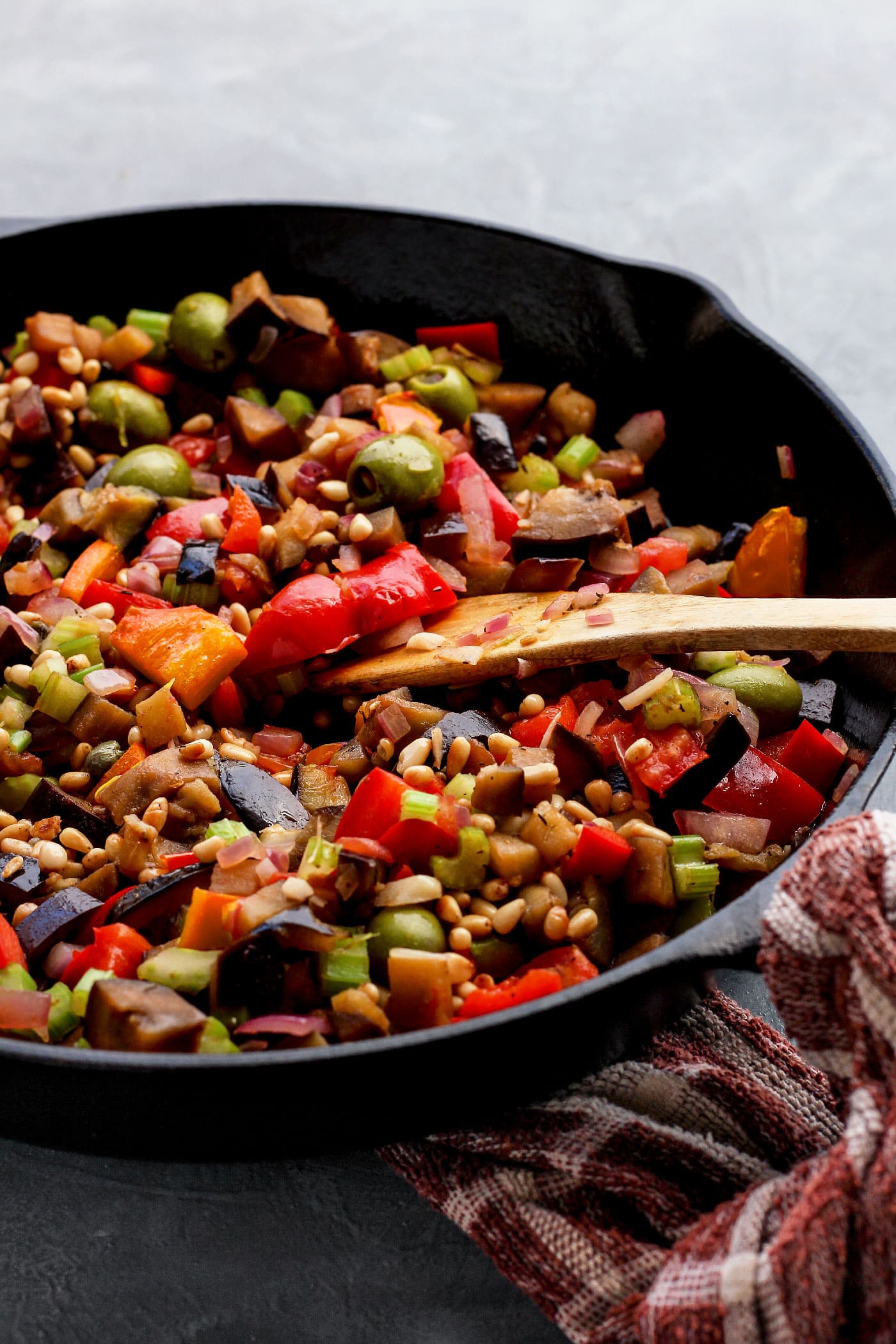 Celery, tomatoes, olives, and capers are then added to the skillet before stirring in the sweet and sour vinegar dressing.
Garlic yogurt sauce goes very well with this Caponata by contrasting with its slightly sour flavor. It's a simple mix of non-dairy yogurt, garlic, coriander, mustard, a healthy pinch of salt and a squeeze of lemon juice. Yogurt also adds healthy fats as well as good bacterias that help with digestion.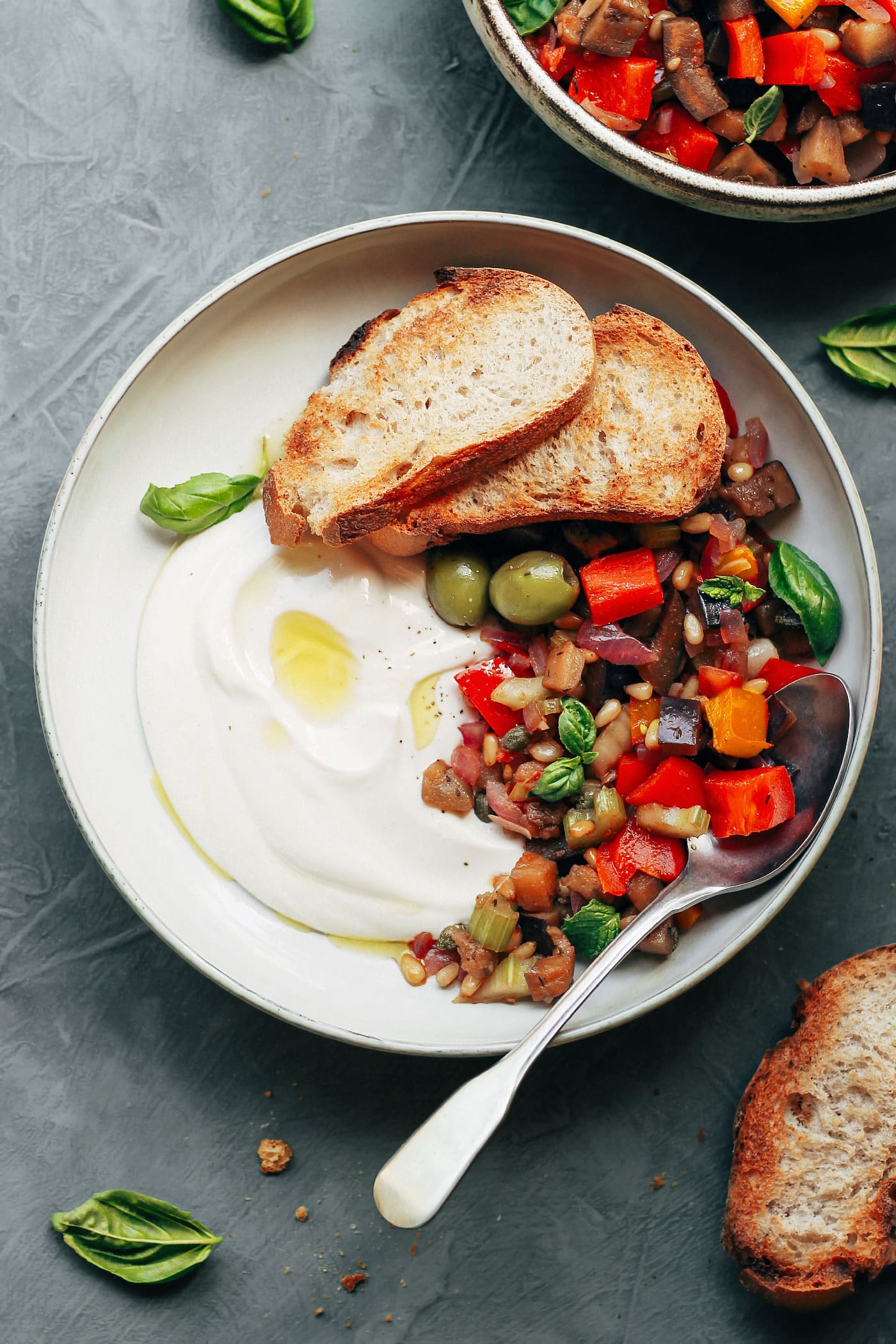 Like many salads, this one tastes even better the next day!
Caponata can be served in many ways, as a side with quinoa, rice or pasta, as an entrée with garlic-rubbed toasted bread, or as is with the yogurt sauce. Leftovers can also be used as a topping for gazpacho or added to a green salad, the possibilities are endless!
Let me know in the comments if you try this recipe!
Print
Eggplant Caponata with Garlic Yogurt Sauce
Easy one-pan caponata served with garlic yogurt sauce and toasted bread. Sweet, sour and packed with Mediterranean flavors!
Caponata
¼ cup

olive oil

2

medium eggplants, cut into

1

-inch pieces

1

red bell pepper, diced

1

onion, diced

2

cloves garlic, minced

½ tsp

salt

2

stalks of celery, finely diced

1

tomato, diced

⅓ cup

olives (green or black)

2 tbsp

capers, drained

3 tbsp

red wine vinegar

1 tbsp

maple syrup

½ tsp

thyme

⅓ cup

toasted pine nuts

4

-

6

leaves fresh basil

4

-

6

leaves fresh mint
Garlic Yogurt Sauce
1 cup

unsweetened non-dairy yogurt

½ tsp

yellow mustard

¼ tsp

salt

¼ tsp

ground coriander

½ tsp

garlic powder

1 tsp

lemon juice
Instructions
Caponata
Start by dicing all the vegetables: eggplants, tomato, red bell pepper, onion, garlic, and celery.
Heat the olive oil in a large skillet over medium heat. Once hot, add the eggplant and fry for 6-8 minutes, or until soft and golden brown. Add onions, garlic, and red bell pepper, and cook for another 3-5 minutes. Season with salt.
Add the diced celery, tomatoes, olives and capers and sautée for another 5 minutes. When the celery is translucent and the tomatoes soft, add the red wine vinegar, maple syrup, and thyme. Let simmer for a few minutes, or until the vinegar has evaporated.
Remove from heat, stir in the pine nuts, basil, and mint. Taste and adjust seasonings if needed. Transfer to a large serving bowl, let cool and refrigerate at least 3 hours.
Serve cold as an entrée with the yogurt sauce, a drizzle of olive oil and some garlic-rubbed toasted bread, or as a side with quinoa or rice. Store leftovers in the fridge for up to 5 days.
Garlic Yogurt Sauce
Combine all the ingredients in a small bowl. Taste and adjust seasonings if needed.
Nutrition
Serving Size:

1 (with yogurt)

Calories:

269

Sugar:

10.5g

Fat:

20.4g

Carbohydrates:

20.1g

Fiber:

7.4g

Protein:

5.7g