Mint Chocolate Brownies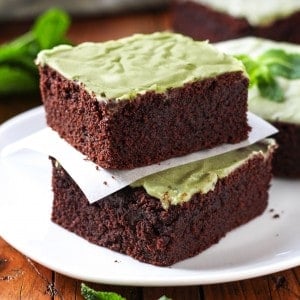 2 cups all-purpose flour
1 cup unsweetened cocoa powder
1 tsp expresso powder
1 tsp baking powder
¼ tsp baking soda
1 tsp salt
1 and ⅓ cup brown sugar
1 and ½ cup almond milk
1 cup vegetable oil
1 and ½ cup vegan icing sugar
3 tbsp almond milk
1 and ½ tsp matcha tea powder
2 drops natural peppermint oil
Preheat the oven to 350 degrees F (175 degrees C).
Stir together all the dry ingredients in a large bowl. Make a well in the center.
Slowly pour the almond milk and whisk until no clumps remain.
Add the vegetable oil and whisk until it's smooth.
Pour the batter into a greased 13-by-9 inch pan lined with parchment paper.
Bake for about 25 minutes in the preheated oven, or until a toothpick inserted into cake comes out clean. Allow to cool.
In a small bowl, mix together all the ingredients.
Spread the glaze over top of cake.
Let sit in the fridge about 2 hours before cutting into 8 pieces.
You can serve it fresh or at room temperature. Delicious topped with fresh creme anglaise.