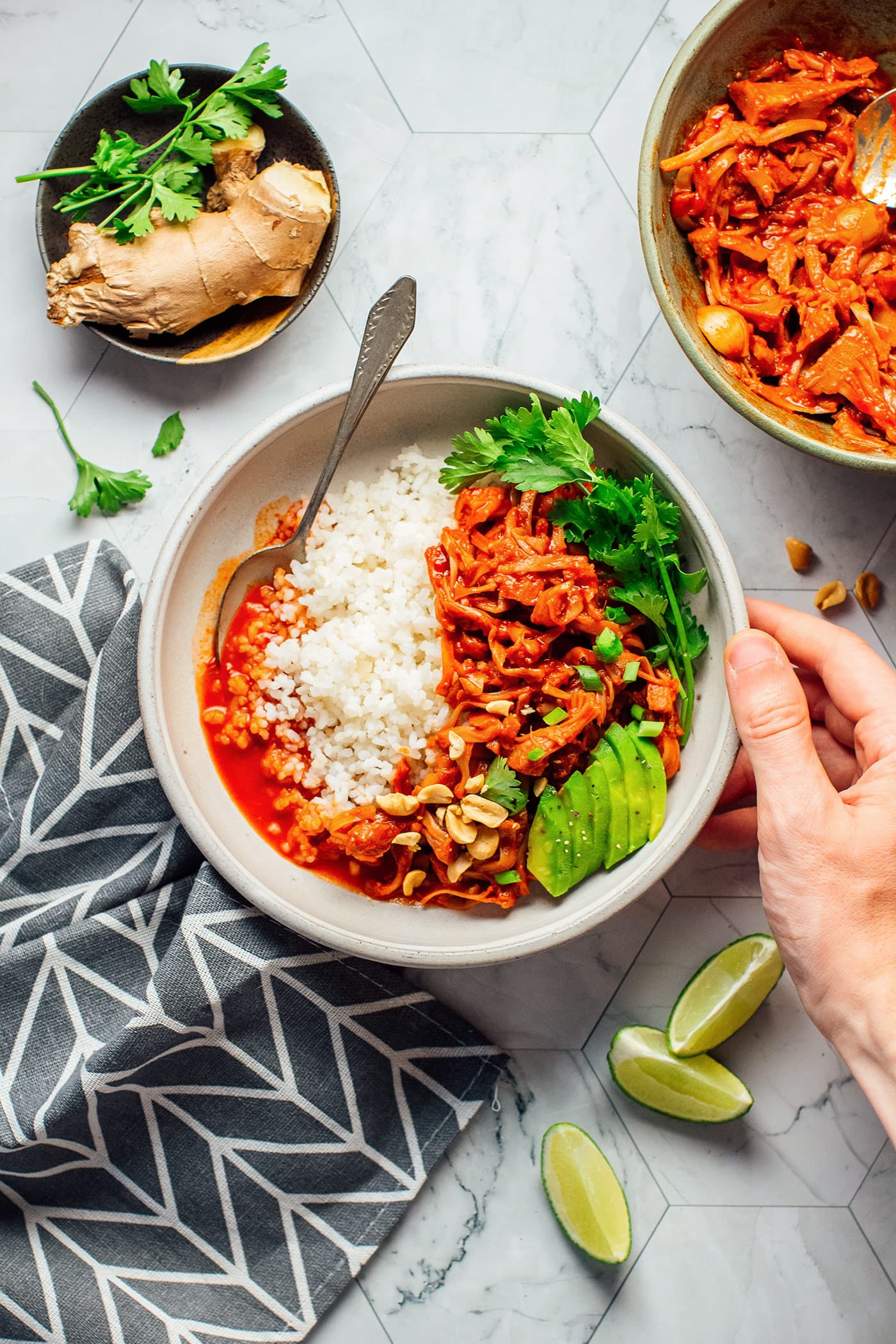 Easy Gochujang Jackfruit! 8 ingredients. Spicy, meaty, and saucy jackfruit. That's what we are cooking today.
Introducing this Gochujang jackfruit that is not only easy to make but also full of flavor, hearty, and cozy. Let's do it!
WHAT IS GOCHUJANG PASTE?
Gochujang is a Korean chili paste made with red chili powder, sweet rice, fermented soybean powder, salt, and malt. It can be fermented from a couple of months to a few years, the flavor getting better as it ages. It is a key ingredient in Korean cuisine, used in famous dishes like Bibimbap, fried rice, or stews.
I would say it tastes like a mix of chili paste and white miso. It is quite spicy, very smooth, and has some umami to it.
This recipe is easy and comes together in less than 30 minutes. You start by rinsing and cutting the hard-core part of the young jackfruit. Next, we prepare the sweet, spicy, and garlicky sauce.
HOW TO MAKE THE SAUCE?
Gochujang paste makes the base. Then we have soy sauce and coconut sugar to balance the spiciness. Next comes the aromatics: garlic, ginger, and shallots.
Mix all the ingredients together, pour over the jackfruit, and stir to coat. Almost done!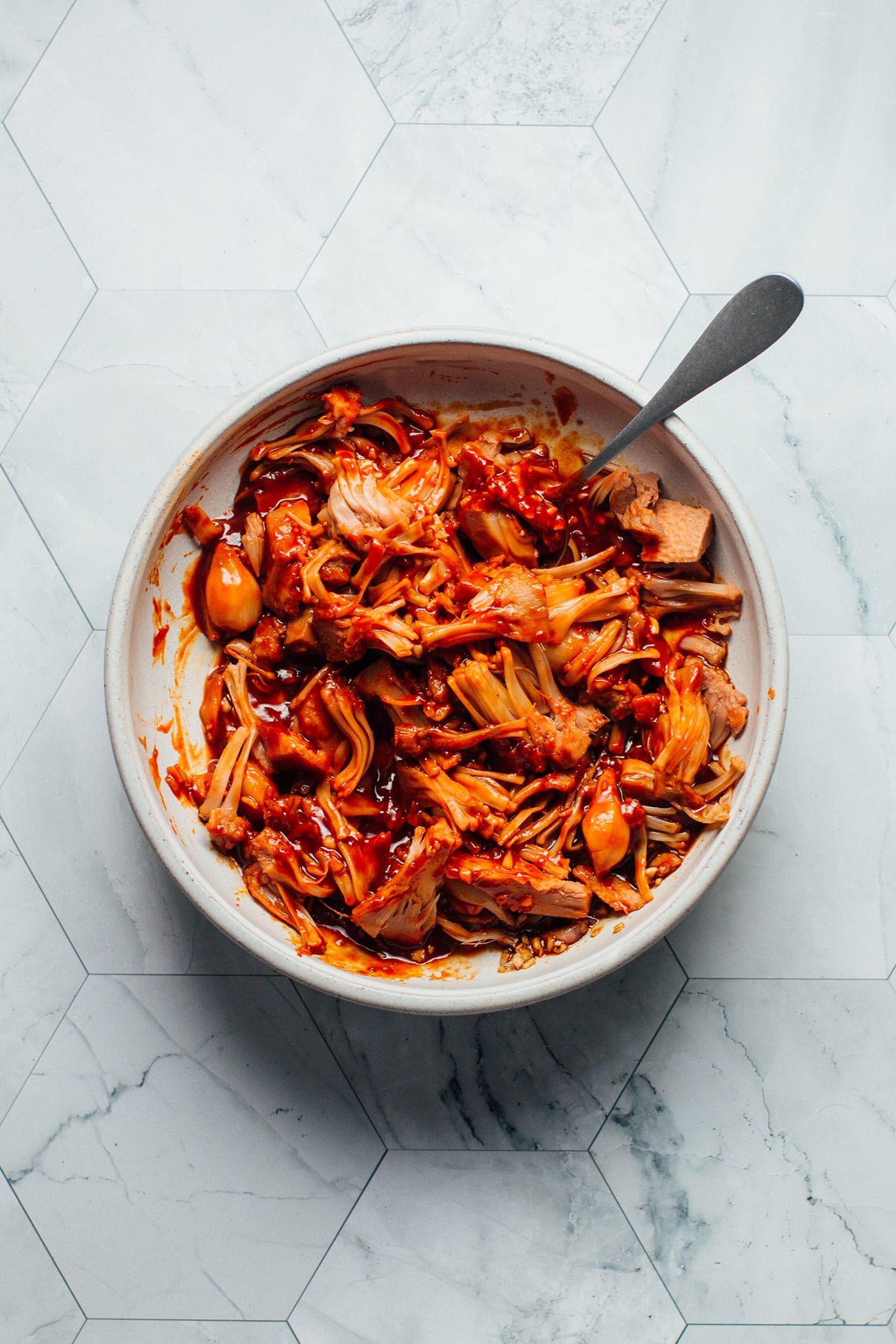 Finally, transfer the jackfruit with the sauce to a non-stick skillet and simmer for a few minutes. Serve this spicy jackfruit on a bed of rice or quinoa, and top with peanuts, cilantro, and a squeeze of lime!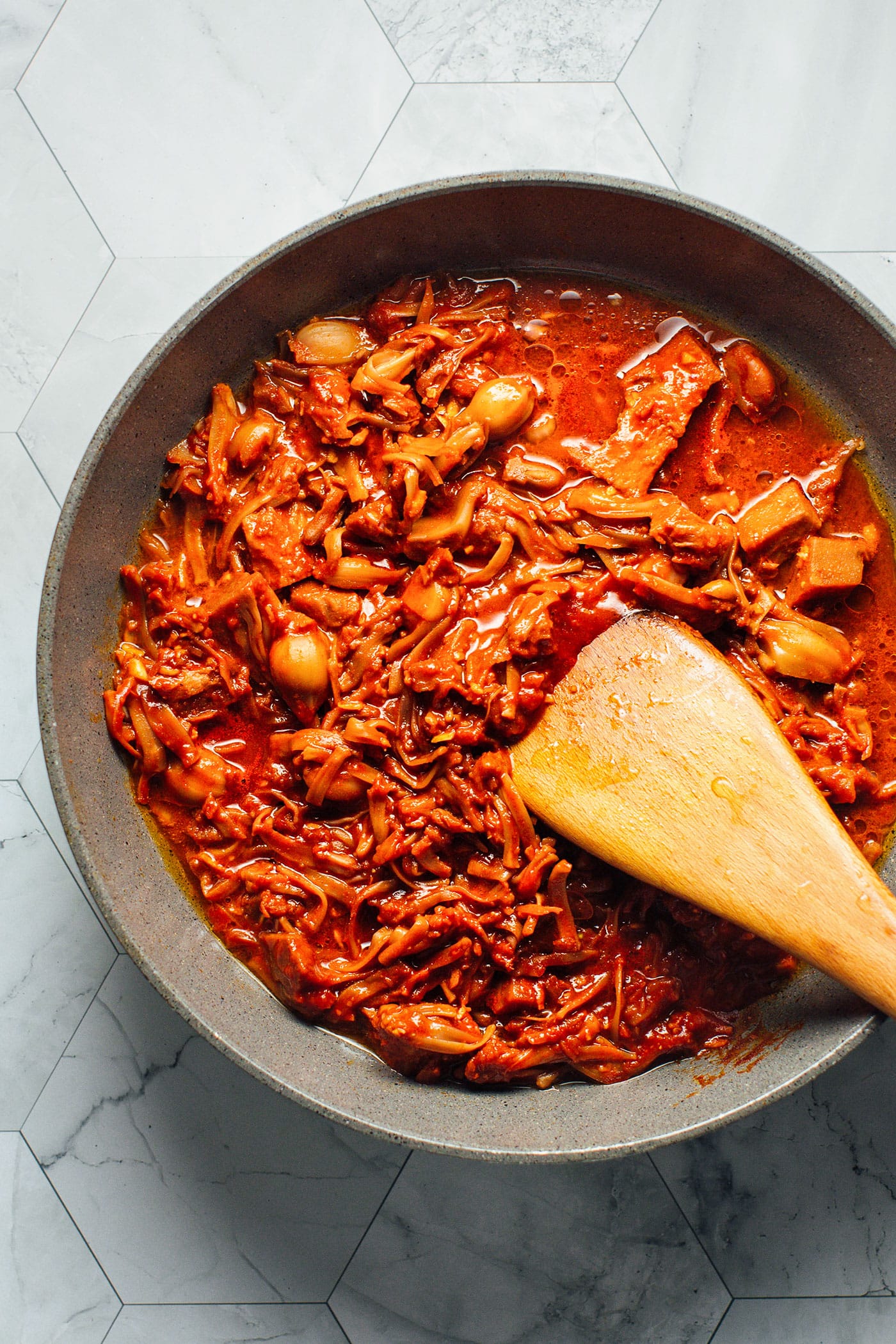 If you are looking for more jackfruit recipes, check out these Easy Jackfruit "Chicken" Quinoa Bowls, Jackfruit Potstickers, or this Buffalo Jackfruit & Rice Bake!
Let me know in the comments if you try this recipe!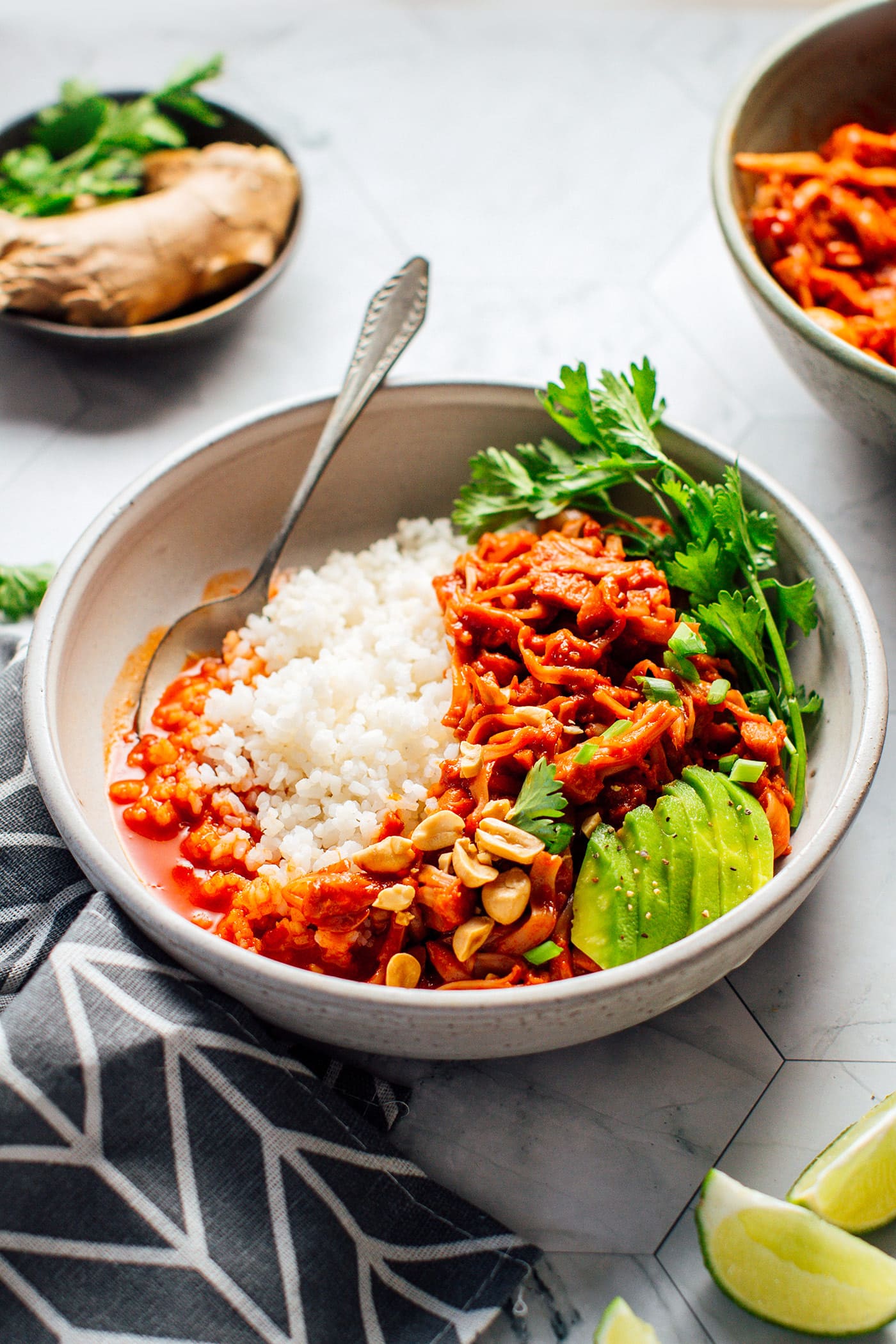 Recipe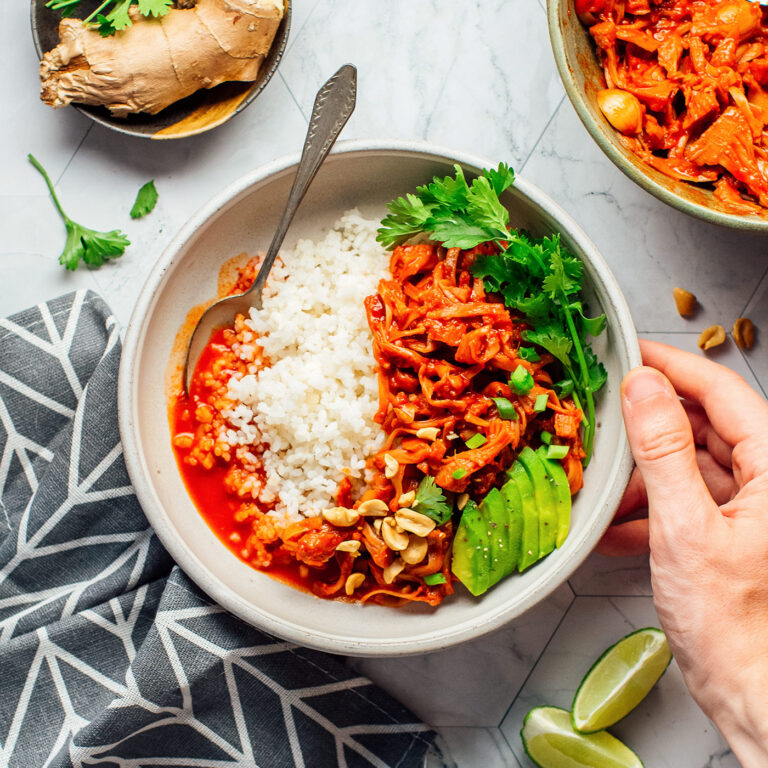 Easy Gochujang Jackfruit
Super easy jackfruit that is cooked in a spicy Korean-inspired sauce. Spicy, garlicky, hearty, and simply delicious!
Instructions
Drain and rinse the young jackfruit. Cut off the hard "core" part of the jackfruit pieces and discard. Transfer the jackfruit to a large mixing bowl and shred it using a fork, or your hands.

In a small bowl, whisk together the gochujang paste, soy sauce, coconut sugar, minced shallot, garlic, and ginger. Pour the sauce over the jackfruit and stir to coat.

Heat a tablespoon of oil in a large non-stick skillet over medium heat. Once hot, fry the chopped green onions for about 2 minutes. Next, add the jackfruit with the sauce and 1/4 cup of water.

Cook over medium heat uncovered for 7-10 minutes. Serve on a bed of rice and top with roasted peanuts, cilantro, and a squeeze of lime!

Gochujang jackfruit will keep for up to 2 days in the refrigerator. Reheat gently in a skillet over medium heat.
Nutrition
Serving:
1
(without rice and toppings)
|
Calories:
252
kcal
|
Carbohydrates:
43.1
g
|
Protein:
4.6
g
|
Fat:
6.8
g
|
Fiber:
10.9
g
|
Sugar:
30.3
g
Did you make this recipe?
Tag @fullofplants on Instagram and hashtag it #fullofplants