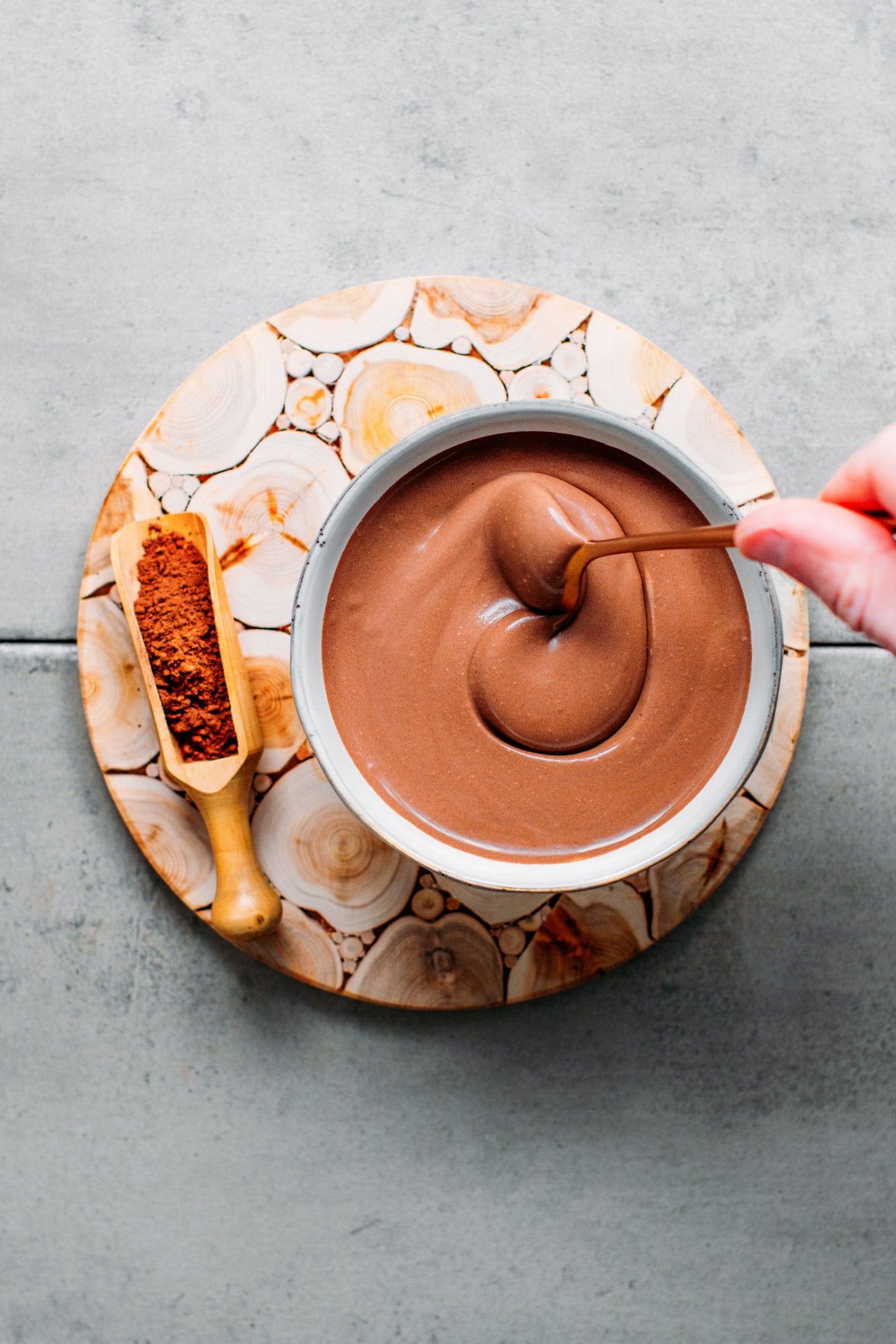 Let's be honest. Stirring cacao powder and sugar in yogurt doesn't yield the best texture. It usually ends up being grainy. Here, we combine everything together before turning it into yogurt for a silky smooth texture!
Introducing this 4-ingredient chocolate coconut yogurt! It's perfectly sweet, chocolatey, a bit coconutty, and has a subtle sourness!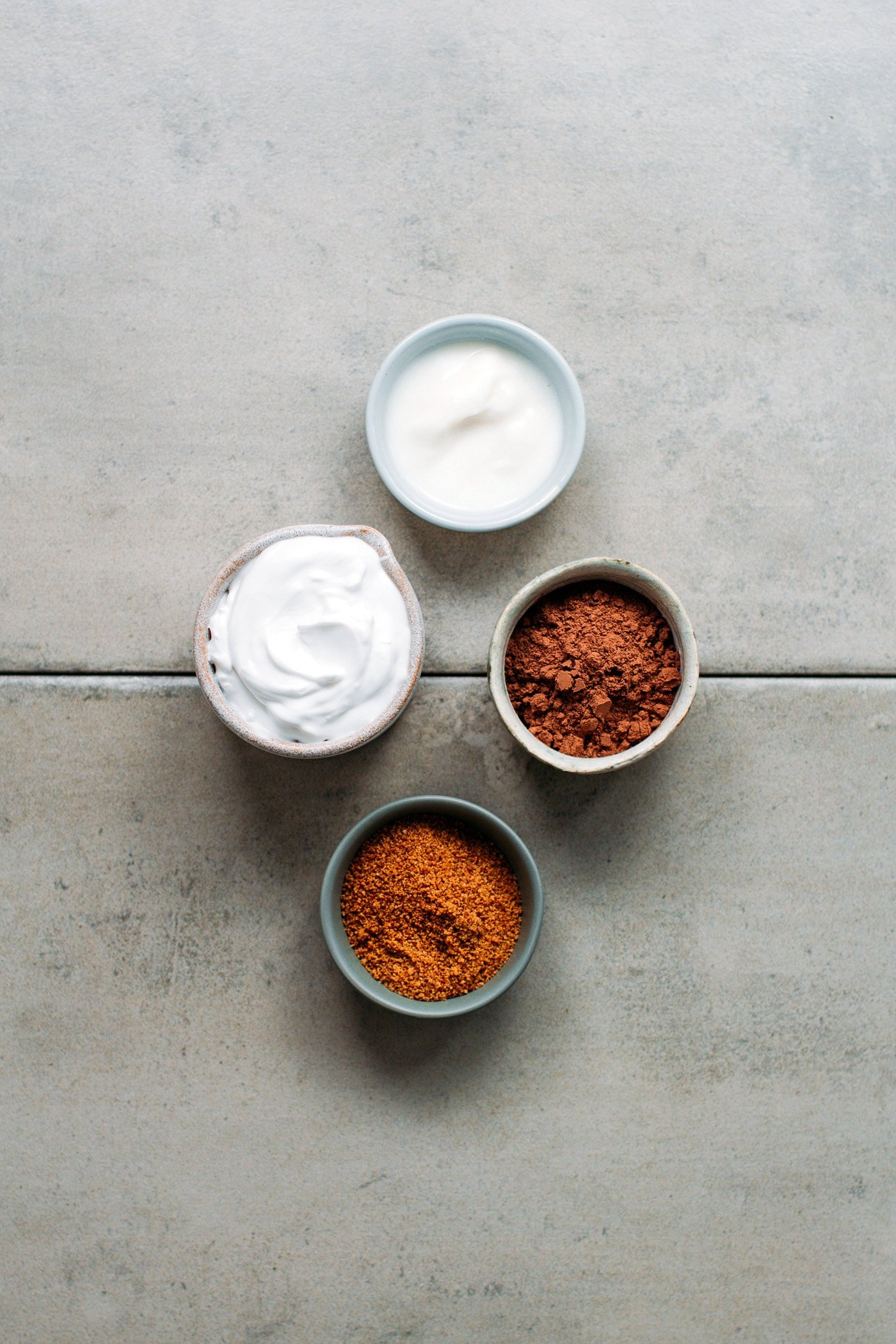 HOW TO MAKE CHOCOLATE COCONUT YOGURT
We start by heating together full-fat coconut milk, cacao powder, and coconut sugar, just like you would do a hot chocolate.
I used the coconut cream from two cans + 1/4 cup of the coconut water to give the yogurt a creamier texture. If you want a thinner and lighter yogurt, use a full can of coconut milk plus the coconut cream from another can. On the other hand, if you want extra thick yogurt, just use the coconut cream and don't add any water.
Once the sugar and cacao powder have fully dissolved, stir in the vanilla extract, a pinch of salt, and let it cool at room temperature for about 2 hours.
Next, stir in about two tablespoons of vegan yogurt, cover with plastic wrap, and let it incubate in a yogurt maker or Instant Pot for about 10 hours. If you don't own any of these types of equipment, leave it in the oven with the light turned on for 18-24 hours, or until it has the wanted sourness.
After 10 hours of incubation, the yogurt will have a nice sourness. It is now ready! Refrigerate for at least 8 hours before enjoying, the yogurt will thicken once cold!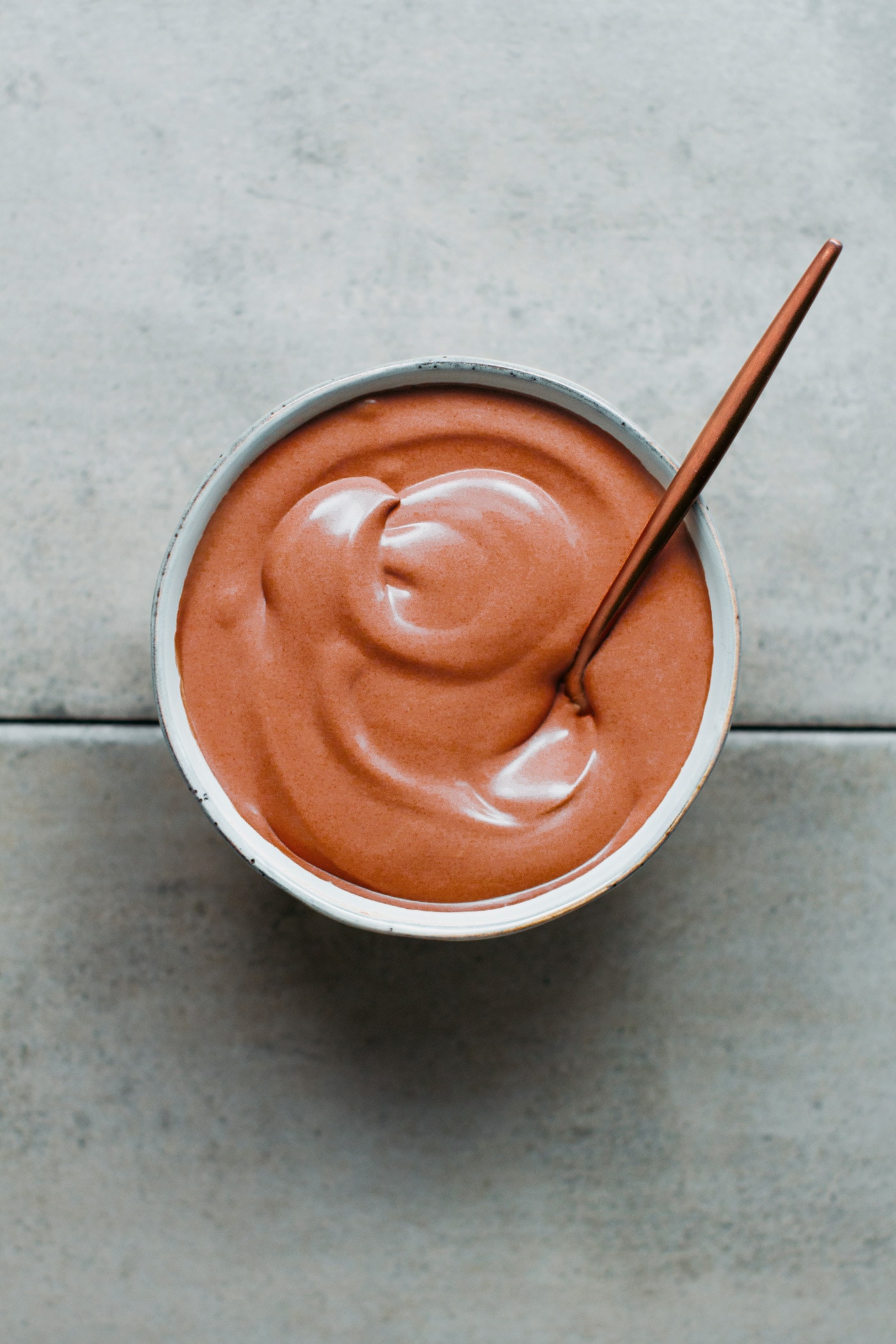 Serve as is or top with your favorite granola, caramel sauce, or fresh fruits!
Looking for more homemade yogurt recipes? Check out this Vegan Almond Milk Yogurt, Mango Coconut Yogurt, or this Cashew & Almond Milk Greek Yogurt!
Let me know in the comments if you try this recipe!
Recipe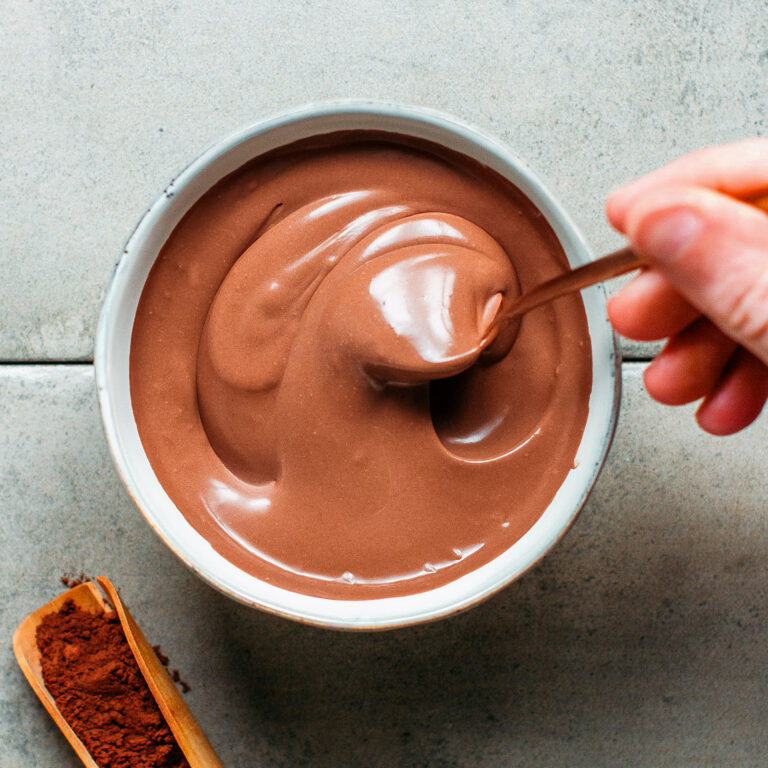 Easy Chocolate Coconut Yogurt
4-ingredient homemade chocolate yogurt! Super creamy, chocolatey, and naturally sweetened!
Instructions
Scoop out the hard part of the coconut milk cans (the cream) and transfer to a medium sauce pan. Add about 1/4 cup of the coconut water from one of the cans of coconut milk Add the cacao powder, coconut sugar, and salt.

Heat over medium heat, whisking regularly until the sugar and cacao powder is fully dissolved. Remove from heat before it comes to a boil. Stir in the vanilla extract and transfer to a medium glass bowl. Cover with plastic wrap and let it cool for about 2 hours at room temperature.

Once the coconut milk is not hot anymore, stir in the 2 tablespoons of vegan yogurt. If a skin formed on top of the coconut milk, remove it with a spoon.

Cover the bowl with plastic wrap and place in a yogurt maker (or Instant Pot on yogurt mode) for 10 hours. If you don't have a yogurt maker, place the bowl in an oven with the light on overnight. Taste the next day and let it incubate a few more hours if it's not sour enough.

Refrigerate for at least 8 hours (overnight is better) before enjoying! The yogurt will thicken once cold. Serve as is or topped with granola, berries, or fresh fruits!

Chocolate coconut yogurt will keep for up to 7 days in the refrigerator.
Notes
*You can adjust the consistency of your yogurt to your liking: Use only the coconut cream for a thicker texture, or add up to 1/2 cup of the coconut water for a creamier yogurt.
Did you make this recipe?
Tag @fullofplants on Instagram and hashtag it #fullofplants