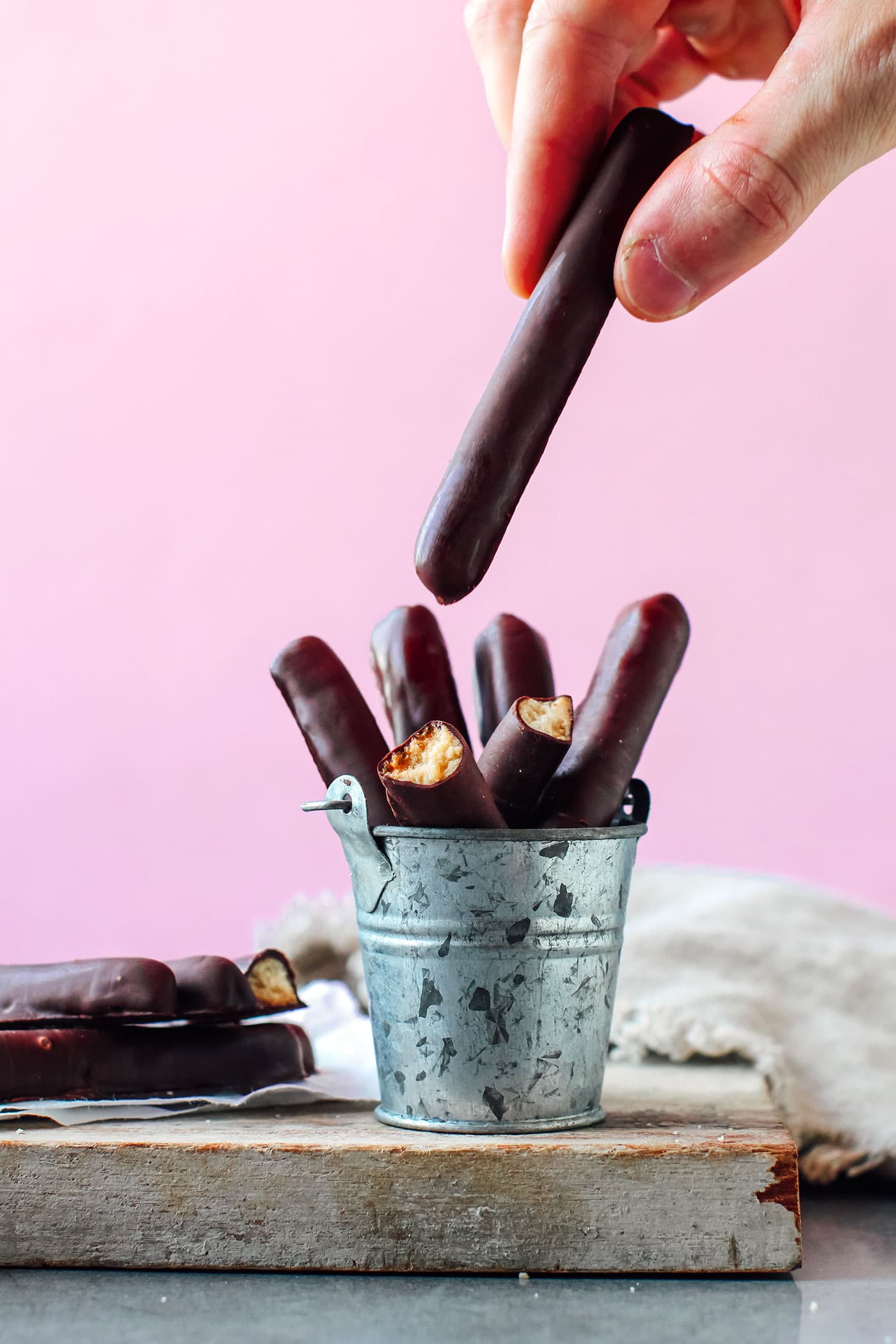 Vegan, gluten-free, and healthier Cadbury Fingers anyone?!
Fingers were one of these snacks I used to eat in my childhood, I could eat half a packet in one sitting. My brother was helping with the other half. If you have never heard of "Fingers", it's a thin and crunchy biscuit with a thin coating of chocolate, usually milk chocolate.
These are gluten-free, refined sugar-free, and healthier than the original ones.
The biscuit is adapted from the shortbread I used in my Healthier Chocolate Candy Bars. It is gluten-free, refined sugar-free, and perfectly crunchy, just like butter shortbreads!
The base is a mix of white and brown rice flour with tapioca starch and some almond flour. You simply combine all the ingredients together in a bowl, then mix until it forms a dough and roll it out before cutting it into long rectangles. Then transfer to a baking sheet and slightly round off the edges with your hands, this is just for the look, you can skip this step if you want. Since the original Fingers have rounded edges I chose to do it too.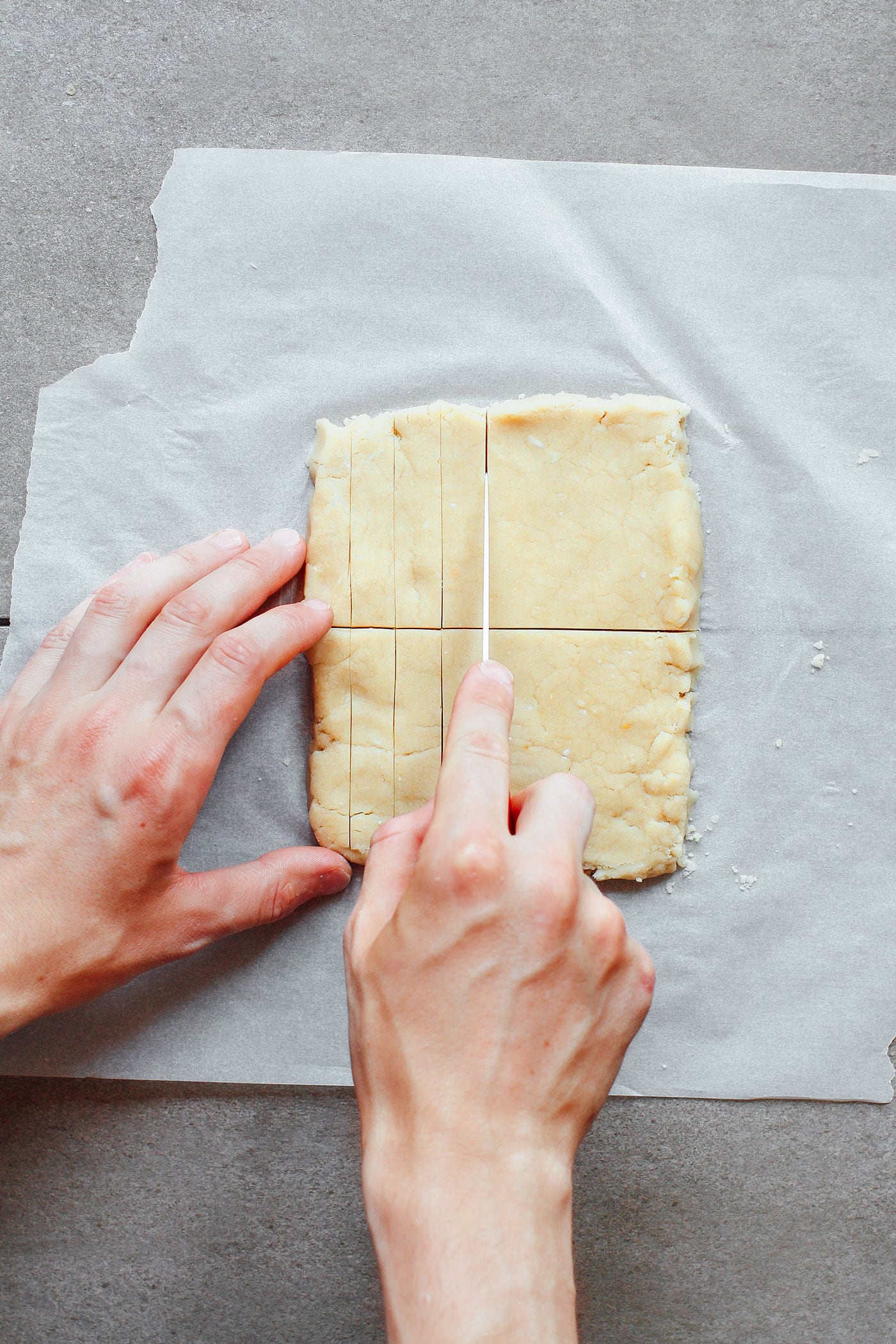 Bake for 12 minutes and your shortbread sticks are ready for dipping. It results in biscuits that are crunchy and slightly crumbly just like the original ones, at least from what I remember! I won't judge if you eat one, or two, before dipping!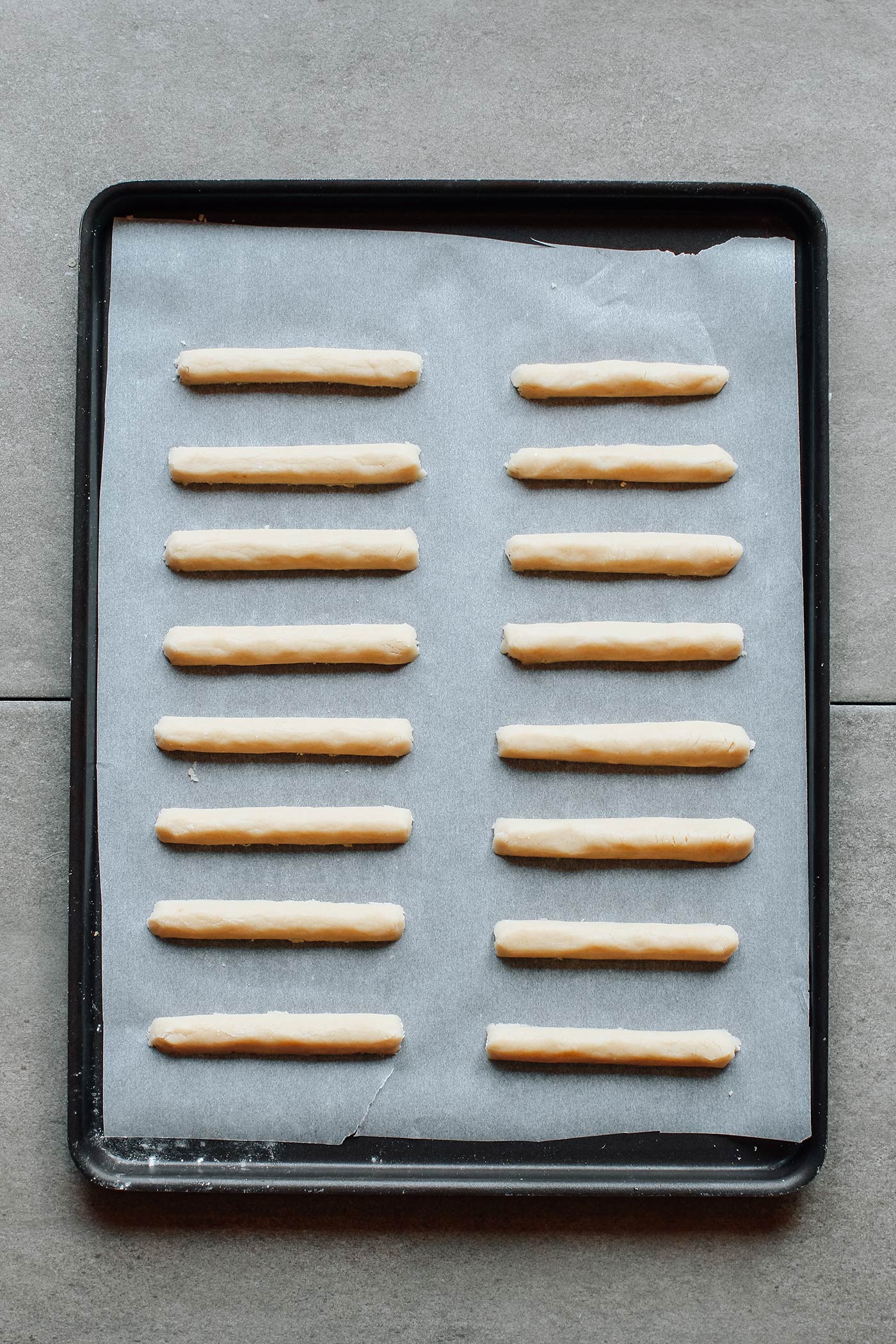 When it comes to the chocolate coating you have two options, dark chocolate, or Mylk chocolate. The choice is yours!
If you want to make them taste and look like the original ones, then use Mylk chocolate. Make sure to temper it and let it cool a few minutes before dipping the sticks into it. On the other hand, if you are a chocolate lover, go for 70% dark chocolate!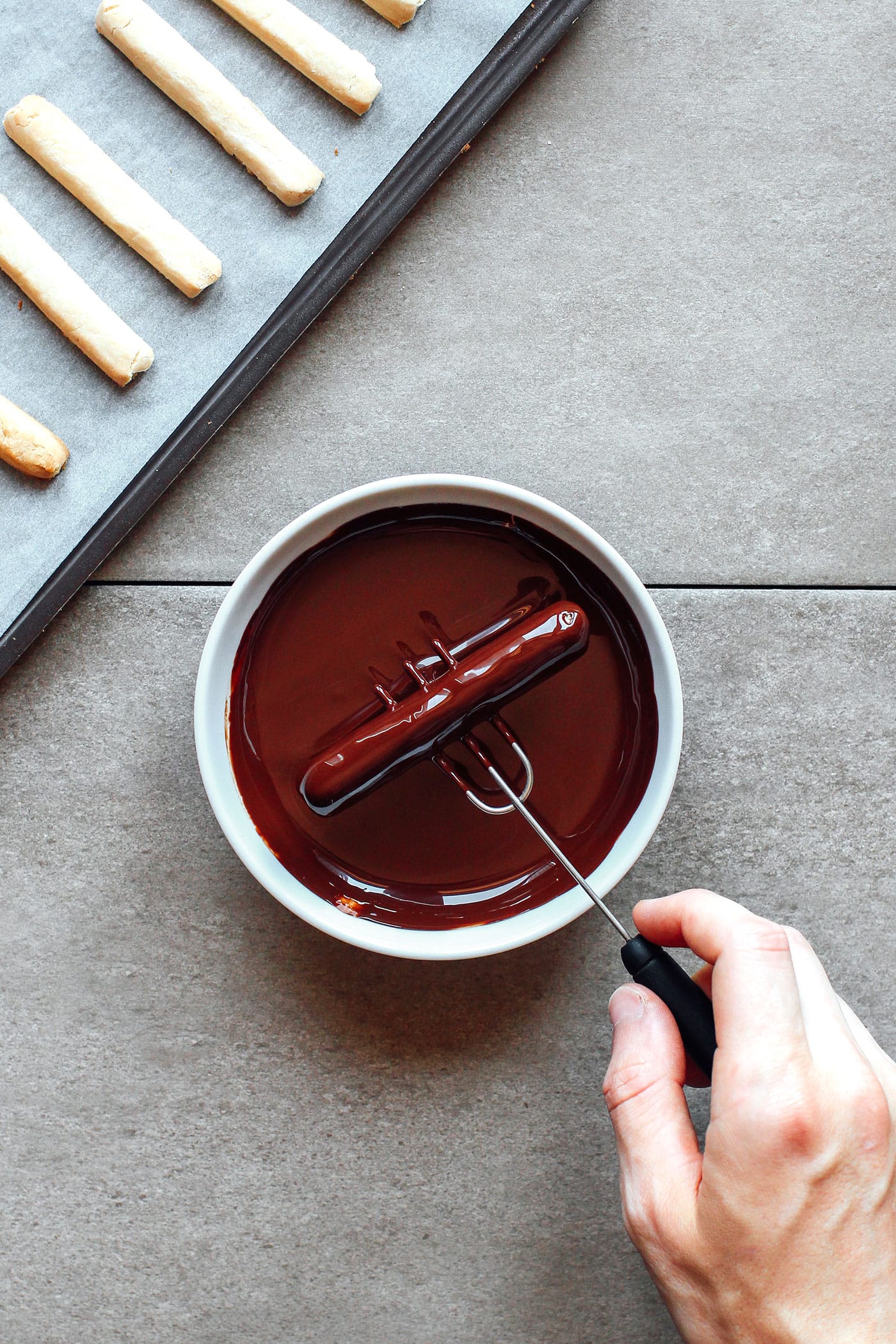 These crunchy choco sticks are great to have with your coffee or tea, as a snack, or can also be added to your kids' lunch box.
If you are looking for more re-creations of my favorite childhood snacks, check out these Healthier Chocolate Candy Bars, Soft Thumbprint Cookies, or these soft and delicious Ho-Hos!
Let me know in the comments if you try this recipe!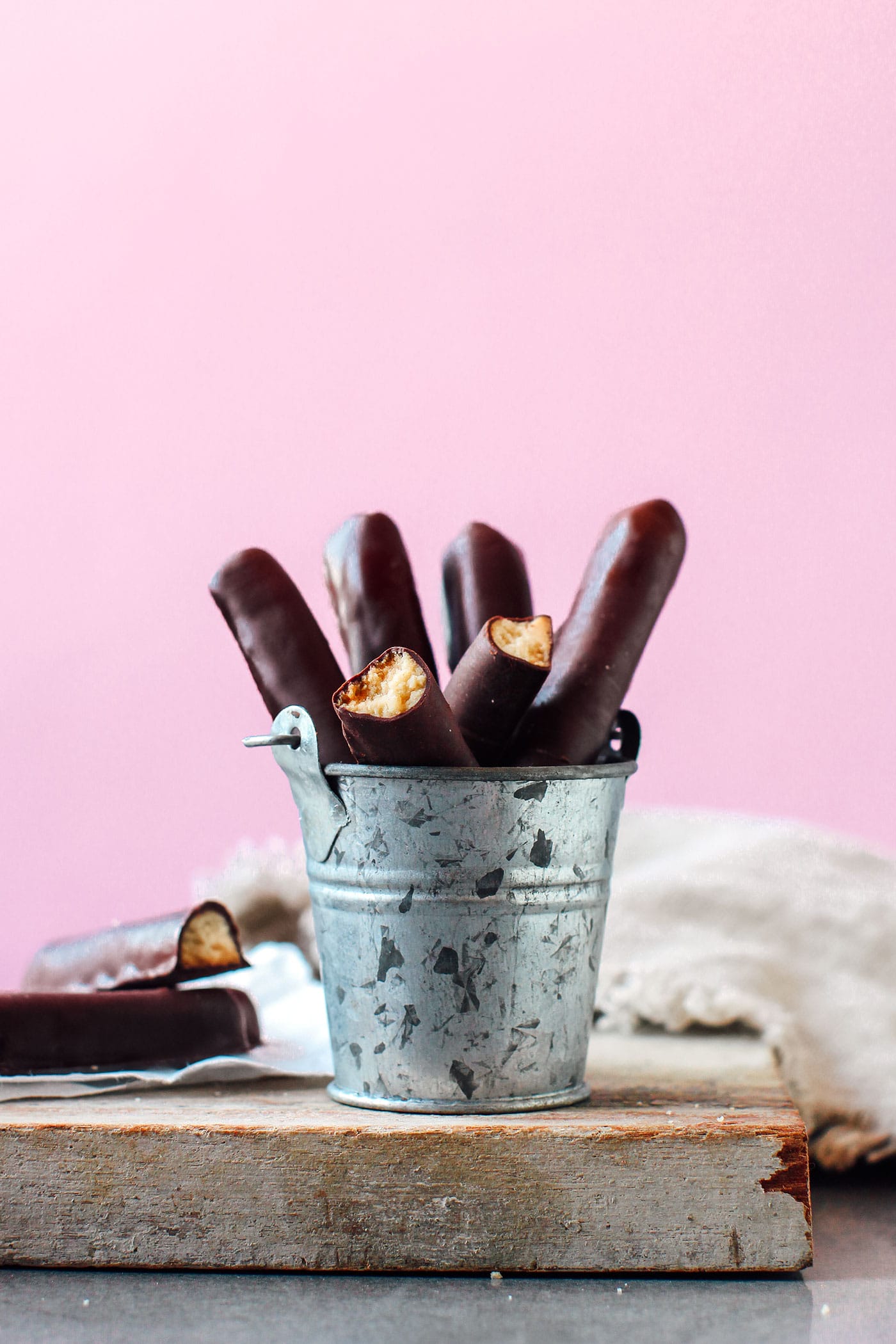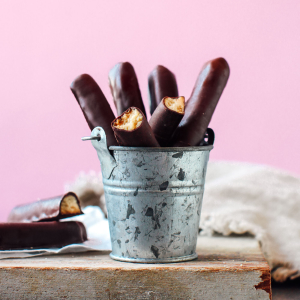 Crunchy Choco Sticks (Vegan + GF)
Crunchy shortbread sticks dipped in chocolate, these taste just like Cadbury's Fingers! Gluten-free, refined sugar-free, and healthier than the original ones!
Instructions
Preheat oven to 350°F (180°C) and line a baking sheet with parchment paper. Set aside.

In a large mixing bowl, stiff together the brown rice flour, white rice flour, tapioca starch, almond flour, and salt.

Add the melted coconut oil, maple syrup, almond butter, water, and vanilla extract. Mix using a wooden spoon until a dough forms. You can then use your hands to mix, the dough will be slightly crumbly, this is normal.

Form a ball and place on a silpat or parchment paper. Top with another layer of parchment paper and roll out the dough into a ½-inch thick rectangle. Use your hands to reshape into a rectangle if some of the dough has crumbled on the sides.

Cut into 4-inch long (and about ½-inch large) sticks and carefully transfer to the prepared baking sheet using a spatula or a knife, this prevents it from breaking as the dough is a bit crumbly. Repeat until all the dough has been used, you can re-roll it if needed.

Using your fingers, slightly round the top edges of each stick, this is just for the look.

Bake for 12 minutes in the preheated oven. Let cool completely before dipping into the chocolate.

Melt the chocolate over a double boiler. Once melted, use a fork to dip each shortbread into the chocolate. Shake to remove excess chocolate and transfer to a silpat or parchment paper. Let cool at room temperature for at least 2 hours, or until chocolate has hardened. You can speed up the process by placing them in the refrigerator for 1 hour.

These crunchy chocolate sticks will keep at room temperature (or in the refrigerator) in an airtight container for up to 2 weeks.
Notes
For refined sugar-free, use dark chocolate sweetened with coconut sugar, or mylk chocolate.
If using Mylk Chocolate, make sure to temper it and then let it cool a few minutes until it thickens a bit before dipping the shortbread sticks.
Nutrition information is an estimate and depends on how thick the chocolate coating is. The higher the percentage of cocoa butter, the thinner the chocolate is once melted.
Nutrition
Serving:
1
Stick
Calories:
78
kcal
Carbohydrates:
9.6
g
Protein:
0.8
g
Fat:
4.1
g
Fiber:
0.7
g
Sugar:
2.3
g
DID YOU MAKE THIS RECIPE?
Tag @fullofplants on Instagram and hashtag it #fullofplants