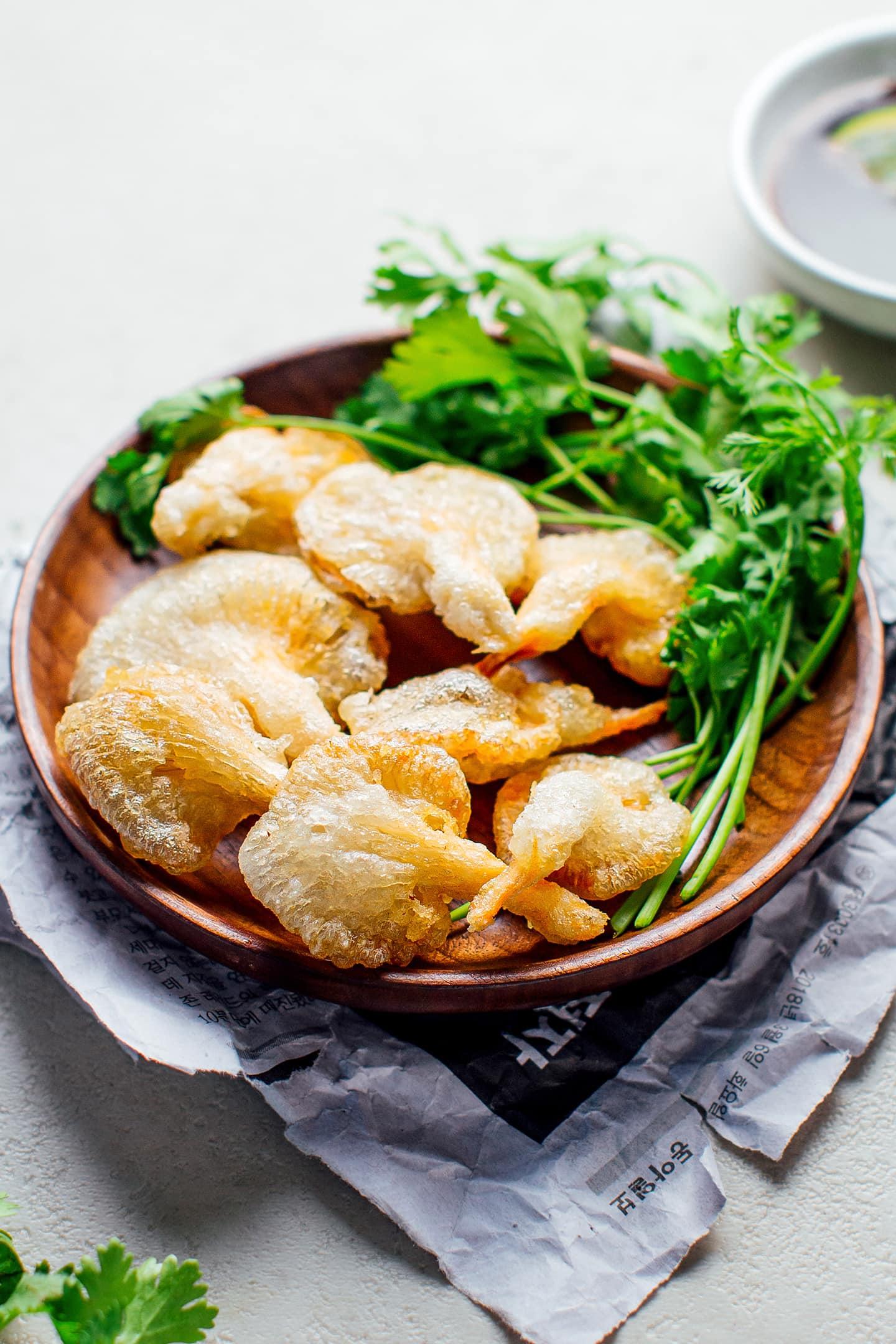 Calling out all mushroom lovers, this mushroom tempura is light, extra crispy, and comes with a sweet and spicy soy dipping sauce! The perfect appetizer!
HOW TO MAKE TEMPURA BATTER
Tempura batter comes together very quickly and requires just 4 basic ingredients:
Rice flour: To keep this recipe gluten-free, and more authentic, I went with rice flour. Since rice flour doesn't contain any gluten, it tends to absorb less oil than regular wheat flour and results in less oily tempura with a crispier texture.
Sparkling water: The bubbles in the water helps make the tempura lighter. It seems beer also works but I haven't tried it yet, and don't know if it affects the flavor.
Salt: For flavor, just remember not to salt the batter too much as tempura will later be dipped in soy sauce.
Baking soda (optional): I found that adding a pinch of baking soda to the batter helps give the mushrooms a more golden color. I didn't find it has an effect on the crispiness or texture of the tempura though, so it's optional.
SEASONINGS
This is where things can get interesting and where you can let your imagination speak. You can add ground spices to the batter like cumin, chili, dried (or fresh) herbs, etc. Freshly chopped cilantro goes well with mushrooms.
Start by slicing your mushrooms. You can use just one type of mushrooms, or go with a mix for a variety of textures and shapes. I had the best results with oysters and king oysters. Cremini might be a good fit for tempura as well.
Next, heat the oil in a deep saucepan. While the oil is heating, prepare the tempura batter by whisking all the ingredients together. Dip your mushrooms, one at a time and slightly shake to remove excess batter. Immediately transfer to the saucepan to fry for a couple of minutes, or until golden brown.
TIPS
Making tempura is easy, but there are a few things you need to get right to end up with light, not greasy, and perfectly crispy mushroom tempura.
Your batter must be very cold. I recommend placing your sparkling water in the freezer for 15-20 minutes before starting so it's very cold. If you are short on time, you can add an ice cube to the batter. Do not add too much ice though or the batter will end up being too thin.
The oil must be hot but not too hot. Let me explain, if the oil is not hot enough your tempura will be greasy and not as crispy. If the oil is too hot, the mushrooms will turn golden brown too quickly and won't be fully cooked inside. I usually test the oil by dipping a chopstick into it, if it starts bubbling then the oil is hot enough.
Fry no more than 3-4 mushrooms at a time. If you add too many mushrooms at a time they might end up sticking to each other. Plus adding too many mushrooms to the oil will slightly lower the oil's temperature, which you don't want.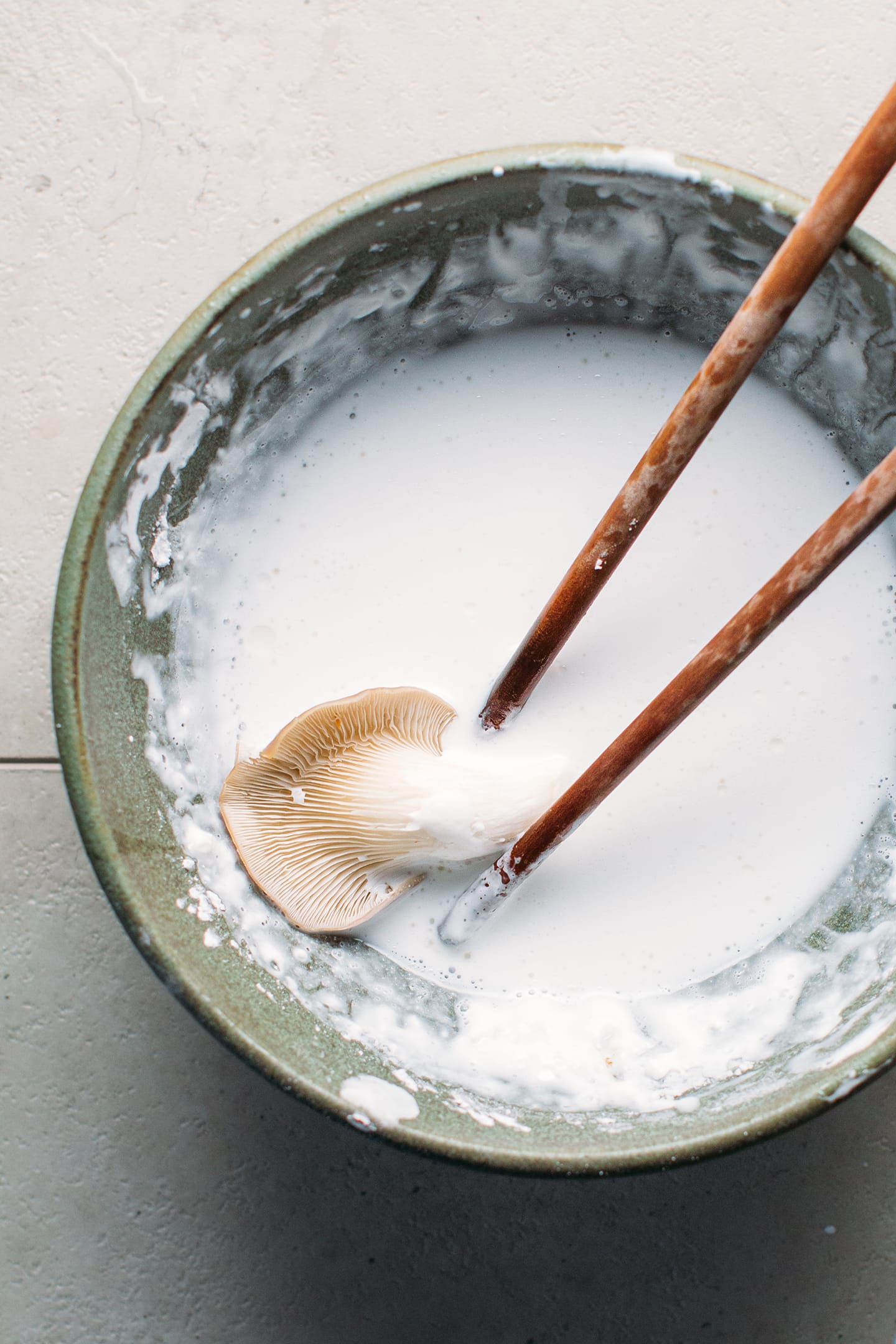 This mushroom tempura must be served immediately otherwise it will quickly lose its crispiness. Serve with a lightly sweet and spicy soy dipping sauce, or a garlic tahini sauce (recipe in the notes)!
This mushroom tempura makes an amazing appetizer, it's super crispy and tender on the inside. If you are a mushroom lover like I am, you are going to love this one!
Let me know in the comments if you try this recipe!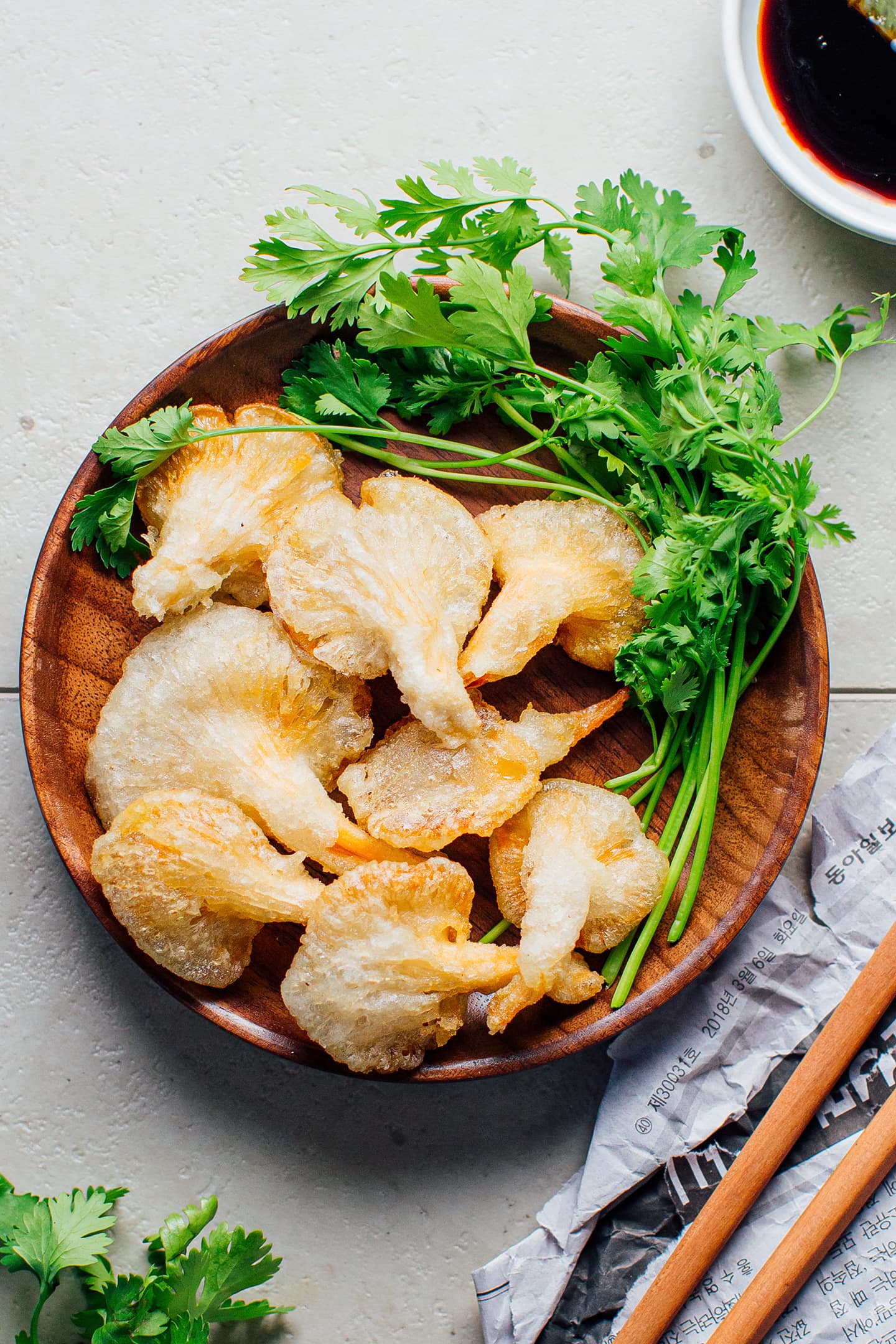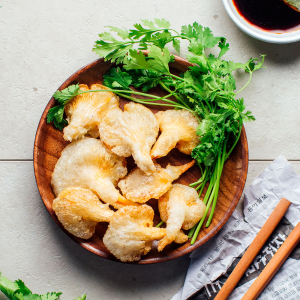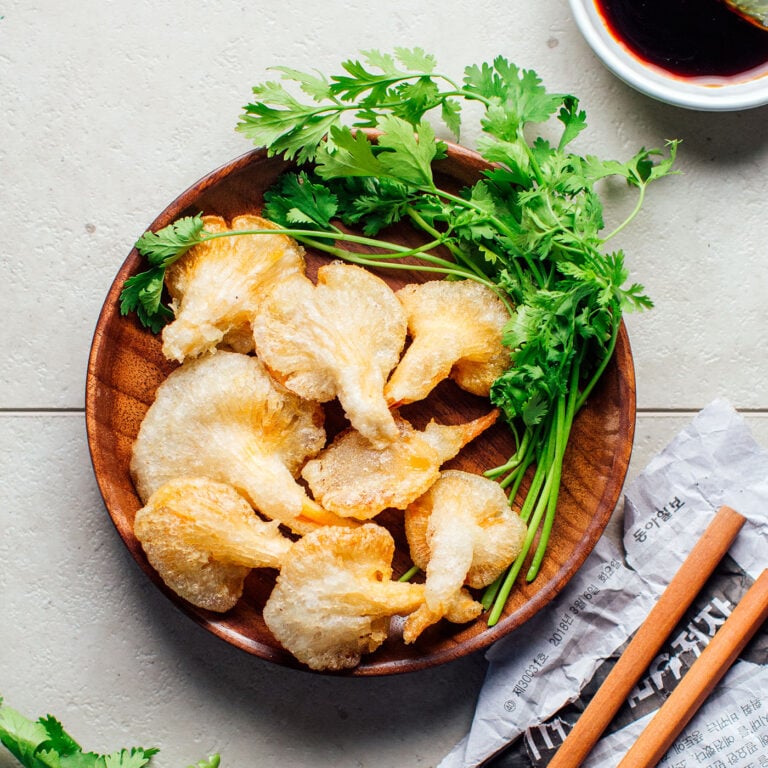 Easy Crispy Mushroom Tempura (Vegan / Gluten-Free)
Learn how to make light and crispy mushroom tempura! It makes a great appetizer served with a spicy soy sauce, or a garlicky tahini sauce!
Ingredients
2

cups

sliced mushrooms

(oyster, king oyster, cremini, etc)

½

cup

white rice flour

¼

cup

cold sparkling water (or more, depending on the brand rice flour used*)

¼

teaspoon

salt

a pinch of baking soda

optional: 1 tablespoon finely chopped cilantro

2

cups

vegetable oil
Dipping Sauce
2

tablespoon

soy sauce

1

tablespoon

water

1

teaspoon

maple syrup

1

teaspoon

lime juice

½

small chili

finely chopped (optional)
Instructions
Heat the oil in a deep saucepan over medium heat. If you have a thermometer, the oil should be around 350°F (175°C). If you don't have a thermometer, you can test if the oil is hot enough by dipping a chopstick or wooden spoon into the oil, if it bubbles, the oil is hot enough.

In a small mixing bowl, whisk together the rice flour, cold sparkling water, salt, and baking soda. At this point, you can add your favorite spices, or freshly chopped herbs like cilantro or green onions.

Dip mushrooms, one at a time into the batter and slightly shake it off to remove excess batter. Immediately transfer to the saucepan and fry for 3-4 minutes, or until golden brown. I recommend frying no more than 3-4 mushrooms at a time.

Once golden brown, transfer the mushroom tempura to a plate lined with kitchen paper towel to remove excess oil. Repeat with the remaining mushrooms and serve immediately with the dipping sauce!
Dipping Sauce
In a small bowl, combine the soy sauce, water, maple syrup, lime juice, and chopped chili if using. Taste and adjust saltiness, sweetness, and sourness to your liking.
Notes
*Depending on the brand of rice flour used, you might want to add more water. The batter should be thin and not pasty.
For a different dipping sauce, try this garlicky tahini sauce: Whisk together ¼ cup tahini, 3 tablespoon water, 2 cloves of garlic (minced), ⅛ teaspoon salt, and 1 teaspoon lime juice. Taste and adjust the saltiness to your liking and adjust water to thin as needed.
No nutritional information for fried recipes as it's too hard to calculate.
DID YOU MAKE THIS RECIPE?
Tag @fullofplants on Instagram and hashtag it #fullofplants