Now that we have vegan Chick'n, it's time to put it to good use!
These fluffy steamed buns are stuffed with saucy Chick'n, sweet and spicy hoisin sauce, and tempura mushrooms! The combination of tender chick'n, crispy mushrooms, and soft buns is just amazing! There is a lot of different flavors and textures going on here!
The recipe starts with the buns that consist of a simple mix of all-purpose flour (sorry this one is not gluten-free guys), water, yeast, and salt. The dough needs to rest for at least 1 and ½ hour in a warm place.
Once done, the dough is divided into small balls and flatten into rounds. I prefer my buns small (about the size of the palm) so it's a two or three bites sandwich. Feel free to make them bigger if you want though! Another 45 minutes of rest and the buns are ready to be steamed. To steam them I recommend using a bamboo steamer, it is cheap and can be also be used to steam vegetables.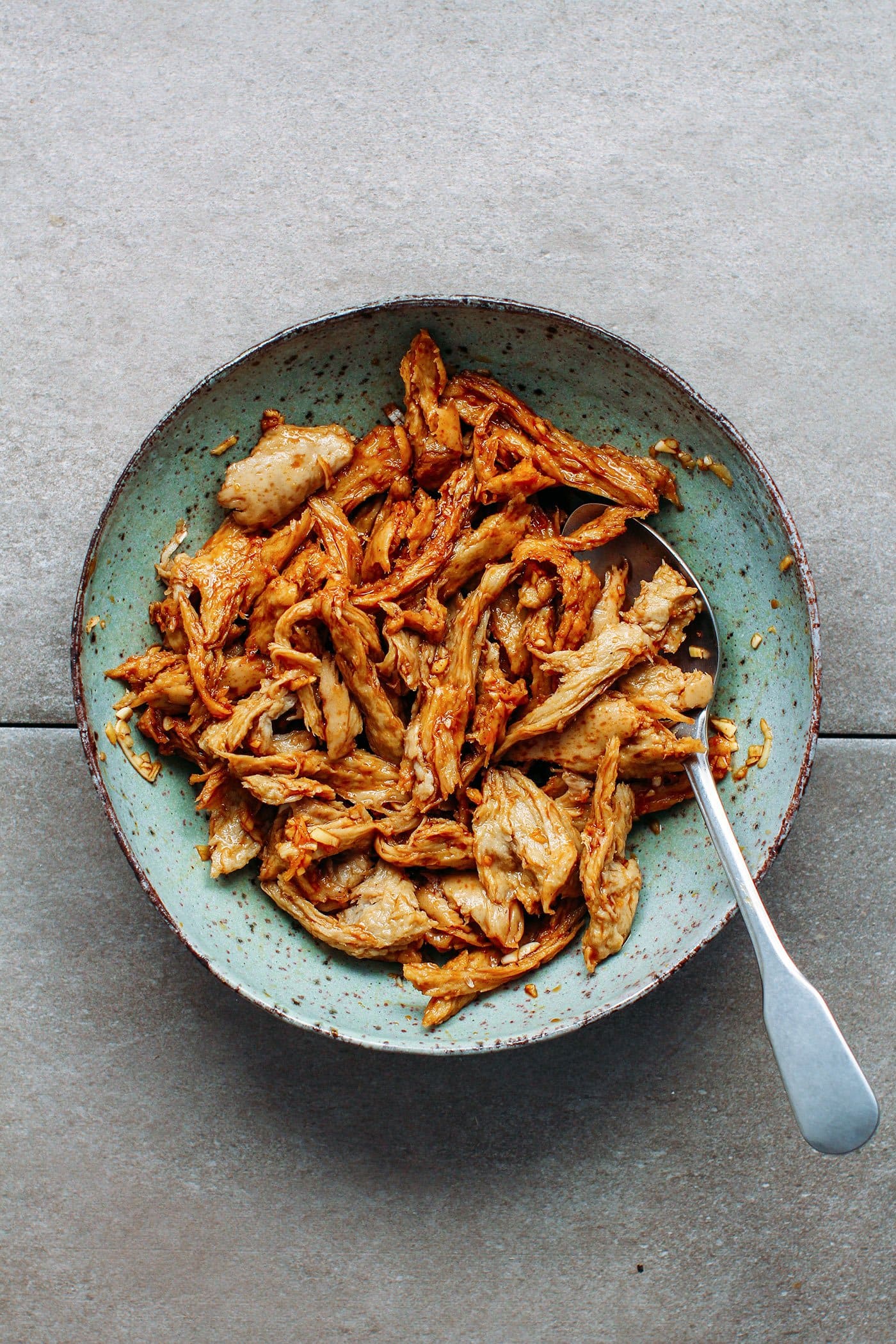 Then comes the filling! The insides of the buns are first brushed with a generous amount of sweet and salty hoisin sauce.
Next, we have the chick'n that is marinated in soy sauce, maple syrup, garlic, ginger and lime juice for freshness, and some red pepper flakes for spiciness.
To make the crispy mushrooms, you dip sliced mushrooms in a batter and then fry for a couple of minutes, or until golden brown. If you are avoiding fried food, then feel free to simply sautée the mushrooms, they won't be as crispy but the buns will still taste delicious!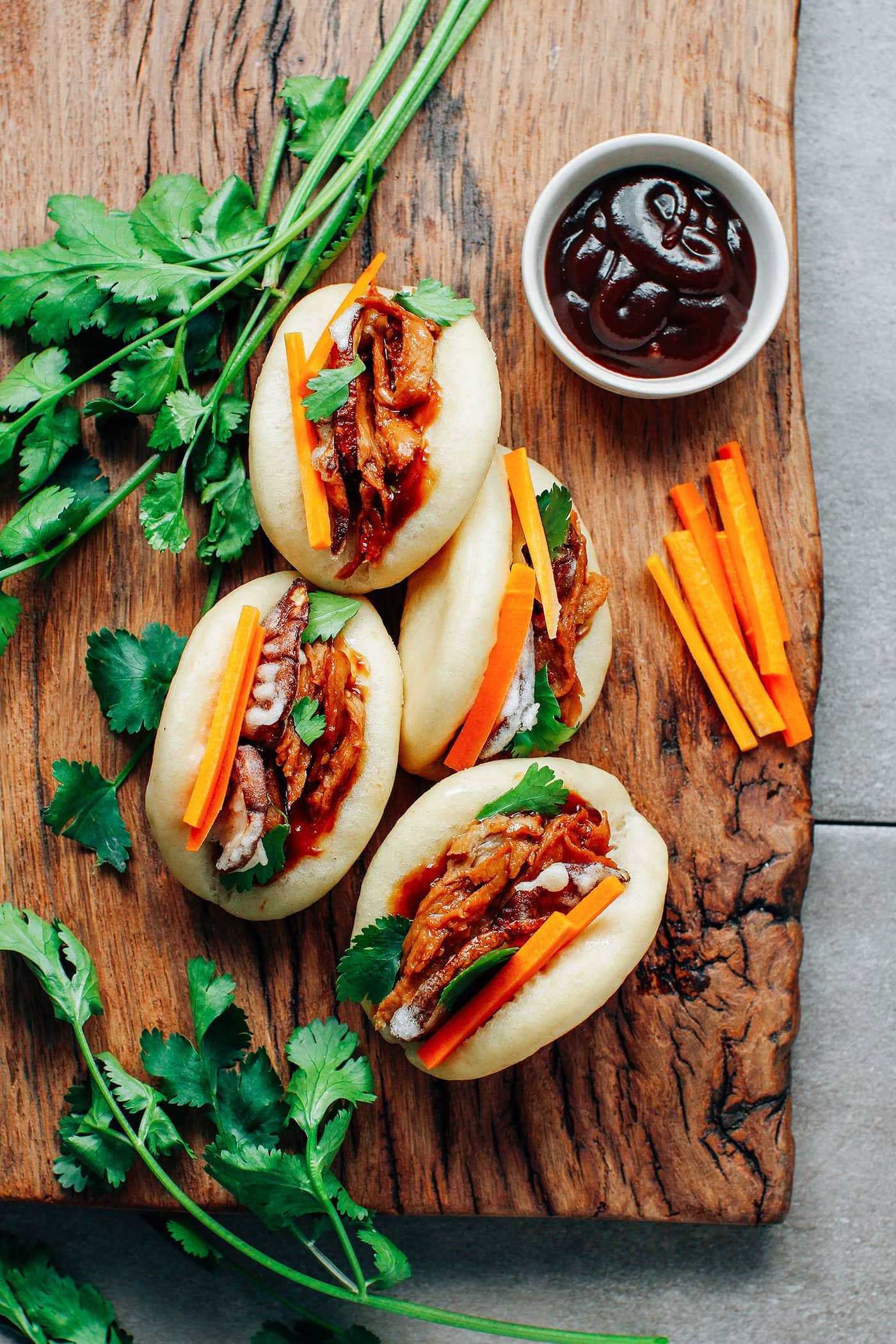 To finish the buns, add some raw carrots, cucumber, fresh cilantro, and top with crushed peanuts. These street-food inspired buns are sweet and salty, super tender, and meaty! You are going to love these!
For more street-food inspired recipes, check out these Teriyaki Sticky Rice Kebabs, Dan Dan Noodles with Tempeh Scramble, or these Sesame Crusted Tofu & Mango Summer Rolls!
Let me know in the comments if you try this recipe!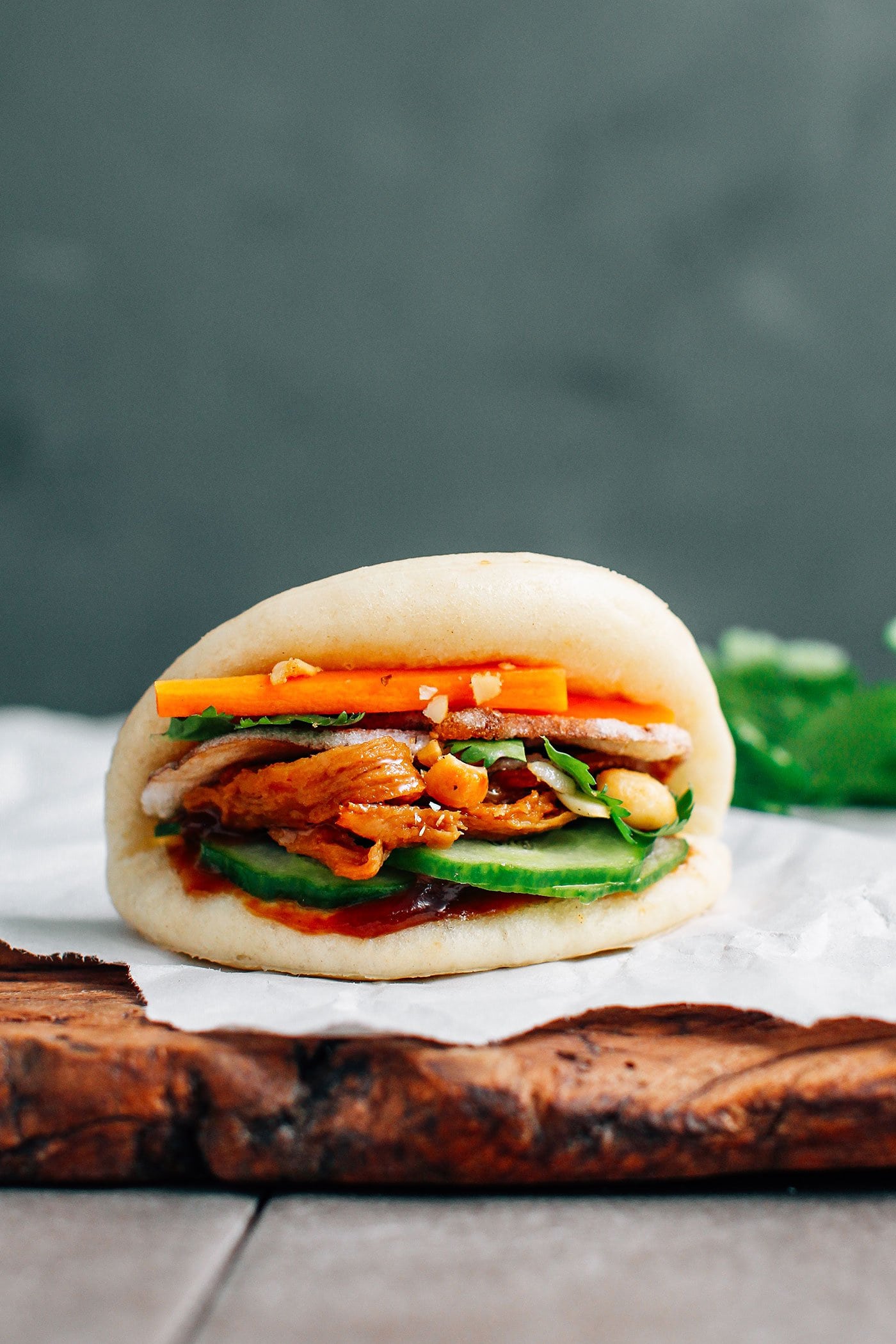 📖 Recipe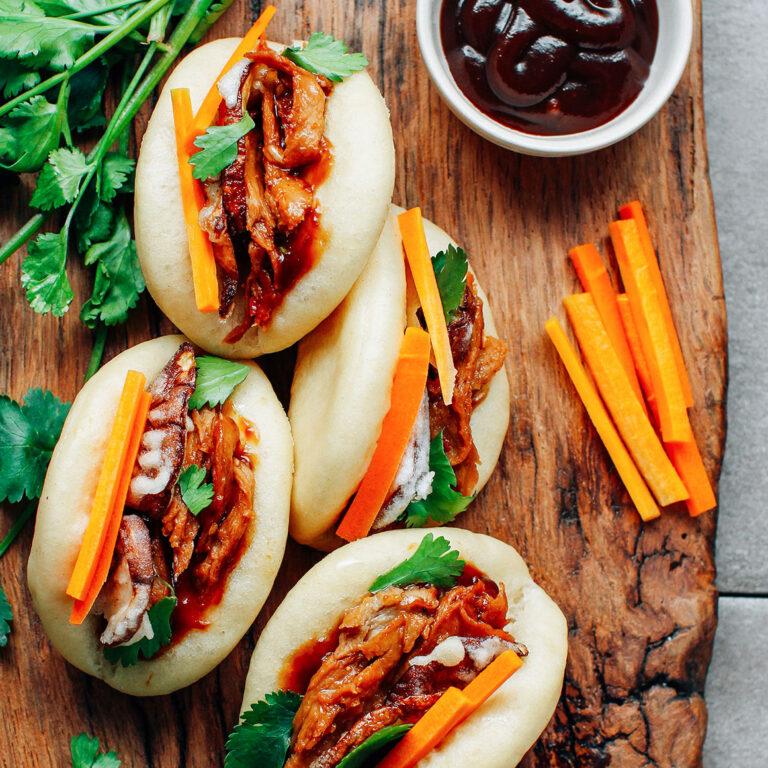 Crispy Mushroom & Chick'n Gua Bao
Fluffy and tender steamed buns stuffed with saucy vegan chick'n, crispy mushrooms, and crunchy veggies! It's savory, sweet, and packed with flavor!
Ingredients
Instructions
Buns
In a large mixing bowl, combine the flour with the baking powder, and salt.

In a small bowl, dissolve the dry yeast in the warm water. Add the yeast mixture to the flour bowl. Add the maple syrup and oil, and knead for 5-7 minutes, or until the dough is smooth. It should be just slightly sticky.

Cover the dough with a plastic film to touch and let it rise in a warm place for about 1 and ½ hours. In the meantime, prepare the chick'n and the vegetables.

Once the dough has almost doubled in size, knead for a few seconds and divide it into 9-10 small balls.

On a lightly floured surface, roll out each ball into an oval shape. Brush the surface of each oval with oil and then fold each one in half. Place each bun on a small piece of parchment paper. Cover the buns with cling film and let them rise for another 45 minutes.

Next, bring a large pot of water to a boil. Once boiling, place a bamboo steamer on top. Place 3-4 buns in the steamer and cover with the lid.

Steam for about 8 minutes, or until puffed up. The buns will still be very light in color, this is normal. Repeat with the remaining buns. While the buns are steaming you can cook the chick'n and the mushrooms.

To assemble: slightly open each bun, brush the inside bottom with about 1 teaspoon of hoisin sauce, then fill them with a few pieces of chick'n, 2-3 mushroom slices, 2-3 carrot sticks, and cucumber if using. Top with fresh cilantro, crushed peanuts, and serve immediately!

These buns are best served warm the same day.
Chick'n
Using your hands, shred the vegan chick'n into small pieces. Transfer to a deep plate.

Add the soy sauce, maple syrup, lime juice, grated ginger, garlic, five-spice powder, chili flakes, and green onions. Stir to coat the chick'n with the marinade and let it marinade for at least two hours.

Stir-fry for 3-5 minutes, or until slightly golden brown once your buns are ready.
Crispy Mushrooms
In a small bowl, whisk together the tapioca starch, rice flour, water, and salt.

Heat the oil in a deep saucepan. Once hot, dip each slice of mushroom in the wet mixture, slightly shake to remove the excess coating and immediately add the saucepan. Be careful not to burn yourself, the oil is hot.

Fry 2-3 slices of mushrooms at a time for about 3-5 minutes, or until golden brown and crispy. Remove the mushrooms using a spatula or slotted spoon and transfer to a plate lined with kitchen paper towel to remove excess oil.

Repeat with the remaining mushrooms.
Notes
Frying mushrooms is optional, if you don't want to make tempura mushrooms you can simply sauté in a skillet. The buns will still be delicious!
Nutrition
Serving:
1
Gua Bao
|
Calories:
185
kcal
|
Carbohydrates:
28
g
|
Protein:
6.2
g
|
Fat:
5.6
g
|
Fiber:
1.5
g
|
Sugar:
3.5
g
Did you make this recipe?
Tag @fullofplants on Instagram and hashtag it #fullofplants