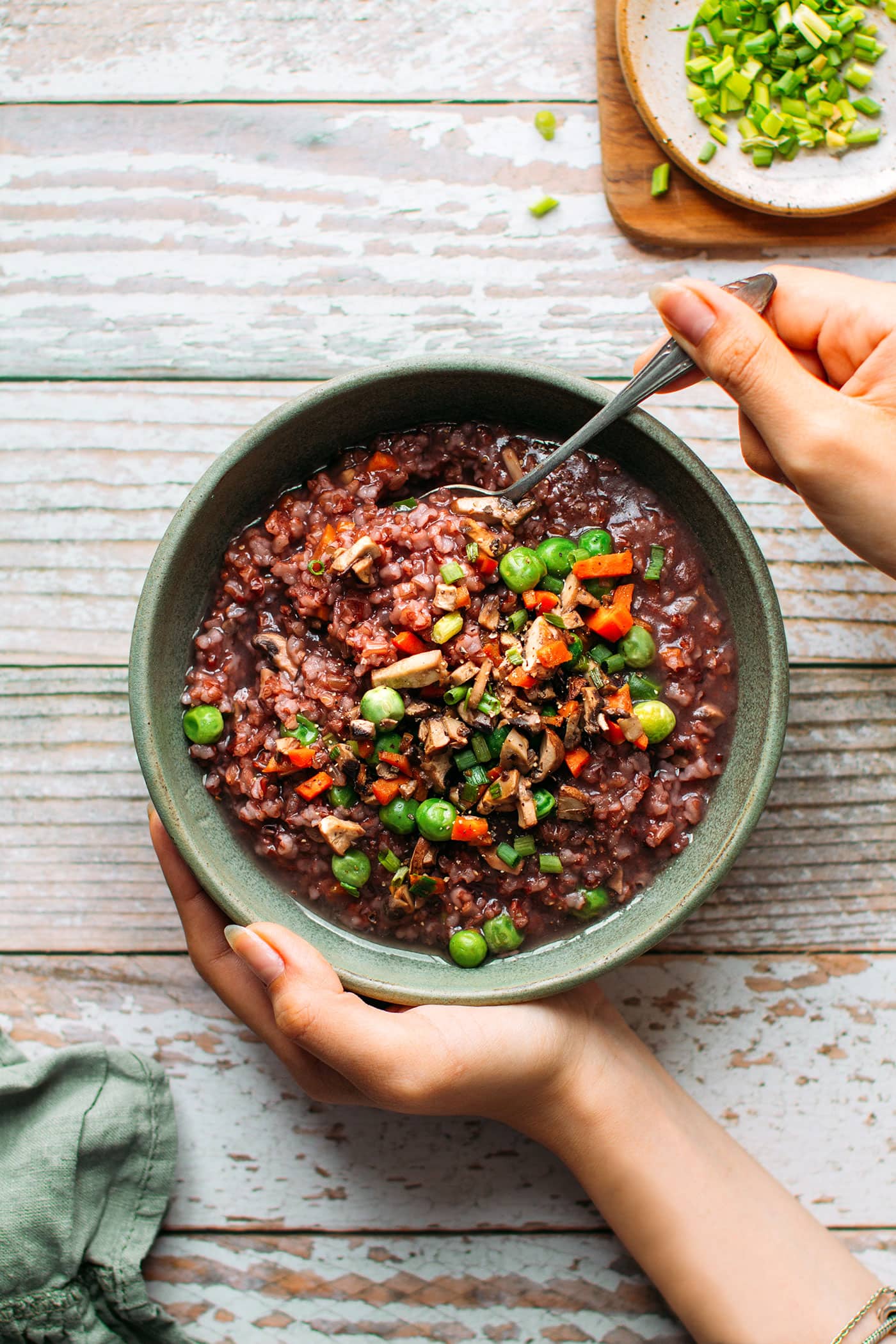 In the mood for an easy, comforting and nutritious soup? I have got exactly what you need!
This creamy red rice soup comes with sautéed mushrooms, green peas, and carrot. It is versatile, perfect to beat the cold weather, and easy to make!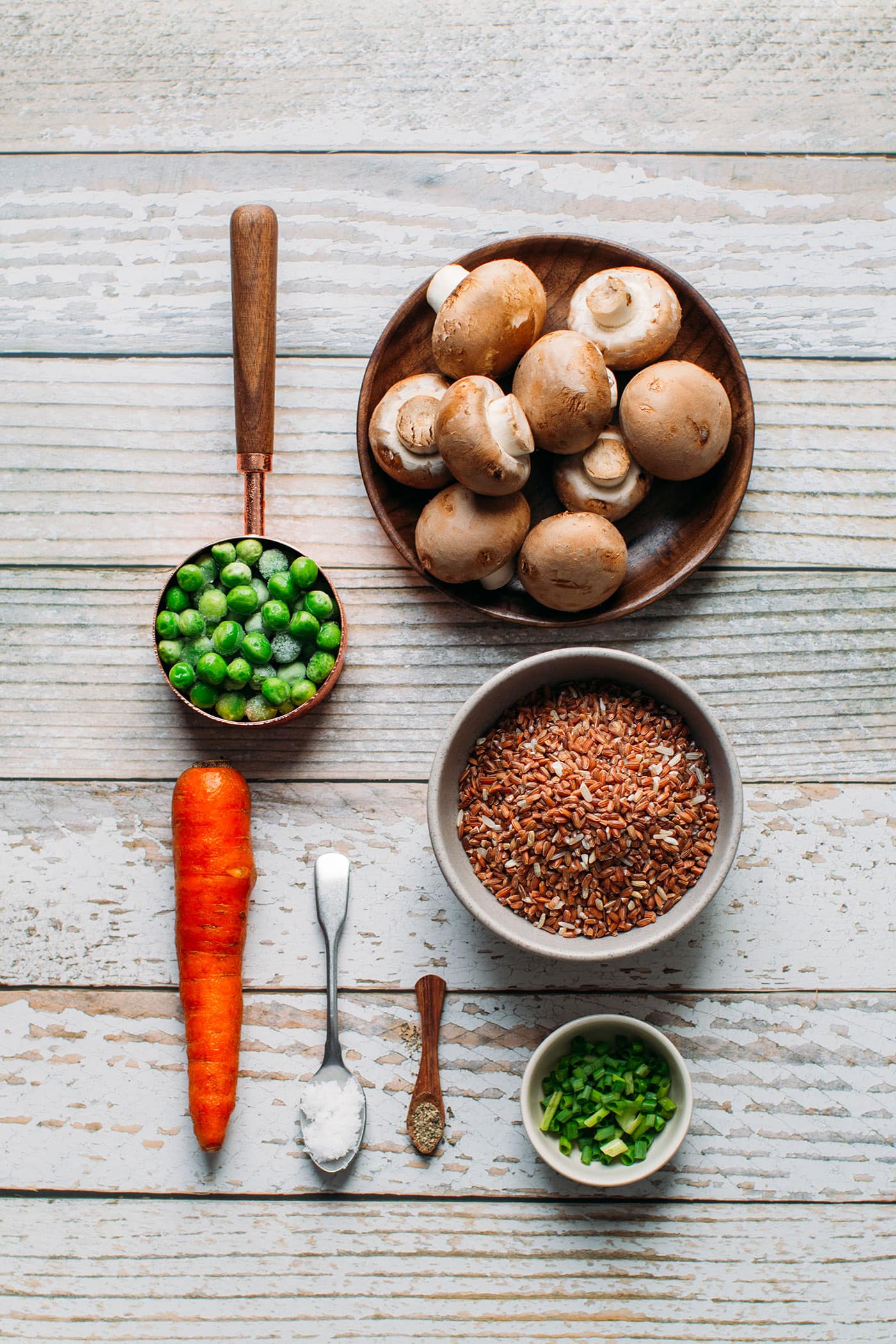 It starts with the vegetables that are first very finely diced and then sautéed for a few minutes until cooked. You can use what you have on hand, but I would not recommend omitting the mushrooms as they add a lot of flavor and texture to the soup.
For even more flavor, we also have chopped green onions that are sautéed with the vegetables.
Then comes the rice soup, which is basically rice that is cooked with a larger amount of water until it becomes a bit mushy. So don't worry if the rice appears slightly overcooked, it's exactly what we want.
Once your rice is done, stir in the sautéed veggies and cook for another few minutes. Add a generous pinch of ground black pepper and our soup is ready to serve!
This soup is comforting, satisfying, and a bit nutty thanks to the use of red rice (which can be substituted with brown rice if you don't have the red one). Serve it with sautéed tofu or tempeh on top for a complete meal!
Let me know in the comments if you try this recipe!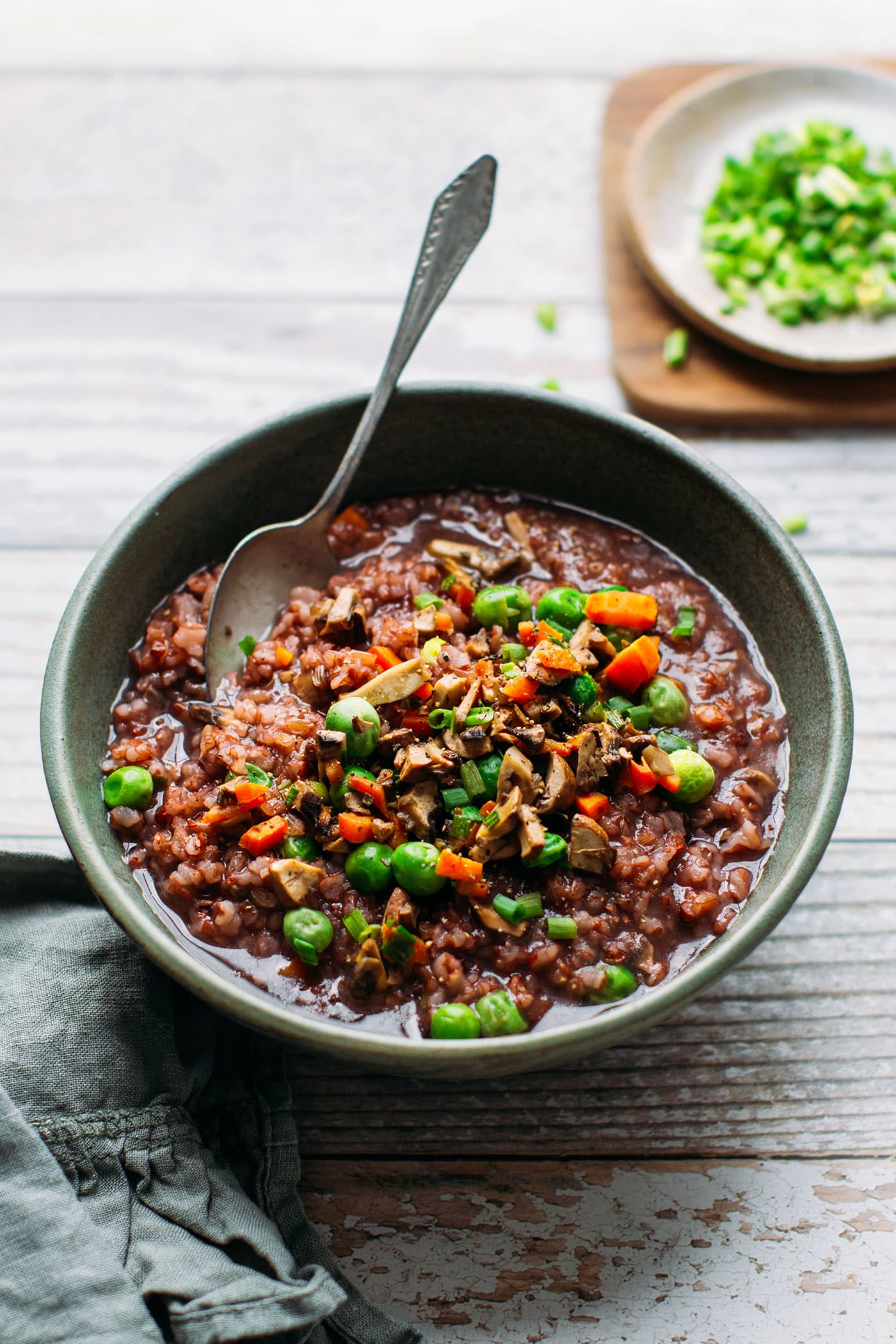 Print
Cozy Red Rice Vegetable Soup
Comforting red rice soup loaded with veggies and flavored with sautéed green onions and black pepper. A flavorful, satisfying and easy to make rice porridge that is perfect for the cold weather!
1 tbsp

(15ml) oil

1

carrot

10

mushrooms

½ cup

green peas

¼ cup

chopped green onions

1 tsp

(5ml) soy sauce

¾ tsp

sea salt (or more to taste)

¼ tsp

ground black pepper

2 tsp

sugar

1 cup

(

190g

) dry red rice

6

and ½ cups (1,5l) water
Instructions
Wash and peel the carrot. Dice the carrot and mushrooms very finely.
Heat the oil in a large skillet over medium heat. Once hot, add the diced carrot, mushrooms, green peas, and chopped green onions. Cook for about 8 minutes, or until carrots are cooked. Add the soy sauce and cook for one more minute. Remove from heat and set aside.
In a large pot, combine the red rice with the water and salt. Bring to a boil, then reduce heat and let simmer covered for 35-35 minutes, or until the rice is very soft, almost mushy. Season with ground black pepper and sugar. Add the stir-fry vegetables and cook for another 5 minutes.
Serve warm with a sprinkle of ground black pepper and toasted sesame seeds.
This soup will keep for up to two days in the refrigerator. You may add to add more water if reheating to get a soup consistency again.