Please welcome one of the best soup I have probably ever made: Cheesy Tomato Meatball Soup!
This comforting and spicy soup comes with tender "meatballs" and is topped with a delicious cheesy sauce that is browned to perfection. It's the ultimate soup to warm you up this fall!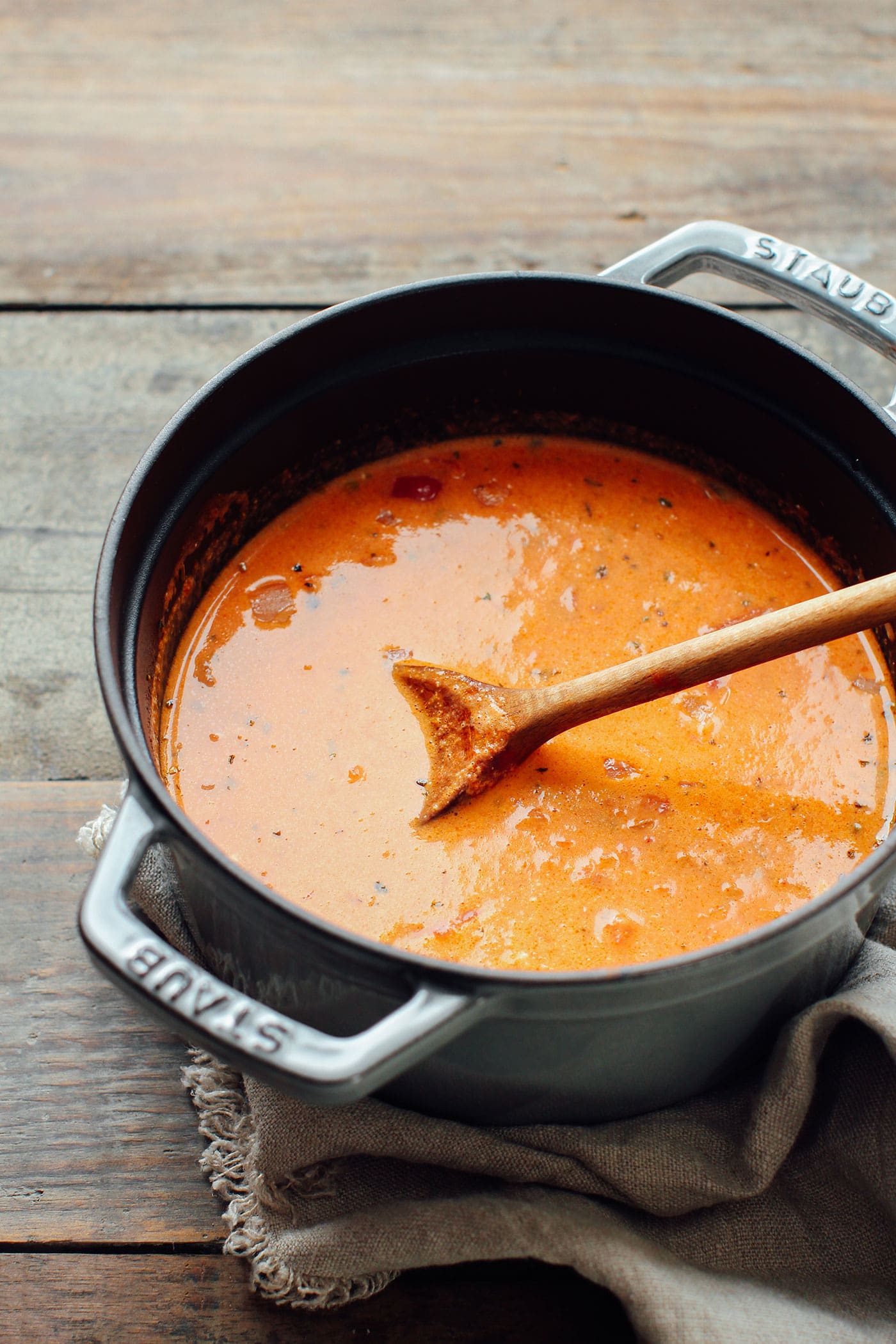 This is a 3-step recipe. I'm not going to lie, this recipe requires some time to prepare but is not that complicated. You start with the cheesy sauce, then make the soup, and finally prepare the meatballs. Each can be made a day or two ahead if you don't want to prepare everything the same day.
The cheese sauce consists of soaked cashews blended with nutritional yeast, onion and garlic powder, apple cider vinegar, and white miso for more flavor. If you want even more cheesiness, use cultured cashew cream and omit the apple cider vinegar.
Next, comes the tomato soup that requires less than 30 minutes to prepare. Sautée onions and garlic until browned, then add diced tomatoes, a couple tablespoons of buffalo sauce for spiciness, and full-fat coconut milk for creaminess. Let simmer 15 minutes and your soup is ready!
Now onto the "meatballs"! I slightly tweaked the balls I used in my Veggie Balls in Creamy Masala Sauce recipe. You process cooked rice, red kidney beans, carrots, celery, shallots, garlic, and mushrooms in a food processor until a paste forms. Then transfer to a mixing bowl and stir in oats. Form balls and bake in the oven for 15 minutes.
Finally, place 3-4 meatballs in a small cocotte, cover with the tomato soup and top with a generous dollop of cheese sauce. Put it under the broiler for a couple minutes and you end up with beautifully browned cheese on top of the spicy tomato soup. Delicious!
If you don't have mini cocottes, this recipe can be baked in a baking dish instead, making it more family-friendly!
This soup has it all! A spicy and creamy tomato soup, soft and tender "meatballs", and browned cheese on top! The cheesy sauce balances with the spiciness of the soup and takes the whole dish to the next level. This recipe is perfect for a cozy fall/winter lunch or dinner!
Let me know in the comments if you try this recipe!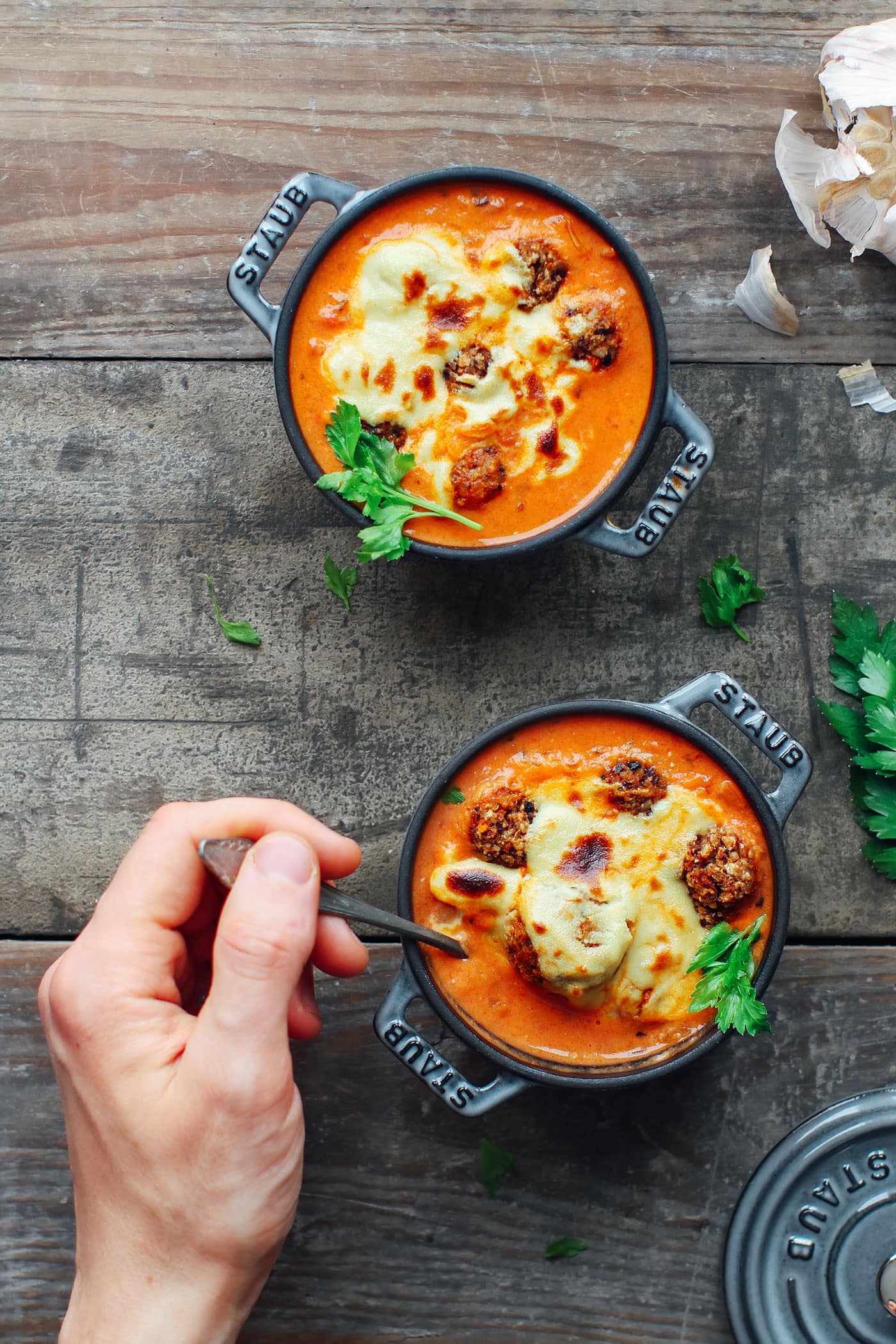 Cozy & Cheesy Vegan Meatball Soup
Comforting and spicy soup that comes with tender "meatballs", topped with a delicious cheesy sauce that is browned to perfection!
Ingredients
Meatballs
¼

cup

dry brown rice

1

tablespoon

oil

2

shallots

minced

1

small carrot

finely diced

1

clove

of garlic

minced

2

tablespoon

chopped celery

3

cremini mushrooms

sliced

½

cup

cooked red kidney beans

1

tablespoon

nutritional yeast

2

teaspoon

soy sauce

1

teaspoon

maple syrup

⅛

teaspoon

chili powder

¼

teaspoon

each: cumin, paprika, oregano

½

cup

quick oats
Instructions
Cheesy Sauce
Drain the soaked cashews and add them to a blender. Add the water, nutritional yeast, miso, white wine, apple cider vinegar, cornstarch, onion and garlic powder, salt, and turmeric. Blend on high speed for 2-3 minutes, or until smooth. Transfer to a bowl, cover with plastic film and set aside.
Tomato Soup
Heat the oil in a large saucepan over medium heat. Once hot, add the onion and garlic and cook until fragrant, about 3 minutes.

Pour the juice of the whole peeled tomatoes can into the saucepan. Finely dice the tomatoes and add them to the saucepan as well. Next, add the buffalo sauce, tomato paste, maple syrup, water, coconut milk, and spices. Cover and let simmer for about 15 minutes. Taste and adjust seasonings if needed.
Meatballs
Preheat oven to 350°F (175°C) and line a baking sheet with parchment paper.

Bring a pot of water to a boil. Once boiling, add the brown rice and cook according to the package instructions. Drain and transfer the cooked rice to a food processor.

Heat the tablespoon of oil in a large skillet over medium heat. Once hot, add the shallots, carrots, garlic, celery, and mushrooms. Cook for 5-7 minutes, stirring regularly to prevent sticking. Season with a pinch of salt and pepper and transfer to the food processor.

To the food processor, add the cooked red kidney beans, nutritional yeast, soy sauce, maple syrup, spices, and ¼ cup of oats. Process for 5-7 seconds, or until a slightly chunky paste. Transfer to a large mixing bowl and add the remaining ¼ cup of oats. Mix until combined.

Using slightly wet hands (to prevent sticking), form balls of about 2 teaspoons. You will get about 22 small balls. If you want to make large ones feel free to do so, I made smaller ones to fit in small cocottes.

Place the meatballs on the prepared baking sheet and bake for 15 minutes (20 minutes for bigger ones).

Finally, divide the baked meatballs in mini cocottes* (I placed about 4 per cocotte), pour some tomato soup on top of the meatballs and top with 2-3 tablespoons of the cheese sauce.

Place the cocottes under the broiler for 3-5 minutes, or until the cheese is golden brown. Remove from heat and serve immediately.

Soup, meatballs, and cheese sauce will keep separately for up to 4 days in the refrigerator.
Notes
*Instead of using mini cocottes, this can be baked in a baking dish or cast-iron skillet.
Nutrition
Serving:
1
(4 meatballs with soup and cheese sauce)
|
Calories:
378
kcal
|
Carbohydrates:
40
g
|
Protein:
9.8
g
|
Fat:
21.5
g
|
Fiber:
5.4
g
|
Sugar:
9.4
g
DID YOU MAKE THIS RECIPE?
Tag @fullofplants on Instagram and hashtag it #fullofplants