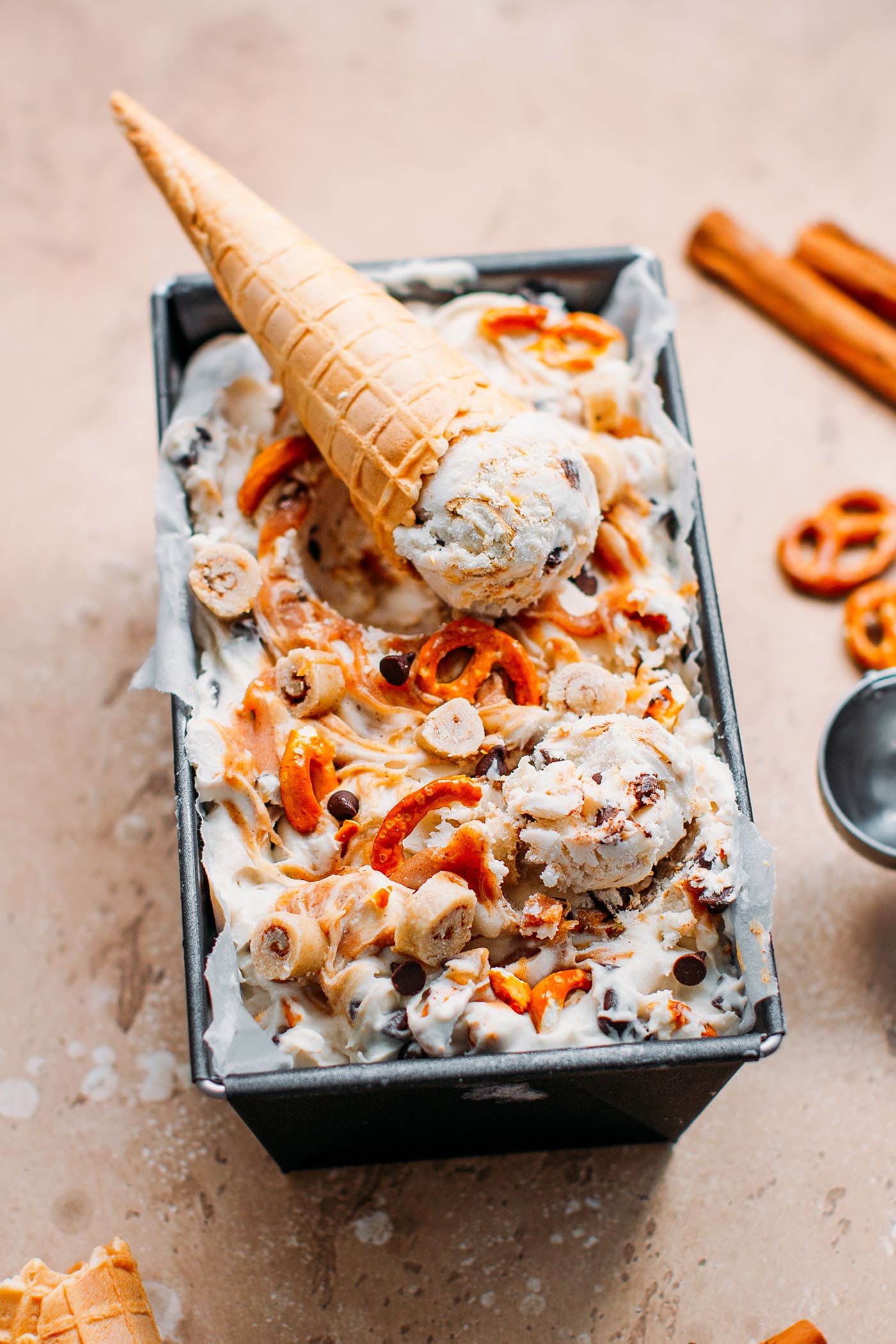 Do you also happen to get a pint of ice cream promising a ton of toppings, but ending up trying to find them with your spoon with no luck? Not going to happen here.
This vanilla ice cream is packed with mini cinnamon buns, salty pretzels, and crunchy chocolate chips! It's dairy-free and naturally sweetened (minus the chocolate chips)!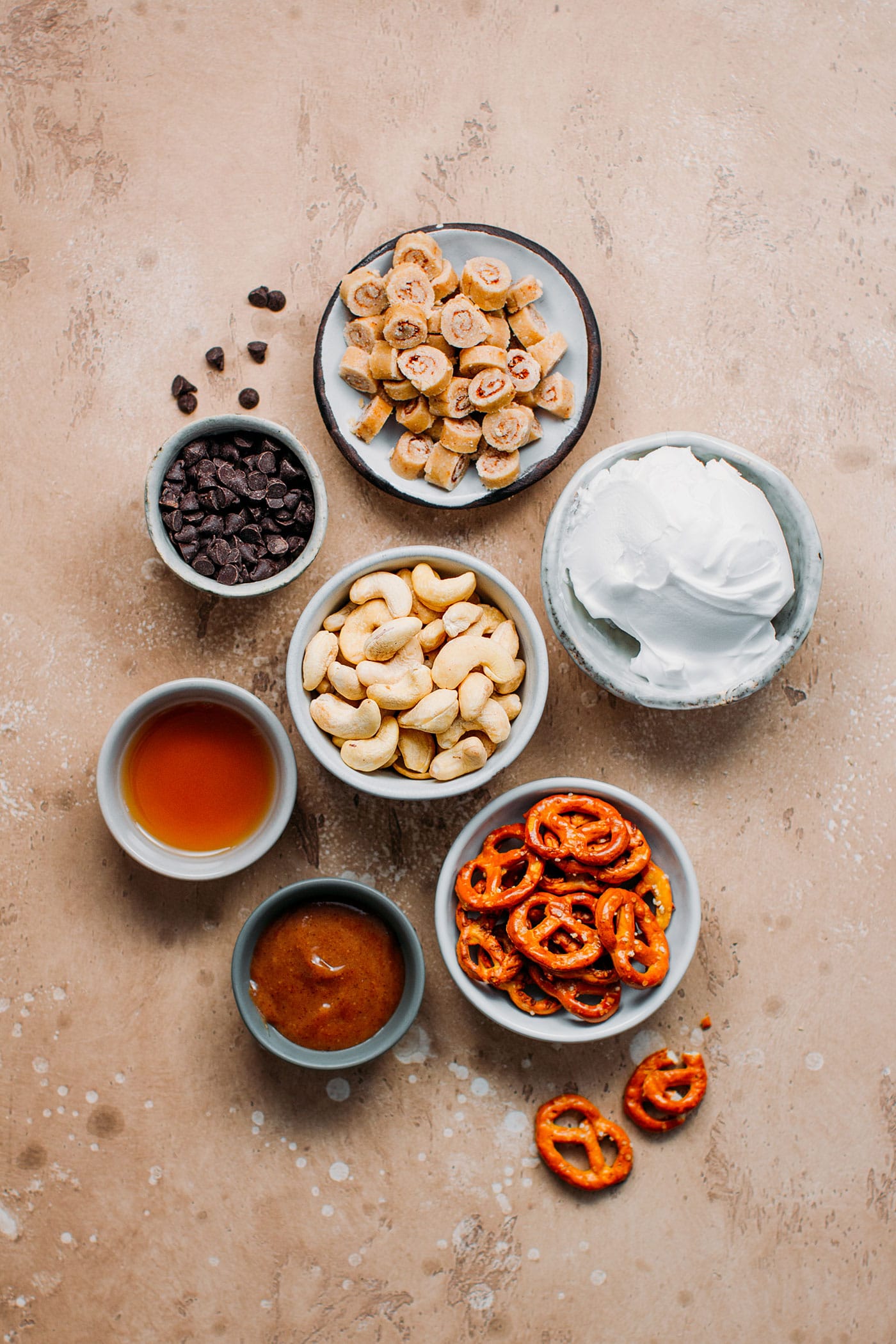 HOW TO MAKE VEGAN VANILLA ICE CREAM
The base of the ice cream consists of soaked raw cashews, coconut cream, and agave (or maple) syrup. Then we add vanilla extract and blend everything until smooth.
Refrigerate for at least 6 hours so the cream is very cold before churning in an ice cream maker.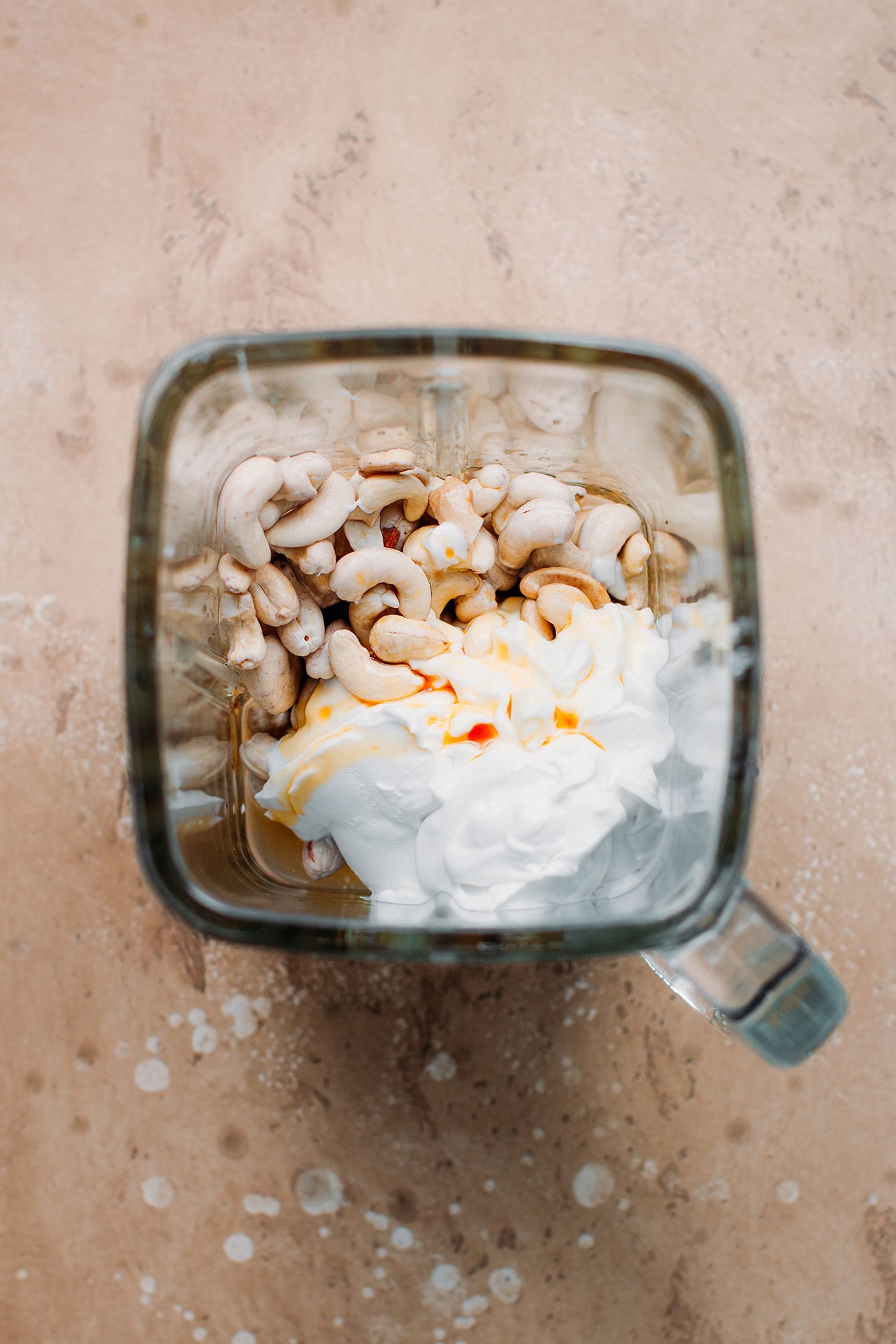 ADD-INS
Now let's talk about the add-ins! We have:
Mini Cinnamon Bites: These raw cookie dough bites add a chewy texture and a ton of cinnamon flavor to the ice cream. Check out the link to the recipe below to learn how to make them!
Pretzels: For a little bit of crunch and saltiness!
Chocolate Chips: Because the combination of chocolate with salty pretzels never disappoints. If you want to keep this recipe refined sugar-free, simply omit or use coconut sugar sweetened chips.
Cinnamon Swirl: A rich swirl of maple almond butter with cinnamon.
Cinnamon Bun Cookie Dough Bites
Ben & Jerry-inspired bite-size cinnamon buns! No-bake and naturally sweetened, these little bites are delicious as is, or on top of ice cream, oatmeal, or in yogurt!
Make This Recipe
Once churned, transfer the vanilla ice cream to a freezer-safe container and stir in the cinnamon buns, pretzels, chocolate chips, and cinnamon swirl!
I recommend pouring about ¼ of the vanilla ice cream into the container, then add some of the toppings, stir, and repeat until everything has been used. This way the add-ins are evenly distributed.
This ice cream is so creamy, scoopable, and you definitely won't miss the add-ins! Enjoy this ice cream in a bowl, or with waffle cones!
Looking for more ice cream recipes? Check out this Butterscotch Swirl Pumpkin Cookie Dough Ice Cream or this Brownie Oatmeal with Banana Ice Cream!
Let me know in the comments if you try this recipe!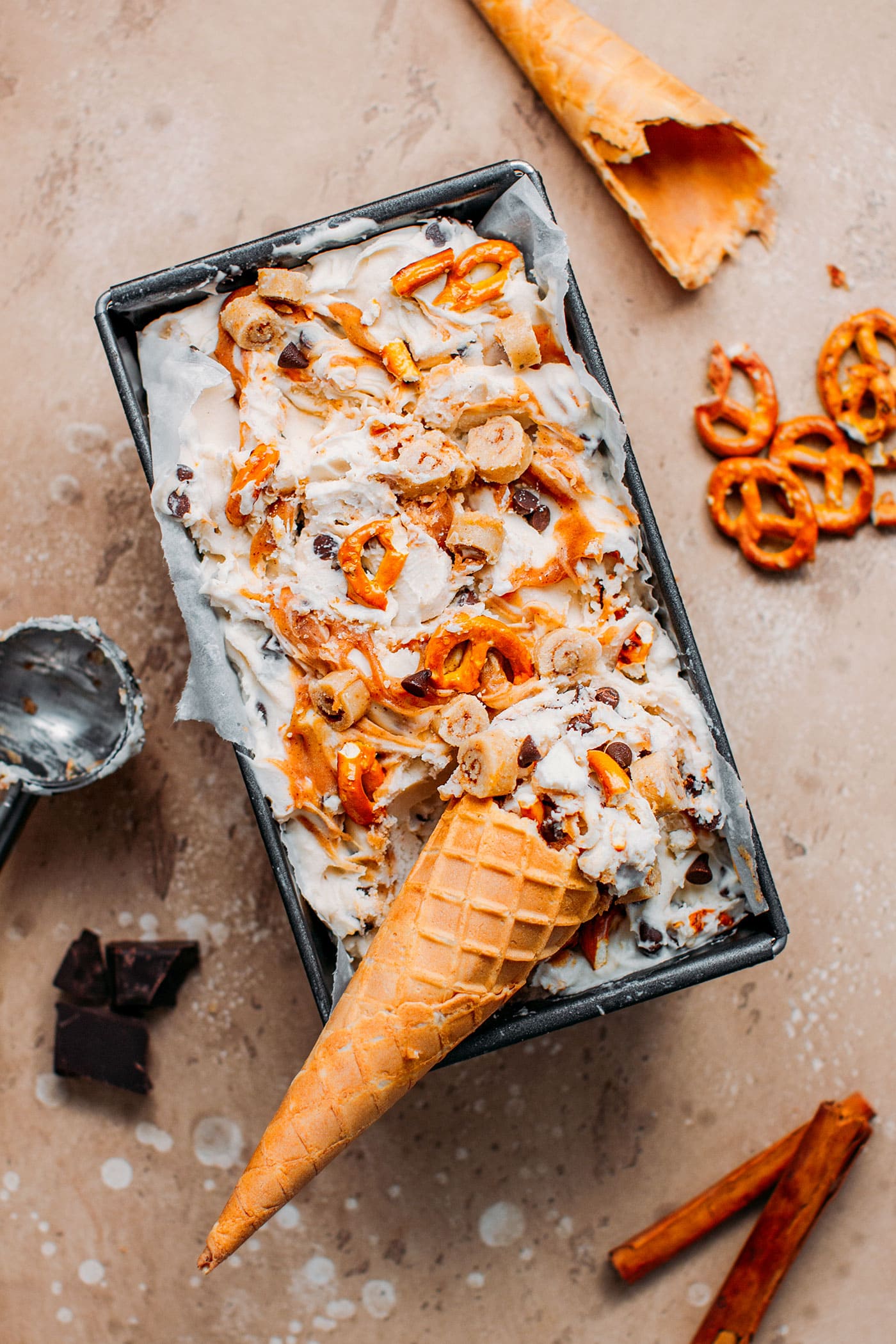 Cinnamon Bun Pretzel Vanilla Ice Cream (Vegan + GF)
Dairy-free vanilla ice cream with chewy mini cinnamon bites, salty pretzels, chocolate chips, and a rich cinnamon caramel swirl!
Ingredients
Cinnamon Swirl
2

tablespoon

almond butter

1

tablespoon

maple syrup

1

teaspoon

melted coconut oil

⅛

teaspoon

ground cinnamon

a pinch

of

salt
Instructions
Cinnamon Swirl
Start by preparing the cinnamon swirl. In a small bow, whisk together the almond butter, maple syrup, melted coconut oil, cinnamon, and salt. Set aside.
Ice Cream
Drain the soaked cashews and transfer to a high-speed blender. Add the coconut cream, maple syrup, vanilla extract, and guar gum, and blend until smooth, about 30 seconds. Transfer to a bowl and refrigerate at least 6 hours, or overnight.

The next day, transfer the chilled cream to an ice cream maker and churn for about 30 minutes (or according to your ice cream maker instructions). 5 minutes before the end, stir in the vodka, or amaretto extract, it will prevent the ice cream from hardening too much.

Pour about 1 cup of the churned ice cream in the container of your choice, top with ⅓ of the chopped pretzels, cinnamon bites, and chocolate chips. Drizzle with some of the cinnamon swirl. Stir to mix a little bit. Cover with more ice cream and repeat 2 times, or until no more ice cream and add-ins remain.

Transfer to the freezer and freeze for at least 4 hours before enjoying! The ice cream will be scoopable even after days in the freezer and will keep for up to one month.
DID YOU MAKE THIS RECIPE?
Tag @fullofplants on Instagram and hashtag it #fullofplants