Looking for buttery and chocolatey cookies to prepare for the holidays? We have got you covered! Introducing Chocolate Linzer Cookies!
These Linzer cookies are filled with a creamy hazelnut dark chocolate filling! We even sneaked in a few drops of orange extract for extra holiday vibes!
🥣 How to Make Linzer Cookies
Shortbread Cookies
It starts with vegan butter creamed with coconut sugar and vanilla extract. Next, add all-purpose flour, baking powder, and a pinch of salt, and knead until it forms a dough.
Flatten the dough into a thin rectangle and refrigerate for 1 hour. Chilling the dough helps make it firmer and easier to handle.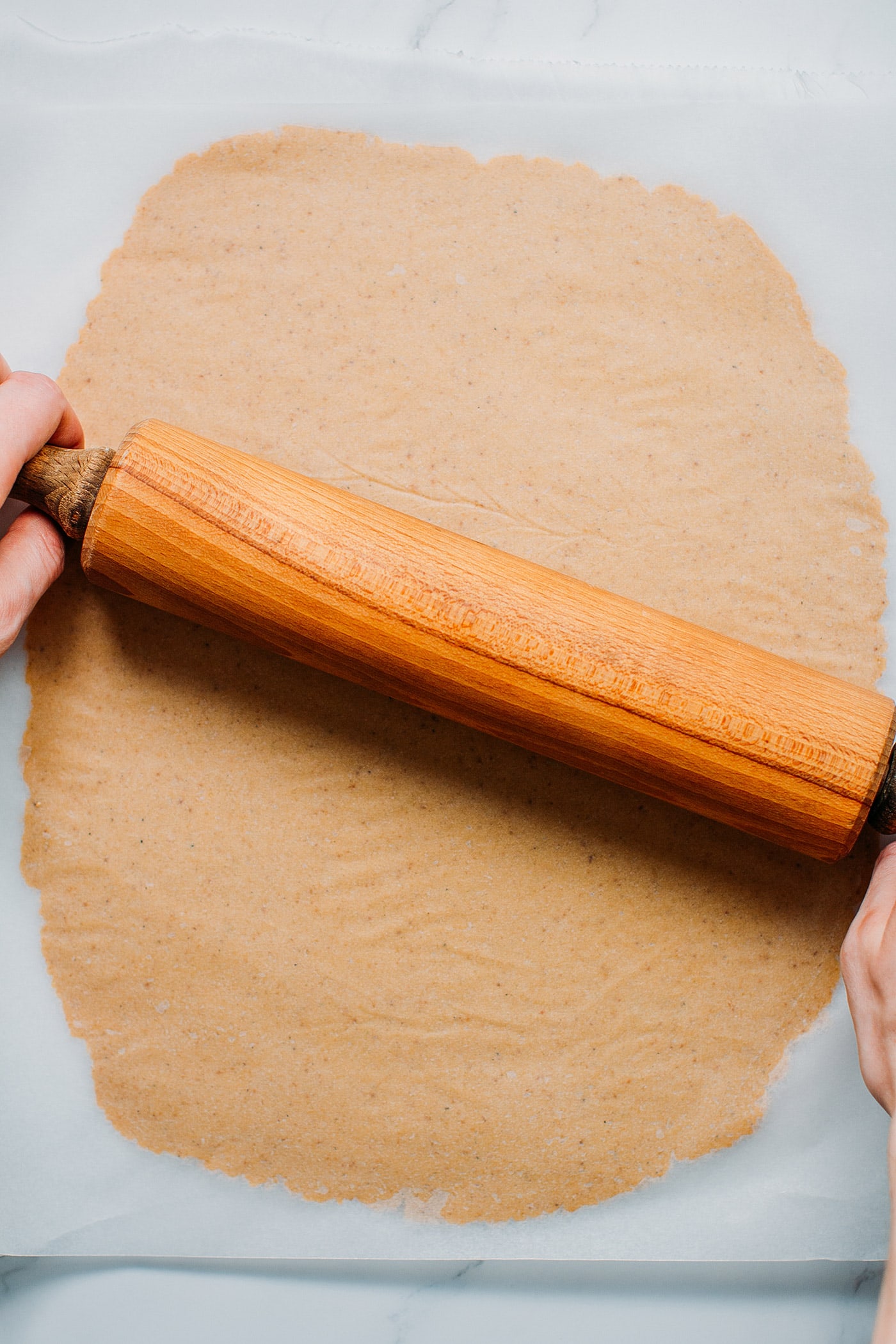 Once the dough has chilled, it's time to cut out our cookies! I recommend using a cookie cutter set like this one or this one for round cookies.
The amount of cookies you will get depends on the size of your cookie cutters. We made 10 large cookies and used the leftover dough to make smaller, unfilled cookies.
Chocolate Filling
Now let's talk about the chocolate filling that requires just 2 ingredients: dark chocolate chips and nut butter.
Melt the chocolate chips over a double boiler, stir in the nut butter, and let cool. It's as easy as that! You can add a couple of drops of orange extract for a little extra flavor and a holiday vibe. It goes perfectly with dark chocolate!
Since these cookies are very buttery, they are quite fragile. Handle them carefully while adding the filling.
Unlike the traditional way of making Linzer cookies, we first stacked two cookies and then poured the chocolate filling in the middle. It's easier, and there is less risk of breaking the cookies.
💬 FAQ
Can I make these cookies gluten-free?
I tried this recipe with all-purpose flour and a gluten-free 1:1 mix, and both worked great!
Which nut butter works best for the chocolate filling?
I personally love using hazelnut butter for a Nutella-like flavor. Almond butter, cashew butter, or tahini work great as well.
Can I substitute the coconut sugar?
Yes, feel free to use white or brown sugar.
Should the chocolate filling be liquid or firm?
The filling should have the consistency of Nutella, thick but very soft. If it is too runny, refrigerate it for a few minutes. You don't want the filling to be firm; otherwise, you will probably break the cookies while trying to spread it.
These cookies are perfect for the holidays! Buttery, infused with vanilla, and filled with a creamy dark chocolate filling! Everyone will love them!
🍪 More Holiday Cookie Recipes
Let me know in the comments if you try this recipe!
Recipe
Chocolate Linzer Cookies (Vegan)
Buttery vegan cookies filled with a creamy hazelnut dark chocolate filling! Perfect for the holidays, everyone loves them!
Ingredients
Chocolate Filling
2/3

cup

dark chocolate chips

1/4

cup

nut butter

I used hazelnut butter

1/8

tsp

orange extract

optional
Instructions
Chocolate Filling
Melt the dark chocolate chips over a double boiler. Once melted, transfer to a small bowl and stir in the nut butter and orange extract if using. Once fully combined, cover and let cool at room temperature for at least 2 hours.
Cookies
Place the vegan butter, coconut sugar, and vanilla extract into a large mixing bowl. Beat the butter with the sugar for 1-2 minutes or until the sugar is almost dissolved (you can use a stand mixer).

Next, add the flour, baking powder, and salt, and knead until you get a smooth dough. If the dough appears too crumbly, add 1/4 tsp of water and knead again.

Divide the dough in half. Transfer one half to a sheet of parchment paper. Cover with another sheet of parchment paper and flatten the dough into a rectangle with a 1/8-inch thickness (about 3mm). Do the same with the other half. Transfer the flattened dough to a baking sheet and refrigerate for 1 hour.

Preheat oven to 350°F (175°C). Cut out cookies using your favorite cookie cutters and carefully transfer the cookies to a baking sheet lined with parchment paper. Cut out the center of half of the cookies using smaller cookie cutters. You can gather the scraps and re-roll the dough to cut out more cookies.

Bake for about 7 minutes or until the cookies are golden brown. Remove from the oven and let cool completely.

To fill the cookies, stack the "cut-out" cookies on top of the full ones. Fill the inside with 1-2 teaspoons of the chocolate filling using a spoon. Refrigerate the cookies for 30-40 minutes, or until the chocolate has set.

Store the cookies in an airtight container for up to 4 days at room temperature.
Did you make this recipe?
Tag @fullofplants on Instagram and hashtag it #fullofplants