You guys have to try this Christmas dessert! It's rich, super creamy, and has the perfect combination of flavors!
This naturally-sweetened yule log, or ice cream cake if you prefer, consists of two layers: chocolate and vanilla, a surprising caramel center, and a no-bake chocolate chip brownie base. I almost forgot, there is also a dark chocolate glaze!
It makes the perfect Christmas dessert and can be made ahead of time, let's do this!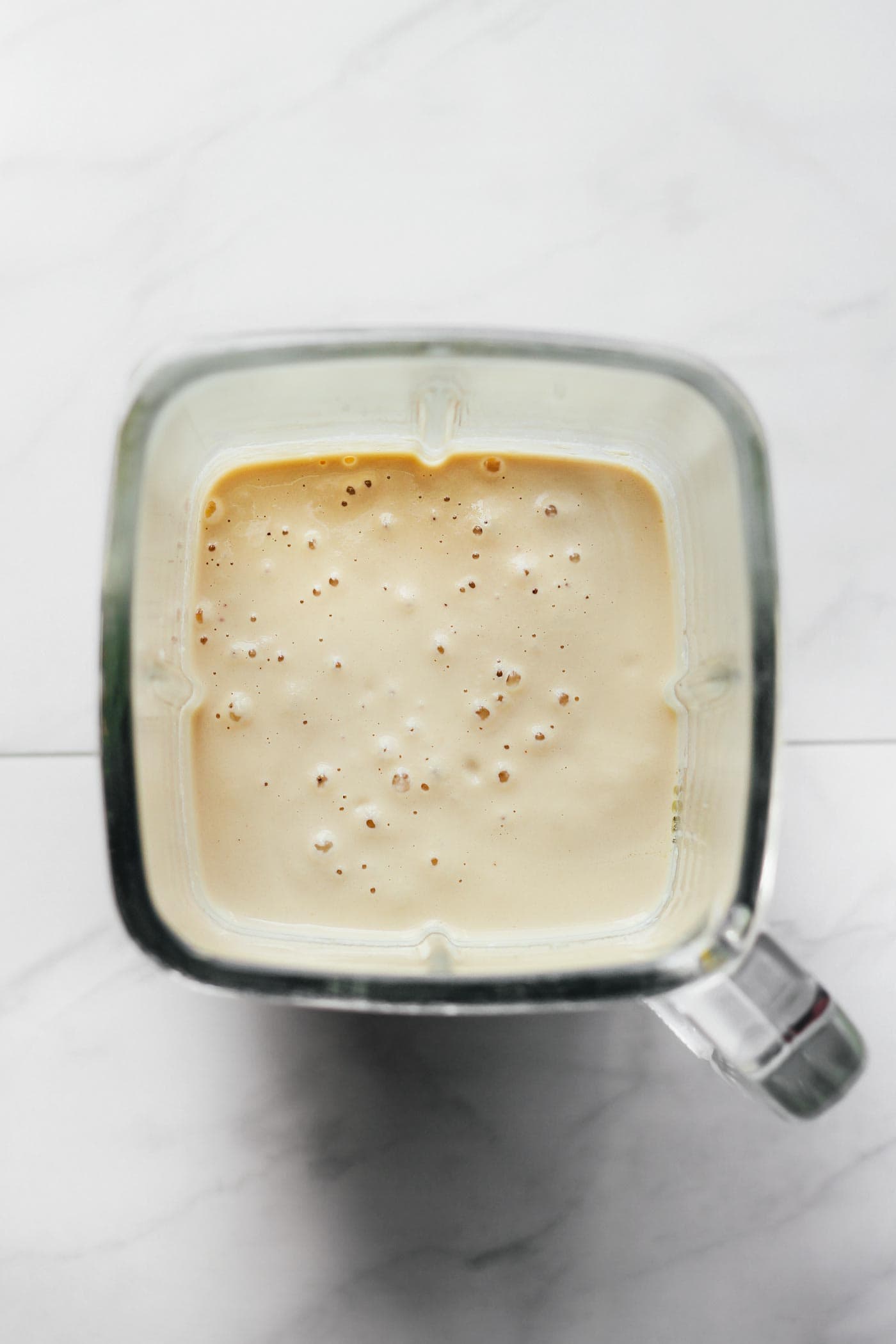 While this ice cream cake has 3 different layers and might look intimidating, it's actually less time consuming and easier than you would believe.
We start by making the caramel center, which is my go-to salted caramel recipe that I used in these epic chocolate pancakes, or these popped grains bars. It's made with only 5 ingredients: almond butter makes the base, maple syrup gives it the caramel taste, coconut oil brings the richness and helps firm it up, and finally, vanilla extract and salt give it a deeper flavor.
You combine all the ingredients together, pour into a square tart circle, and let it firm up in the refrigerator or freezer.
For the chocolate/vanilla layer, I went with a mix of raw cashews, full-fat coconut milk, maple syrup, and cocoa butter.
Combine all the ingredients in a blender, and blend on high-speed until super creamy! Then set aside 2/3 of the cashew cream, and stir in the vanilla extract. The recipe calls for one full tablespoon of vanilla, that is correct! For the chocolate layer, you blend the rest of the cashew cream (1/3) with unsweetened cocoa powder.
The rest is just a matter of assembling everything. The chocolate cream comes first because we want it on top. Then the caramel center is placed on top of the chocolate layer, and finally, you pour the vanilla cream on top of the chocolate and caramel. You will have to freeze the cake between each layer otherwise you won't get distinct layers as they would mix together.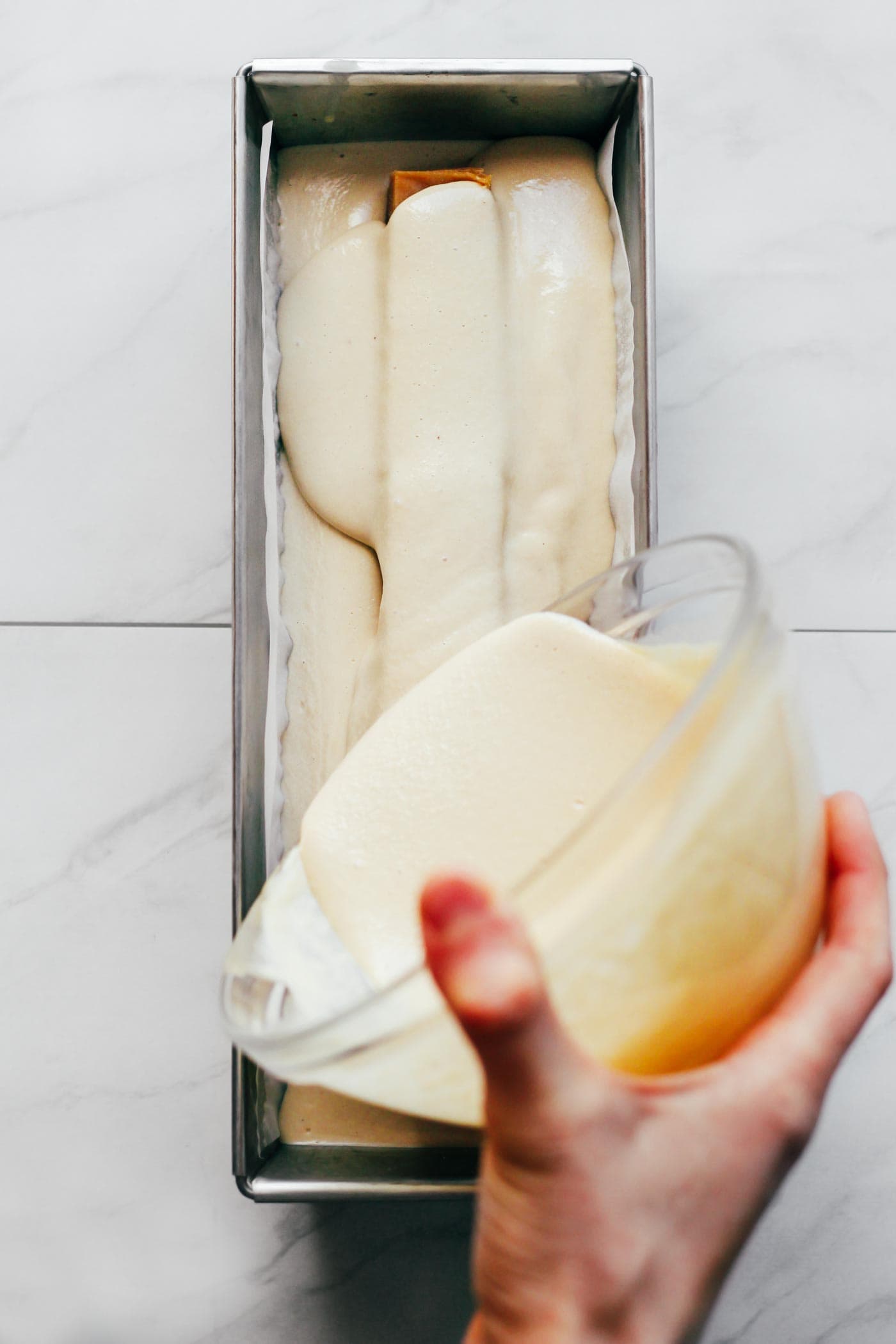 The last layer is the base, which is a raw chocolate chip brownie! It's your basic nut crust that is made with dates, almonds, cocoa powder, coconut oil, and chocolate chips for a nice chocolate crunch. Process everything in a food processor and pack the mixture tightly on top of the vanilla layer.
And finally comes the chocolate glaze. Once your yule log is ready, it's time to flip it and glaze it with a creamy chocolate ganache.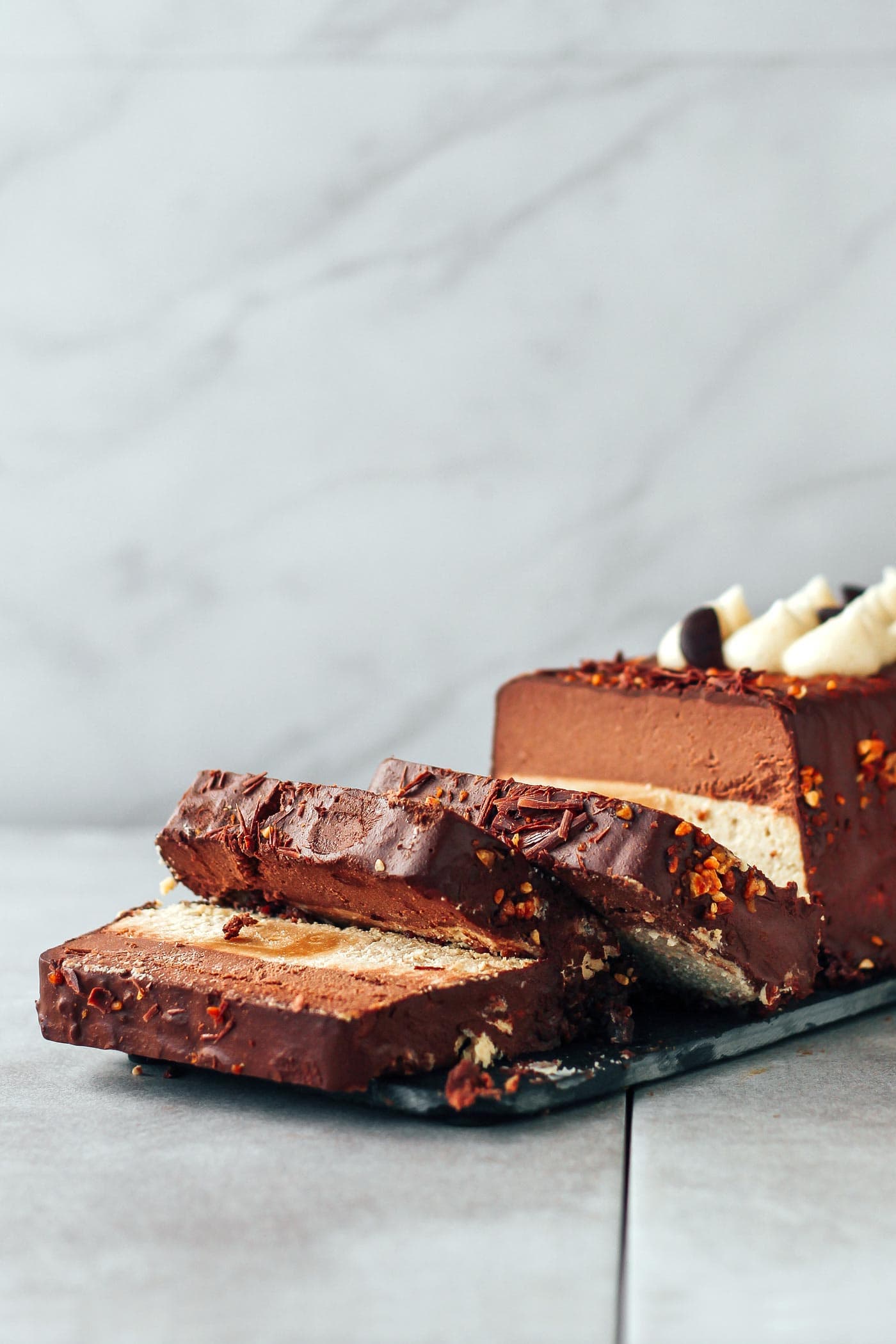 For the decoration, I went with aquafaba meringue (I couldn't find my blowtorch but if you have one it would be nice to caramelize it), some shaved chocolate, and crushed hazelnuts. You obviously don't have to decorate it the same way, let your creativity flow! I'm sure fresh fruits like strawberries, blueberries or raspberries would be great on top!
This yule log should be stored in the freezer and thawed on the counter for about 1 hour before serving for the perfect texture!
If you are looking for a Christmas, or New Year's Eve dessert, look no further! This dessert combines chocolate, vanilla, and caramel into a rich and creamy ice cream cake.
Let me know in the comments if you try this recipe!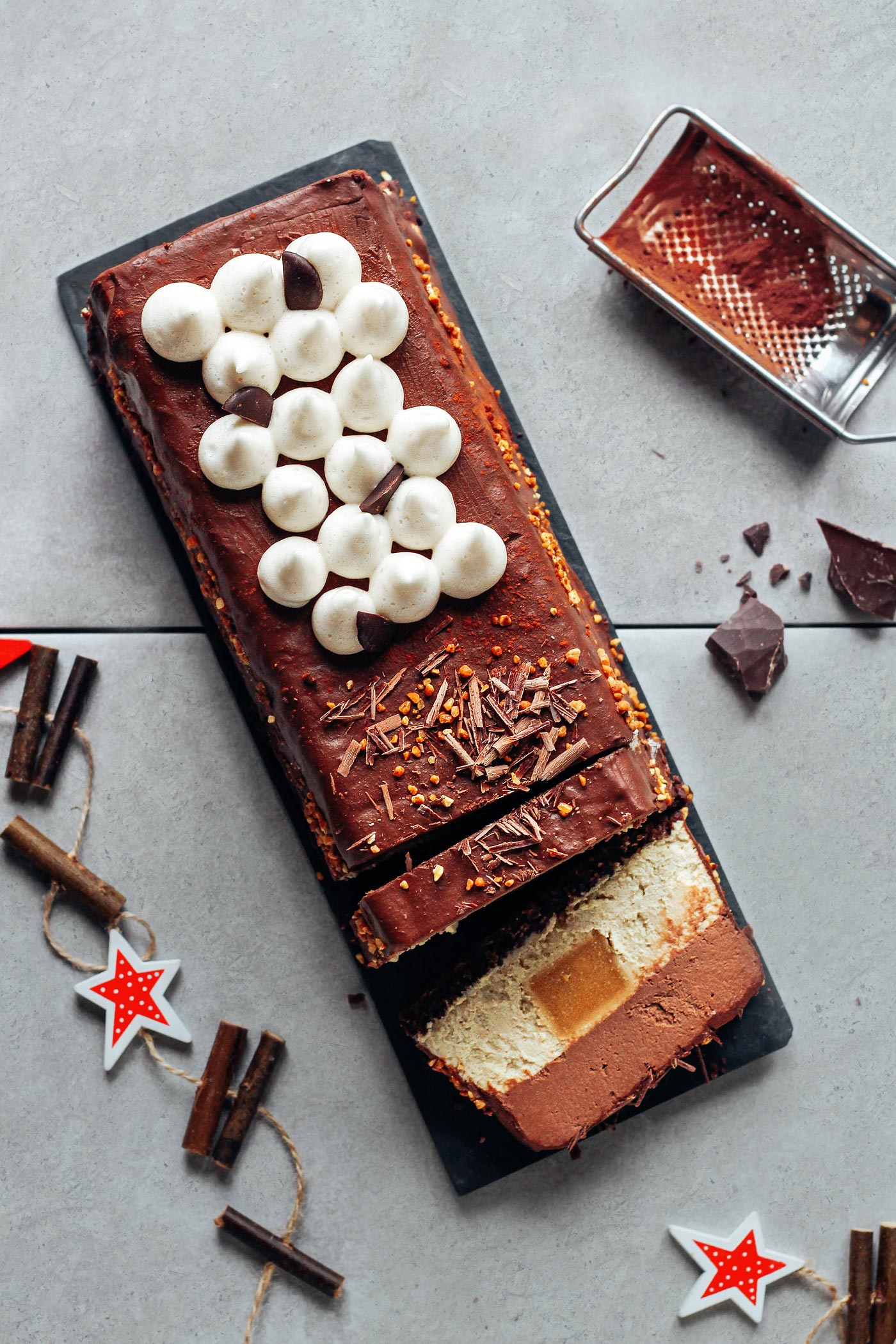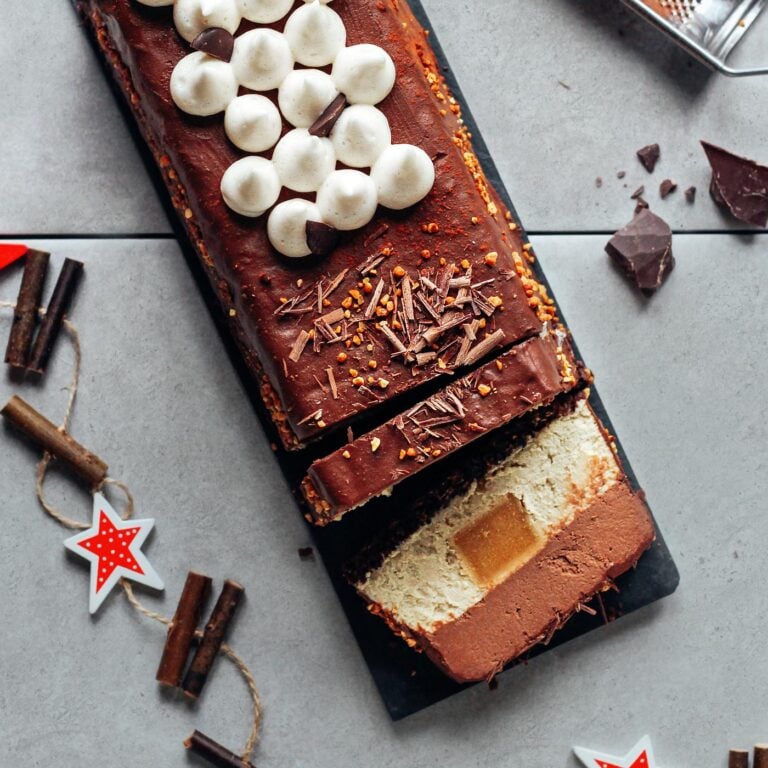 Chocolate, Caramel & Vanilla Yule Log
Deliciously creamy ice cream cake with a layer of chocolate, vanilla, and a salted caramel center on a base of raw brownie.
Ingredients
Salted Caramel Center
1/3

cup

80g almond butter

1/3

cup

80ml maple syrup

1/3

cup

70g melted coconut oil

1/2

tsp

vanilla extract

1/4

tsp

salt
Chocolate & Vanilla Cream
2

cups

300g raw cashews, soaked overnight

1 13.5-

ounce

can

425ml full-fat coconut milk

1/4

cup

and 2 tbsp

90ml maple syrup

1/2

cup

105g melted cocoa butter

1/4

tsp

salt

1/2

cup

60g cocoa powder

1

tbsp

vanilla extract
Brownie Base
1

cup

175g pitted dates

1/4

cup

35g raw almonds

2

tbsp

20g cocoa powder

1

tbsp

13g coconut oil

2

tbsp

20g chocolate chips
Chocolate Glaze
1/2

cup

90g dark chocolate chips

1/2

cup

118ml almond milk
Instructions
Start by making the salted caramel center. Combine all the ingredients together in a small bowl and whisk until smooth. Line a small plate with parchment paper and place a 4-inch

square tart ring

on top. Pour the caramel into the square ring, and place in the refrigerator for at least 2 hours, or in the freezer for 1 hour. If you don't have a square ring tart, you can use a small baking dish or container.

In the meantime, prepare the filling. Drain the soaked cashews and add them to a blender. Add the full-fat coconut milk, maple syrup, melted cocoa butter, and salt. Blend on high speed for 20-30 seconds, or until smooth. Transfer 2/3 of the cashew cream to a mixing bowl and set aside, leaving 1/3 in the blender.

Add the cocoa powder to the blender and blend on high speed for 5-10 seconds, or until well combined. Line a 12-inch loaf pan with parchment paper, and pour the chocolate cream into the pan. Place in the freezer for at least 30 minutes.

Remove the caramel from the fridge/freezer and cut it into 3 large sticks (about 4x1.3-inch). This will be our caramel center. Keep in the refrigerator until needed.

Once the chocolate cream layer is firmer, remove from the freezer. Place the caramel sticks centered on top of the chocolate layer (see photo).

Add the vanilla extract to the bowl with the 2/3 of the reserved cashew cream. Whisk well. Pour the vanilla cream on top of the chocolate and caramel. Place in the freezer for at least 45 minutes.

In the meantime, prepare the raw brownie base. Add the pitted dates, raw almonds, cocoa powder, and coconut oil to the bowl of a food processor. Process until you get a fine meal. Test the mixture by pressing a tablespoon of it between your hands, it should stick together. If it's too crumbly, add more dates, and/or a teaspoon of water. Stir in the chocolate chips.

Remove the yule log from the freezer and let it sit at room temperature for 10 minutes. Add the brownie mixture on top of the vanilla layer and press down firmly to flatten. I recommend placing a sheet of parchment paper and using the bottom of a glass to pack it tightly. Place in the freezer for another 30 minutes.

Finally, make the chocolate glaze. Place the chocolate chips in a bowl, set aside. Heat the almond milk over medium heat. As soon as it reaches a boil, remove from heat and pour over the chocolate chips. Let sit 1-2 minutes and whisk well until the chocolate is fully melted and well combined with the almond milk.

Place a grid on top of the loaf pan and flip it. Remove the loaf pan and the parchment paper. Your yule log should now be the right way up. For easier cleaning, place a silpat or serving tray under the yule log. Now, pour the chocolate glaze on top of the log and use a spatula to make sure all faces are coated. Be aware the chocolate glaze will firm up very quickly since the yule log is cold.

Keep the yule log in the freezer and thaw on the counter about 60 minutes before serving. Alternatively, you can transfer the yule log from the freezer to the refrigerator 3-4 hours before serving, this way it will slowly soften and your guests won't see it before dessert time!
Notes
For the decoration (optional), make some aquafaba meringue: Add 1/2 cup of aquafaba, 1/4 tsp guar gum, and 1/3 cup icing sugar to a large mixing bowl. Using an electric whisk, beat on high speed for about 1 minute, or until you get stiff peaks. Transfer to a piping bag and pipe dots of meringue on top of the yule log.
DID YOU MAKE THIS RECIPE?
Tag @fullofplants on Instagram and hashtag it #fullofplants