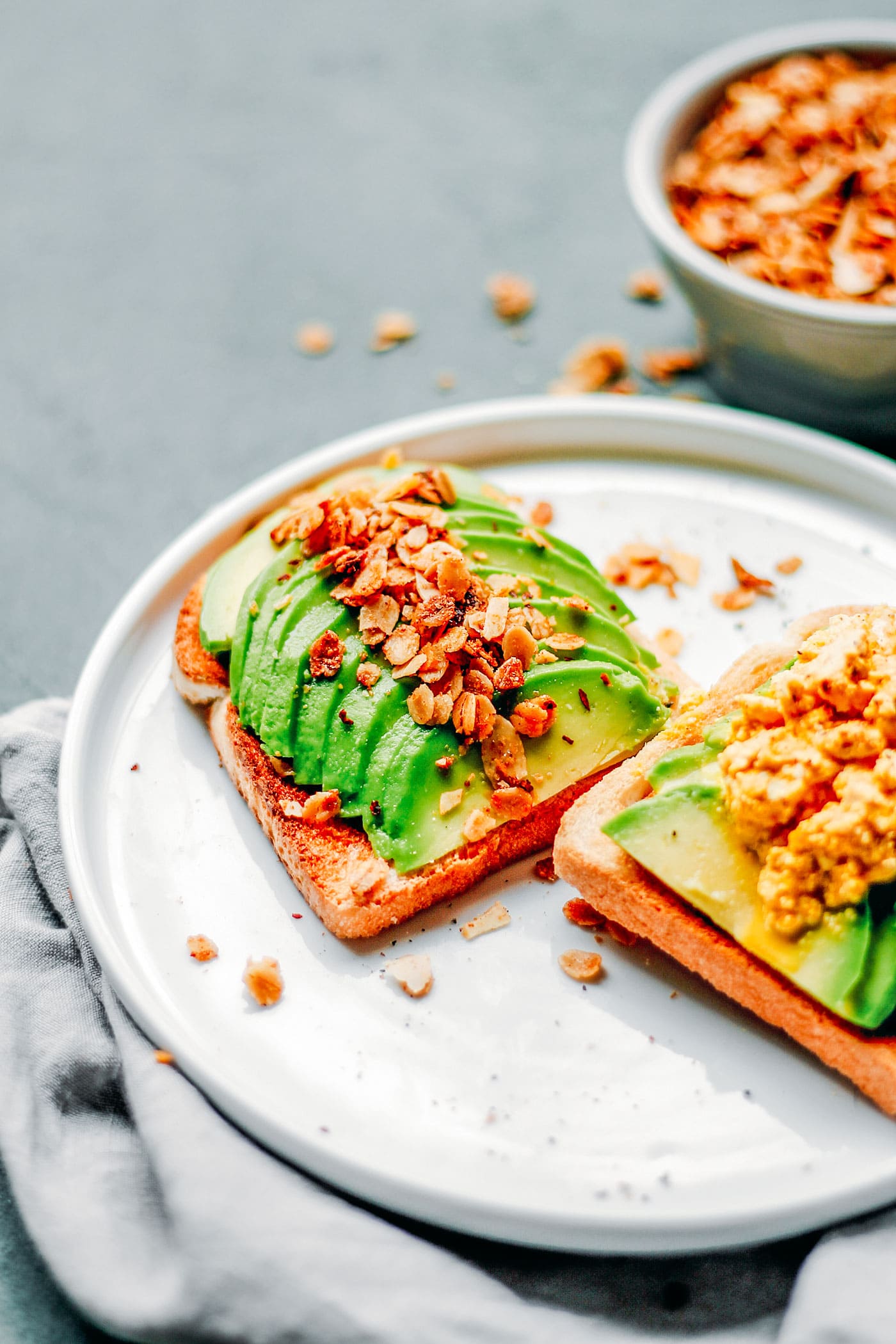 The first time I tried the chili + cheese combo was back in 2013 when I stayed in North Carolina for four months. It was my first time in the US and I had an awesome time. After a night out, I tried a chili cheese hot-dog (not vegan at the time) and loved how the spiciness of the chili was balancing with the flavor of the cheese.
This chili cheese granola is the perfect combination of savory, cheesy, spicy, garlicky and sweet!
It makes a great snack or can be used as a topping to put on salads or avocado toasts. This recipe is super easy and requires only 8 ingredients and 30 minutes!
As with most granola recipes, the base is rolled oats. Then for additional crunch and texture, we add some sliced almonds. Feel free to add your favorite nuts or seeds! May I suggest adding some sunflower seeds or chia seeds for more nutritional value? It's up to you, I went the easy way here: just almonds.
Now onto the flavorings, we will use chili, sea salt, a bit of maple syrup, and finally nutritional yeast to give the granola that cheesy taste. Nutritional yeast is added only after baking otherwise it will lose some of its flavor and nutrients. Oh, and we are going to add some garlic in there too!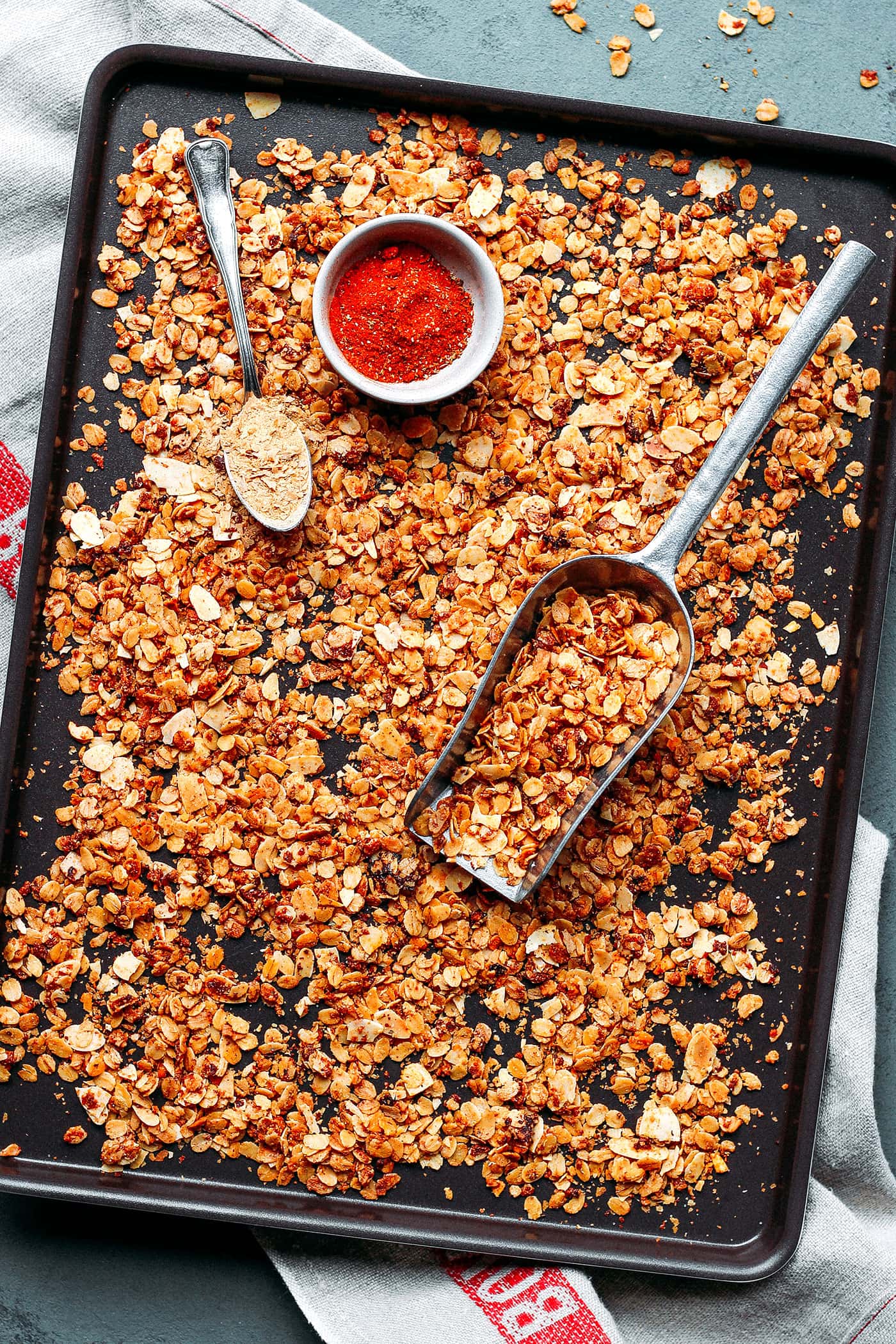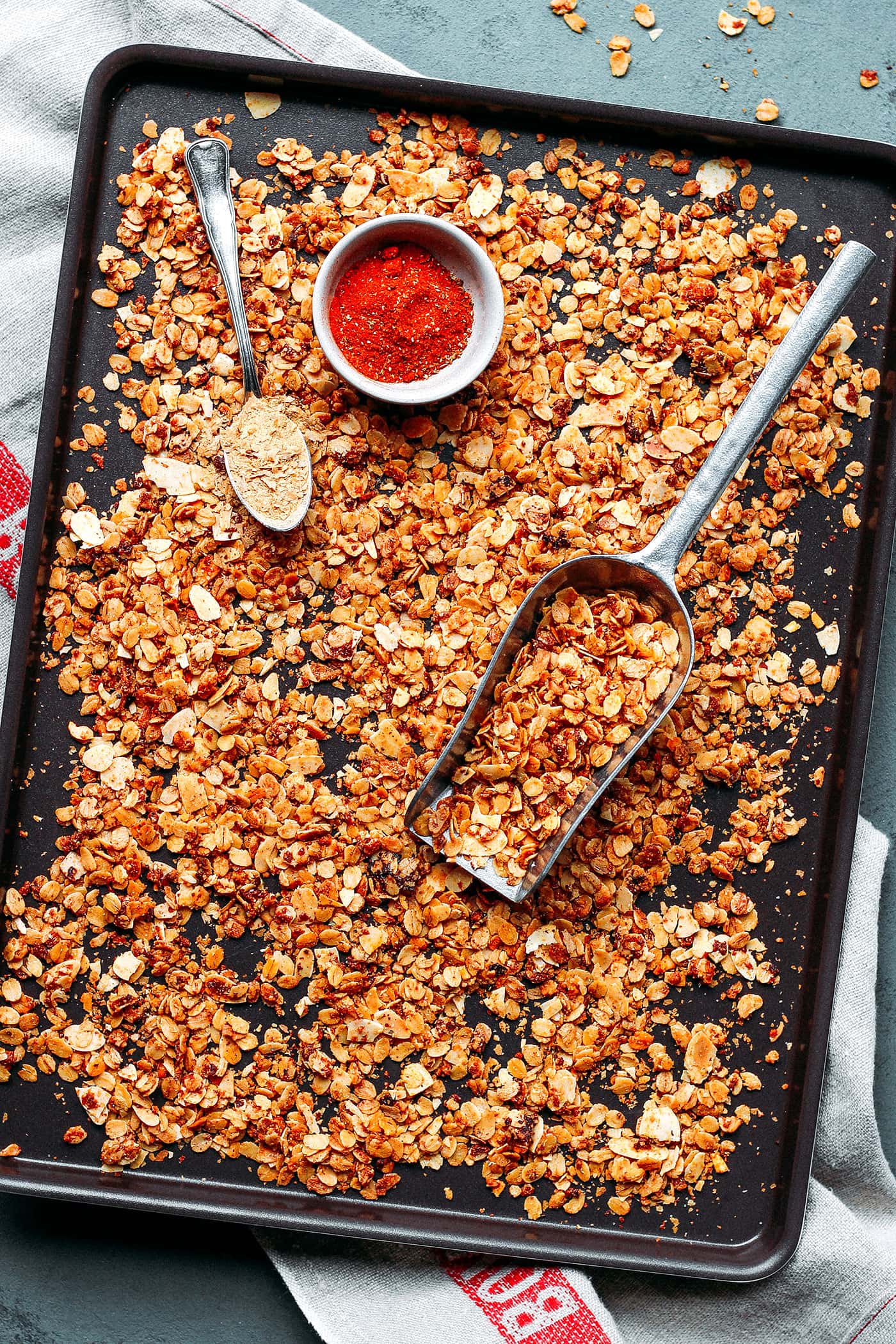 Maple syrup helps make the granola a bit crunchier and subtly sweet. The amount used here is very low compared to sweet granolas.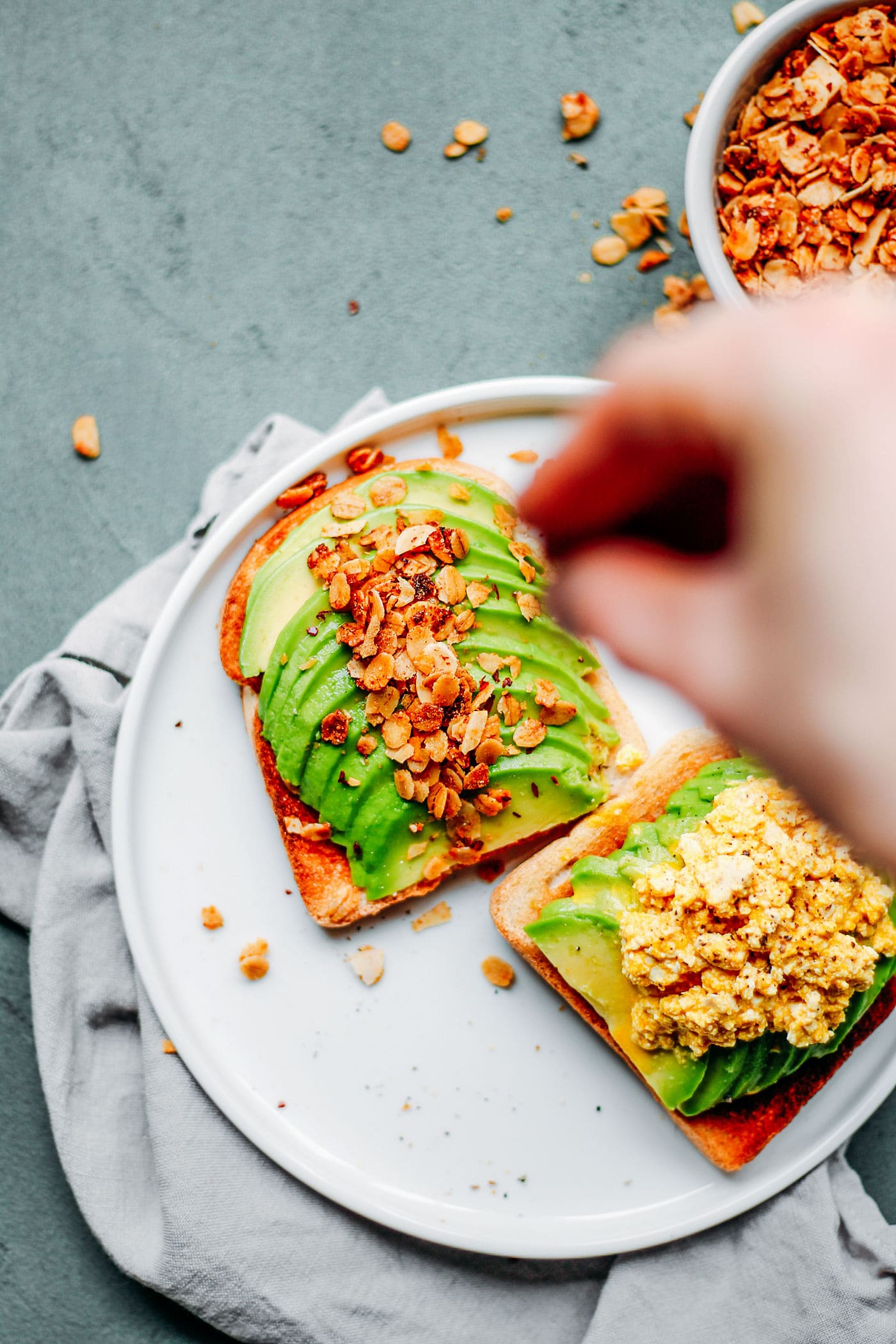 Once you have mixed all the ingredients together, spread on a baking sheet and bake to golden perfection. There you go, your salty topping is ready!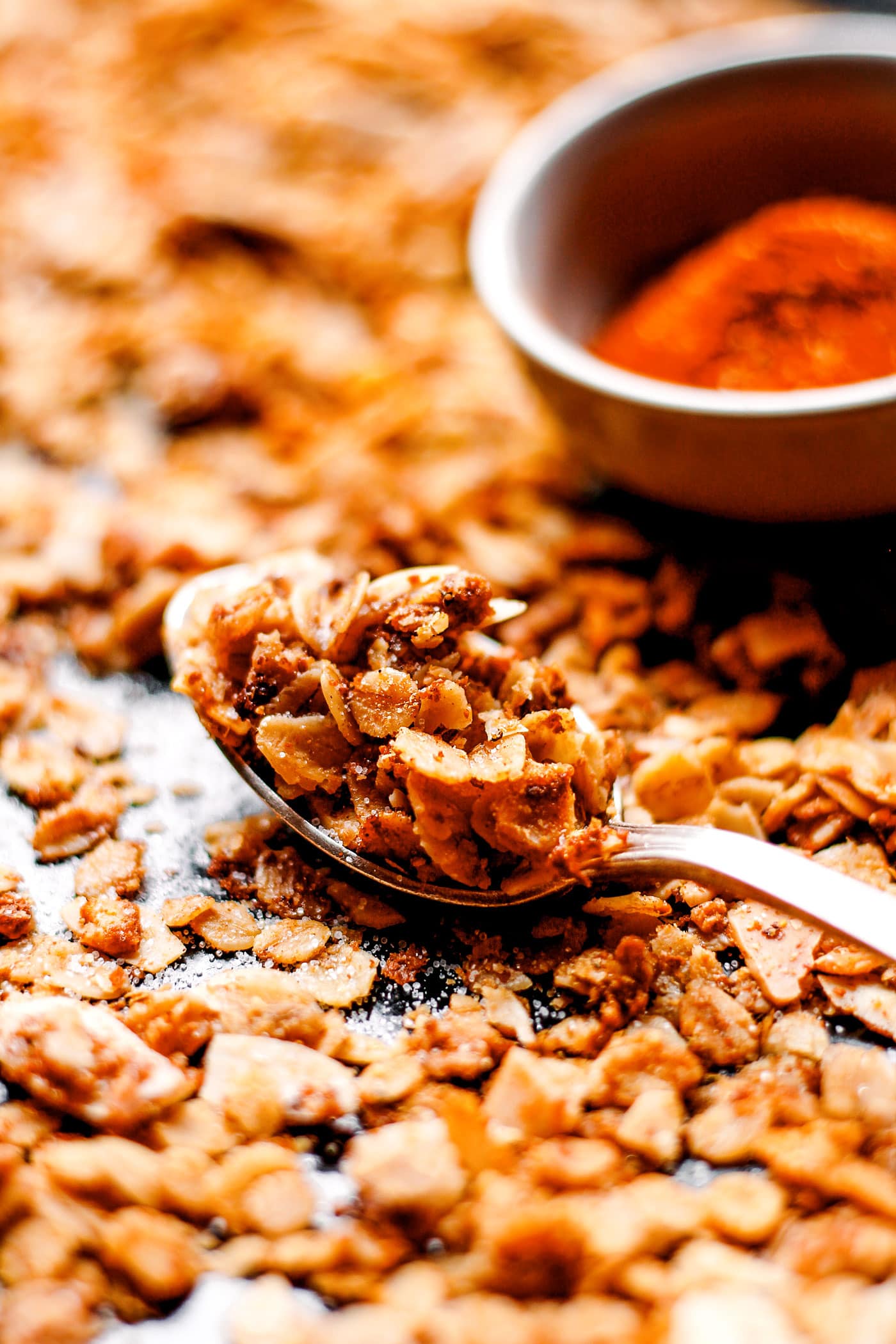 This savory granola would make a great topping for Enchilada Power Bowls, Glowing Black Rice Bowls, or simply added to salads for a nice crunch! It's like vegan parmesan 2.0, more crunchy, more nutritious and just as delicious!
Let me know in the comments if you try this recipe!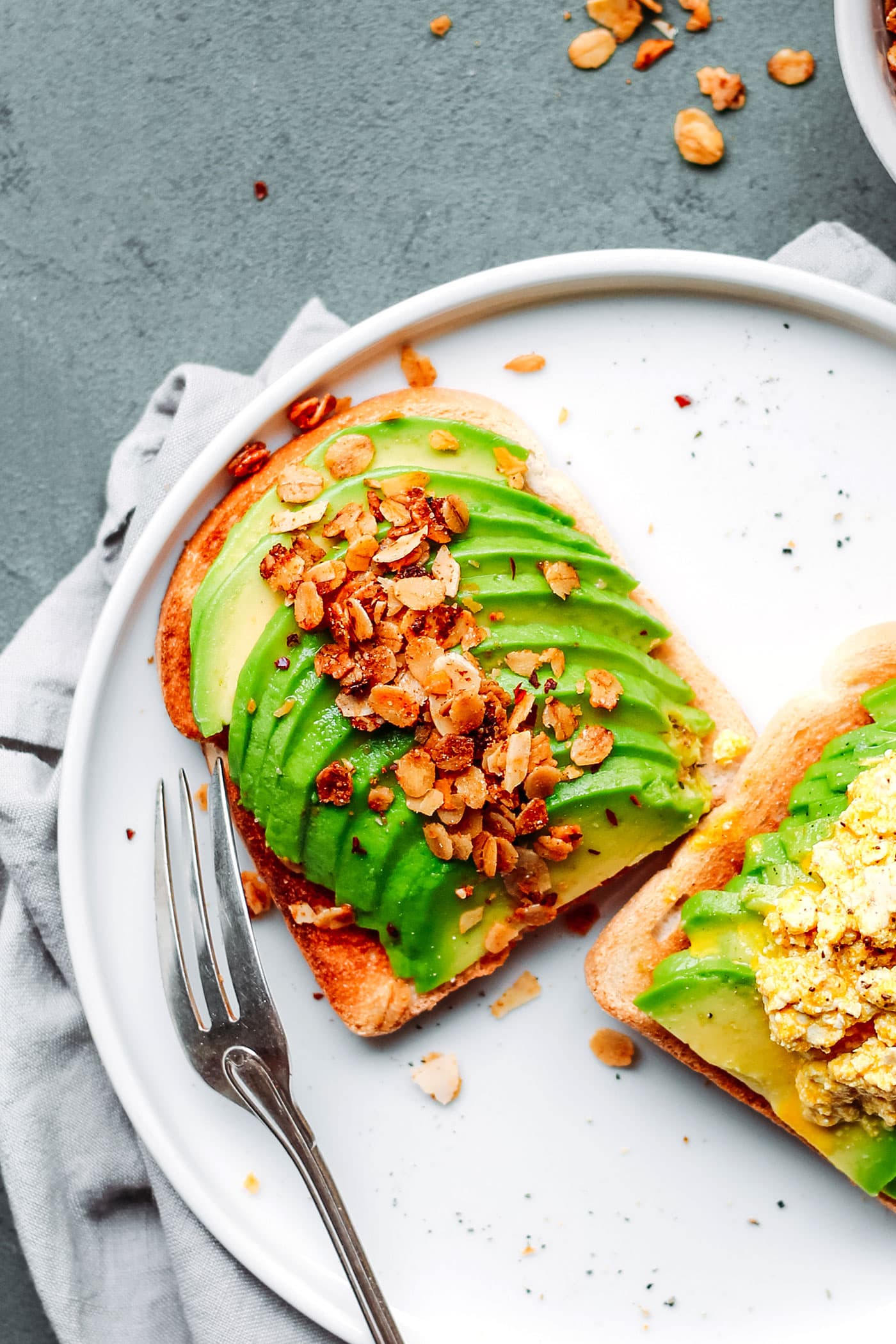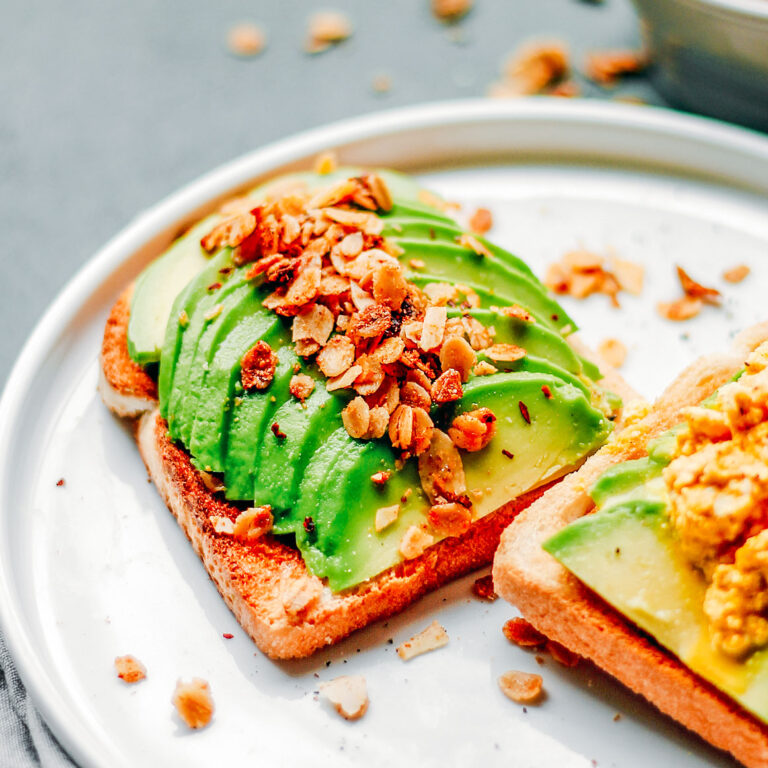 Chili Cheese Granola
Savory granola that is the perfect topping to put on salads, avocado, or just eat as a snack. It's nutritious, cheesy, spicy and sweet!
Ingredients
2

cups

rolled oats

½

cup

sliced almonds

1

teaspoon

chili powder

1

teaspoon

garlic powder

½

teaspoon

sea salt

6

tablespoon

oil

2

tablespoon

maple syrup

⅓

cup

nutritional yeast
Instructions
Preheat oven to 325°F. In a large mixing bowl, combine the rolled oats, sliced almonds, chili, garlic powder, and sea salt. Add the oil and maple syrup and mix well to coat.

Line a baking sheet with parchment paper and spread the mixture evenly onto it.

Bake 22-25 min, or until golden brown, stirring halfway through baking. Remove from the oven and immediately sprinkle the nutritional yeast on top. Mix with a spatula to distribute evenly. If you wait for the granola to cool, the nutritional yeast won't stick to it, so you must add it while still hot.

Let cool completely and store in an airtight container for up to 2 weeks.
Nutrition
Serving:
1
tablespoon
Calories:
44
kcal
Carbohydrates:
4
g
Protein:
1.3
g
Fat:
2.7
g
Fiber:
0.9
g
Sugar:
0.6
g
DID YOU MAKE THIS RECIPE?
Tag @fullofplants on Instagram and hashtag it #fullofplants