If you have been following this blog for some time now, you probably saw the recipe for my Vegan aged camembert. If not I recommend you check it out, it's a recipe that took me a lot of time to develop but it was definitely worth it. It results in a raw, soft-ripened camembert-style cheese (with a rind!) that is 99% made with cashews.
The vegan camembert is great on its own, there is no doubt about that, but you can also use it in recipes! I really enjoy it in sandwiches, scrambled into salads, or even in burgers.
I had some family coming over for dinner this weekend and I though I would make an appetizer. Burger sliders + vegan cheese = Best appetizer ever. Even for non-vegans.
These little burgers are filled with spicy caramelized onions, a generous slice of vegan camembert and cherry tomatoes. I added some fresh chives on top of the tomato to increase the fancy factor, plus you get your greens for the day.
The buns are super soft and easy to make, but since they are yeast raised, they require some time to prepare. Feel free to top them with sesame or poppy seeds.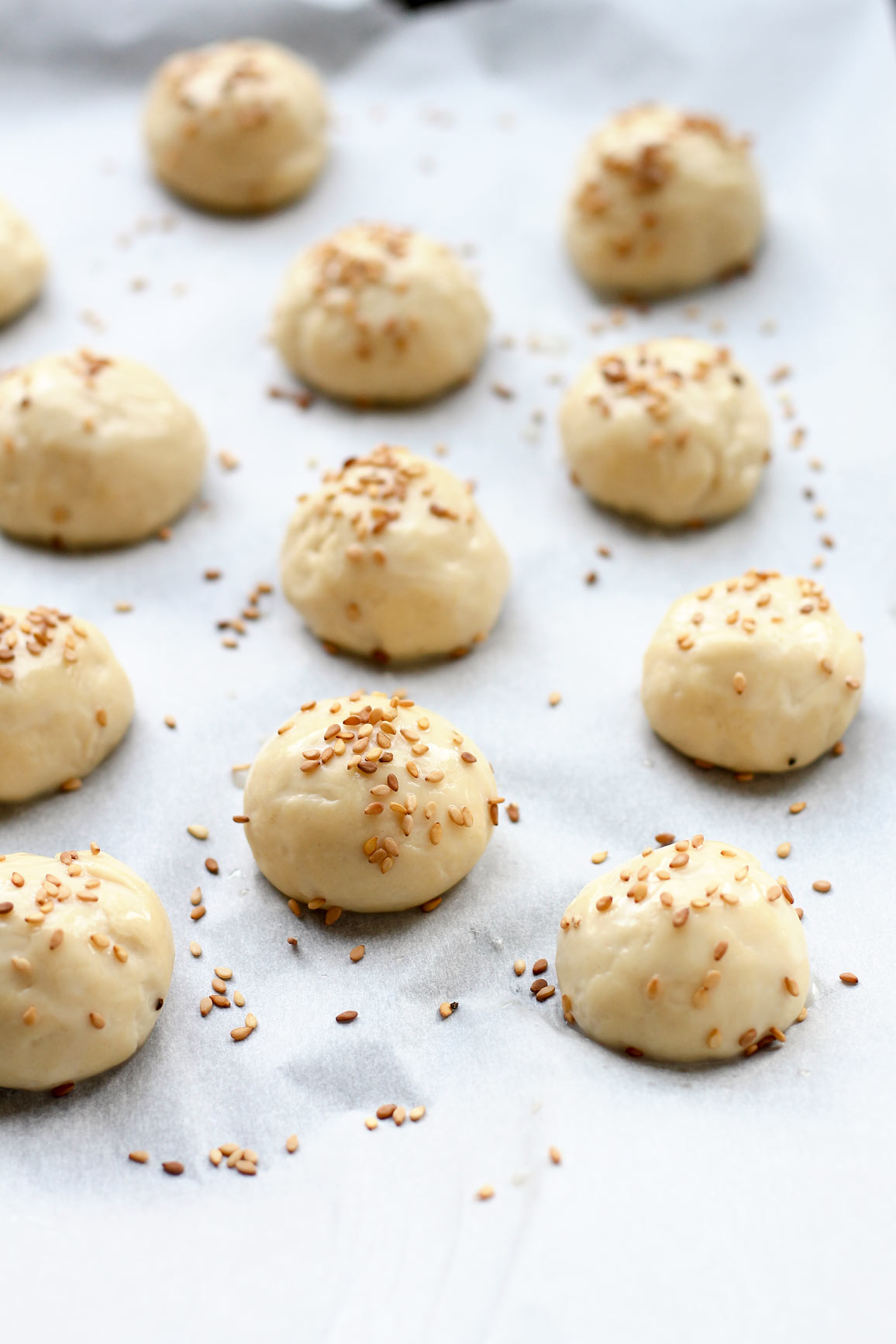 Sweet caramelized onions pair really well with the umami flavor of the cheese, while the tomatoes add some freshness.
If you don't have vegan camembert, you can use store-bought vegan cheese. The taste will be different but they should still be pretty tasty.
I recommend you count AT LEAST 3 cheeseburgers per person, because these will be gone in no time!
Serve these sliders at room temperature or warm them a little bit in the oven before serving.
Let me know if you try this recipe! I would also love to hear if you used the camembert cheese in other recipes!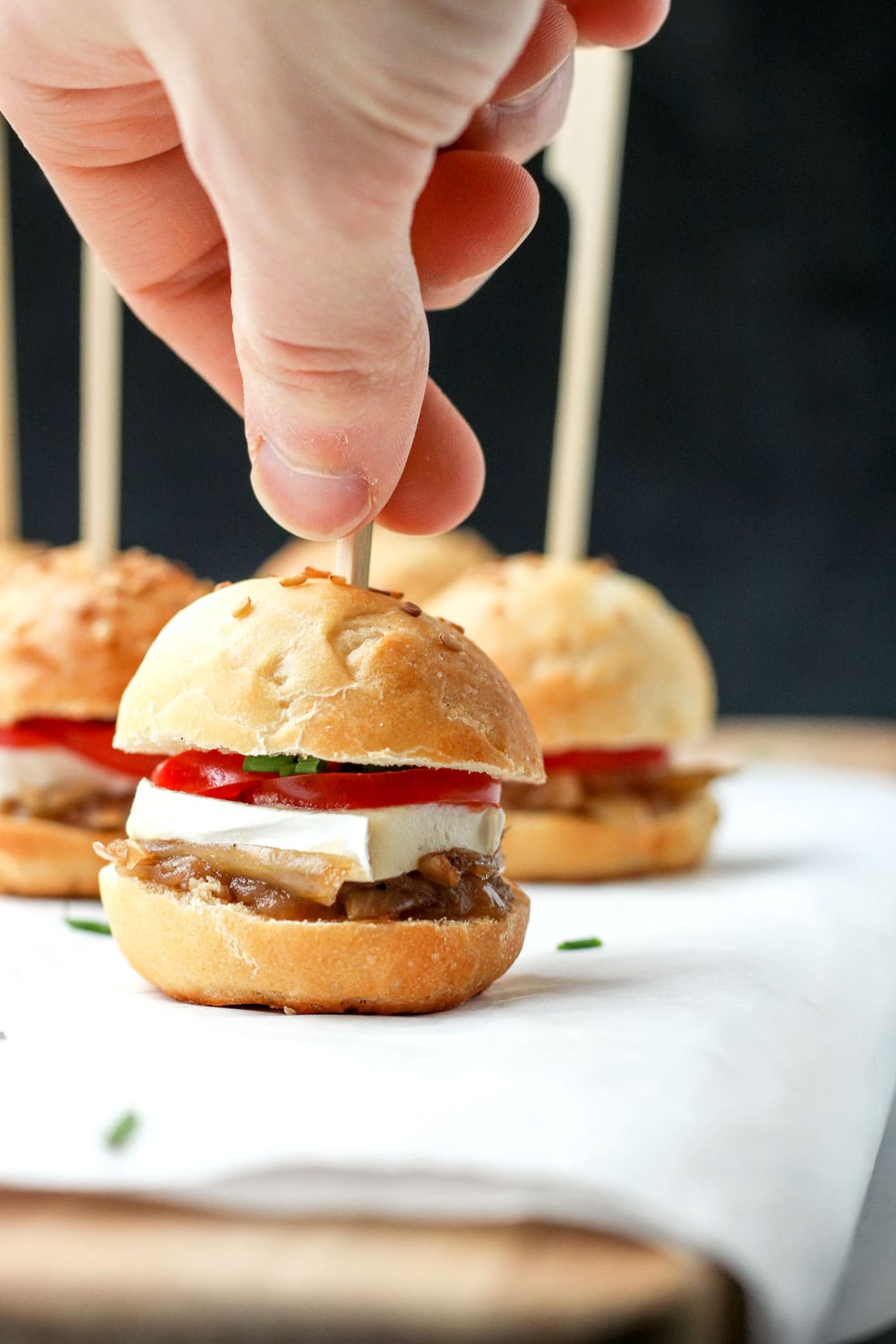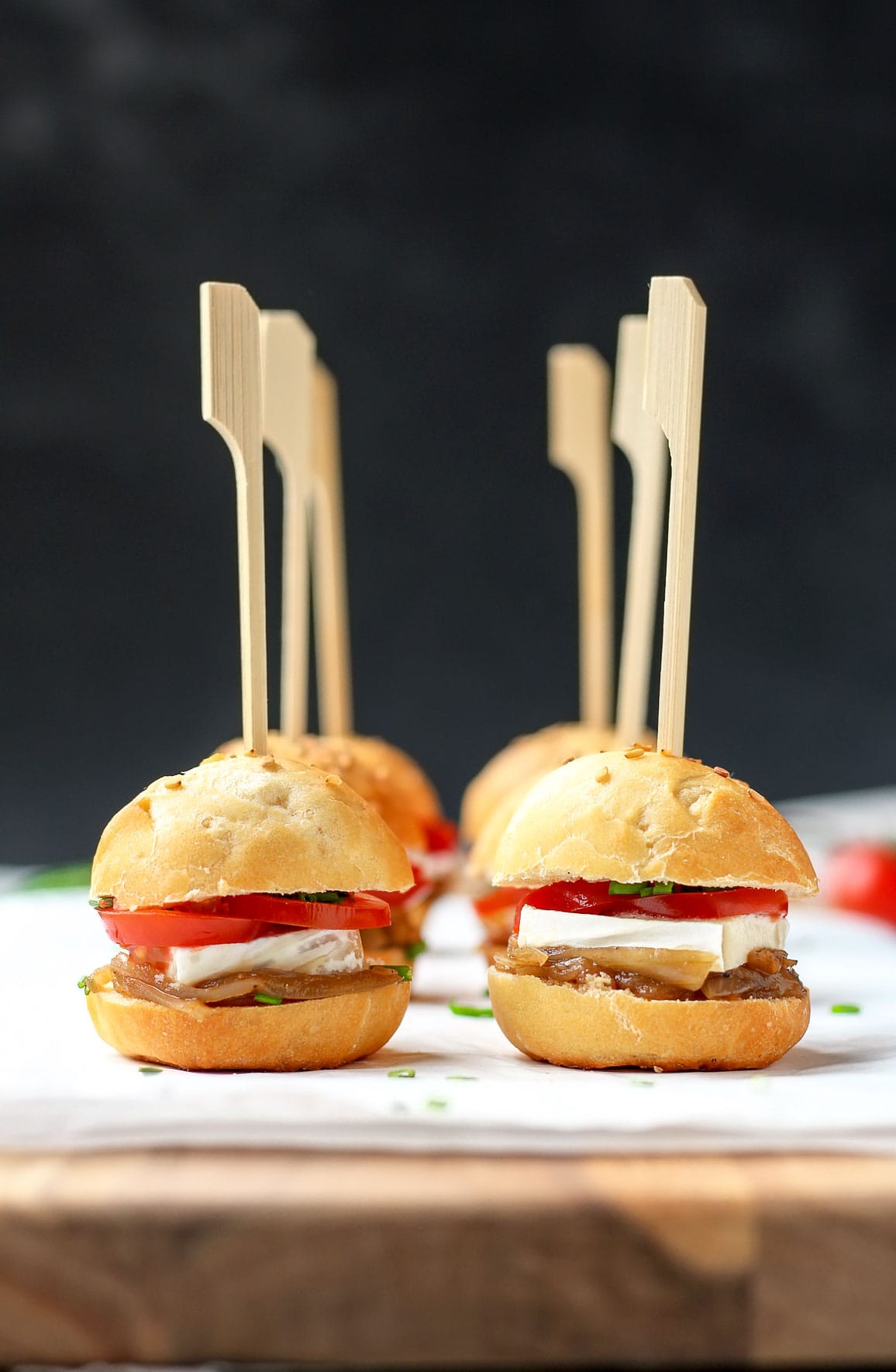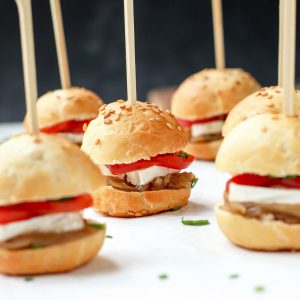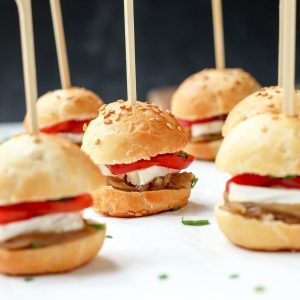 Cheeseburger Sliders
Ingredients
Caramelized Onions
2

onions

finely sliced

2

teaspoon

olive oil

1

teaspoon

maple syrup

2

tablespoon

white wine

2

tablespoon

balsamic vinegar

⅛

teaspoon

salt

⅛

teaspoon

ground ginger

½

teaspoon

cinnamon

⅛

teaspoon

nutmeg
Cheeseburgers
6

cherry tomatoes

fresh chive
Instructions
Burger buns
Place yeast into a bowl and add ¼ cup of lukewarm almond milk. Let sit for about 10 minutes.

In a large bowl, combine the flour and salt. Add the yeast, the rest of the milk, maple syrup and olive oil. Mix well and knead until you get a smooth dough.

Make a ball and transfer it to a lightly floured bowl. Cover with a clean and wet towel and let it rise in a warm place until doubled, about 2 hours.

Divide the dough into about 12-14 pieces and shape them into balls. Place the balls on a baking sheet lined with parchment paper.

Brush the balls with a mix of 2 tablespoon almond milk and 1 tablespoon sugar. Let them rise again for about 1 hour.

Preheat oven to 350°F. Brush the buns once again and top with sesame seeds.

Bake for about 8-12 minutes, or until golden brown.
Caramelized Onions
Heat the oil in a small pan over low-medium heat.

Add the sliced onions, salt and maple syrup and cook for about 10 minutes, stirring occasionally.

When onions are softened, add white wine, balsamic vinegar and spices.

Cover, lower the heat to low and cook for about 30 minutes, or until no liquid remains.

Remove from heat and set aside.
Assemble
Slice each bun in half, top the lower half with some caramelized onions, a slice of vegan camembert and one or two thin slices of cherry tomato. Add fresh chives and top with the other half of the bun.

Serve immediately at room temperature or warm them in the oven for about 10 minutes (at 300°F).
DID YOU MAKE THIS RECIPE?
Tag @fullofplants on Instagram and hashtag it #fullofplants