Because seitan can be more than steaks. These super meaty seitan rolls are coated with an amazing char siu sauce!
It's packed with flavor, perfectly chewy and meaty, and delicious on top of rice, in stir-fries, or even in bánh mì!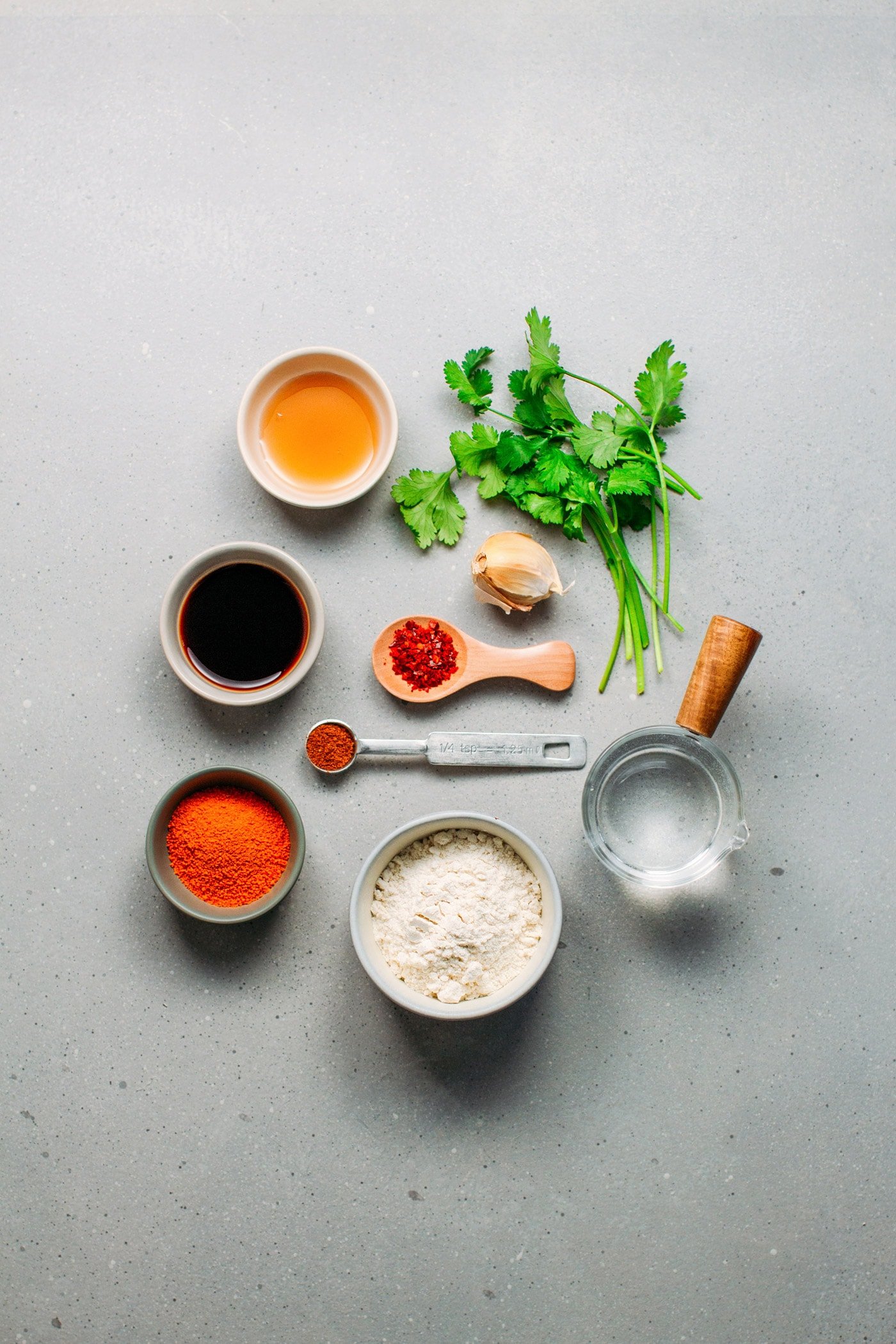 This recipe is inspired by Vietnamese "Phá lấu", which is a dish prepared with pig ears, among other meats, braised in a five-spice sauce. This one is adapted from the vegetarian version of the dish.
Instead of using vital wheat gluten, we will prepare this seitan in a more traditional way by starting with all-purpose flour. Two advantages: first, everyone has it on hand and it's cheaper than gluten. Secondly, it yields a better flavor.
Start by combining flour with water, and knead until you get a smooth dough. Cover with plastic film and let it rest for about 2 hours. Then, we will remove the starch from the dough to keep only the gluten. This is done by "washing" the dough multiple times with cold water, until the water is clear.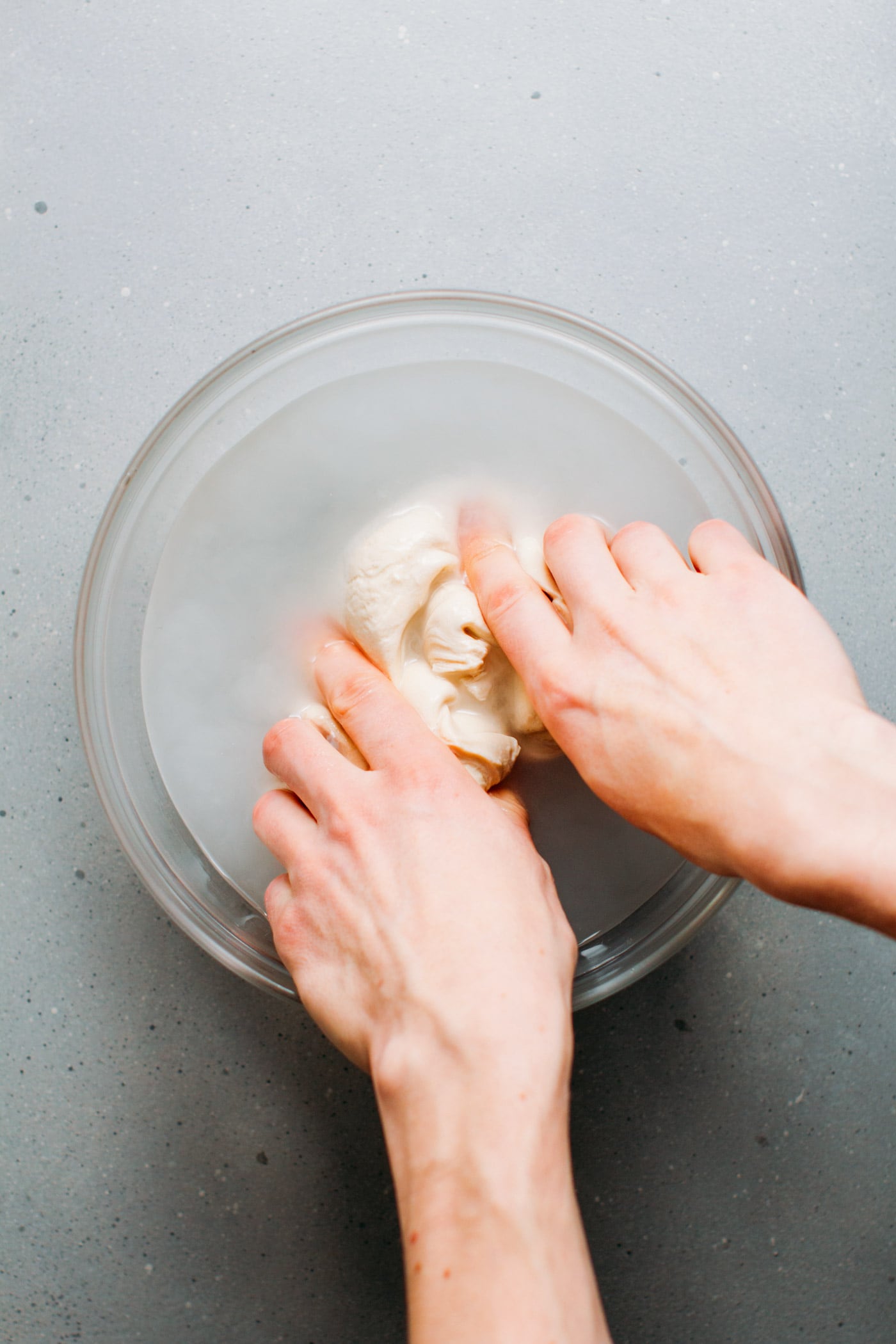 Once this step is done, it's time to make our rolls!
Wrap 3 chopsticks with plastic film to create thicker sticks. If you don't have chopsticks, you could use the handle of wooden spoons or spatula. Next, roll a strip of seitan around each stick to create a thick roll.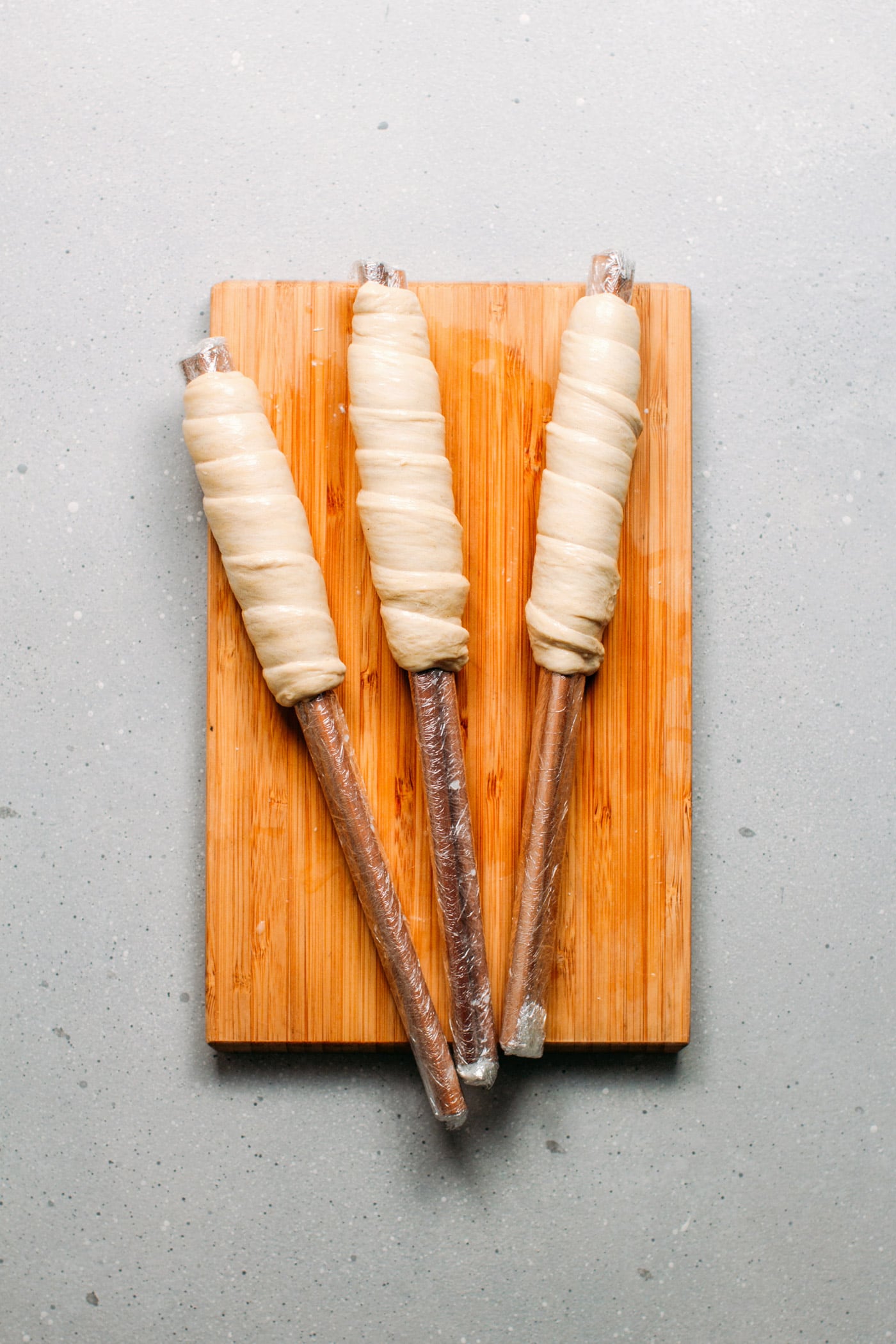 To cook, add the seitan rolls around the chopsticks to a skillet of boiling water. Cook for 7 minutes. I found that to be the perfect time to get a chewy yet tender texture.
Now let's talk about the sauce that brings all the flavors! It starts with char siu powder, bringing that deep red color as well as the characteristic flavors of char siu. Then, we have soy sauce, maple syrup, and five-spice powder for extra flavor. If you want it a bit more on the spicy side, feel free to add chili powder.
Sautée the rolls with the sauce until it thickens and becomes syrupy, sooo good!
I hope you will love these seitan rolls! They are meaty, chewy, and that char siu sauce is incredibly tasty.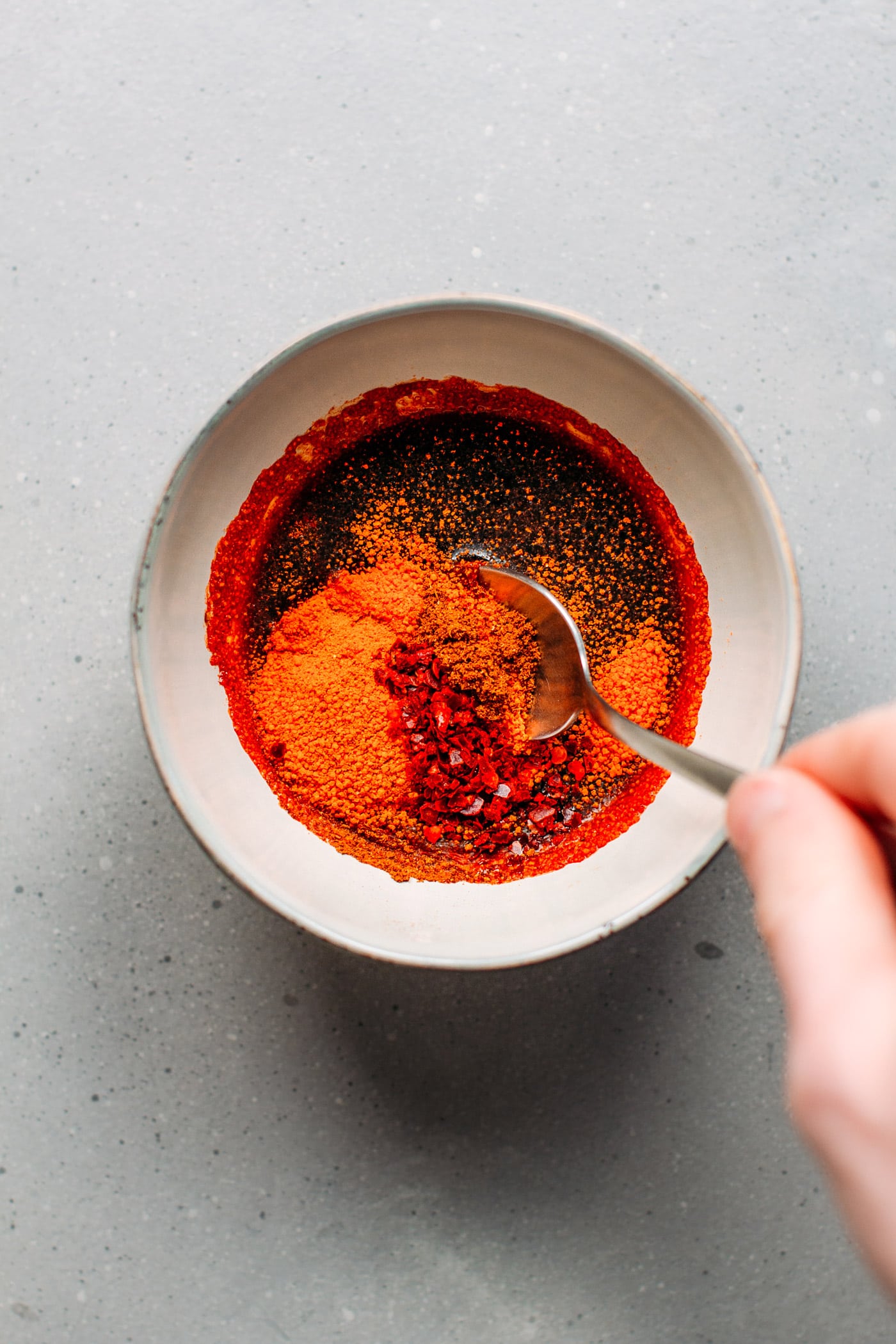 Serve these rolls cut into slices over steamed rice, or add to stir-fries, curries, etc. Do you know where these rolls are also delicious? In bánh mì! A great way to add extra protein and meatiness!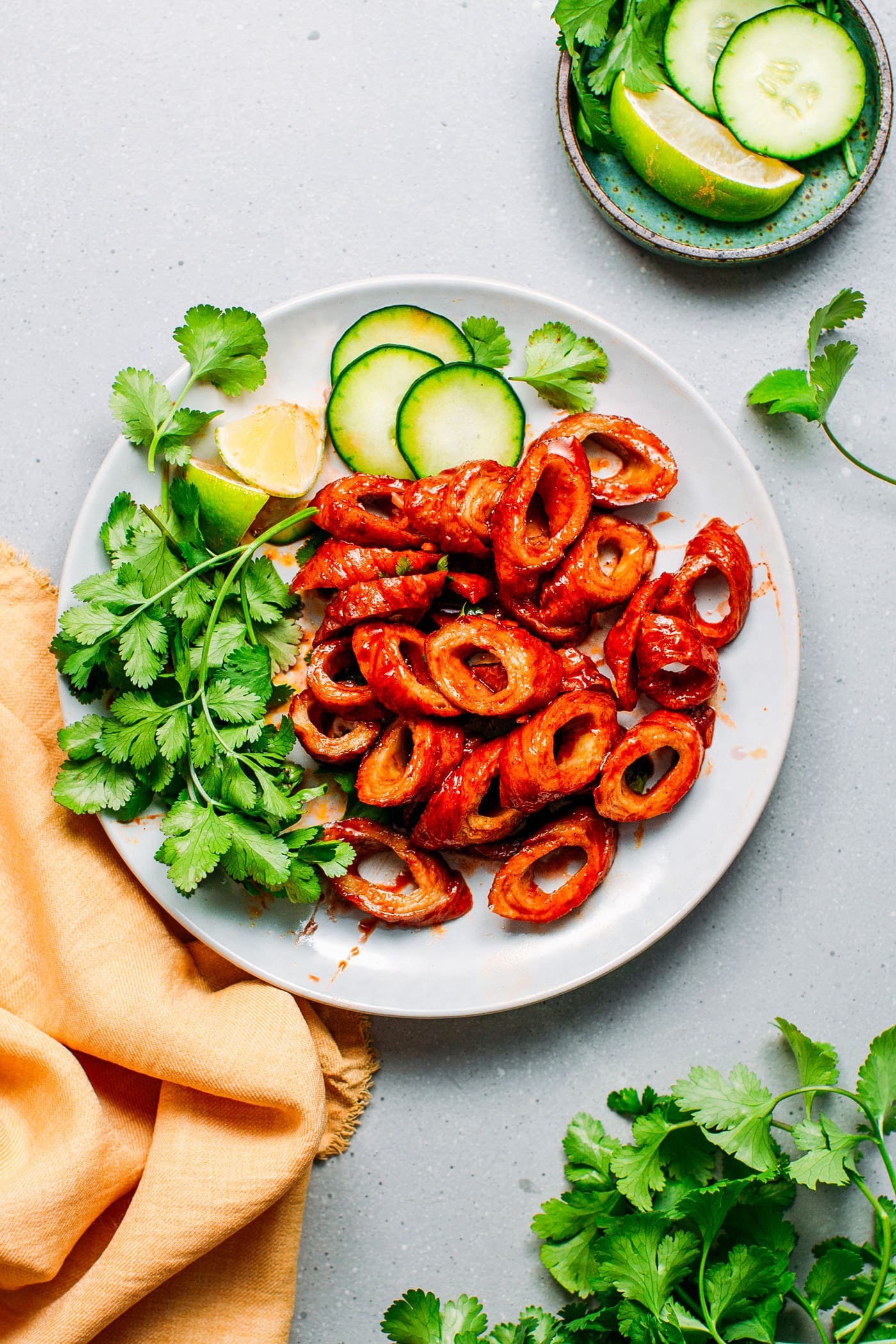 Looking for more high-protein recipes? Check out these Almond Butter Tofu Skewers, High-Protein Vegan Burgers, or these Sesame & Peanut Tempeh Skewers!
Let me know in the comments if you try this recipe!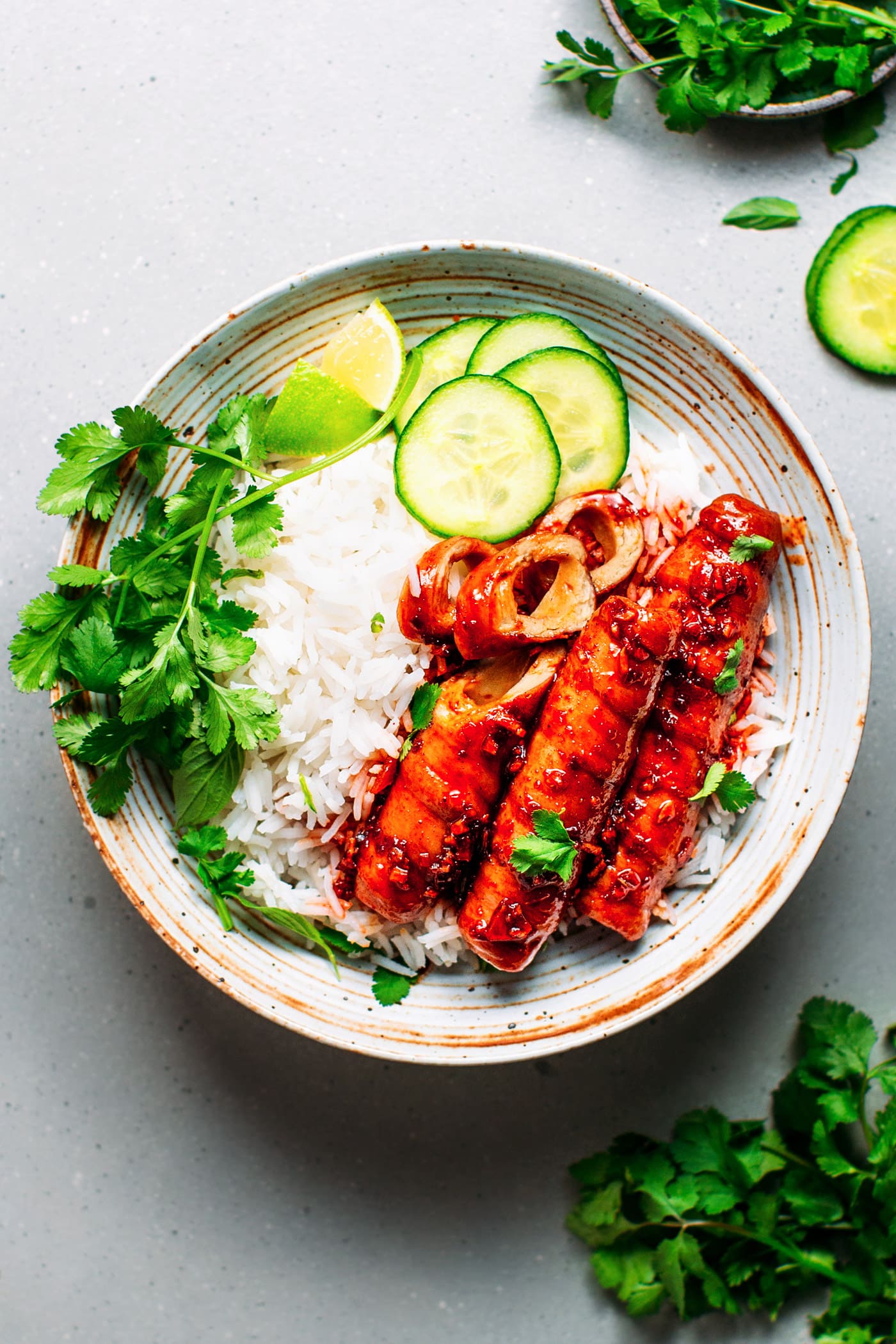 Char Siu Seitan Rolls
Tender and meaty seitan rolls coated in a syrupy char siu sauce! These Vietnamese inspired rolls are SO flavorful + versatile + high-protein!
Instructions
Add the flour and water to a large mixing bowl or bowl of a stand mixer. Knead for 3-5 minutes, or until your get a smooth dough. If it's too dry add more water, if it's too sticky add more flour. It should have the texture of pizza dough. Cover with plastic film and let it rest at room temperature for 2 hours.

Now you want to remove the starch to keep only the gluten. To do that, transfer the dough to a large mixing bowl and rinse the dough with cold water multiple times. Keep kneading the dough and rinsing until the water runs clear. I recommend doing that above a fine mesh to make sure you don't lose any gluten. At some point the dough will seem to disintegrate: keep rinsing and kneading until it turns into a sticky piece of dough. Once the water is almost clear, your seitan is ready. Drain it well and transfer to a bowl. Let it rest another 30 minutes.

In the meantime, wrap 3 chopsticks together with plastic film to create a thick stick. Repeat 5 more times to get 6 thick sticks.

Using your hands, slightly flatten the dough into a thick rectangle of about 5x3-inch. Slice it into 6 strips. Take one of the sticks and carefully wrap the dough around it, overlapping about ⅓ each turn (see photos). The roll should be quite thick (about ¼-inch) and about 4-inch long. Pinch at the end to prevent the seitan from unrolling. Repeat with the remaining dough and sticks.

Fill a deep skillet with water. The skillet should be large enough so the sticks can fit into it. Bring the water to a boil and lower to a simmer (gentle boil).

Add the seitan sticks to the skillet and let it simmer for about 7 minutes. You can adjust the cooking time to your liking. Cook for 6 minutes for a more tender seitan and up to 12 minutes for a very chewy and firmer one.

Immediately remove the seitan sticks from the boiling water and transfer to a bowl filled with cold water. Carefully remove the seitan rolls from the chopsticks. Your seitan rolls are now ready! You can keep them for up to 5 days in the refrigerator in cold water.

Heat the oil in a non-stick skillet over medium heat. Once hot, add the minced garlic and sautée for about 2 minutes. Add the whole seitan rolls and sautée for 3-5 minutes, or until slightly golden.

In a small bowl, combined the char siu powder, soy sauce, water, maple syrup, five spice, and chili flakes if using. Pour the sauce into the skillet and cook for 5-7 minutes, stirring regularly to coat the rolls with the sauce. Turn off the heat once the sauce has a syrupy consistency.

Use a pair of scissors or a knife to cut the rolls into small pieces and serve over a bed of rice! You can also use the sliced seitan in stir-fries, sandwiches, etc, to add a meaty texture.
DID YOU MAKE THIS RECIPE?
Tag @fullofplants on Instagram and hashtag it #fullofplants