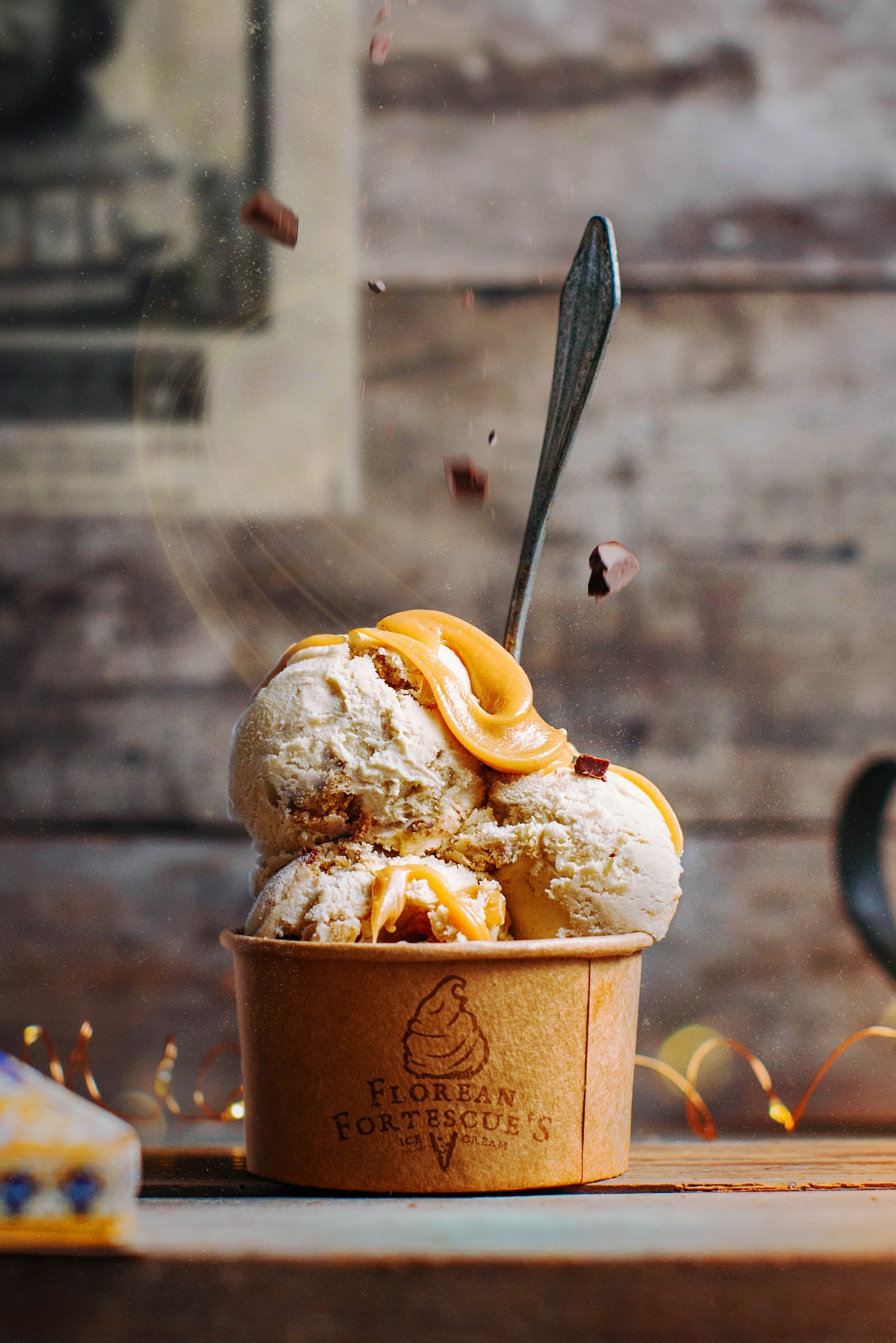 — This recipe is part of the Harry Potter Inspired Recipes Week —
With swirls of butterscotch caramel and big chunks of pumpkin cookie dough, this flavor is a best seller at Florean Fortescue's Ice Cream Parlor. It is so popular that students are required to send their orders by owl 4 hours prior to coming to the shop. Without doing so, you may end up with the only leftover flavor: Earthworm Marshmallow ice cream.
"This flavor is so popular I saw two students confront in a duel to decide who would get the last one," said Tom, innkeeper of the Leaky Cauldron, a popular pub located near the Ice Cream Parlor.
After insisting heavily (aka sneaking a truth serum in its Butterbeer), Florean was kind enough to share his secret recipe with me. Let's make ice cream!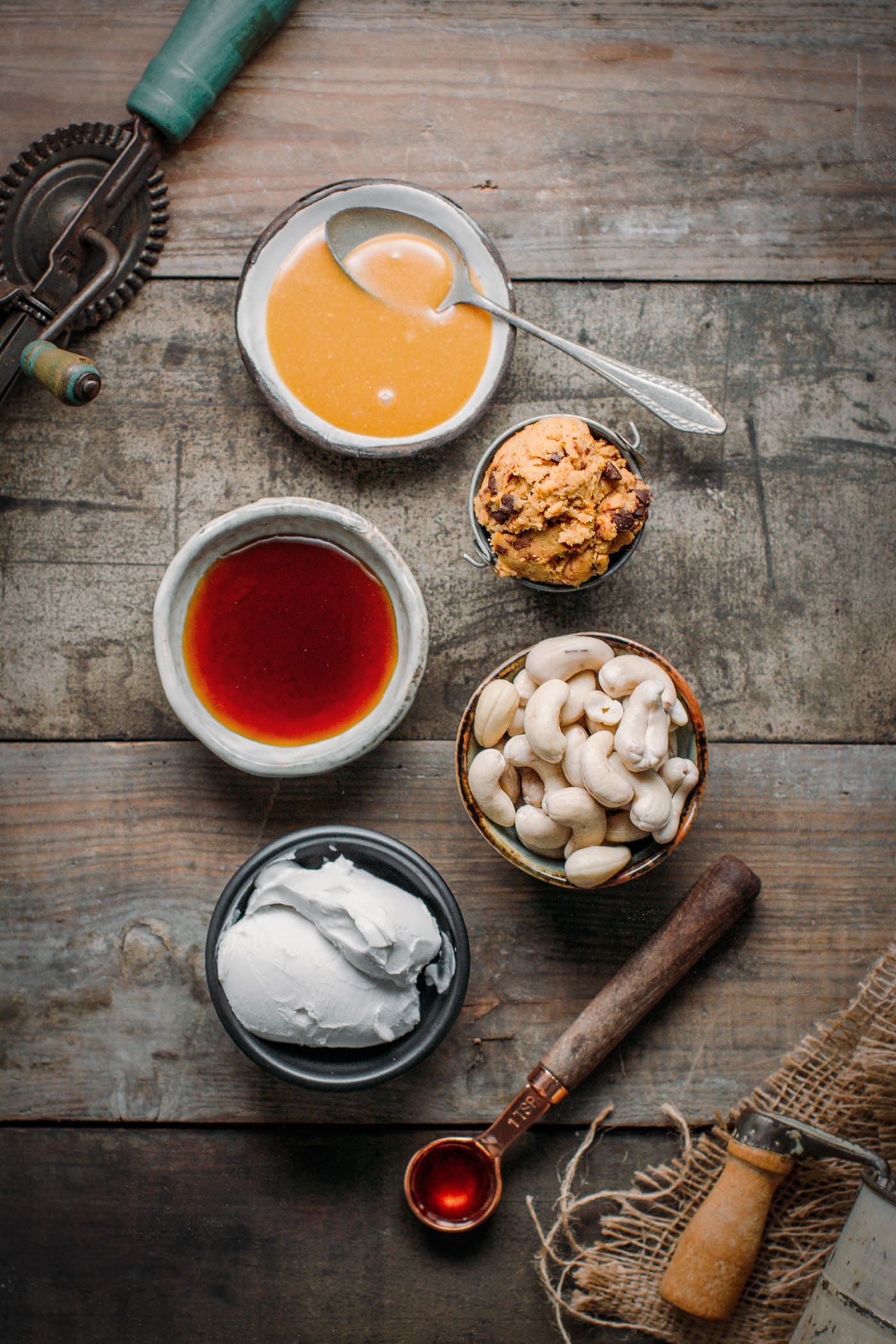 The base of the ice cream relies on raw cashews and coconut cream, both creating a rich and creamy texture. Getting a scoopable ice cream needs the correct amount of fat and sugar. Otherwise, it either crystallizes or becomes rock-hard straight from the freezer. The point is, I don't recommend trying to lower the fat or sugar content of this recipe.
To sweeten it, I went with coconut syrup that adds a delicious caramel flavor. I guess you could use agave syrup or maple syrup if you don't have coconut syrup on hand.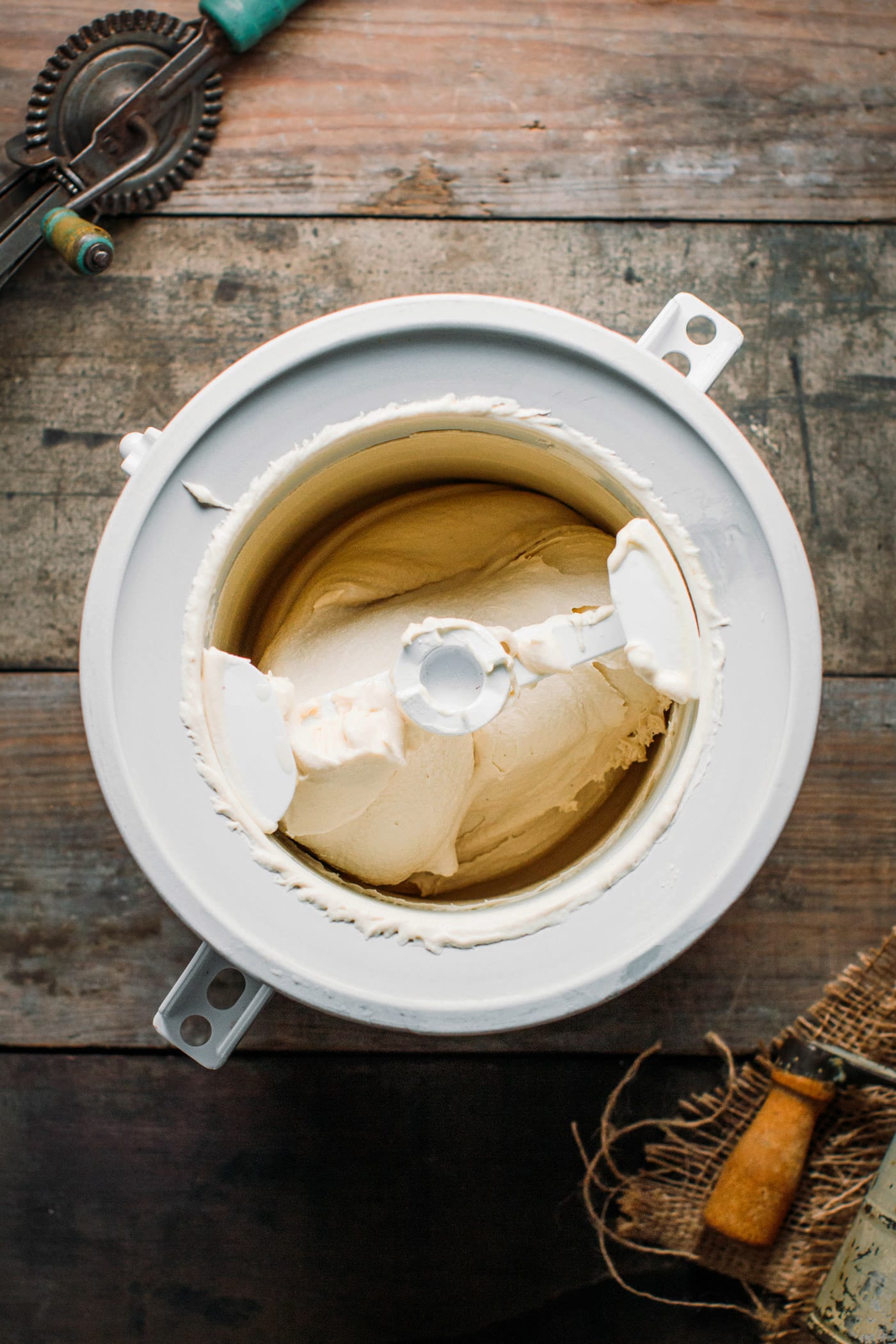 For extra flavor, I also added a couple tablespoons of amaretto liqueur. Not only does it add a nutty caramel flavor, but the alcohol content also helps with the ice cream texture, making it more scoopable. You can substitute it for one tablespoon of vodka.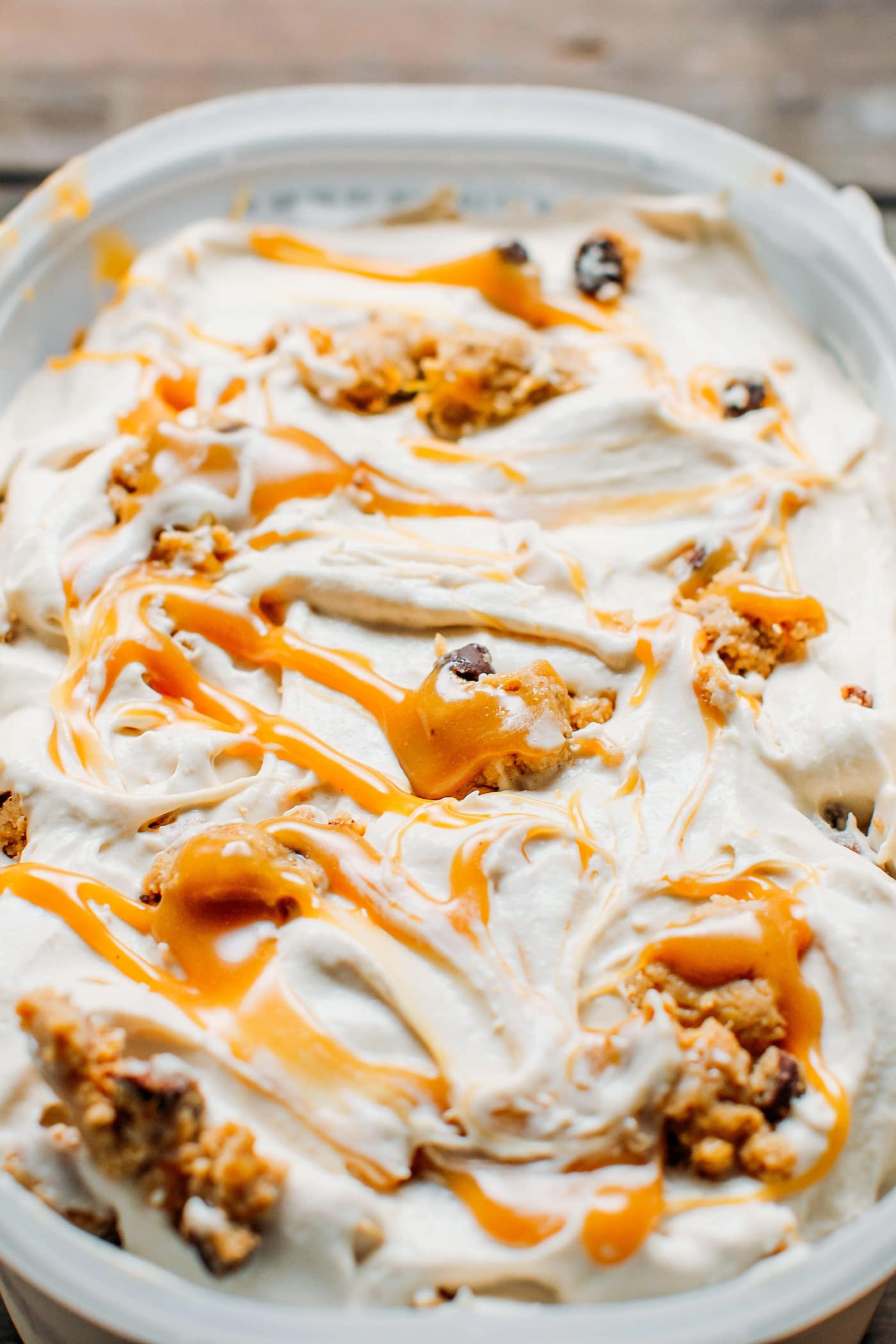 Next comes the most interesting part: the add-ins! We have:
Pumpkin Cookie Dough: A cookie dough packed with pumpkin flavor, a pinch of cinnamon, and a lot of chocolate chips!
Butterscotch Caramel Sauce: Drizzled through the ice cream, the caramel adds saltiness that balances with the sweet cookie dough!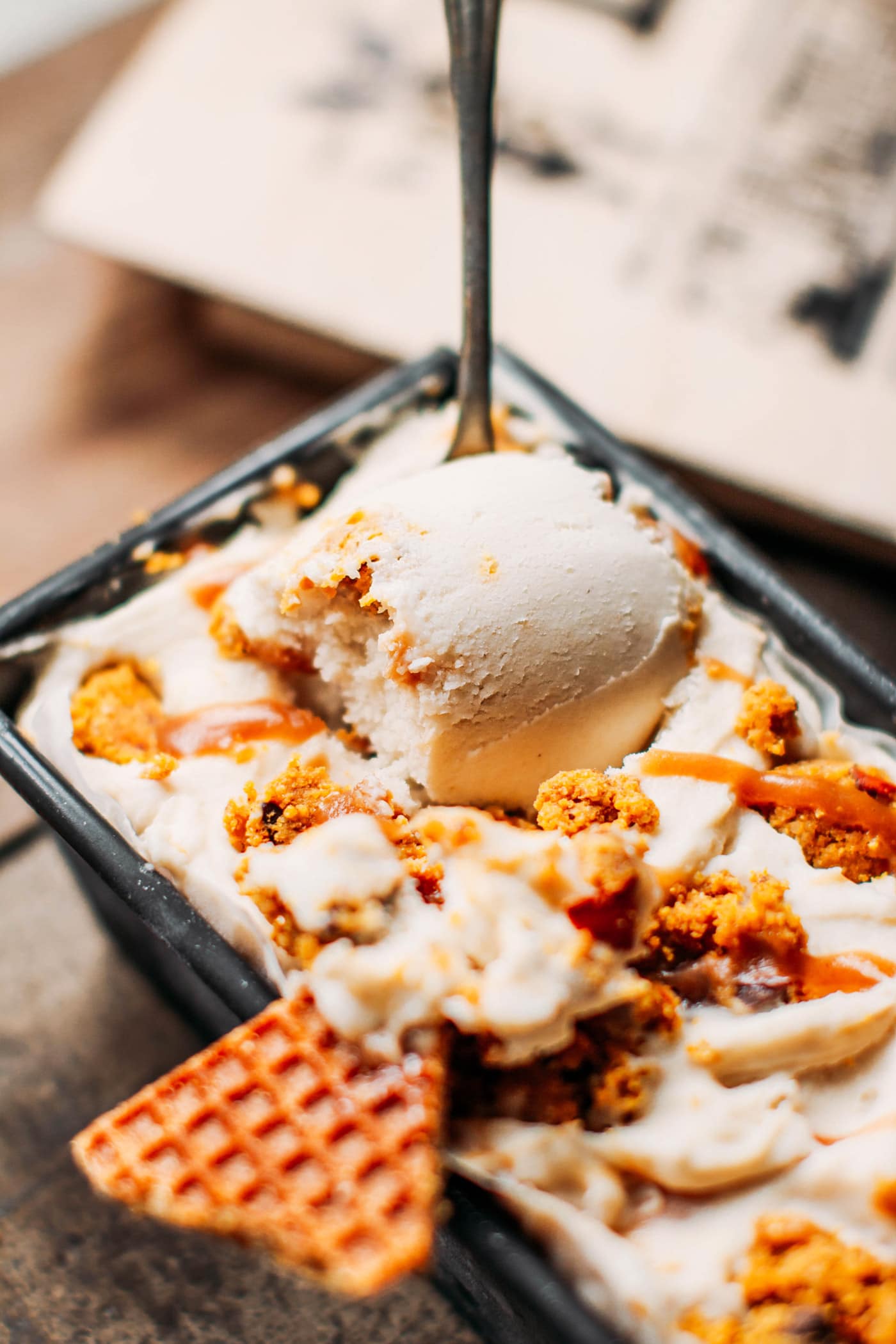 This ice cream is magical! Loaded with pumpkin chocolate chip cookie dough and swirls of vegan salted caramel. It is super creamy, rich, and not to say the least, addicting!
Let me know in the comments if you try this recipe!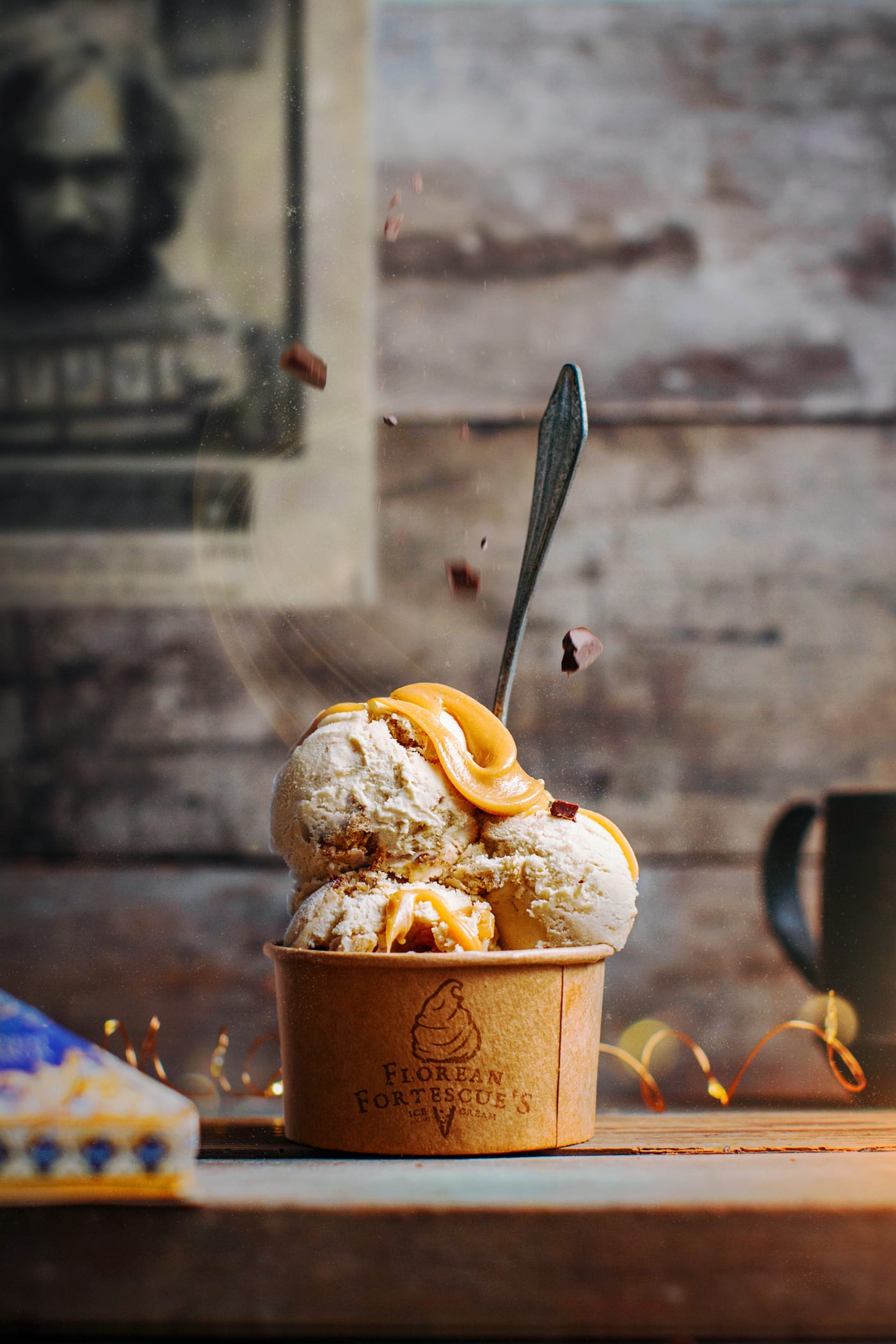 Recipe
Butterscotch Swirl Pumpkin Cookie Dough Ice Cream
Vanilla ice cream loaded with pumpkin cookie dough, chocolate chips, and swirls of salted caramel!
Instructions
Pumpkin Cookie Dough
In a mixing bowl, stir together the oat flour, vegan butter, maple syrup, coconut sugar, pumpkin puree, vanilla extract, and cinnamon until you get a dough. If your dough appears too dry, add more butter. Stir in the chocolate chips and set aside.
Butterscotch Sauce
In a small bowl, whisk together the cashew butter, maple syrup, coconut oil, salt, vanilla extract, and amaretto. Taste and adjust saltiness to your liking. Set aside.
Ice Cream
Drain the cashews and transfer to a high-speed blender.

Scoop out the cream (hard part) from the coconut milk and add it to the blender. Discard the liquid coconut water. Add the coconut syrup, maple syrup, vanilla extract, and the other extracts if using.

Blend on high speed for about 30 seconds, or until you get a very smooth cream. Stir in the guar gum and blend for another 10 seconds. Transfer to a large bowl, cover with plastic film, and refrigerate at least 2 hours.

Add the chilled cream to an ice cream maker and churn for about 30 minutes (or according to your ice cream maker instructions). 5 minutes before the end, stir in the amaretto extract, it will add flavor to the ice cream and prevent it from hardening too much.

Transfer about 1 cup of the ice cream to a freezer-safe container, drizzle with the caramel sauce and add some bites of cookie dough. Cover with more ice cream and repeat the process a couple more times.

Transfer to the freezer and freeze for at least 4 hours before enjoying! The ice cream will be scoopable even after days in the freezer and will keep for up to one month.
Notes
*You can sub coconut syrup for agave or maple syrup. I went with coconut syrup as I like the subtle caramel flavor it adds.
Recipe was given by Florean Fortescue.
Calories don't count in the Wizarding World.
Did you make this recipe?
Tag @fullofplants on Instagram and hashtag it #fullofplants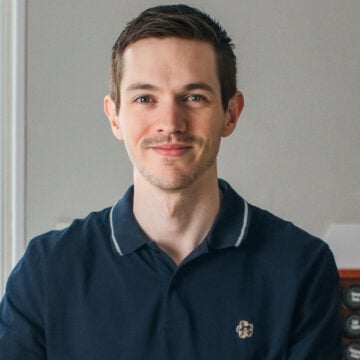 About the Author
Thomas Pagot is the founder, photographer, and recipe developer behind Full of Plants. He created the blog in 2016 as a personal cookbook for vegan recipes. Through years of recipe development, Thomas has successfully grown Full of Plants into a trusted resource for plant-based recipes.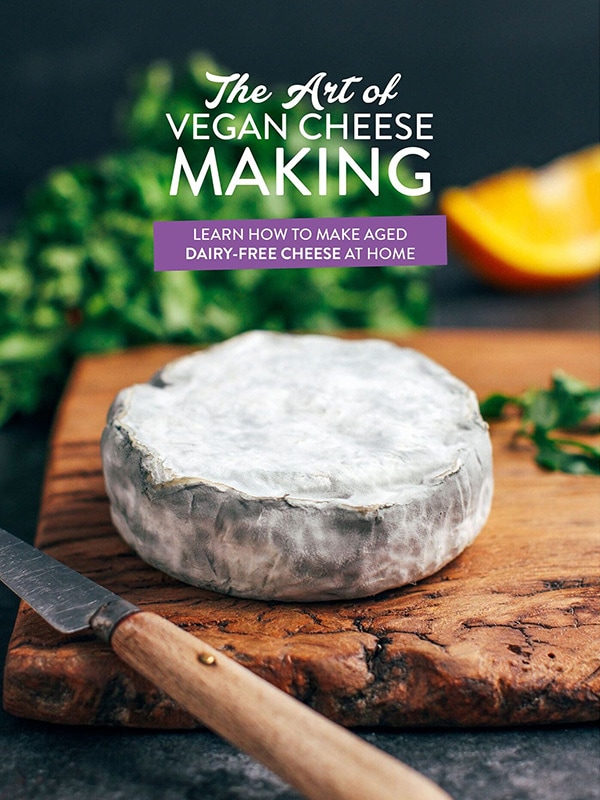 🧀 25 Mind-Blowing Vegan Cheese Recipes!
Sign up for the Full of Plants newsletter and you'll get new recipes delivered by email weekly, PLUS your FREE 100-page printable eBook!