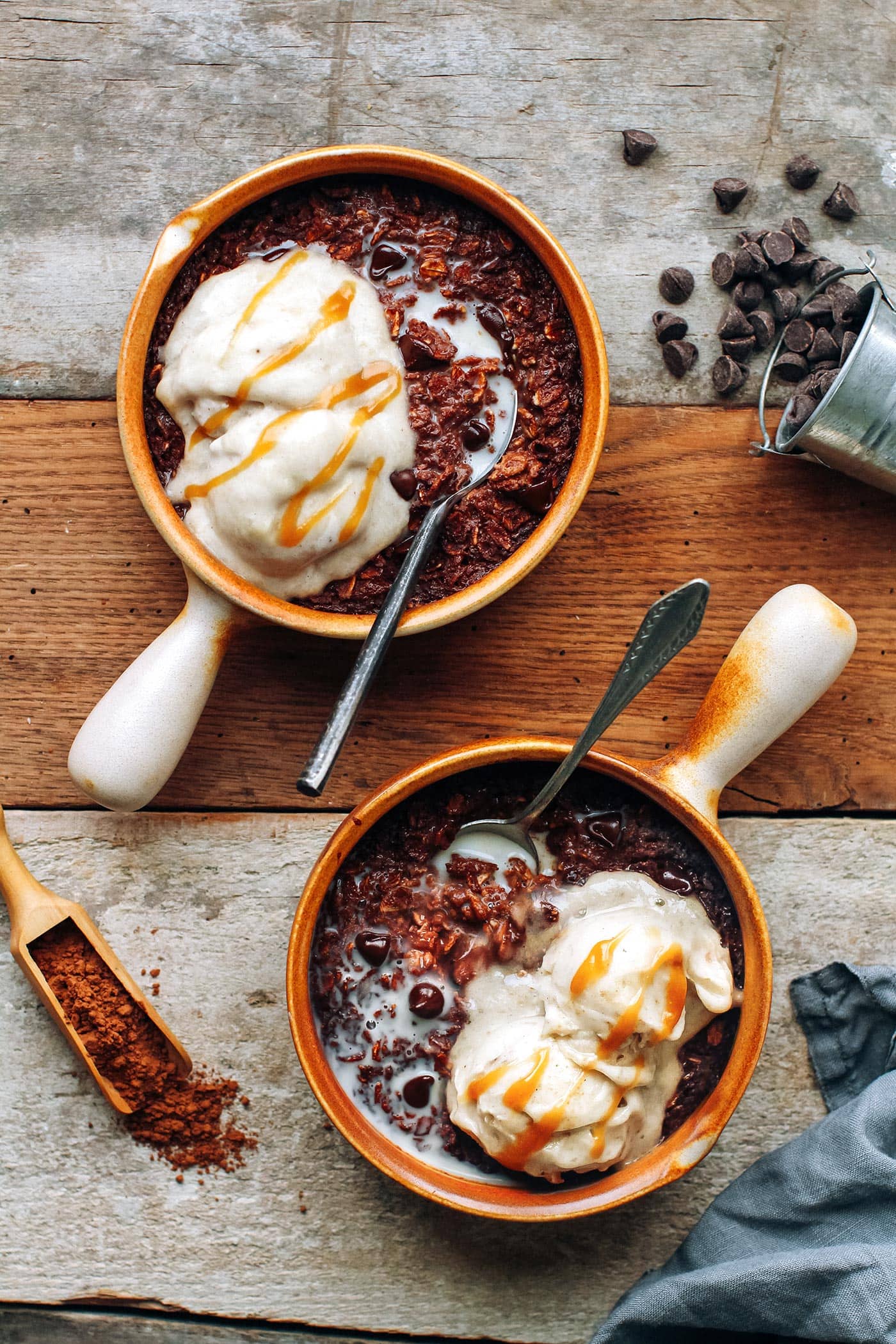 Okay okay, this right here might be the best breakfast I ever had.
It's brownie oatmeal topped with banana ice cream! I can't believe I haven't tried this sooner! So easy yet insanely delicious. You guys have to try that warm, chocolatey baked oatmeal topped with a creamy vanilla banana ice cream. It's naturally sweetened, and the perfect combination of comforting oatmeal with refreshing ice cream. It's dessert for breakfast but in a healthy way.
My regular breakfast is usually cinnamon or chai oatmeal with a variety of toppings: raisins, dates, figs, almond butter, banana, chocolate chips, etc. The base remains the same but the toppings change every day. I would say I have this 80% of the time. When I don't have oatmeal it's usually banana ice cream, pancakes, or tofu scrambled. So this is basically by two go-to breakfasts combined in one. Yes, this recipe is very easy but trust me, it's not lacking in flavor!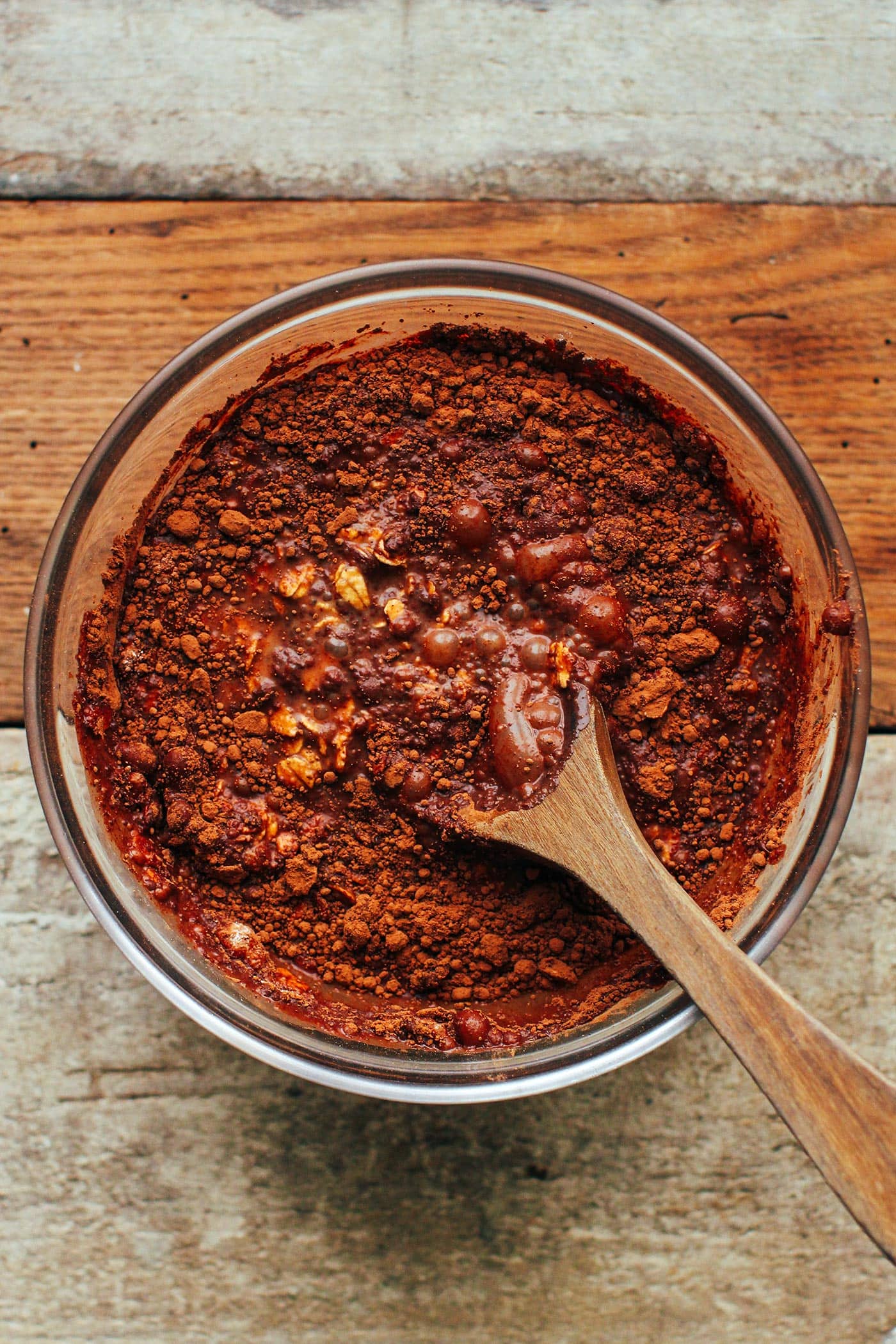 The brownie oatmeal requires staple ingredients: rolled oats, cocoa powder, almond milk, maple syrup, and baking powder. I also added applesauce to make the oatmeal moister and sweeter. If you want you can sub the applesauce for mashed bananas!
Combine all the ingredients together in a bowl, divide into two ramequins and bake 20 minutes.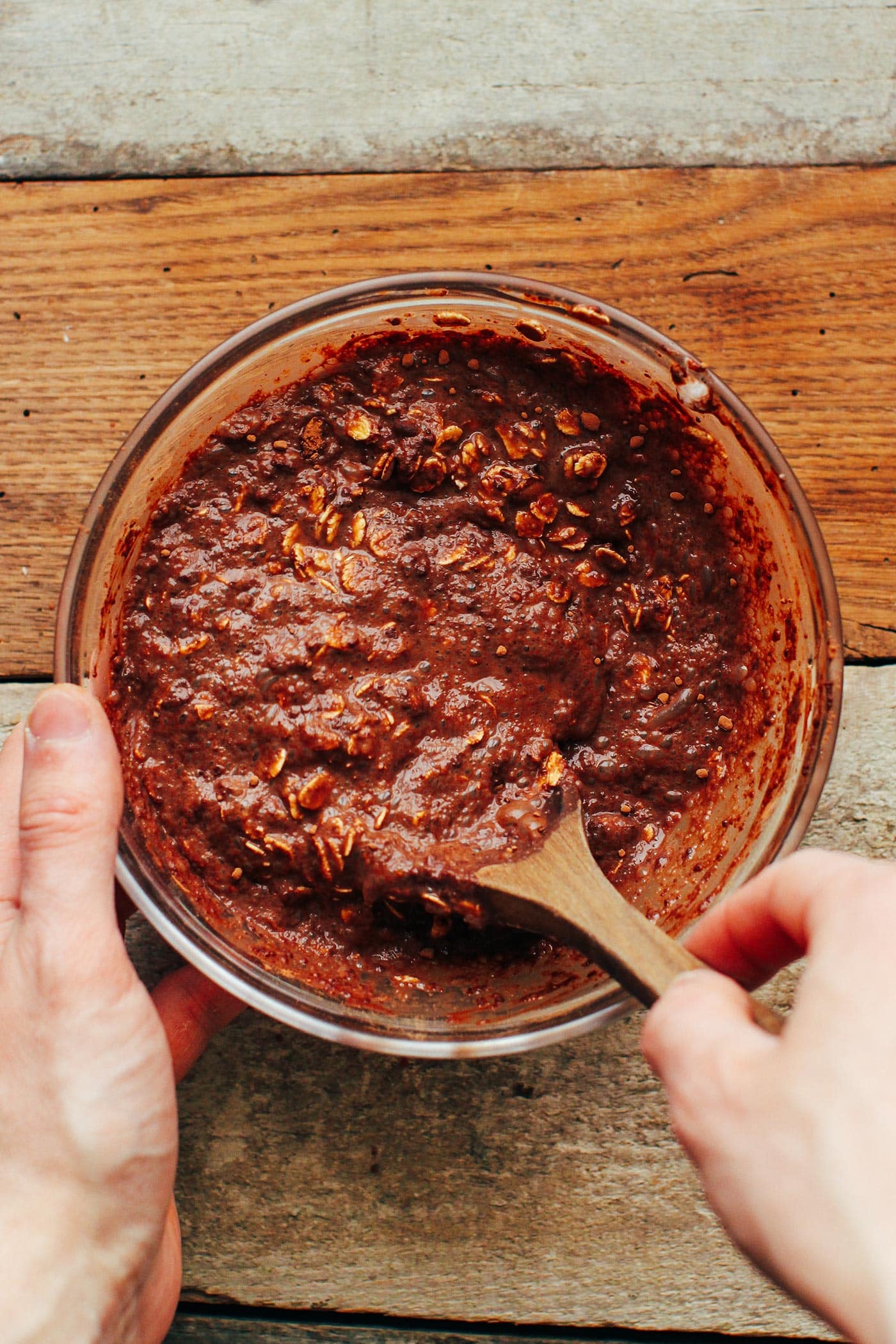 Once your oatmeal is ready, remove from the oven and prepare the banana ice cream. You will have enough time to make it before the oatmeal starts to cool.
Finally, the toppings. Chocolate chips, almond butter, nuts, raisins, melted chocolate, you name it. The possibilities are endless! Personally, I went with a super easy peanut caramel sauce because chocolate + vanilla + caramel is awesome. The sauce recipe is in the recipe's notes, it consists of peanut butter mixed with maple syrup, vanilla extract, and a good pinch of salt.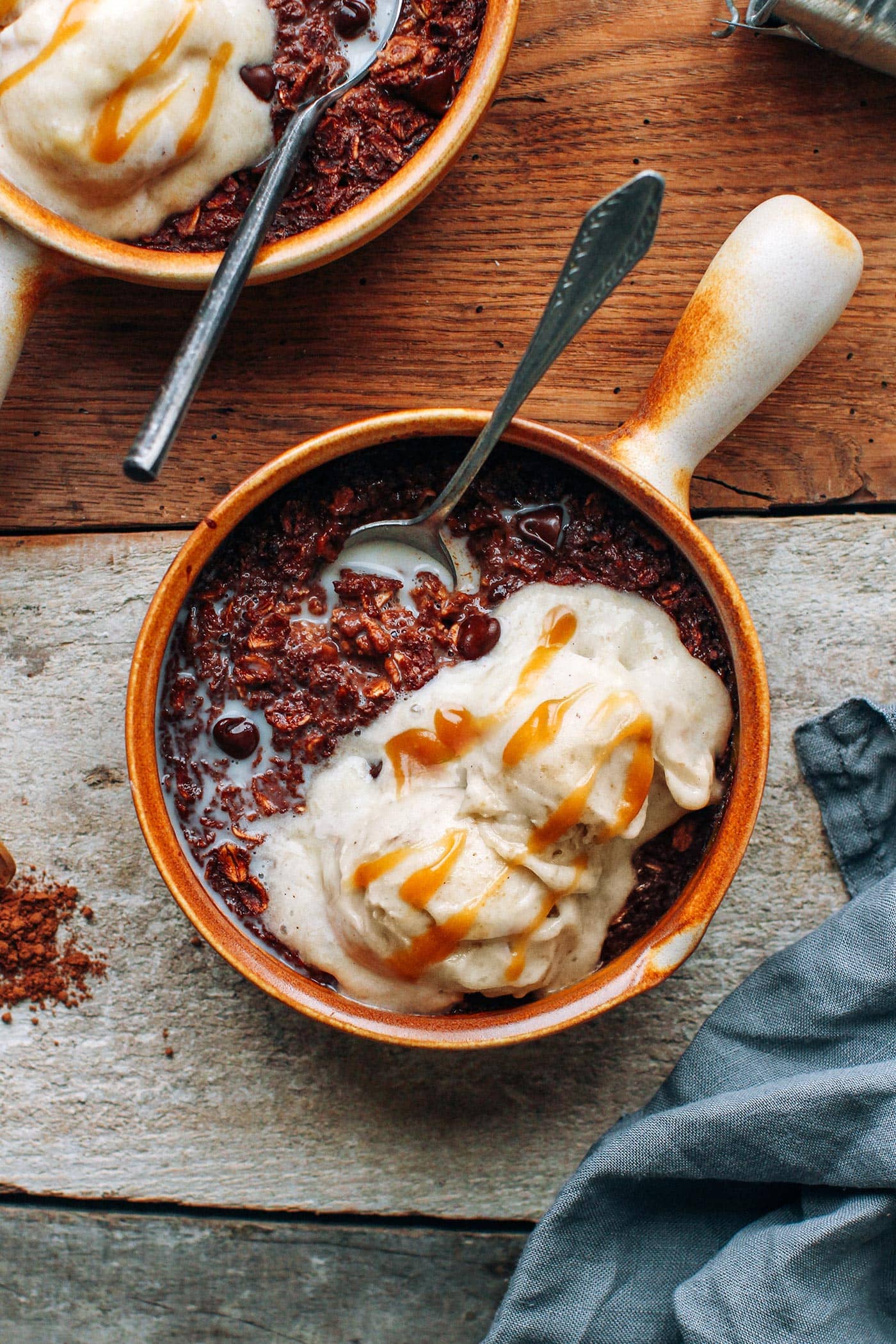 If you are looking for a hot and cold breakfast that tastes just like a high-calorie dessert, this recipe is for you! It's healthy, filling, packed with good carbs, and delicious!
Let me know in the comments if you try this recipe!
Brownie Oatmeal with Banana Ice Cream (Hot & Cold!)
Warm and comforting chocolate oatmeal served with vanilla banana ice cream! The ice cream melts into the hot brownie oatmeal!
Ingredients
Brownie Oatmeal
1

cup

rolled oats

1/4

cup

cocoa powder

1/4

tsp

baking powder

1/8

tsp

salt

1

cup

almond milk

1/4

cup

unsweetened applesauce

2

tbsp

maple syrup

1

tsp

vanilla extract
Banana Icecream
2

medium ripe bananas

1/4

tsp

vanilla extract

optional toppings: chocolate chips, melted chocolate, caramel sauce, nuts, etc
Instructions
The day before: peel the bananas and slice them into 1/2-inch slices. Put the banana slices in an airtight container or freezer bag and freeze for at least 2 hours. Frozen bananas will keep for months in the freezer so feel free to make big batches.
Brownie Oatmeal
Preheat oven to 350°F (175°C).

In a mixing bowl, combine the rolled oats, cocoa powder, baking powder, and salt together. Pour in the almond milk, applesauce, maple syrup, and vanilla extract. Taste the batter to see if it's chocolatey and/or sweet enough for you. If it's not, add more cocoa powder and/or maple syrup. At this step, you can stir in your favorite add-ins: chocolate chips, walnuts, raisins, etc.

Divide the batter into two small ramequins (around 4.5-inch round) and bake for 18-20 minutes, or until the top appears set.

Remove from the oven and let it cool a bit while you prepare the banana ice cream.
Banana Icecream
Transfer the frozen banana slices to a food processor. Add the vanilla extract and process until it looks like soft-serve ice cream. At first, it will look like crumbled bananas but will become smooth and creamy as you continue to process. If using a blender, add 1/4 cup almond milk.

Divide the banana ice cream in two and place on top the brownie baked oatmeal and top with your favorite toppings. Chocolate chips, almond butter, melted chocolate, nuts, etc.
Notes
Peanut caramel sauce: Mix 1 tbsp peanut butter with 3 tbsp maple syrup, 1/4 tsp vanilla extract, and a pinch of salt.
For more protein, add 2 tbsp protein powder to the banana ice cream.
This is a pretty filling breakfast. If you want to make it lighter, just use one banana instead of two. You will get about one scoop of ice cream instead of two on top of your oatmeal. Calories per serving will be around 390.
Nutrition
Serving:
1
serving
Calories:
453
kcal
Carbohydrates:
90.3
g
Protein:
12.3
g
Fat:
7.9
g
Fiber:
13.3
g
Sugar:
31.1
g
DID YOU MAKE THIS RECIPE?
Tag @fullofplants on Instagram and hashtag it #fullofplants