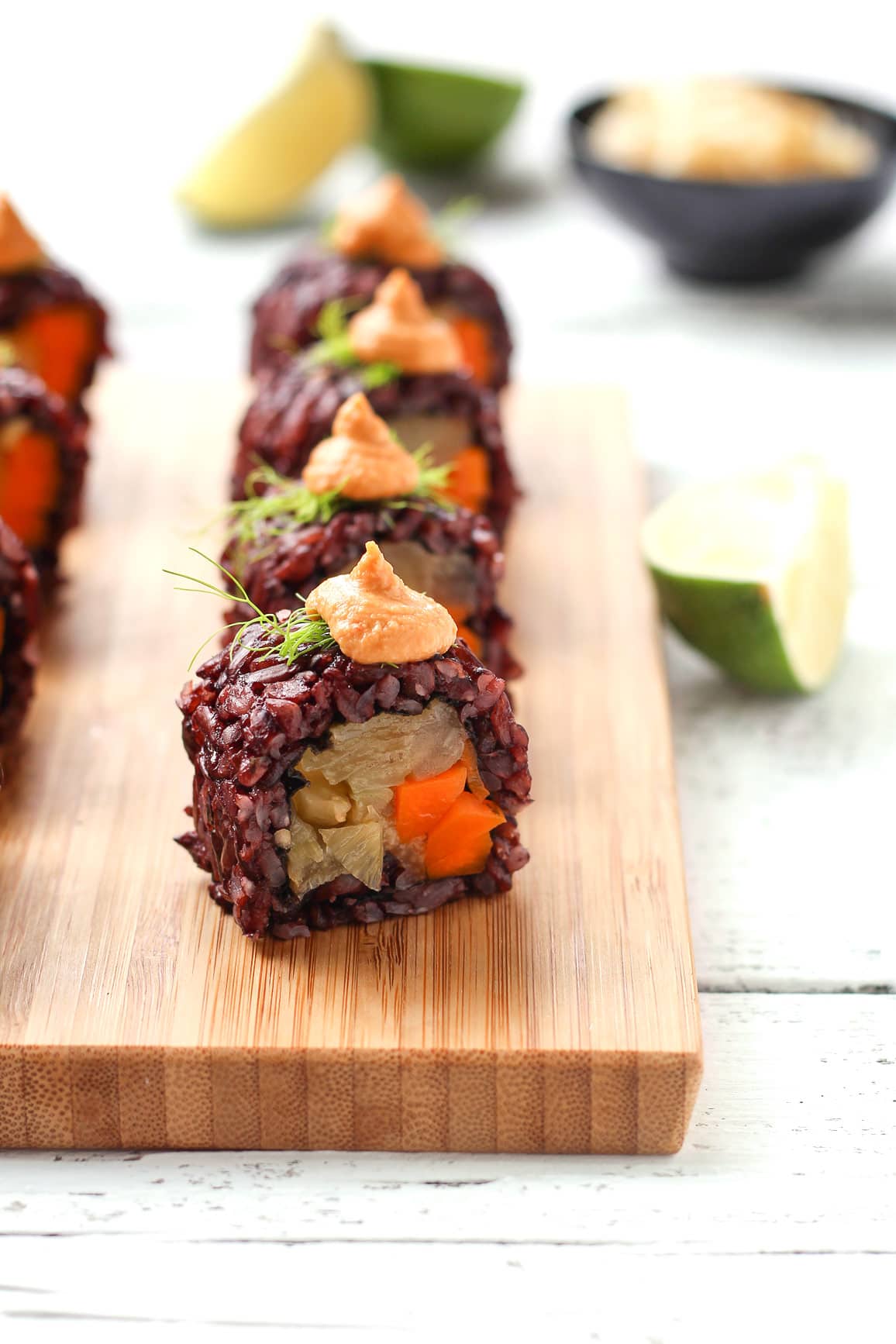 Summer is probably the period of the year when I crave sushi the most. Sushis are the perfect healthy meal; they are fresh and easy to eat, and you can keep the leftovers for a couple of days since they do not contain any fish.
What's in this recipe: Braised fennel, carrots marinated with ginger, black rice cooked with star anise, served topped with a cashew-sriracha sauce. Easy, healthy, and has a TON of flavor.
This braised fennel sushi recipe starts with black rice, also known as forbidden rice. It's a whole grain, just like brown rice, rich in fiber and a good source of iron. It has a similar taste to brown rice and turns purple once cooked. It's a great way to add color to your dishes. The rice is cooked with a few stars anise to add a subtle anise flavor that pairs well with the fennel.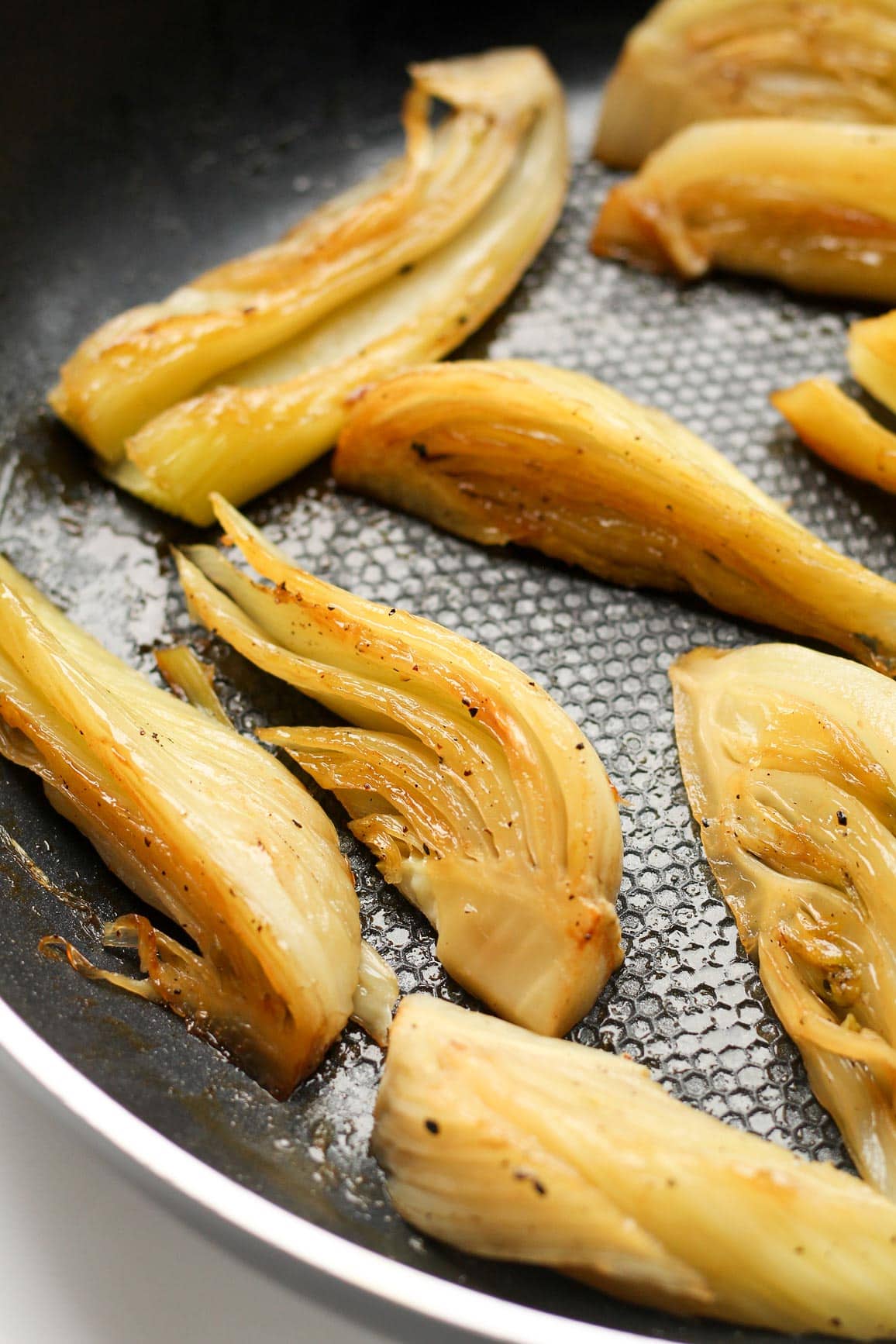 While the rice is cooking, you prepare the fennel and make sure to caramelize it for an extra kick of flavor. Then you have the marinated carrots that I recommend you prepare a few hours before so they have time to soak up the marinade.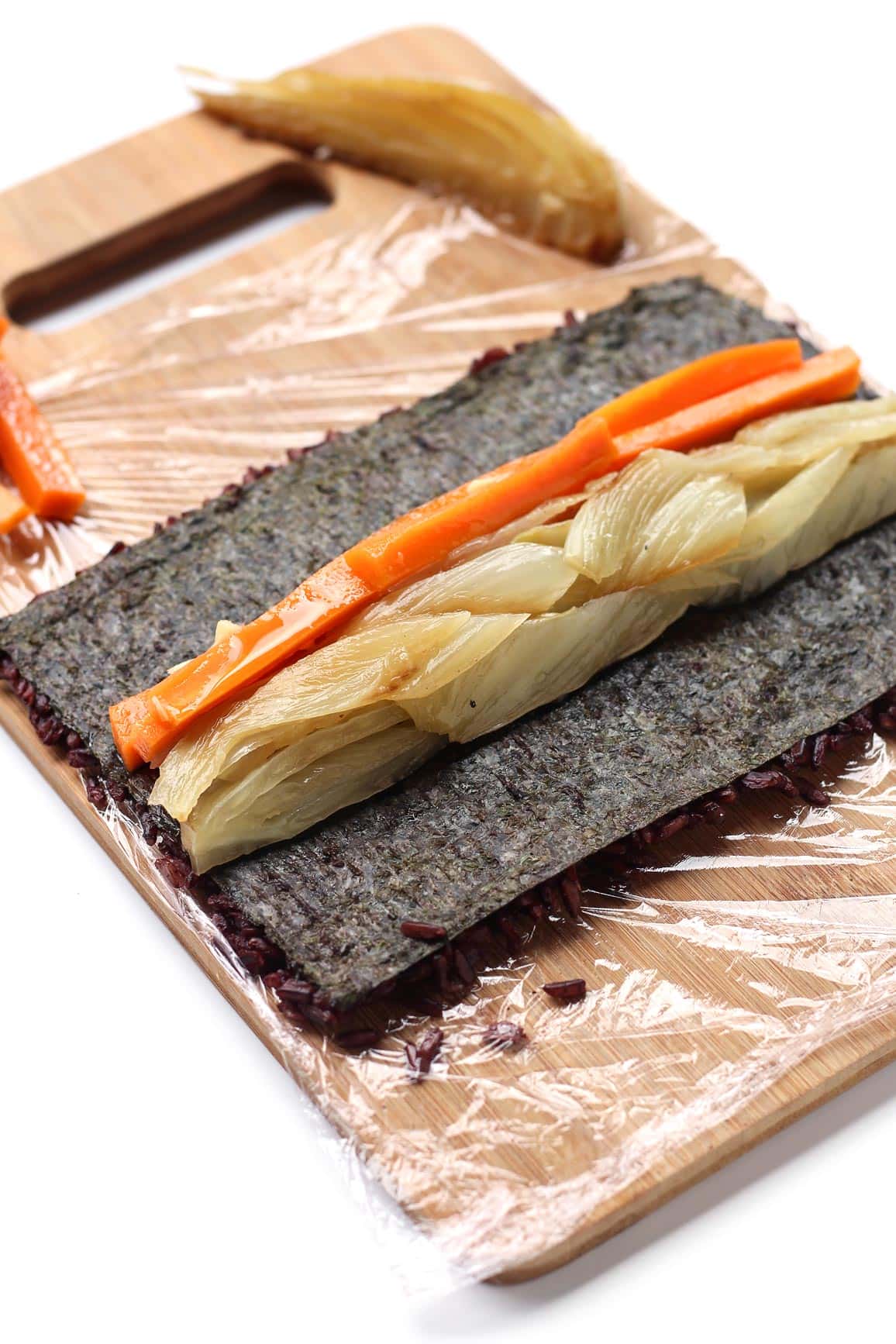 Then you top the nori sheet with a thin layer of black rice and flip it. Cut the fennel into strips and add the carrots. Roll. Cut. Put it in the fridge. Ready to eat.
Okay…it might not be as simple if you have never made any sushi before, but there is a beginning to everything, right? I have to admit it took me three times before making nice-looking sushis that had a thin layer of rice. My first ones were like 80% rice and 20% filling, which was not good. You don't want to put too much rice on the nori sheet, or you won't taste the filling.
And if you are wondering, YES, my kitchen looks like a mess every time I make sushis, like rice everywhere. I seriously need to get more organized, so I don't have an hour of cleaning after that.
If you are a sushi lover, I'm sure you will love this braised fennel sushi recipe! Let me know if you try it!
Recipe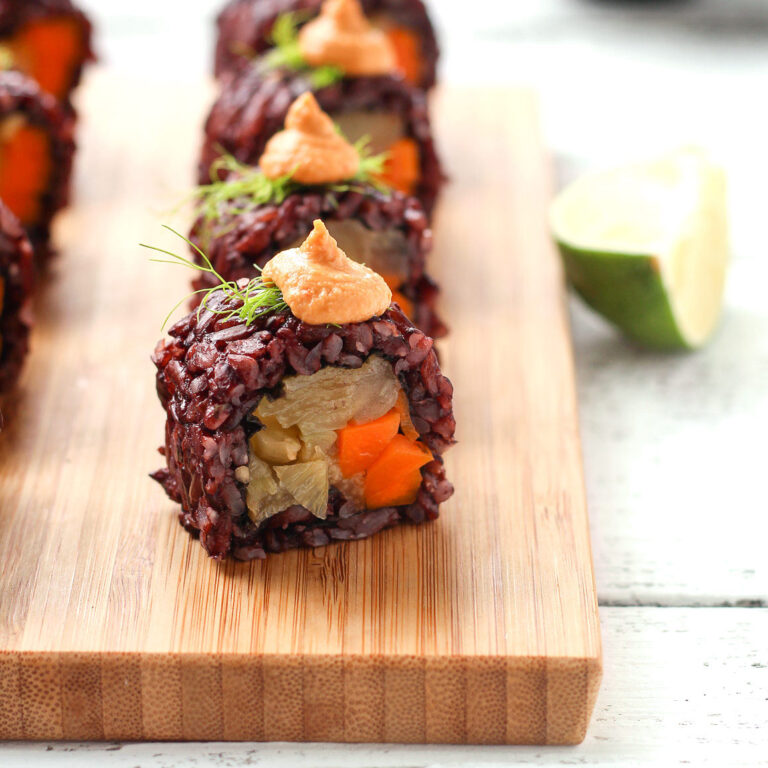 Braised Fennel Sushi
Vegan sushi with braised fennel, spicy marinated carrots, and nutty black rice! Served with a creamy cashew-sriracha sauce. Easy, healthy, and loaded with flavor!
Ingredients
Marinated Carrots
2

carrots

cut into matchsticks

1/4

cup

rice vinegar

1/4

cup

olive oil

2

tbsp

finely chopped ginger
Rice
1

cup

black rice

4

star anise

2

cups

water

3

tbsp

rice vinegar

2

tbsp

sugar

3

nori sheets
Instructions
Marinated Carrots
In a small saucepan, bring water to a boil.

Add the carrots and cook for 1 minute. Drain and set aside.

In a small bowl, whisk together the vinegar, olive oil and ginger. Add carrots, cover and refrigerate for at least one hour, overnight is best.
Rice
In a medium saucepan, bring the water to a boil. Add the rice and stars anise. Cover, reduce the heat to low-medium and simmer for about 35 minutes until no liquid remains and/or the rice is soft. Depending on the rice you might have to add a little more water and cook longer.

In a small bowl, mix the rice vinegar with the sugar and add to the rice. Mix well with a spoon and let sit for about 30 minutes.
Braised Fennel
Wash the fennel, cut off the stalks and reserve the fronds.

Cut the bulb lengthwise in half, then slice the halves again two times, leaving core intact. You should end up with about 8 thick slices.

Heat the coconut oil in a skillet over medium heat and brown the fennel for about 5 minutes on each side. Add the maple syrup, salt and 1 cup of water.

Cover and cook on medium heat for about 15 minutes, until tender.

Cook uncovered for another 10 minutes until no liquid remains and the fennel is starting to caramelize.

Remove from heat and let cool for at least 30 minutes. Cut into thin strips.
Sriracha Sauce
Place all ingredients in the bowl of a food processor and puree until very smooth (about 5 minutes).
Sushi
Center one nori sheet on a cutting board lined with plastic wrap. My sheets were large so I had to cut about 1/3.

Using wet hands, spread a thin layer of rice (a little less than 1/2 cup) on the sheet of nori and press firmly into an even and thin layer. Carefully turn the sheet of nori over so the black rice side is down.

Arrange 1/3 of the fennel strips and 7-9 carrot matchsticks in the center of the sheet.

Grab the edge of the sheet closest to you, and with the help of the plastic film roll it over the ingredients while keeping them in place with your fingers.

If you have a bamboo mat, you can use it to shape the cylinder. It is optional and you can do it easily with your hands.

With the plastic wrap still on, cut each roll into 8 pieces. Carefully remove the plastic wrap.

Top each piece with fennel fronds and the sriracha sauce. Refrigerate for at least one hour.

Serve with pickled ginger, soy sauce and the sriracha sauce leftovers.
Notes
If you don't have time, the cashew-sriracha sauce can be replaced with 1/2 cup hummus mixed with 1-2 tbsp sriracha sauce.
Nutrition
Serving:
1
piece with sauce (out of 24)
|
Calories:
90
kcal
|
Carbohydrates:
11.4
g
|
Protein:
1.4
g
|
Fat:
4.4
g
|
Fiber:
0.8
g
|
Sugar:
2.3
g
Did you make this recipe?
Tag @fullofplants on Instagram and hashtag it #fullofplants