These vegan protein blondies are between a brownie and a cookie, tender and moist with the perfect amount of chewiness. Plus it's loaded with chocolate chips and crispy sprinkles! Vegan, gluten-free and just 12 ingredients required!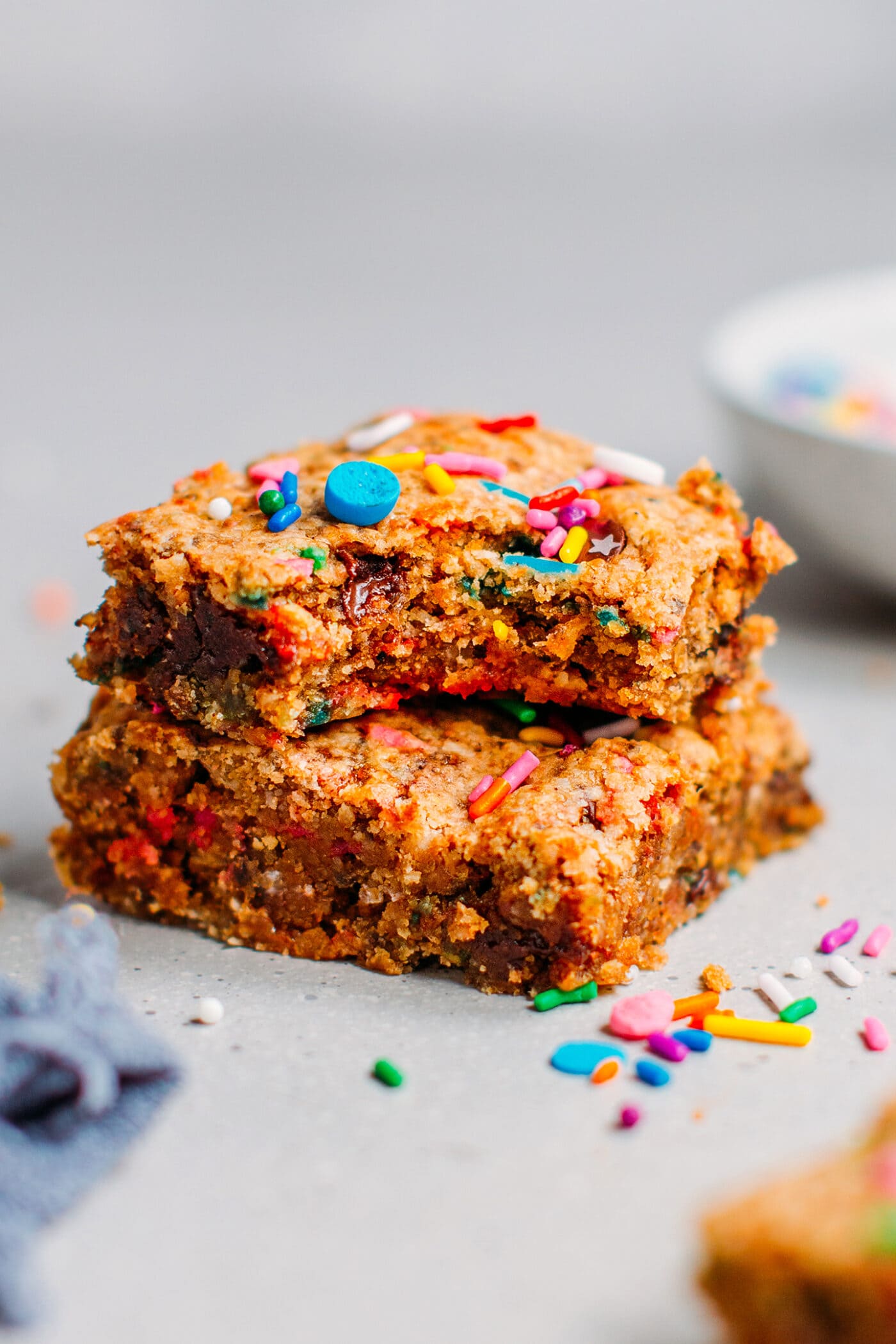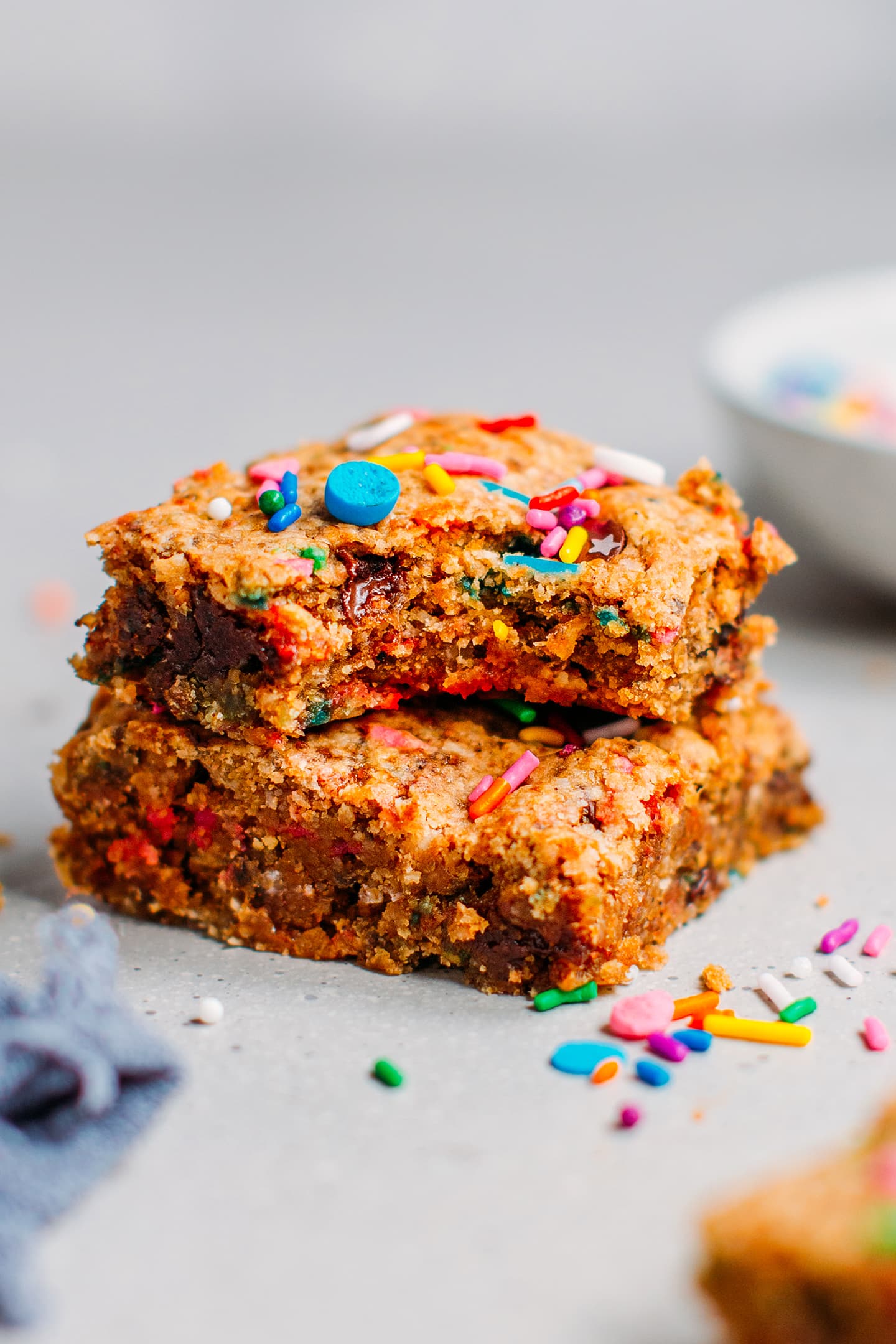 Jump to:
If you are looking for a quick sweet snack loaded with melty chocolate chips and colorful sprinkles, I have got you covered with these chewy vegan blondie bars!
These blondies include vegan protein powder to up a little bit the protein content.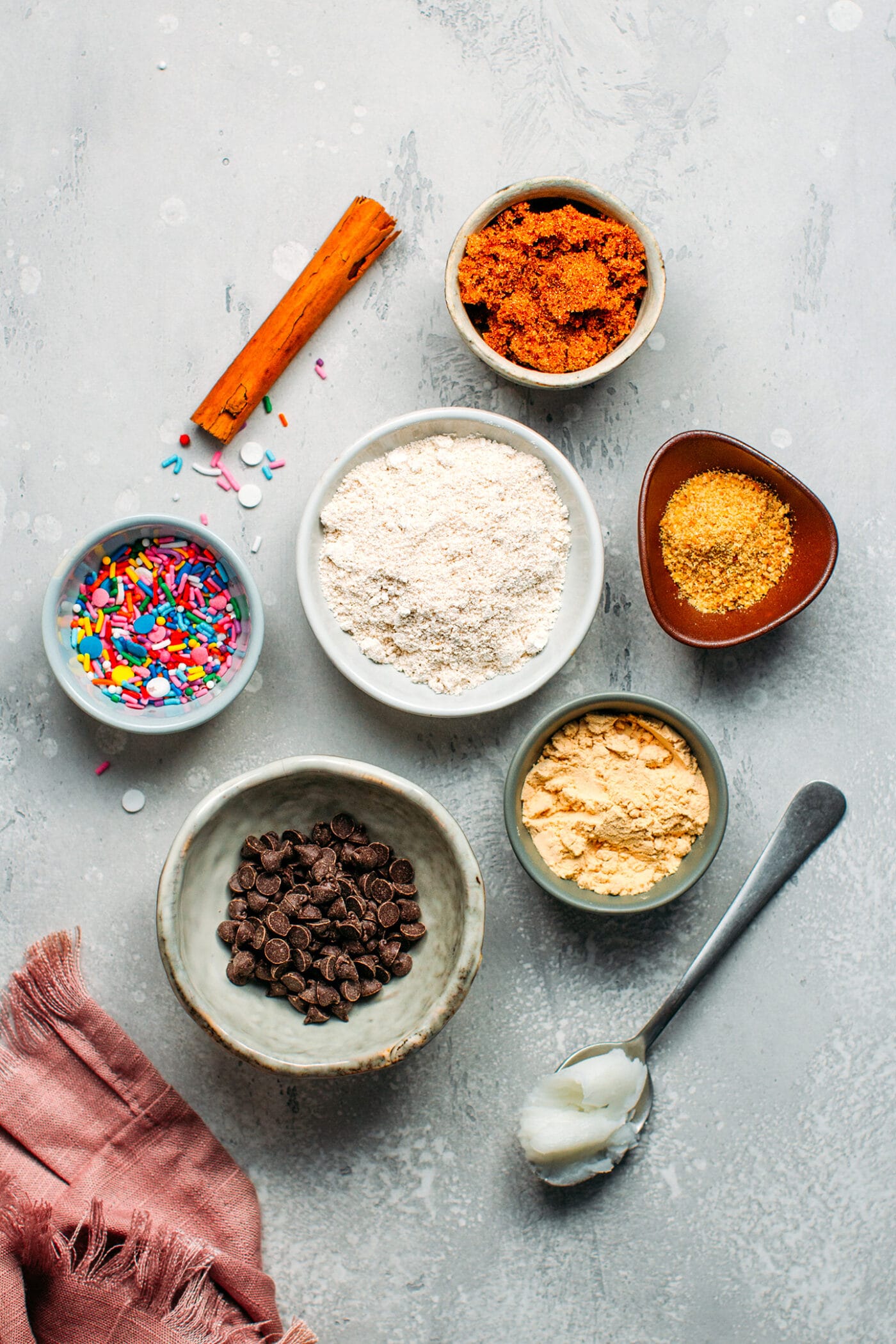 🥣 How to Make Protein Blondies
Preparing these blondies will take you about 25 minutes and require just 12 ingredients. Here is what you will need:
Oat flour - Oat flour makes the base of these bars.
Protein powder - Use your favorite vegan protein powder. I recommend going with a vanilla or unflavored protein powder for the best flavor. Note: I am only using 4 tablespoons of protein powder for 9 bars. I found out using more than that yields an unpleased flavor, and not the best texture.
Coconut oil - For richness and to give the bars a moist texture. It also works with any other vegetable oil or melted vegan butter.
Coconut sugar - Or brown sugar, for sweetness. If you want to lower the sugar content, feel free to replace half of the brown sugar for a sweetener.
Flax seeds - Ground flax seeds not only prevent the bars from crumbling, but also bring a bit more protein. I tried the recipe with ground chia seeds and it worked perfectly as well!
Vanilla extract and cinnamon - For flavor.
Sprinkles - Not all sprinkles are vegan so I highly recommend you check the ingredients. Personally, I used Sweetapolita Birthday Sprinkles here.
Chocolate chips - For extra sweetness. And who doesn't like some melty chocolate chips?
Please note: these bars are definitely not as high in protein as commercial bars, but I didn't want to sacrifice the flavor too much by adding more protein powder.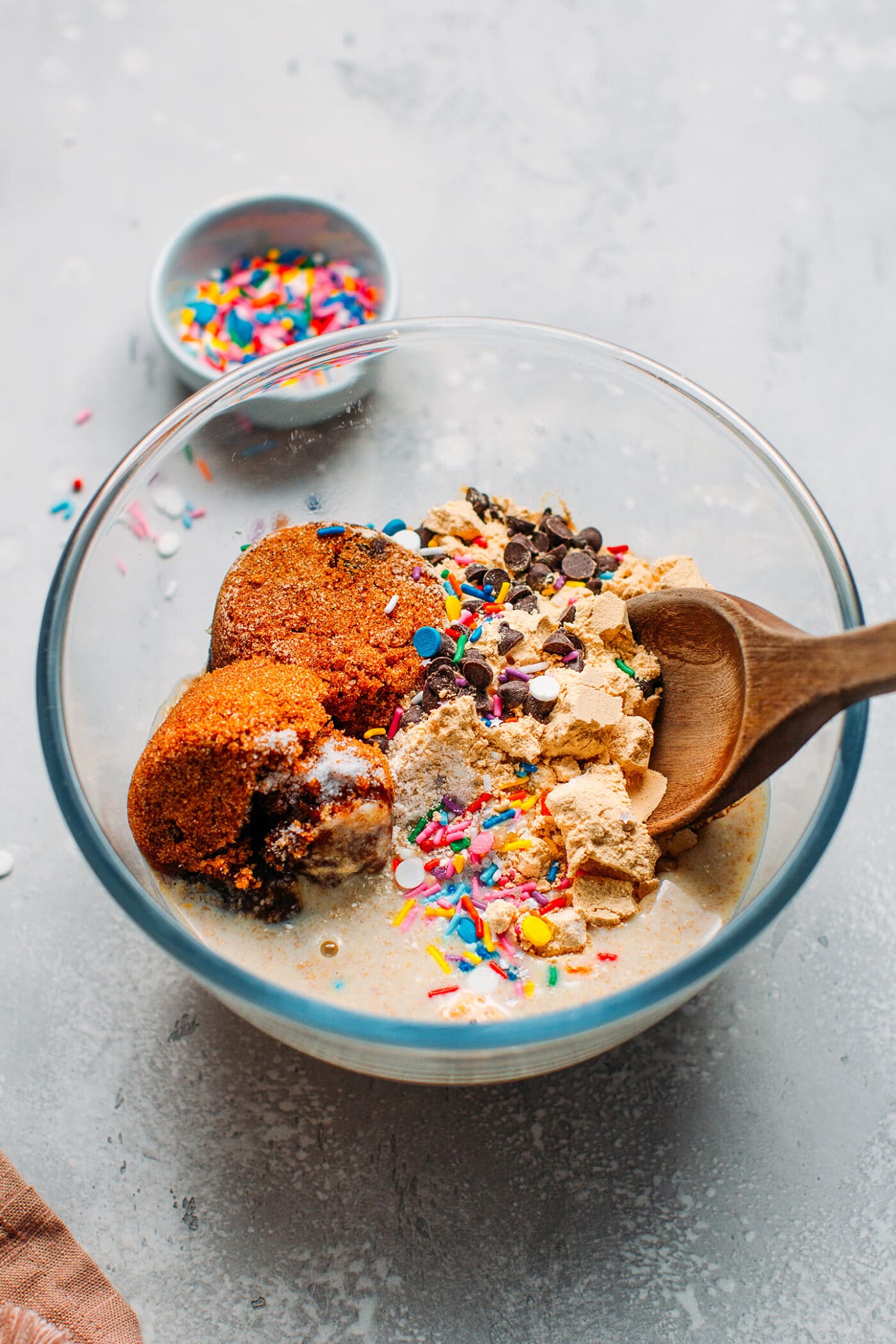 Start by preparing the flax egg: in a small bowl, whisk together the ground flax seeds with unsweetened almond milk. Let it sit for 5 minutes, or until the mixture has thickened.
Next, combine the oat flour, protein powder, coconut sugar, baking soda, melted coconut oil, vanilla, cinnamon, and salt in a small bowl. Pour in the flax egg and mix until it forms a dough.
The batter should have the consistency of a cookie dough, just a little bit softer.
Transfer the batter into a baking dish lined with parchment paper and spread it into an even layer using a spatula or a spoon.
Finally, bake for 14-15 minutes, or until the top is golden brown. Let cool for a few minutes before cutting into squares!
You can enjoy these still warm or let it cool completely. I personally find the bars to taste even better the next day, as you can't taste the protein powder anymore.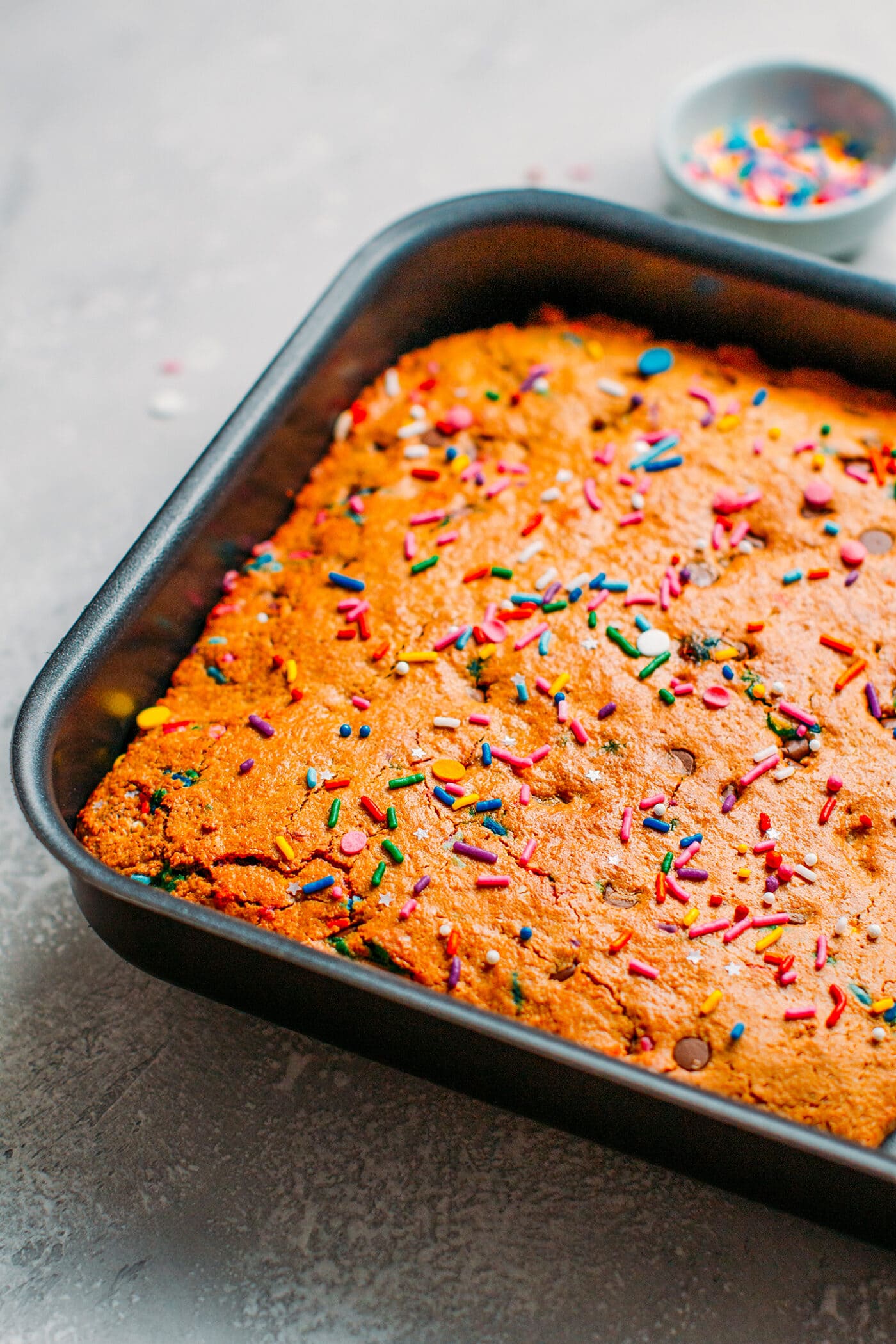 💬 FAQ
Can I omit the sprinkles? You could omit the sprinkles, but I would then recommend increasing the chocolate chips, or coconut sugar for more sweetness.
Can I omit the protein powder? Yes! I tried this recipe without even substituting the protein powder and the blondies came out great.
How can I increase the protein content of these bars? You could try to substitute some of the oat flour for extra protein powder. Be aware your bars might be a bit more crumbly and not as moist.
How long do these keep? These protein blondies will keep for up to 4 days stored at room temperature, in an airtight container. If you prefer a slightly firmer texture, store in the refrigerator.
You can enjoy these bars as an afternoon snack, wrap them to take on the go, or simply crumble them and enjoy on top of yogurt for breakfast!
🍫 More Protein-Packed Snacks
Let me know in the comments if you try this recipe!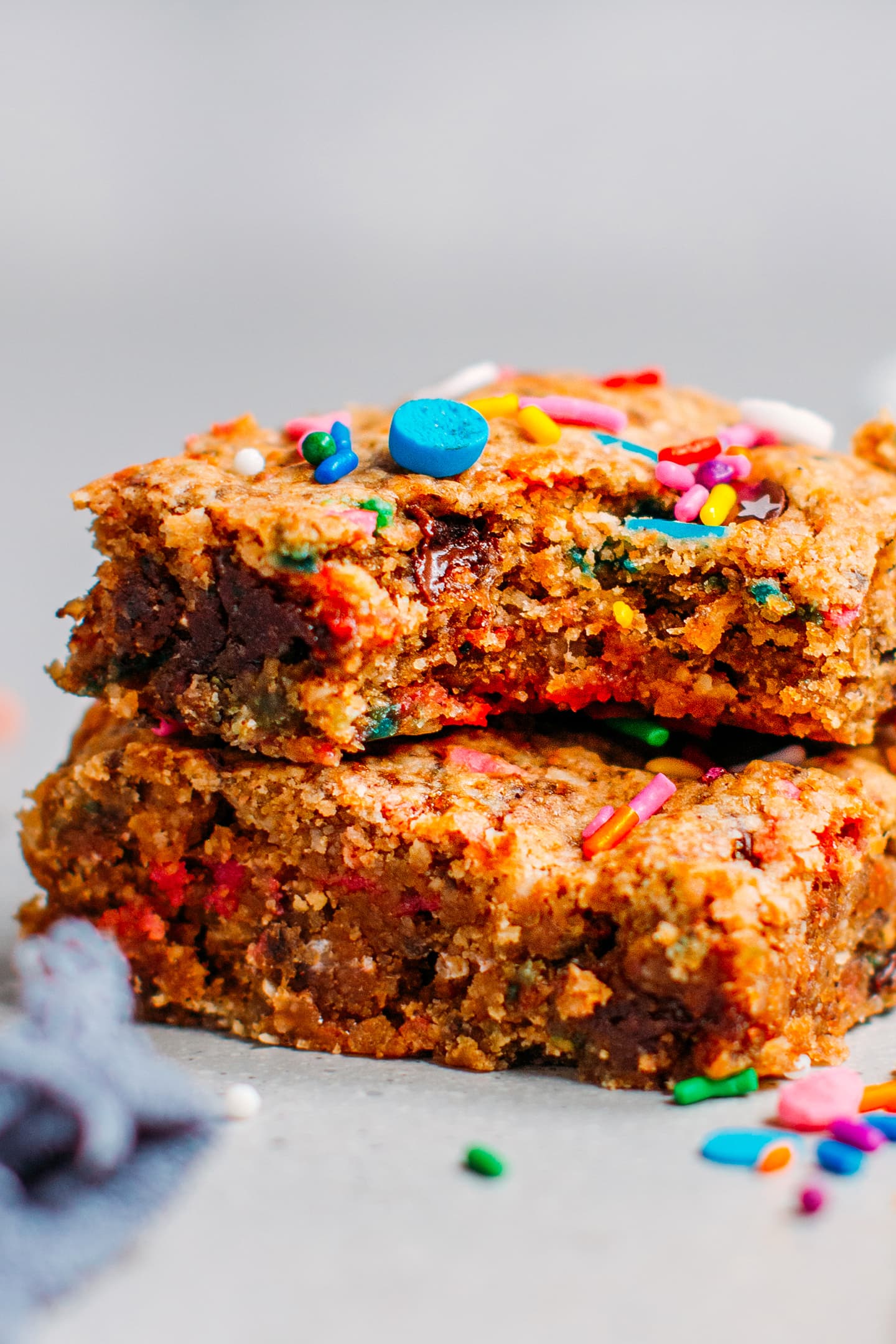 📖 Recipe
Birthday Cake Protein Blondies (Vegan / Gluten-Free)
Moist and chewy vegan protein blondies! Loaded with chocolate chips and sprinkles, these protein bars require just 12 ingredients. Vegan + Gluten-free!
Instructions
Preheat oven to 350°F (175°C) and line a 7x7-inch baking dish with parchment paper.

In a small bowl, prepare the flax egg by whisking together the ground flax eggs with the almond milk. Let it sit for 5 minutes.

In a mixing bowl, combine the oat flour, vegan protein powder, flax egg, coconut sugar, melted coconut oil, vanilla extract, salt, cinnamon, and baking soda. Stir until it well combined. Add the sprinkles and chocolate chips and stir again. You should end up with a batter that has the consistency of a soft cookie dough.

Transfer the batter to the prepared baking dish and press the dough into an even layer. At this point, you can top with more sprinkles if you want.

Bake for 14-15 minutes, or until golden brown. Remove from the oven and let cool for at least 20 minutes before cutting into 9 squares.

Protein blondies will keep for up to 4 days at room temperature, or 1 week in the refrigerator.
Nutrition
Serving:
1
square
Calories:
190
kcal
Carbohydrates:
25.8
g
Protein:
5.1
g
Fat:
7.8
g
Fiber:
2
g
Sugar:
14.1
g
DID YOU MAKE THIS RECIPE?
Tag @fullofplants on Instagram and hashtag it #fullofplants