And five test batches later, here they are. Super extra moist, gluten-free and naturally sweetened with orange juice and coconut sugar.
Close your eyes and picture yourself taking a bite of these incredible baked donuts. It starts by this super moist, melt-in-your-mouth kinda texture, with a fresh orange taste. Then comes the salted caramel glaze that is seriously awesome.
These donuts are just SUPER ADDICTING and really easy to make. I don't know how it happened but I ended up eating 3 in one day. Now my diet for the next three days will probably be salad and broccoli.
Anyway, these donuts are baked instead of fried, if you don't have a donut pan I recommend the Wilton nonstick donut pan, it's great quality and pretty cheap.
The batter is made with rice flour and almond meal. I first tried using brown rice flour but I found the donuts had a bitter aftertaste, so I recommend you stick with white rice flour. The almond meal is the secret ingredient that gives them this really soft and moist texture.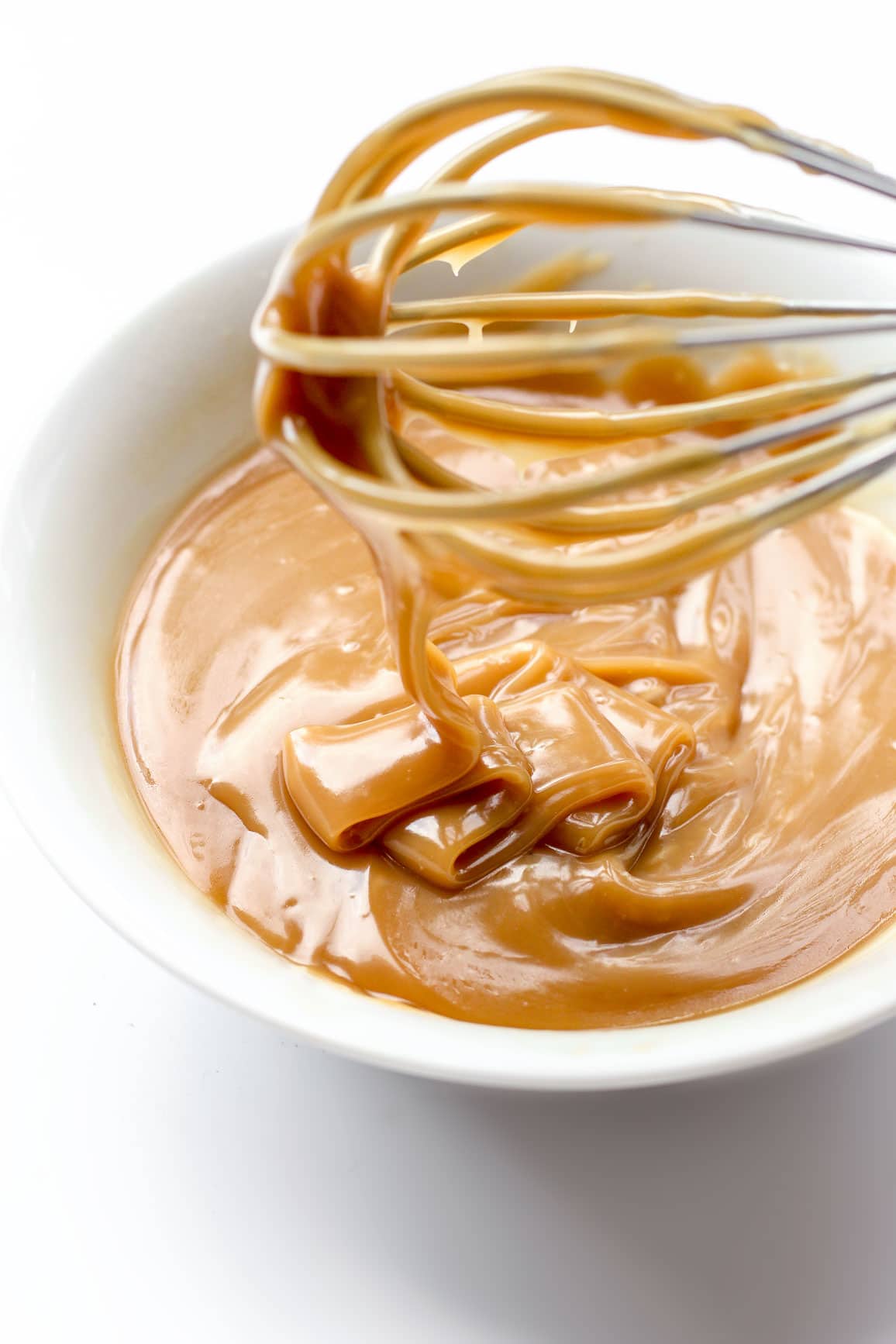 The salted caramel glaze is a mix of coconut milk, coconut sugar, coconut oil and maple syrup. You put everything in a large pan and let simmer until it thickens and smells like caramel. You will probably have some glaze left, try to use it as a topping for your oatmeal, trust me, best thing ever.
Let me know if liked this recipe and feel free to tag @fullofplants on Instagram if you try it!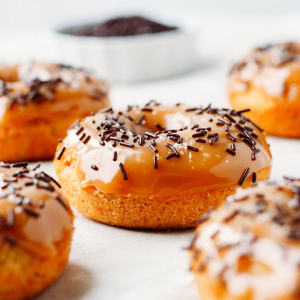 Baked Orange Donuts with Salted Caramel Glaze (Vegan + GF)
Naturally sweetened orange baked donuts with a melty salted caramel glaze. The softest, moistest, melt in your mouth-est donuts ever!
Instructions
Donuts
Preheat oven to 350°F. Lightly grease a donut baking pan.

In a large bowl, whisk together the rice flour, almond flour, coconut sugar, arrowroot, baking powder, cinnamon and salt.

Slowly pour in the orange juice and whisk until well combined.

Add the oil, almond butter, vanilla extract and orange zests if using. Whisk until everything is incorporated.

Spoon the batter into the donut pan, filling ¾ of the cavities. If you have a piping bag, feel free to use it, it will be easier.

Bake 15 minutes in the preheated oven. Let cool for at least 1 hour before trying to remove the donuts from the pan.
Salted Caramel Glaze
Combine all ingredients except the vanilla extract in a large saucepan.

Bring to a boil, whisking constantly for the first 2 minutes.

Let simmer for about 30 minutes, stirring every 8-10 minutes until the mixture has thickened and has a caramel color. It should have reduced in volume by about 50%

Remove from heat, stir in the vanilla extract and let the glaze cool for about 10 minutes. If it's not thick enough, let simmer again for another 5-10 minutes.

Pour the glaze in a small bowl and dunk the donuts, letting excess glaze drip off. Transfer to a wire rack and sprinkle with sea salt and funtettis.
Notes
Don't substitute white rice flour with brown rice flour, I tried and the donuts have a slight bitter aftertaste.
I recommend you let the glaze cool for at least one hour to check if it's thick enough. If the consistency is really thick and not too sticky, just reheat gently before glazing the donuts. If it's not, bring back to a boil and let simmer again until it's thicker.
Recipe for the caramel glaze adapted from Fork and Beans.
Nutrition
Serving:
1
Donut (without glaze)
Calories:
332
kcal
Carbohydrates:
42.6
g
Protein:
5.6
g
Fat:
16.3
g
Fiber:
2.8
g
Sugar:
18
g
DID YOU MAKE THIS RECIPE?
Tag @fullofplants on Instagram and hashtag it #fullofplants