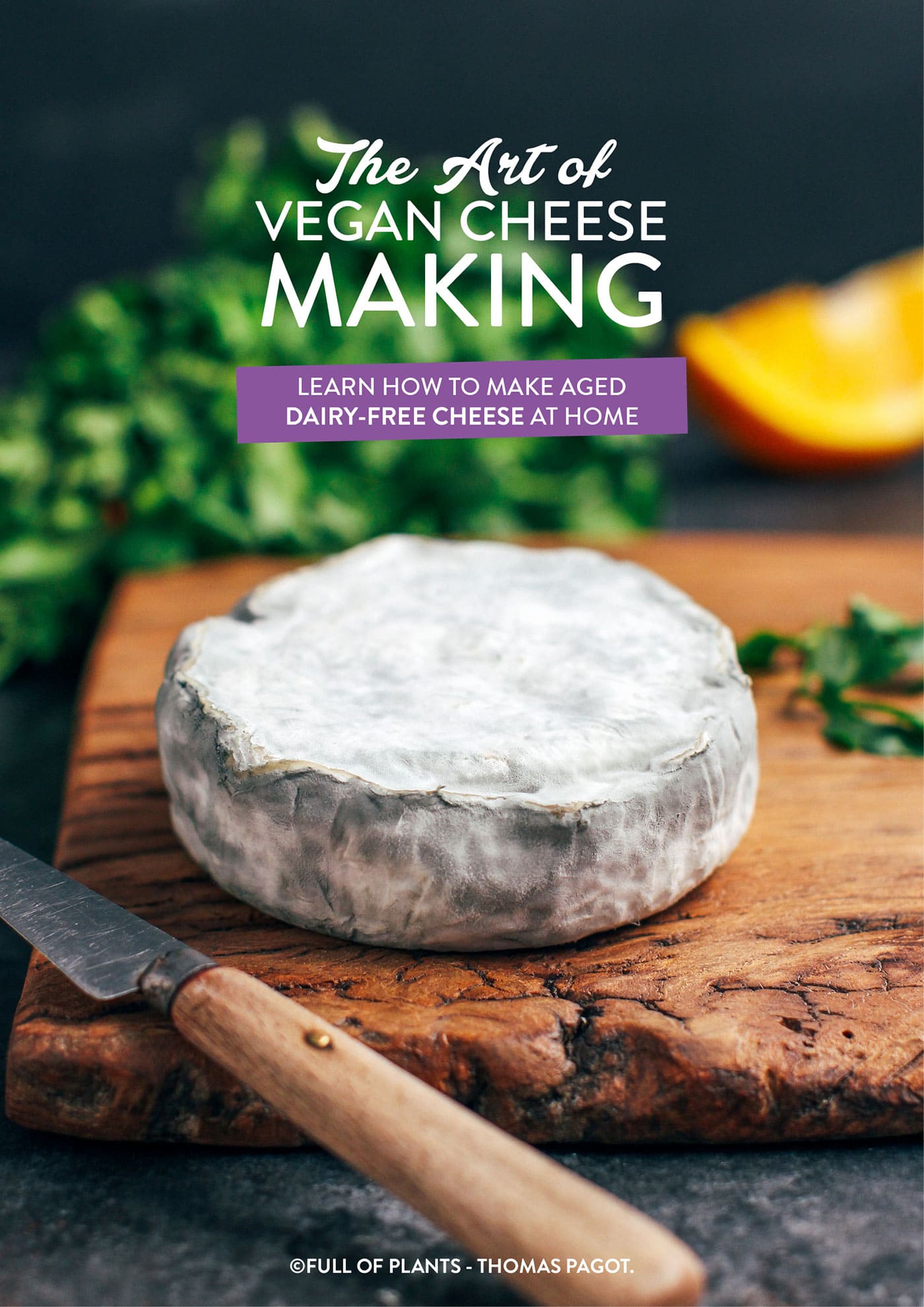 I have BIG news, friends!
I packed all of my most popular cheese recipes in an e-book. And I didn't stop there! I included 8 (yes eight!) exclusive vegan cheese recipes that haven't been released anywhere, a wine pairing guide for each cheese, 10 recipes that feature vegan cheeses (Mac & Blue Cheese anyone!?), an introduction to vegan cheese making and a troubleshooting section with over 30 Q&A. Did I mention it's FREE!? Like 100% FREE. It's just the best deal of the year.
All you need to do is subscribe to the newsletter if you haven't already. If you have you should have already received an email with a link to download the ebook. I'm so pumped to finally have a single resource that packs all of my cheese recipes with additional tips and information about the ingredients and techniques.
Why am I releasing it for free? Because I want you guys to be able to make your own cheeses at home, I'm just not into keeping recipes secret. Commercial cheeses are usually very expensive and most of the time disappointing. I firmly believe that by sharing this ebook with you we can move forward and experiment together to create better and more innovative cheeses in the future.
Don't wait any longer to get your hands on over 100 pages of delicious vegan cheese! Enter your email in the box below to receive your copy of The Art of Vegan Cheese Making directly in your inbox!
Let's take a deeper look and see what's inside:
8 ALL-NEW Vegan Cheese Recipes

Cambozola: Liked my Blue and Camembert recipes? Well, this cheese is a mix of both, tasting twice as good. A creamy blue cheese coated with a fluffy white rind. When you cut into it, you first have the slight resistance of the white rind, and then the blue veins appear. This recipe has been in the making for several months, as I wanted it to have nice blue veins inside and a bloomy rind outside. If it's your first time making vegan cheese, I wouldn't recommend starting with this one as it's a bit more complex. Start with camembert, then blue cheese and finally, try this one.
Pouligny: As a kid, one of my favorite cheeses was goat cheese, not the fresh one, but the one that comes in a pyramid shape. Slightly firm on the edges and creamy in the center, ahh, I loved this cheese. If you are looking for a sharp and slightly piquant cheese, definitely try this one!
Ricotta: Soft, fluffy, and lightly sweet, you will never believe this ricotta is vegan! Its airy texture was the most challenging part, as I didn't want a simple cream cheese. It is made using traditional cheese-making techniques. It starts with cashew milk that is curdled and then drained in ricotta molds. A must-try!
Shropshire Blue: With its bright orange color, this blue cheese is nuttier and sweeter than my original blue cheese recipe. It's perfect for adding to salads or to add color to your cheese platter.
Farmstead Camembert: This one is for those of you that like strong, stinky cheese. This Camembert is creamier than ever, very strong in flavor, and has a slightly piquant aftertaste. If you like mild cheeses, stay away from this one 😉 Think of it as an update of my original camembert recipe. This is version 2.0.
Smoked Ricotta: A variant from the basic ricotta recipe that is definitely worth trying! It's incredibly smoky, soft, and airy with a fresh flavor. May I suggest using it as a pizza topping? Delicious!
Mont d'Or: Many of you asked for it, and this one also required a lot of testing. I'm finally happy with the results, so I'm super glad to share the recipe. This washed-rind cheese is aged in spruce bark. It has a soft, slightly sticky orange rind with earthy and yeasty flavors and notes of mushrooms, hazelnut, and resin.
Saint-Albus: A delicious mild cheese that is coated with a grey mold. It is super creamy with a buttery flavor. You can see this one on the cover, by the way.
I can't wait to hear what you think about these new cheeses, as they are the most incredible vegan cheeses I have ever made!
10 Recipes Featuring Vegan Cheese

From Swiss fondue to Mac & Blue Cheese and Ricotta pancakes, I included many recipes that make use of the cheese you will make. Hey, cheese doesn't have to be eaten on its own! It can be used everywhere!
Please be aware this ebook is version 1.0. Consider this a work in progress. I plan to update it with more recipes, tips, and FAQs as I continue experimenting and improving the recipes. Some recipes have also been rewritten to make them clearer and easier. Let me know what you think about it and feel free to tell me what is missing (and report typos :)) so we can make it the best vegan cheese cookbook!
Video
Last but not least, I'm also releasing today a quick video on how to make Vegan Camembert. This is a speed-up video, but it can be helpful to give you an idea of how it's made if you haven't tried it yet. For the full recipe, check out my Vegan Aged Camembert page, or the recipe in the ebook.
Please share!
If you like this ebook and video, please share this page with your friends, parents, grandparents, cousins, brothers, and sisters by clicking the social buttons below. If you really enjoyed this ebook, please consider making a small donation using the "Buy me a coffee" button below. It helps support this blog! Thank you!
You can also check out my Shop page to order the tools/ingredients needed to make vegan cheese. I receive a small commission from Amazon that helps support this blog and keeps the recipes coming. Thank you so much for your support! It means a lot to me!
Note: All the recipes published here and in the ebook are copyrighted. It took a lot of work to create each recipe, so please do not repost, translate or "slightly" adapt the recipes. You can check out our Terms of Service page for more info. Also, feel free to tag @fullofplants or #fullofplants on Instagram if you make one of the recipes, I love to see your creations! 🙂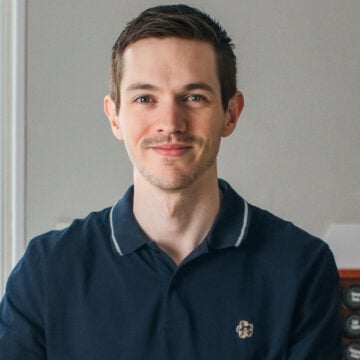 About the Author
Thomas Pagot is the founder, photographer, and recipe developer behind Full of Plants. He created the blog in 2016 as a personal cookbook for vegan recipes. Through years of recipe development, Thomas has successfully grown Full of Plants into a trusted resource for plant-based recipes.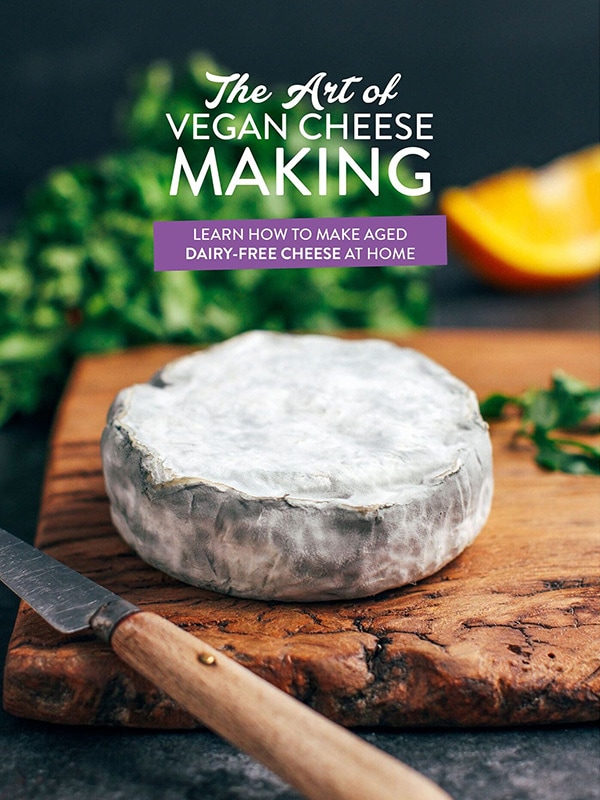 🧀 25 Mind-Blowing Vegan Cheese Recipes!
Sign up for the Full of Plants newsletter and you'll get new recipes delivered by email weekly, PLUS your FREE 100-page printable eBook!