Any sweet potato lovers here? Any almond butter lovers too? I have got something for you guys!
I feel like it's been a long since I made bowls and I have no idea why because it's just my favorite thing ever! Nothing beats a comforting bowl loaded with different textures, colors, and flavors. These tender sweet potato noodles are coated with a rich almond butter and basil sauce and served with soy glazed grilled mushrooms and sautéed greens.
This recipe is very easy to prepare and surely doesn't lack in flavor! Let's do it!
You start by spiralizing the sweet potato, to do that the easiest way is to use a spiralizer. I found one large sweet potato was enough for two servings but you can definitely make more (just make sure to double the sauce as well).
Then sautée some garlic until fragrant, add your favorite greens: spinach, kale, or in my case chopped pak choi, and cook until soft. Finally, add the spiralized sweet potato and cook for 7-8 minutes. Since the sweet potatoes are cut into thin noodles they cook a lot faster than sweet potato cubes, making this recipe perfect for weeknight dinners!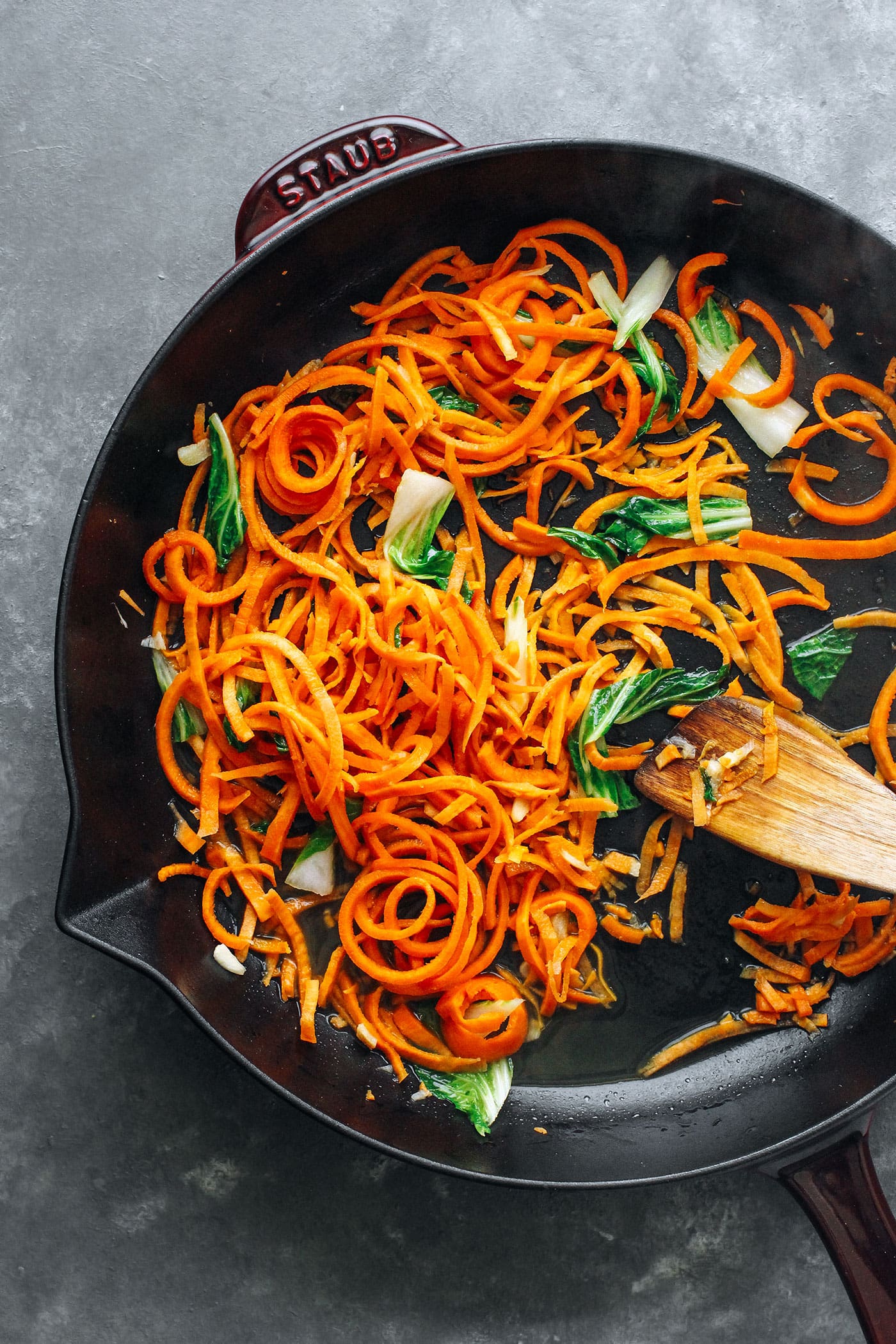 The sauce really takes these sweet and tender sweet potato noodles to the next level. It requires only 4 ingredients and consists of almond butter mixed with lime juice, soy sauce, and freshly chopped basil. To me, there is no need to add anything else but if you want some heat, feel free to add a pinch of cayenne pepper or some sriracha.
The almond butter sauce makes the noodles super creamy and nutty! To go with the noodles, we have grilled mushrooms that are glazed with a sweet and sour soy sauce. If you don't have a grill, just use a regular skillet. You obviously won't get the grill marks and the charred flavor but it will still taste great.
Serve these sweet potato noodles and grilled mushrooms with your favorite sautéed greens and top with sesame seeds, basil, and a squeeze of lime juice!
Let me know in the comments if you try this recipe!
Print
Almond Butter Sweet Potato Noodle Bowls
Tender sweet potato noodles with a creamy almond butter basil sauce and served with grilled mushrooms! Easy, quick to prepare and so flavorful!
Sweet Potato Noodles
1

large (about

500g

) sweet potato

1 tbsp

(15ml) oil

1

clove of garlic, minced

1

pak choi, chopped (or

1 cup

spinach)
Basil Almond Butter Sauce
¼ cup

(

64g

) almond butter

2 tbsp

(30ml) lime juice

1 tbsp

(15ml) soy sauce

1 tbsp

finely chopped fresh basil

3 tbsp

(45ml) water (or more if needed)
Grilled & Glazed Mushrooms
12

white button mushrooms

1 tbsp

(15ml) soy sauce

2 tsp

(10ml) maple syrup

1 tbsp

(15ml) water

1 tbsp

(15ml) lime juice

½ tsp

 cornstarch
Instructions
Sweet Potato Noodles
Start by washing and peeling the sweet potato. Spiralize it using a spiralizer.
Heat the oil in a large skillet over medium heat. Once hot, add the garlic and cook for 1 minute. Add the chopped pak choi and cook for another 5 minutes, or until slightly tender.
Finally, add the spiralized sweet potatoes and cook for 7-8 minutes or until the sweet potatoes are soft. I usually add 2-3 tablespoon water to prevent the sweet potatoes from sticking to the skillet. In the meantime, prepare the almond butter sauce and mushrooms.
Once the noodles are tender, pour the basil almond butter sauce into the skillet and stir to coat. Remove from heat and cover to keep warm while you prepare the mushrooms.
Basil Almond Butter Sauce
Combine all the ingredients together in a small bowl. The texture should be smooth and not too thick so it can coat the noodles. Depending on the brand of almond butter you use you might have to use more or less water.
Grilled & Glazed Mushrooms
Wash the mushrooms and thread them onto skewers. I thread three mushrooms per skewers to make 4 skewers (2 per serving).
Heat a grill over medium-high heat. Lightly brush the grill with oil and place the mushroom skewers on it upside down. Cook for 3-5 minutes or until slightly charred. Rotate the skewers 45° to create cross-hatch grill marks. Cook for another 3-5 minutes and flip the skewers. Lower the heat to low-medium and cook the other side of mushrooms for 3 minutes. In the meantime, prepare the glaze.
In a small saucepan, combine the soy sauce, maple syrup, water, lime juice. Add the cornstarch and whisk until dissolved. Heat over medium heat, stirring regularly until it thickens. As soon as it starts to thicken, remove from heat and pour over the mushrooms. Remove the mushroom skewers from the grill and set aside.
To Assemble
Divide the sweet potato noodles into two serving bowls, top with the grilled mushroom skewers, some fresh basil leaves, and a squeeze of lime juice. You can serve these with your favorite greens on the side: sautéed kale, pak choi, spinach, arugula, etc.
Nutrition
Serving Size:

1

Calories:

445

Sugar:

20.2g

Fat:

19.4g

Carbohydrates:

59.7g

Fiber:

11.1g

Protein:

14.2g